We love travelling with our kids and showing them different countries and cultures.  They may not remember everything that they see or do, but travelling is perfect for family bonding.
We've had great fun travelling around Europe in the last couple of years, but I'm now pondering where else we can go.  I am slightly worried about our youngest coping with a long plane flight, but surely a little tiredness would be worth it to get to a fantastic destination?  Asia is one area of the world I have yet to conquer.  We were meant to travel to Thailand for our honeymoon 10 years ago, but due to political protests it was cancelled and we went elsewhere.
That area of the world is definitely back on my list again!
Where To Travel?
So Asia is firmly in my sights to visit again soon, but where to go? Now we have a family in tow I've been looking at where would be a good family friendly destination and what accommodation is available.  We much prefer to have interconnecting rooms in hotels so we can keep an eye on the kids, especially as our 4 year old still wakes up several times a night.
Several friends have pointed out that perhaps a villa would be a nice change and it would give us the freedom to use a house like our home.  Nobody else to fight over deck chairs at the pool and plenty of space for the kids to roam about the house and play.  I do love the idea of having a pool to use at sunset when the kids are tucked up in bed!
So where to go?  If we were going to stay in a villa, then perhaps somewhere close to a beach? Bali has some fantastic beaches and brilliant culture to take in too and Villa-Finder has plenty of great properties across the country.
Seminyak is a beach town in the Southern end of Bali, with plenty of restaurants and bars as well as the beach itself.  The hip boutiques and sleek bars certainly make it a good area for couples, but plenty of families visit the area too.  Hit the beach at sunset with the kids or enjoy a meal out at one of the many varied restaurants around the city.
Villa-Finder
Looking for a family friendly villa in Seminyak sounds like it may be difficult, but with Villa-Finder it's actually rather straightforward!
When you book through Villa-Finder you contact a travel consultant who will discuss the best options for the villa and facilities.  They can add on important details such as a pool fence or car seats and with this in mind they can help choose the best villa for their client.
Once the villa is booked the concierge team can arrange airport pickup's, special dinners or day tours. So you don't need to worry about researching who to book things with.  Simply let the concierge team handle everything and relax.  I love that there's a personal touch in the experience and you can get help with whatever you need to make the stay more comfortable.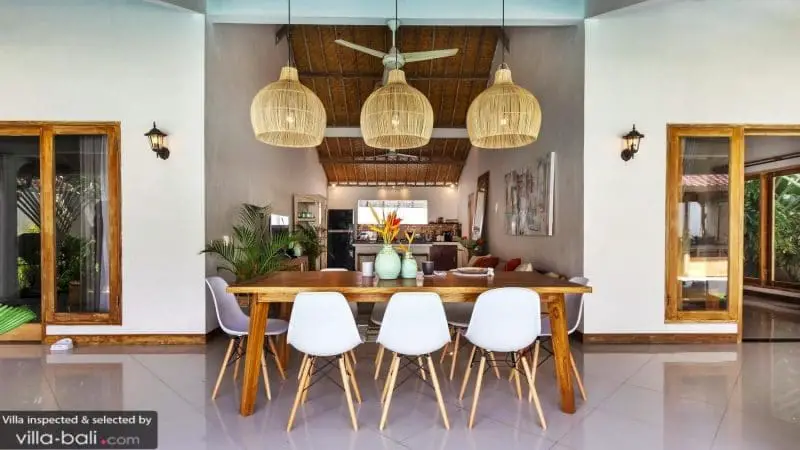 All their villas are unique with their own style and plenty of space, which you don't need to share with other guests.  Everything can be personalised to your needs and although a villa may not be cheaper than a hotel, you will save by cooking and eating some meals at the villa.
Whenever you book a villa with Villa-Finder they will plant a tree in Sumatra, Indonesia, allowing you to contribute to the environment during your stay.  Giving back to the environment is definitely important to us and re-planting forests is going to help with flooding and land degradation.
I will certainly be checking out the villas when we're organising our trip!
Pin For Later
*  This is a collaborative post with Villa-Finder.