I really wasn't sure what to expect with a lodge holiday in the Peak District.  The last time I had been to the Peak District was for a Scout and Guide camp in the grounds of Chatsworth when I was a teenager!
Fortunately I was pleasantly surprised by our surroundings for our stay, not long after travelling through some very urban areas around Sheffield we were soon into a beautiful green and leafy area of the Peak District.  Darwin Forest is located near the towns of Matlock and Chesterfield in the South West of the Peak District.  The park itself is within a lovely forested area, partly owned by the Forestry Commission and great for walking or cycling through.
Arrival at Darwin Forest
The reception is just on the right-hand side as you enter into the park and we parked up in the visitor spaces whilst I went in to get our keys for the lodge.  The reception is open between 8.30am and 8pm and the staff are always very helpful.  I went in several times during our stay, sometimes to get discount vouchers for local attractions, to borrow a bed guard and to simply ask for where to take the kids on a bike ride.
We were shown on the map where to find our lodge and given the keys and a voucher for a free pint of milk, all of which took a mere matter of minutes.  Then we set off to find out where we were staying for the next few nights.
Darwin Forest Spa Lodge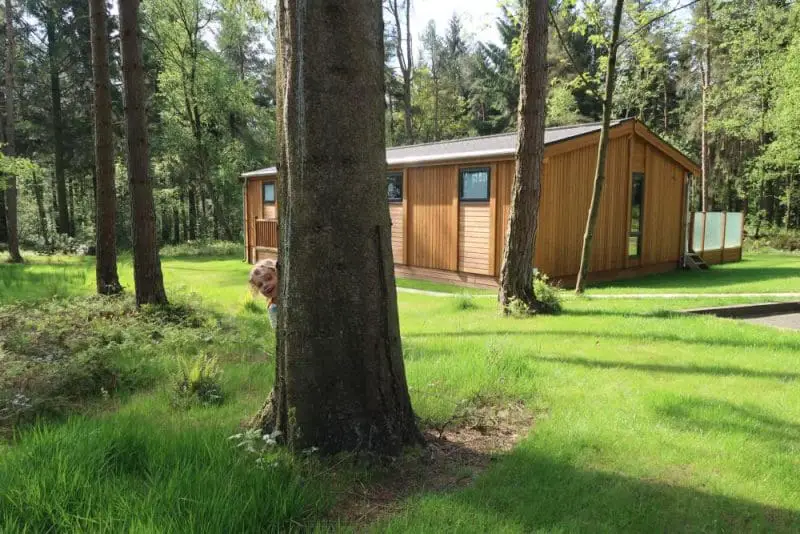 Our lodge was a spa lodge, located in the Glade.  The Glade is a collection of 8 exclusive luxury lodges of various sizes, all with a hot tub and stunning interiors.  We were in Glade number 3 which has two bedrooms, two bath/shower rooms and an open plan living/kitchen/dining area.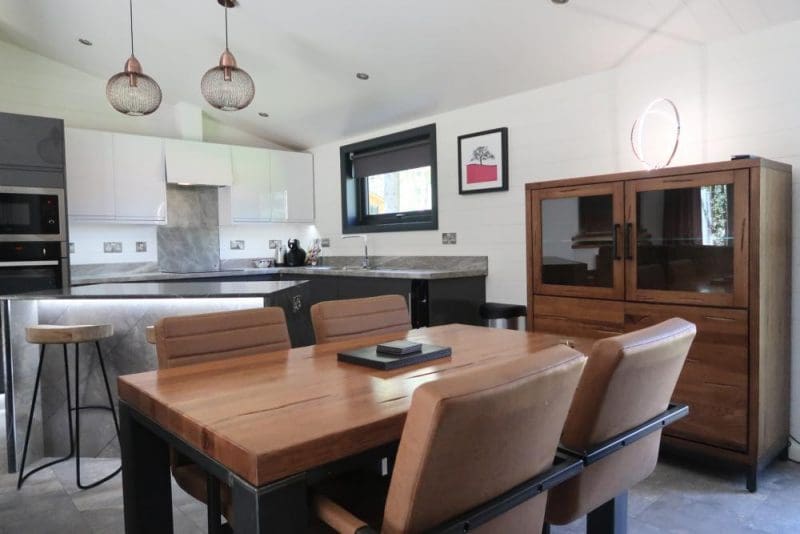 My first reaction when I entered was WOW!  It is seriously beautiful with lots of little touches that make it stylish and luxurious.  The kitchen is sleek and features an island with built in fridge and freezer, dishwasher, built in oven and microwave and separate hob, plus a wine cooler (pretty handy!).  Plenty of storage for food and all the essential crockery, cutlery and cookware.  If you need to do a little washing (toddler accidents anyone?!), then there is also a handy washing machine in the cupboard (yes, we definitely did need to use it!).
There is also a Dolce Gusto coffee machine with plenty of coffee for your stay, or tea and a kettle if you prefer that option.  The breakfast bar has two wooden topped stools that the boy assumed were their own personal table.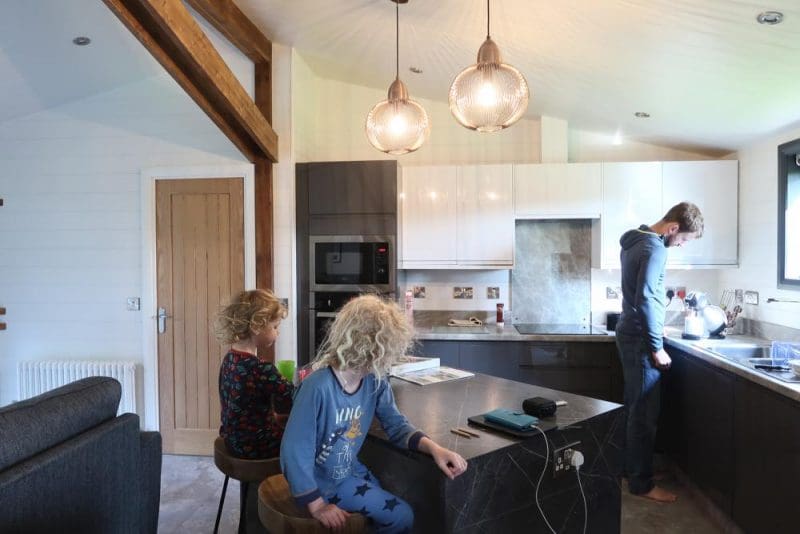 Beside the kitchen is wooden dining table and 4 chairs.  The table top was one of those natural wood type with beautiful natural grooves.  It also matches the coffee table in the living space.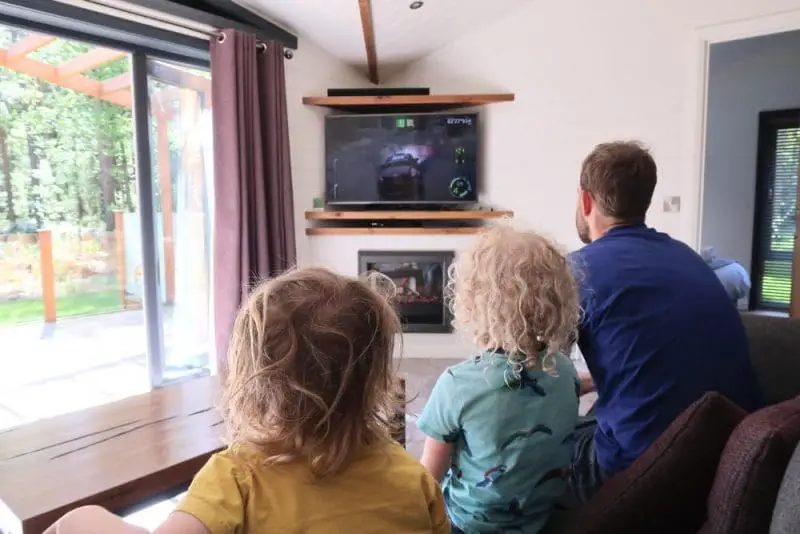 Two large sofas are great for admiring the view out the doors and over the deck, but they are equally good for cozying up on with the kids for a story or playing the PS4 that comes with several games and controllers provided (it kept my husband happy anyhow!).  WiFi is provided with your stay, although it is limited usage, so if you are working in the evening you may need to finish early (not so bad if it means you can use the hot tub instead!).  Of course we didn't have much time to play the computer with everything there is to see and do at Darwin Forest and the local area!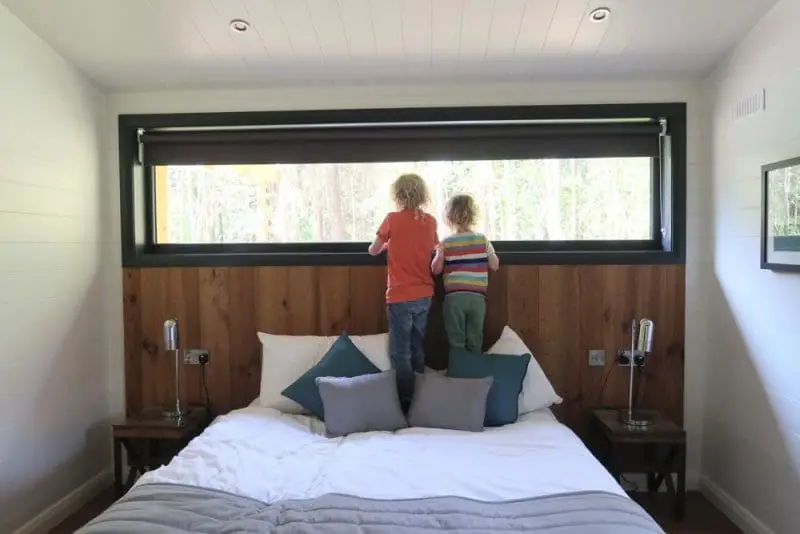 The bedrooms are spacious and the beds were really comfy.  We had no trouble sleeping in our king size, although the boys did love to peek out the window to watch the forest or wait for the hot tub to heat up!  The bedrooms both had SMART TV's and a set of stylish drawers.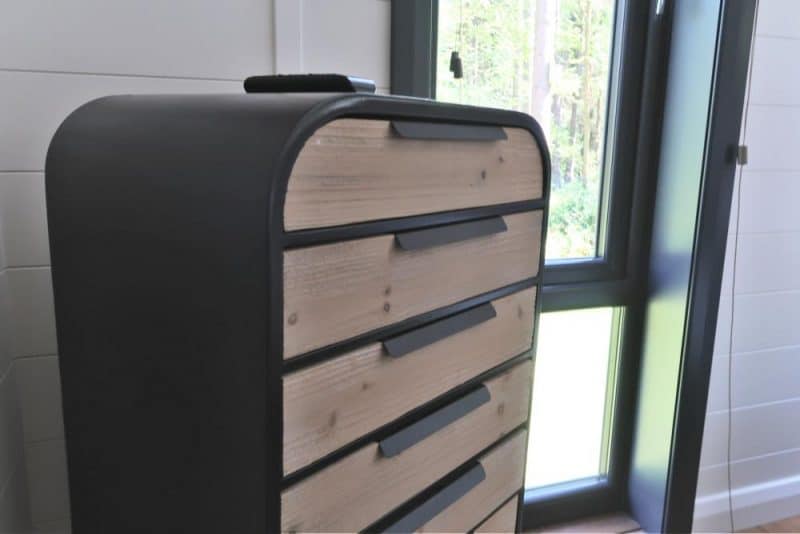 The children's bedroom had two single beds, one of which we moved against the wall to stop our wriggly four year old from falling out.  You can also pick up a bed guard from reception if required.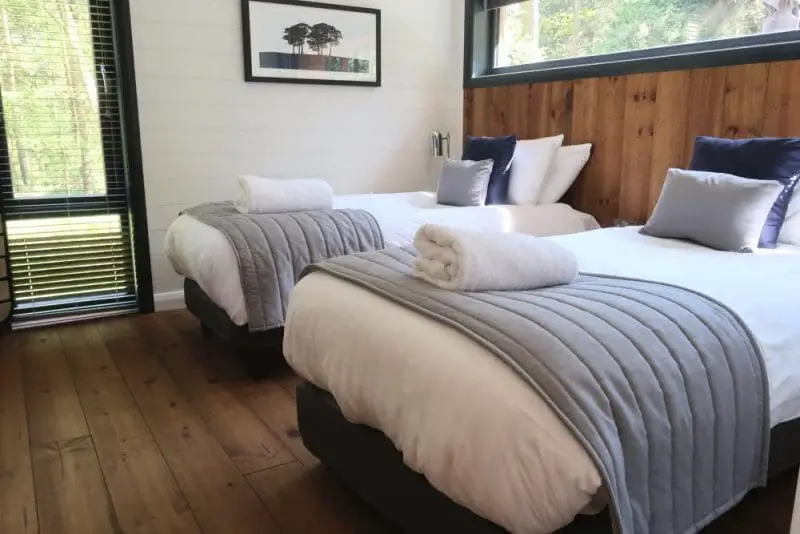 Each bedroom has an en-suite, which you access through your very own dressing area. The dressing area features a mirror with bulb style lights, desk area and stool.  Opposite is a wardrobe with dressing gowns and slippers and a shelf above.  Plenty of room to hang out all your clothing, line up your shoes and shelf above for jumpers.  There was also a hairdryer if required too.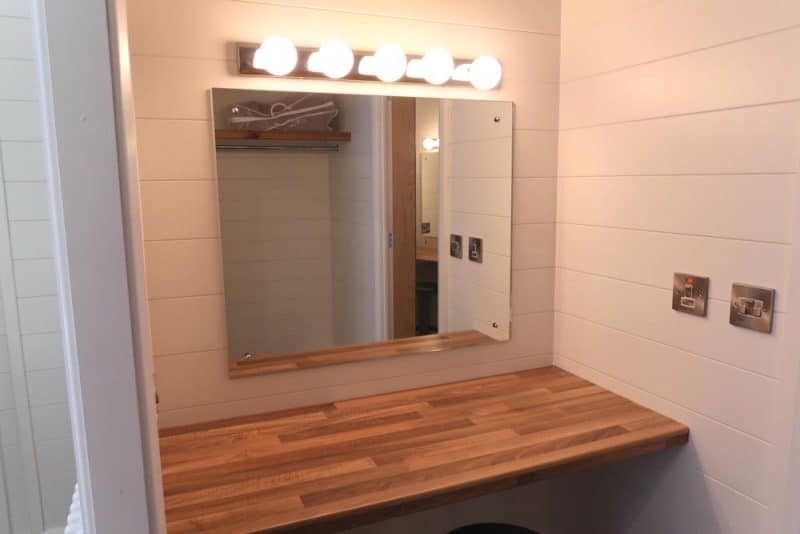 The boys bedroom had an en-suite shower room, but our en-suite had the addition of a stunning large bath.  The bath was lit up by lights on the floor and you can sit back and watch your favourite television shows on the integrated wall TV.
Of course, the inside is not what Darwin Forest is all about.  The forest and connecting to nature is a major part of coming to visit, so the decking area is very important!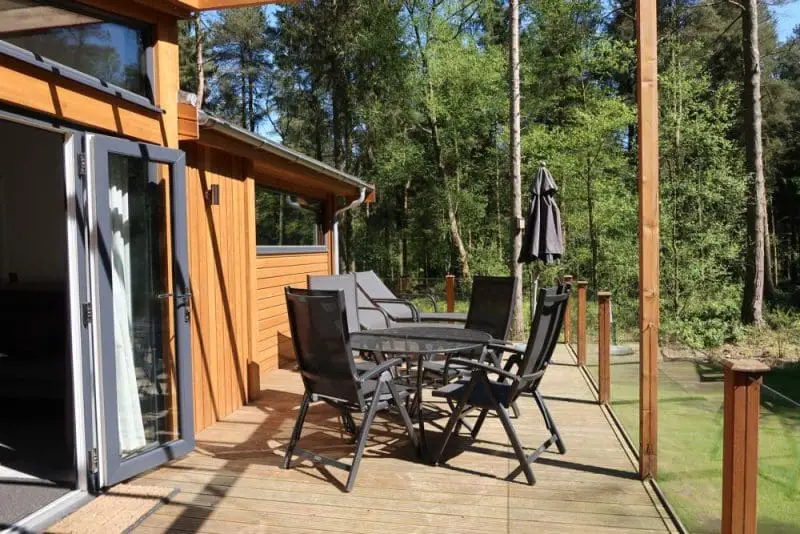 You can sit out on the deck enjoying the glorious sunshine.  We were very lucky with the weather and spent a lot of our time at the lodge on the deck, either sitting on the seats or enjoying the hot tub.
Someone checks the hot tub every day to make sure that the water is clean and it's safe to use.  We went in it several times and slowly learnt how to work it!  There are coloured lights for night time, a temperature control and the bubbles can be turned on or off using a dial on each of the four seats, plus you can turn each nozzle separately to get it just right for you!  The kids loved it just as much as us.  But we did manage to get back in when they were in bed and had a more relaxing time!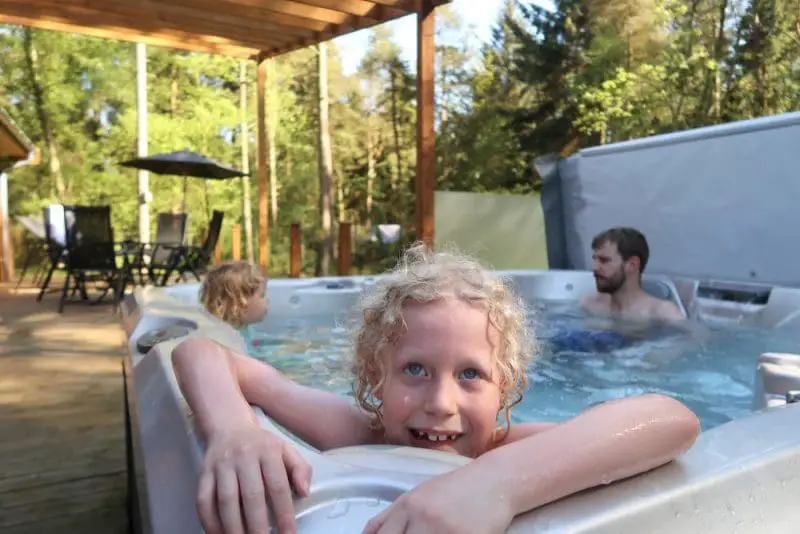 Activities at Darwin Forest
There is plenty to keep you entertained at Darwin Forest and on our first night we went for a walk around the Trim Trak.  The Trim Trak is a route around the forest that has 9 different exercise stations for differing abilities.  Some are aimed at younger children and others a bit more difficult for older children or adults.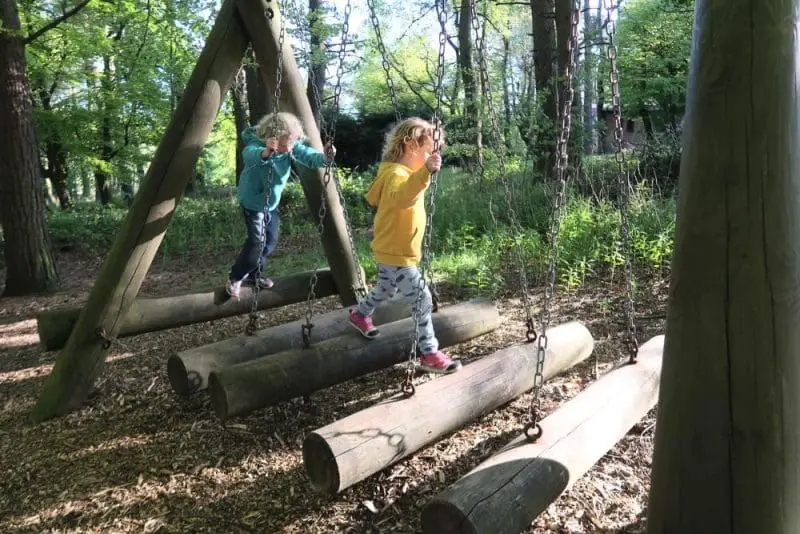 Along the route of the Trim Trak there is plenty of other things to see, including a wooden noughts and crosses board which our two got quite good at!
It's not too far to walk around the Trim Trak, so you can easily fit it in whilst looking for bugs in the nearby bug hotel and a look around the pond on the woodland meadow walk.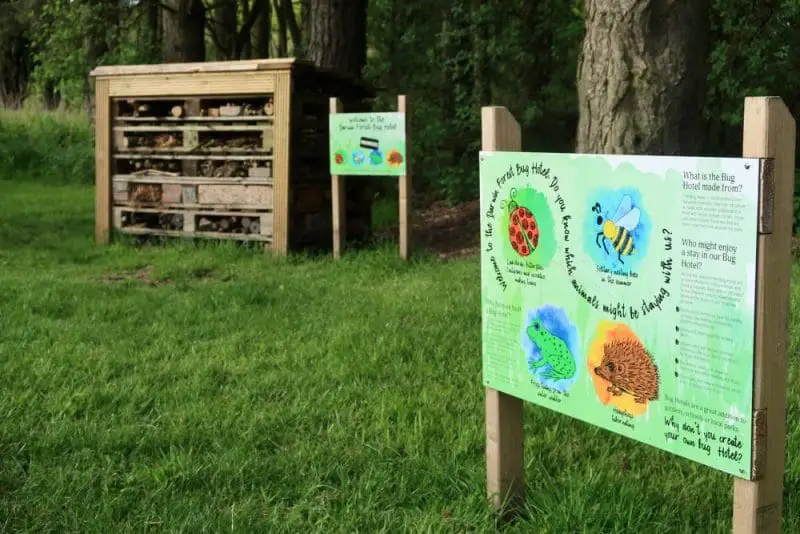 During the week there are Forest Friends activity sessions, which is a family friendly session learning about nature and building elf and fairy houses.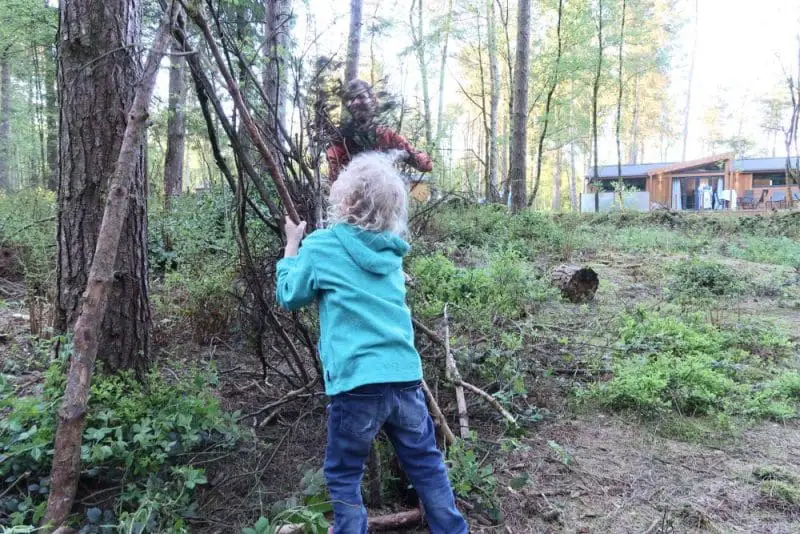 We also managed to create our own den in the woods by our lodge.  There are plenty of sticks and branches around, as well as a variety of other dens already completed!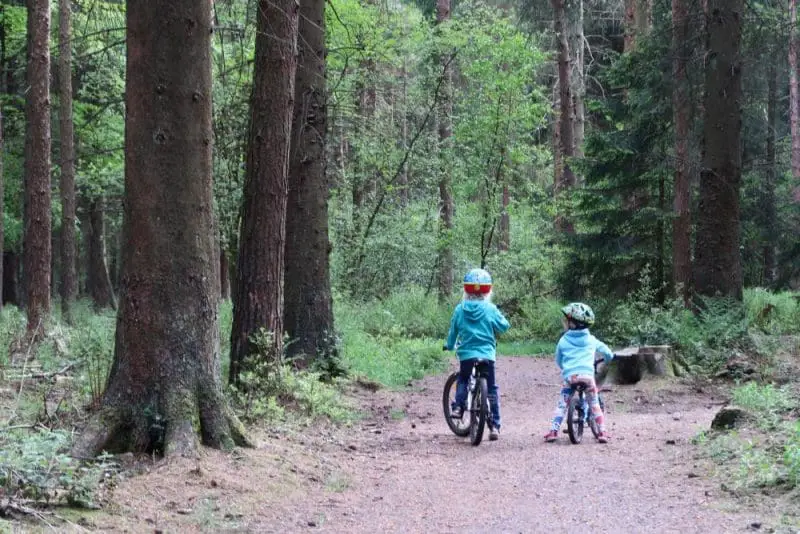 You can hire bikes on site or bring your own and cycle around the forest or take them further afield to cycle in the Peak District.  We had a great time cycling around the forest trails and bumping over the roots.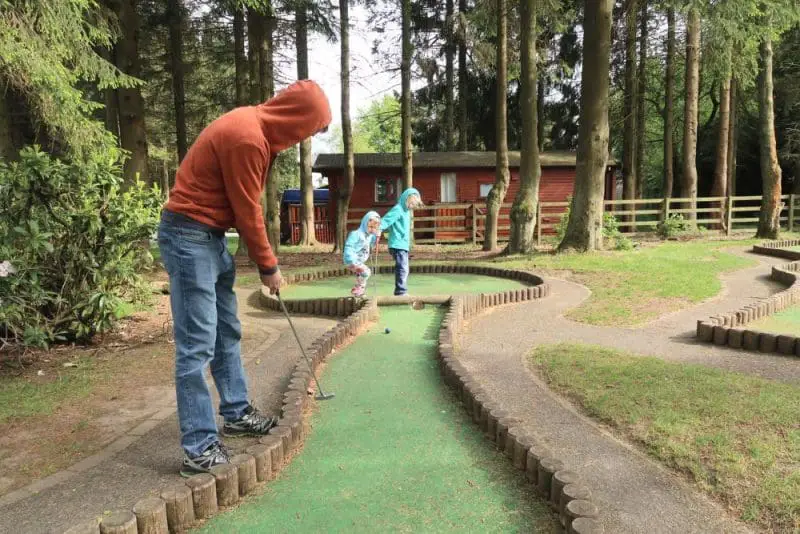 You can hire equipment for mini-golf at the reception and complete the 9-hole course.  Admittedly if you are not a golfing family it's going to be a lot more laughs than serious competition!  The kids played it more like a hockey match and I did my best to get a trick shot hole-in-one, but narrowly missed.  Ha ha!
There are also tennis rackets and balls available for the tennis courts and orienteering maps, but we were kept so busy that we didn't manage to fit it all in!
We also headed over to Evolution to use the swimming pool throughout our stay.  It's free to guests in the lodges and has both areas for lane swimming and an open area for little ones to play in.  You can also attend one of the paid sessions to use the snorkelling equipment or WaterWalkerz, but they are only open at certain times throughout the week.  You can also pay to use the gym equipment there at Evolution if you would like to too.
Outside the Foresters restaurant and bar there is a children's adventure playground that can easily keep the children entertained for an hour or so.  Aside the large climbing structure there is also a blue train to play on and a log and rope structure to climb over.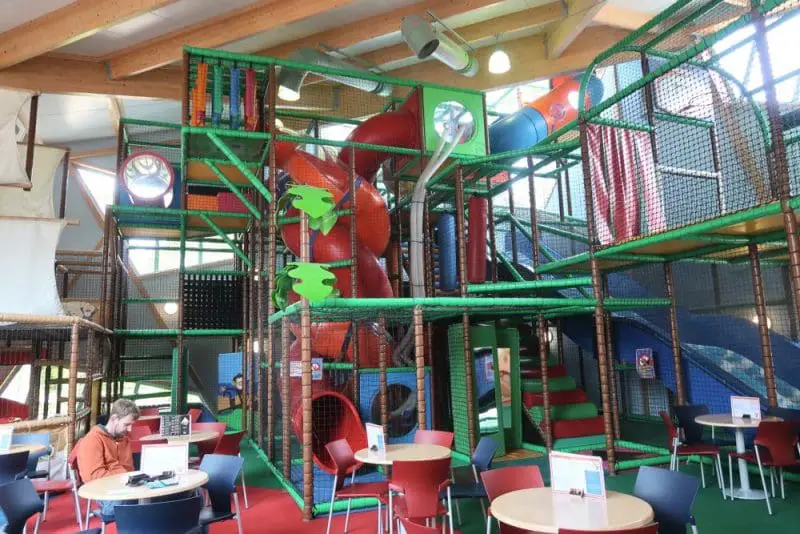 Behind the reception and shop you can find Little Monkey's softplay, which has discounted entry for guests.  You can also get a special meal deal if you want to have lunch or dinner there too.  They are various play areas for both little ones and bigger kids.
For under 5's there is a small soft play in the activity den behind the laundry and older children may like to play in the other rooms with pool tables, air hockey, table tennis and arcade games.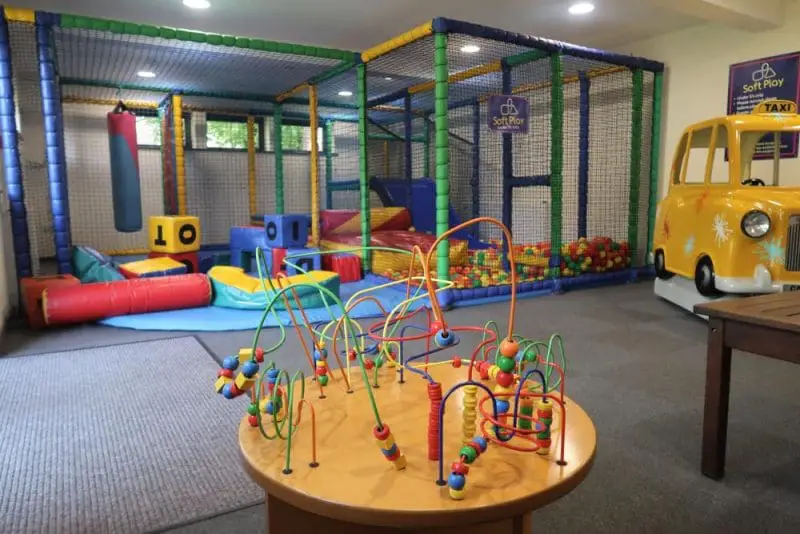 Archery, BodyZorbing and fencing are also available throughout the week, you can check out Darwin Forest activities page for more information on times and prices.
Shop and Eating Out
Opposite Evolution is Foresters Bar and Restaurant, which has a designated area for families and delicious fresh food.   The children's menu was great and simply smaller versions of the adult menu, which is much better than the standard chicken nuggets, fish fingers and macaroni fare found at most restaurants.  It's good to know the kids are having something healthier too!
We ate out at Foresters once and got a take away from there another evening to eat in the lodge, which was great too.
The shop next to reception has a wide variety of food available, including normal tins and packets to frozen meals and vegetables.  There are plenty of toys and souvenirs available too.
Local Area
There is a lot to do in the local area, but check opening times as some attractions are only open at weekends or holidays.   You can also get discount tickets for quite a few of the popular attractions from reception, which is always a bonus when you're on holiday.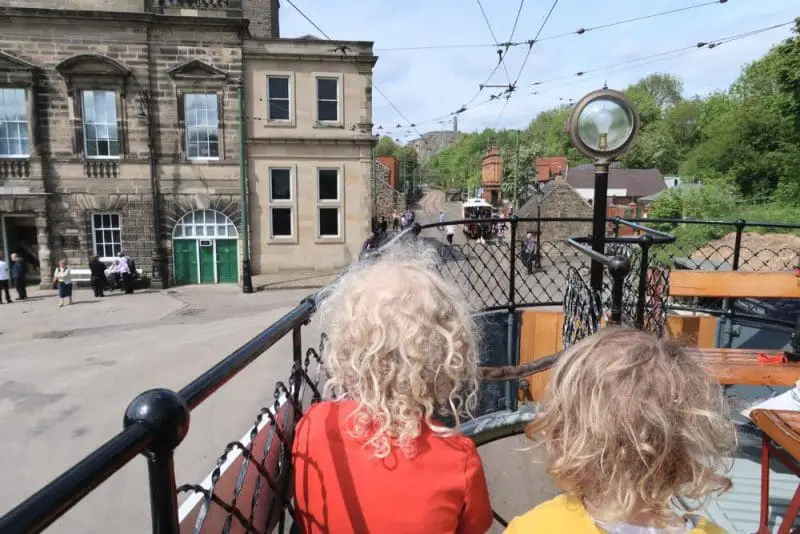 I will add some more posts about the places we visited during our stay in the next week or so, but favourites were Heights of Abraham (the cable car was a hit with the kids!), Crich Tram Museum, Blue John Cavern and Speedwell Cavern.  They would also have loved to go on Peak Rail, but unfortunately it wasn't open when we were visiting.
There are plenty of other attractions nearby including various railways, Alton Towers, Chatsworth House, Gulliver's Kingdom, Haddon Hall, wildlife parks and plenty of walk and cycles around the dales.
Our Verdict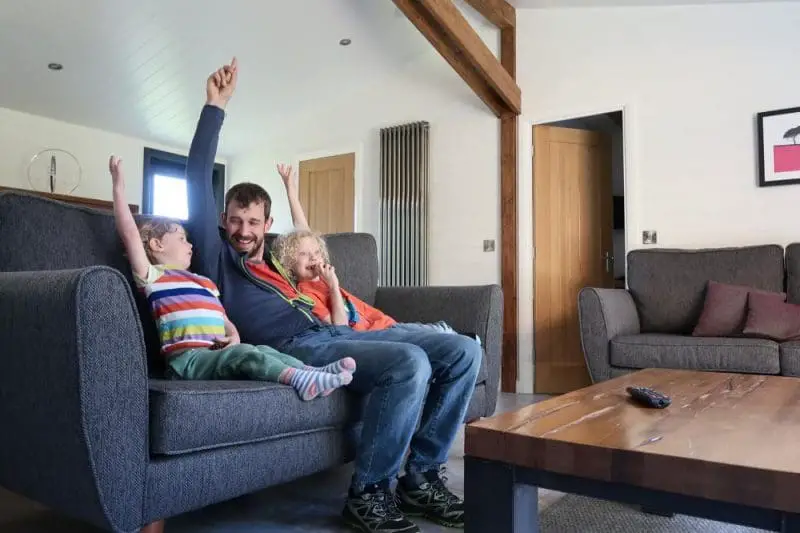 Hands up who enjoyed staying at Darwin Forest?!  We had an amazing few days at Darwin Forest, there is so much to do on site and in the local area that you are never stuck for ideas to entertain the kids.  The only thing I would say is that we could have stayed for longer.  There's a lot more we didn't fit into our visit and we are all going to miss the beautiful lodge and especially that hot tub!
Pin For Later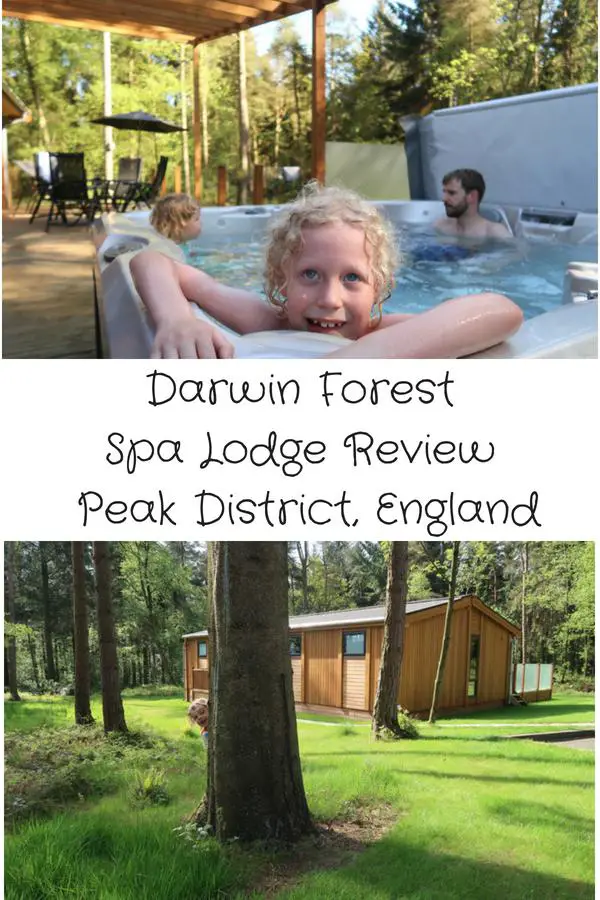 * We were given a four night stay at Darwin Forest for the purpose of this post, however all opinions are our own.