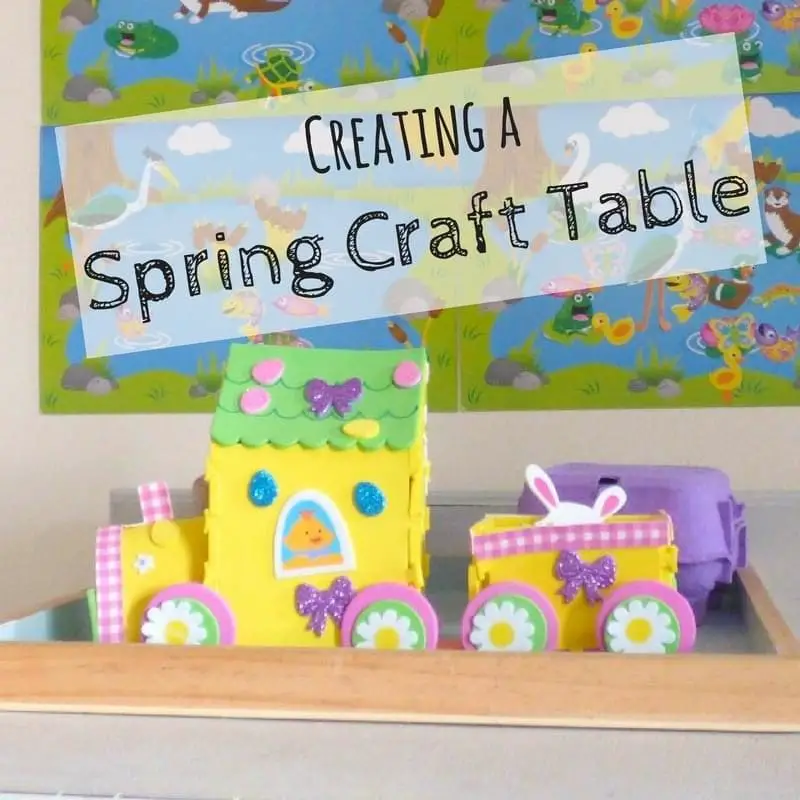 We're almost at the end of Winter.  Spring is really in our sights now with all the bulbs sprouting up and buds on the trees.  This is when we start to get our nature table ready for the season.  However, it's a bit too early to find spring nature here in Scotland so we're creating a spring craft table instead.
Where To Start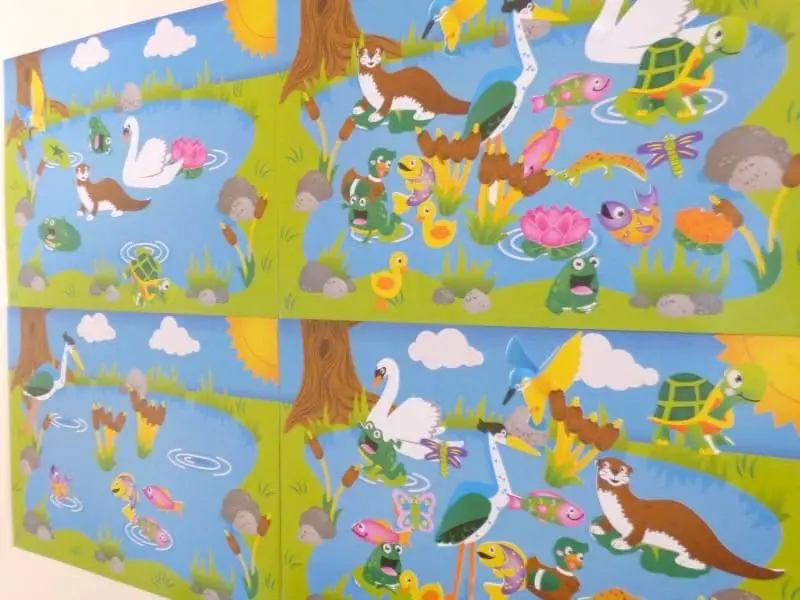 First we like to make a little background, such as these cute pond scenes that the boys created.  Can you tell that I have one boy that must use every sticker available and a much more minimalist child.  Ha ha!  You can find the scenes here and create your own cute pond pictures with the children.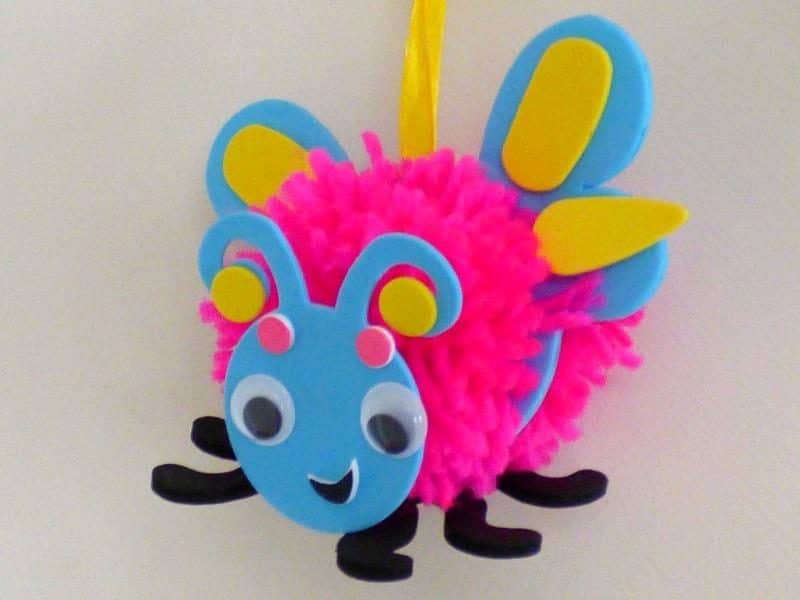 I always like to have something hanging down above our table.  In autumn we had leaves dangling down and so for spring we have added some cute pom pom bugs.  The pom pom bugs are from Baker Ross and were a fun project to tackle.  Although a bit too advanced for our 3 year old.  We did have a few problems with the foam sticking to the wool, so you are best using some PVA glue for that part.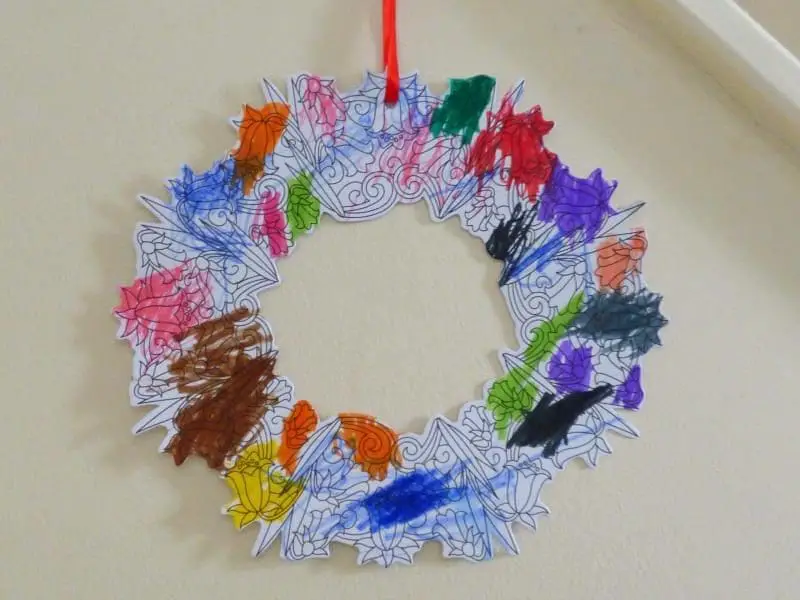 Our final hanging item is a colour-in wreath, found here.  Neither of my kids are very into colouring in, but they will give it a go.  So I count this as a success despite the obvious white patches!
The Centerpiece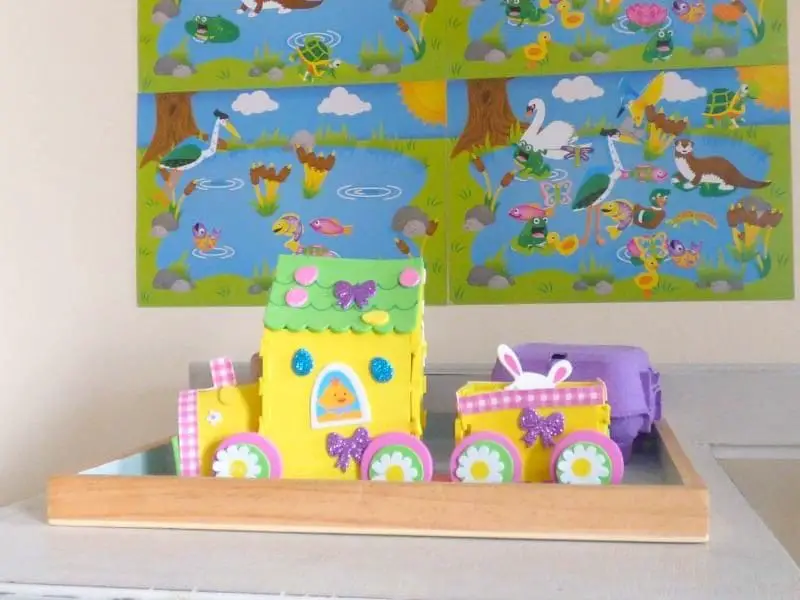 Our centerpiece for this spring table is an Easter themed train.  The train is from a foam craft set that you can find here.  The actual make was fairly fiddly and required glue to keep some pieces in place, so it was a bit too difficult for my 5 year old.  But he did love adding on all the stickers and playing with it in general.  I'm looking forward to filling it with chocolate eggs on Easter day!
Nature Table
We will be adding to the table over the next couple of months.  We are still on the look out for the perfect stick with buds on, but so far my two just keep handing me muddy broken branches!  Perhaps a fallen Willow stick with fluffy buds.  Then we can hang off some homemade decorations featuring chicks, lambs and whatever else the kids choose.
Both boys love birds and talking about nests and chicks, so we will be on the look out for thin twigs and down feathers to create our own interpretation of a nest for the nature table.
Homemade Crafts
We have definitely not finished our spring crafts yet.  So we will be adding a few DIY crafts to our table next month.  I love daffodils and want to make some gorgeously bright yellow flowers using junk material.  I normally give the boys an idea of what to do, but they can be creative and change the idea as much as they want.  It's their craft after all!
I saw a few cute ideas with chicks 'hatching' using a clothes peg and card.  So we may try that out too, I'm looking forward to more spring crafting!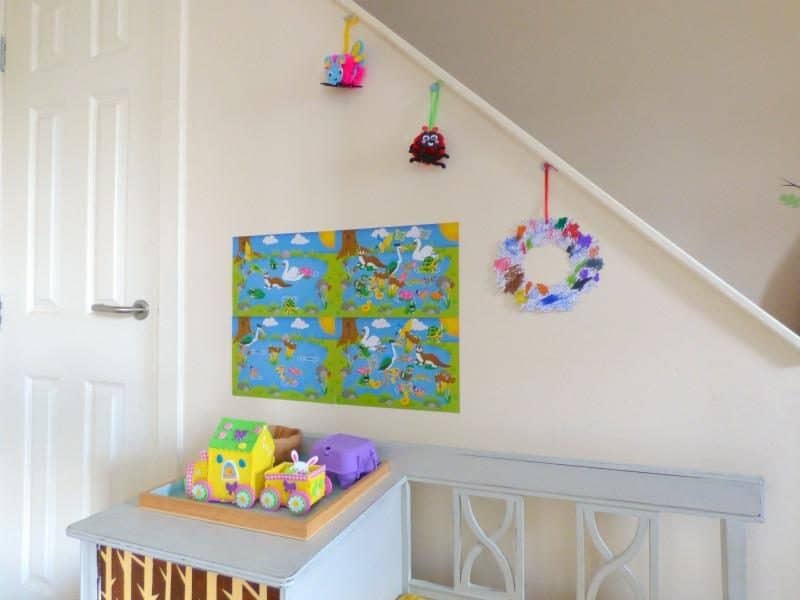 What is your favourite Spring craft?  Do you like to create DIY ideas or have craft kits?
Pin For Later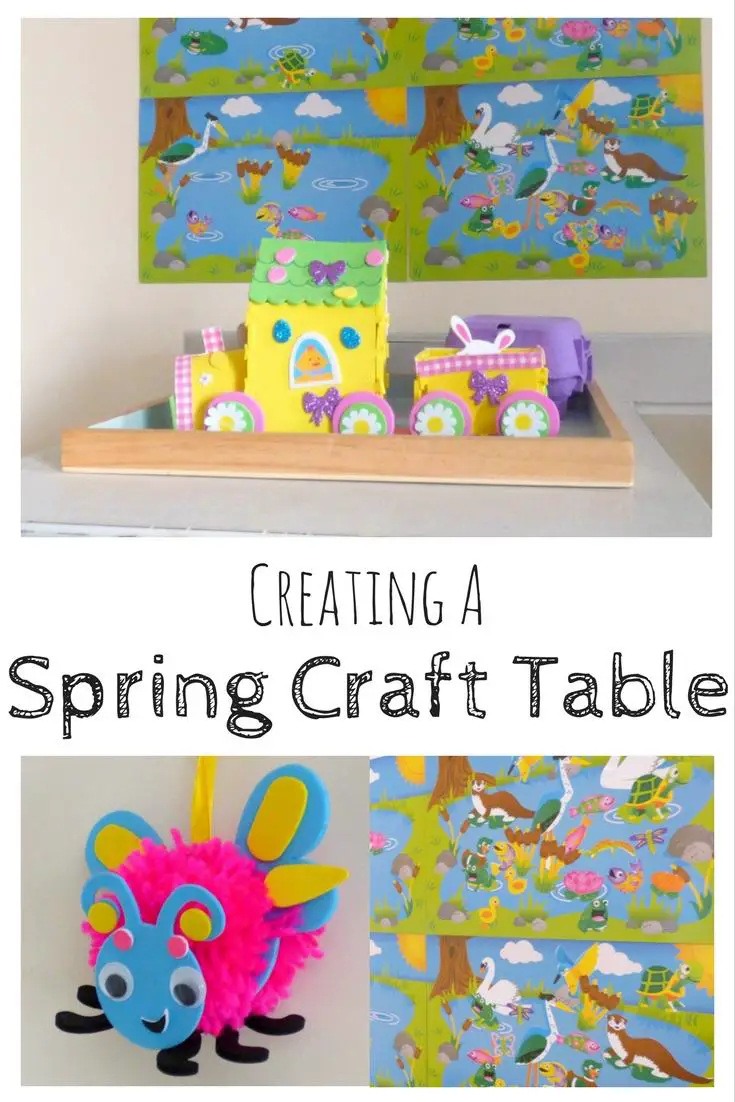 * We were sent craft items for the purpose of this post, however all opinions are my own.