It was recently my birthday and amongst all the chocolate, cakes and cards I received these beautiful candles in the post.  They are especially lovely as they are from Stornoway on Lewis, where we recently travelled to with our little family.  Lewis has so many gorgeous beaches and historic places, but there are also some amazing entrepreneurs, including Megan who founded the Sandwick Bay Candles.
Sandwick Bay Candles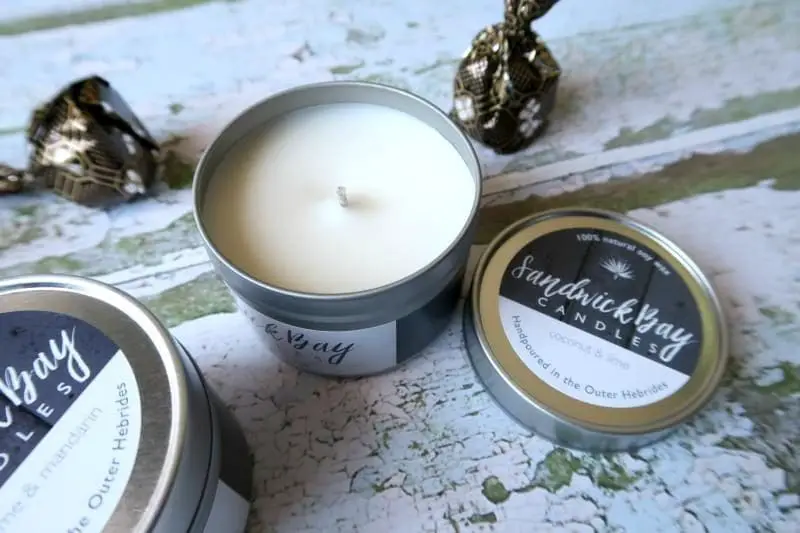 The candles are 100% natural soy wax, which are much better for you and the environment than the paraffin wax alternatives.  The candles are all hand poured and beautifully presented in lovely tins or jars.  I was amazed at the quality of the candles and they smell divine.
The fragrances of the travel tins I were sent were coconut & lime and basil, lime & mandarin.  I am huge fan of all things coconut, it always reminds me of my travels in Central America or Ghana.  The basil, lime & mandarin has a slightly more citrus smell, which makes it incredibly refreshing.
I love how smells can bring back memories of places and times that you may have forgotten.  Assuming that it's not just me of course, do certain smells bring you back to other countries or younger days?  It's lovely to have those smells wafting through the house, which is a lot more enjoyable than last nights mackerel!
Sandwick Bay Candles have a huge selection of fragrances, all made using premium fragrance oils.  Other fragrances that I like the sound of include black raspberry & vanilla, pink champagne & pomelo and oakmoss & amber.  You can check out the fragrance list over here.
Competition
Now you have seen just how gorgeous the Sandwick Bay Candles are, how would you like to choose a bundle of your own candles for yourself?  Well we have teamed up to giveaway a fantastic bundle consisting of a Large Glass Jar and 2 Small Travel Tins, worth £24, in your choice of fragrances.
To win this Hebridean candle bundle simply fill in the form below.
Sandwick Bay Candles

Landing Page (Automatic)