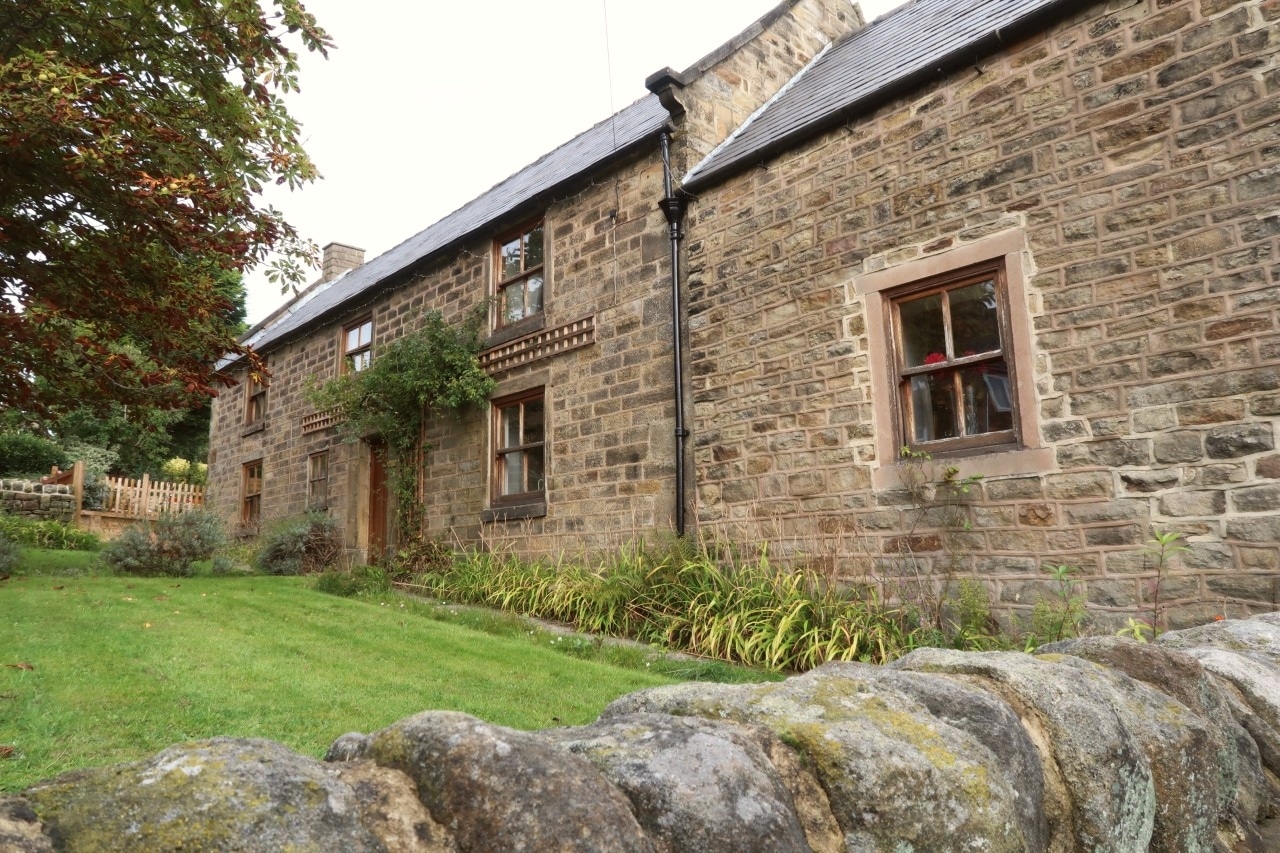 Disclosure: I was gifted this stay for the purpose of this post
Fritchley Village
Nestled in the grassy hills of the Peak District just 16 minutes South East of Matlock.  It's a lovely old village, with a traditional pub serving drinks and hot and cold bar snacks.  There are several rights of way through the countryside nearby, which can take you over the fields past bramble hedgerows and past the world's oldest surviving railway tunnel (signposted).
In the heart of the village is Church Farm Fritchley Holiday Cottage, where we stayed for 5 days during September.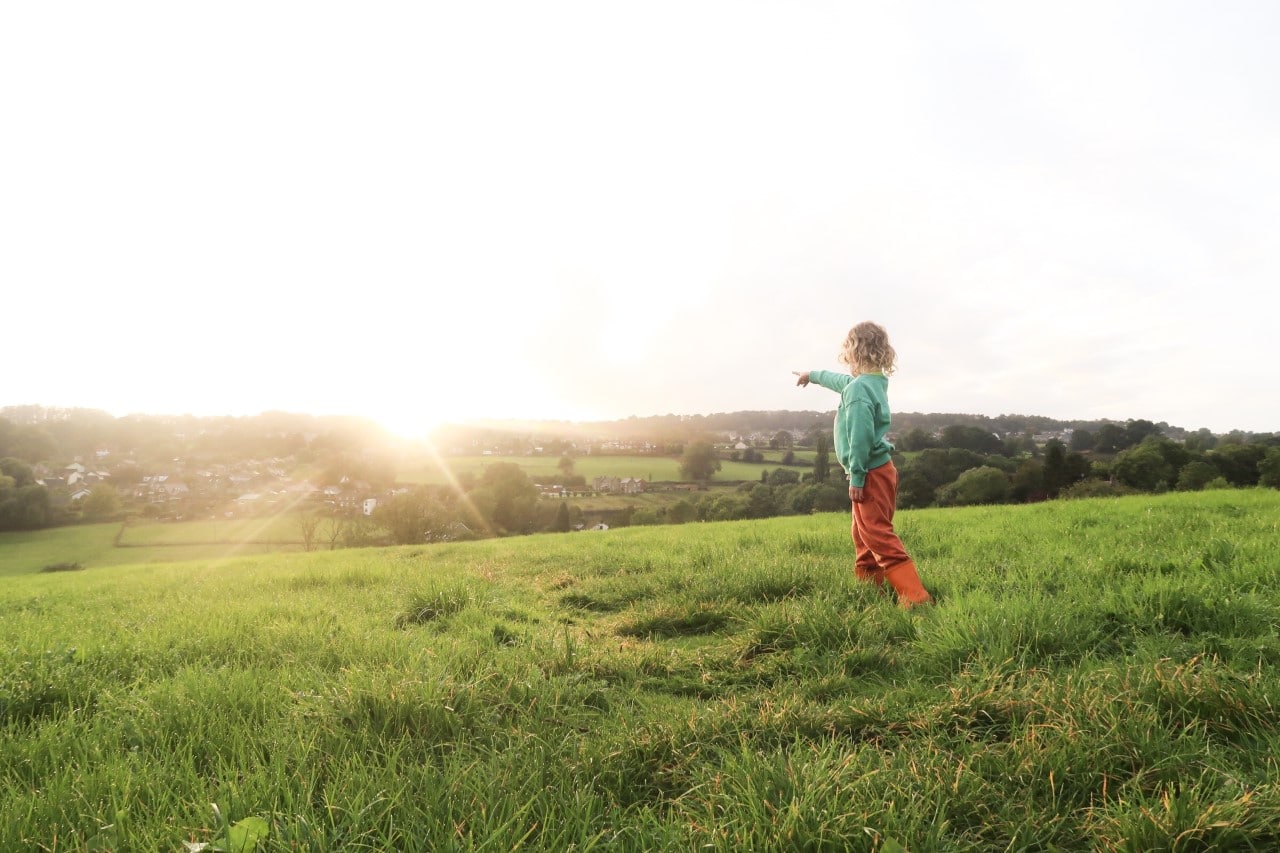 Church Farm Fritchley Holiday Cottage
The cottage is a converted barn with stunning wooden beams and old wooden flooring.  With a fantastic garden surrounding the property and room for several cars in the driveway.  Which is just as well as you can sleep up to 8 people in Church Farm Fritchley Holiday Cottage.
Kitchen
The kitchen is an extension to the older building and is complete with what we assumed was an old well.  Part of the flooring has a clear perspex style tile that you can look down into the well.  We didn't actually notice it the first time we walked through the kitchen, distracted by the beautiful stairway in the hallway.  However it certainly intrigued the children and I during our stay!
The kitchen is equipped with almost every piece of kitchen paraphernalia that you can imagine.  Well maybe not quite, but you certainly don't need to bring anything with you except for some lunch boxes and water bottles.  I had brought scales and mixing bowl with me to make pizza dough and found both items were already there when we arrived.  There is also a selection of cook books if you feel like being adventurous with meals during your stay.
There is a large electric oven with gas hob that is easy to use, plus a microwave for all your cooking needs.  You are also blessed with a dishwasher (a novelty for us!), a large fridge freezer in the utility room and a washer-dryer.
Also in the utility are plenty of towels for drying off any pets staying in the cottage and cushions for the outside table and chairs.  At the end of the utility is a small toilet room.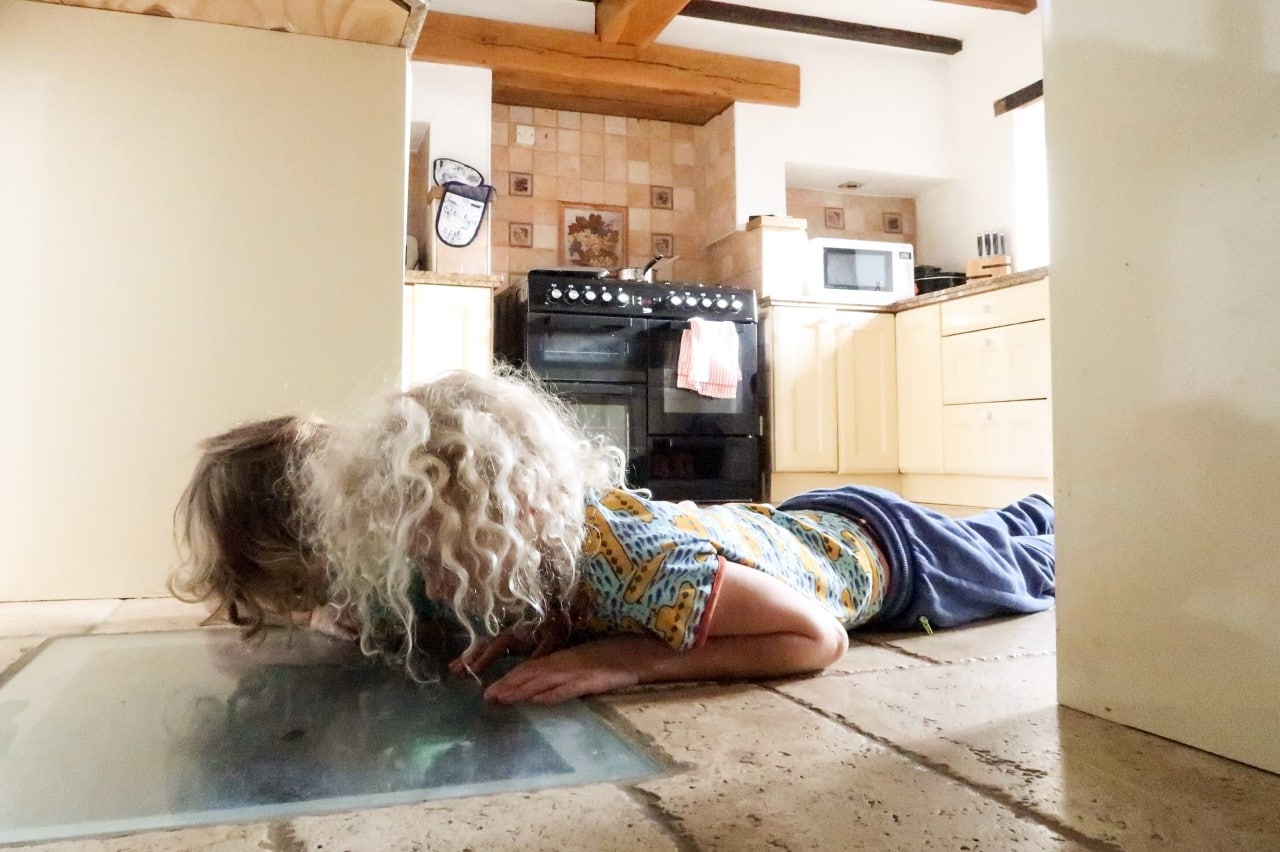 We didn't have any problems with the kitchen area, although with all the equipment available it would have been nice to have a few plastic children's plates and cups for younger ones.
Living Areas
There are two main living areas.  The first is pictured below, which feels more like a 'snug', a little family room where the kids can happily play games or watch television.  There's plenty of space for them to spread out or to sit and chat to friends and family once the kids are in bed.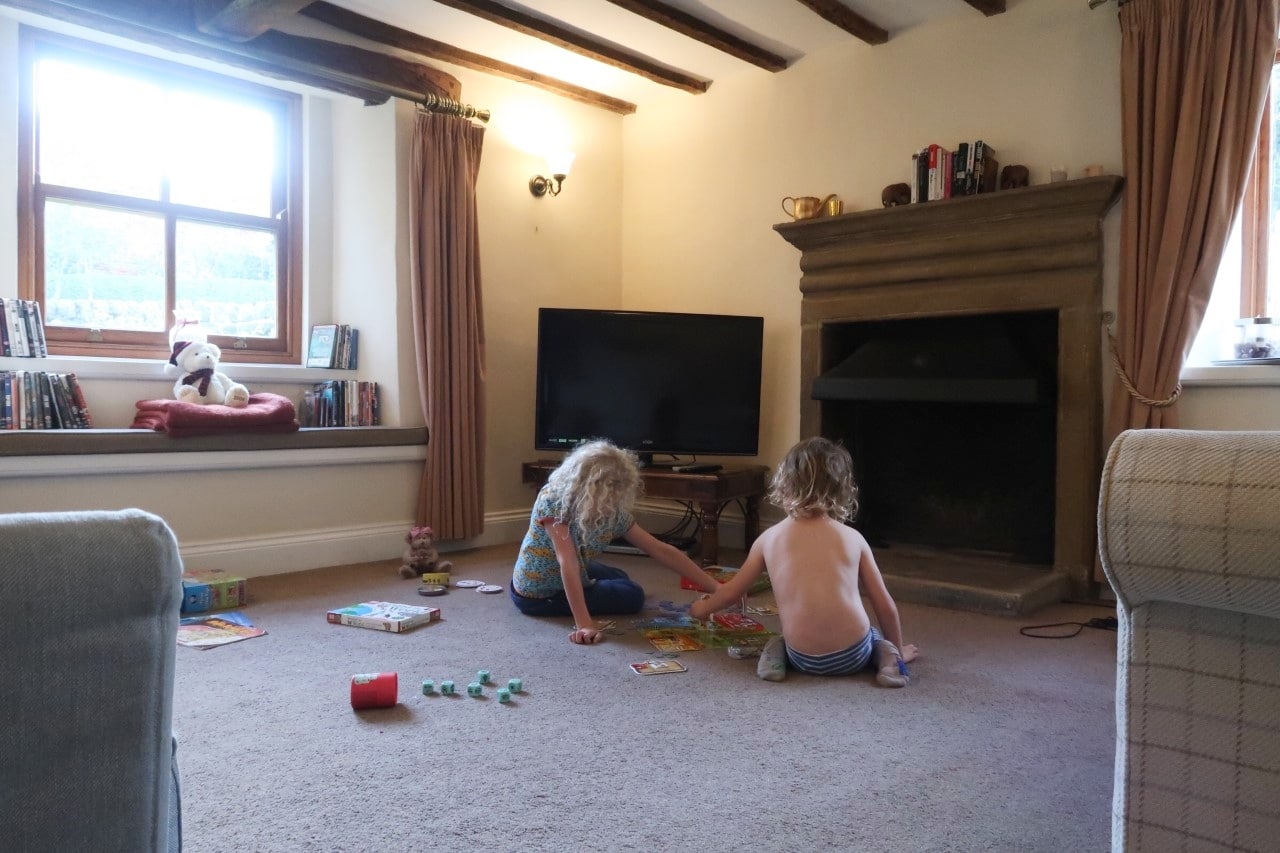 A huge wooden truss is used as the stairway and looks stunning, particularly with the fairy lights on!  Although you will need to remind children to take care on the stairs due to one side being open.  You can borrow the baby gate that is in the utility if you have rather small ones that you don't want climbing on their own.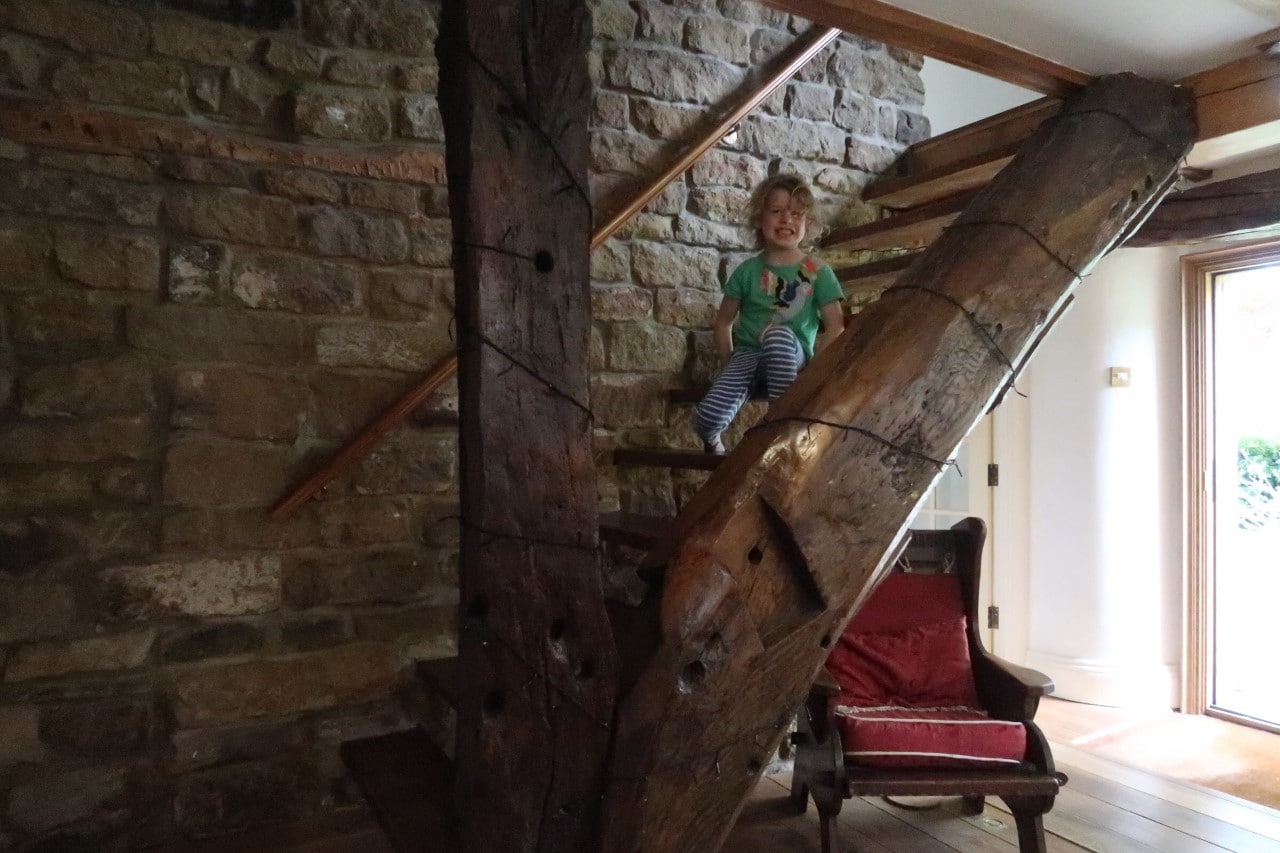 The beautiful dining area and sitting room on the other side of the property has uncovered beams and large windows onto both the front garden and the rear garden where you can look over the rolling hills.  This area also has plenty of seating to sit and chat, as it's a little more formal it's a nice are for the adults to sit in whilst the children are playing in the other living room.
The dining table is large enough for 8 people to sit at and a high chair can also be provided if you have a young child with you.  We ate round the table most nights, although we managed one evening at the table outside when it was dry and mild.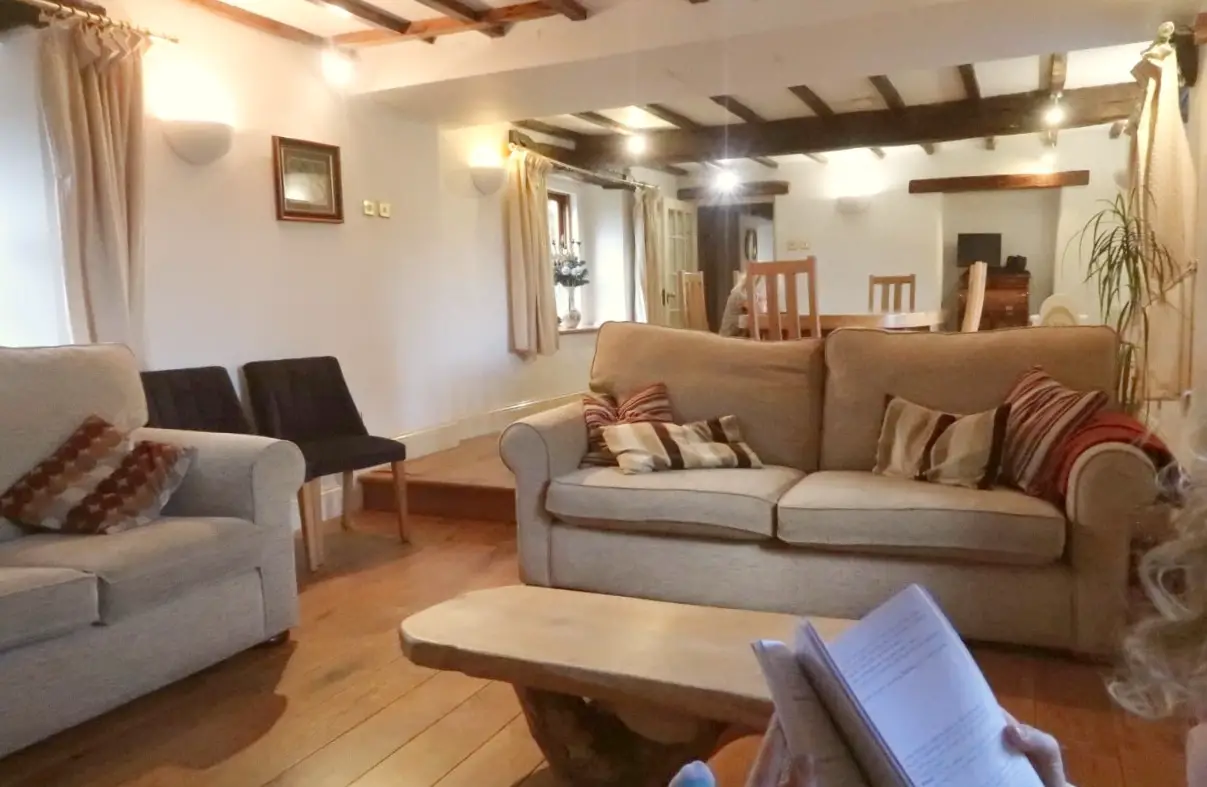 Bedrooms
There are 3 bedrooms; 1 king size bed with en-suite, 1 Super King with a cot available if required and a third room with twin beds (that can be arranged into a double if requested).  The long sofa in the snug can be turned into a sofa bed to fit a further 2 people in the cottage.
The bedrooms have good size storage areas with wardrobes and drawers, available.  The roof trusses and beams are on display in the bedrooms too and although simply decorated, they are all beautiful spaces.

The bedrooms and corridor upstairs had lots of teddies displayed, which the children seemed to enjoy!  I have a request from both children to ask Santa for teddy bears similar to the ones at Church Farm!
The beds were all very comfortable and everyone had a good night sleep, or as well as you can with children!  However, if you're visiting with children in the summer time I would bring a blackout blind as the curtains are quite thin and won't be much help if your children are used to darkness for sleeping.
Bathrooms
There is a huge family bathroom upstairs with large footed roll-top bath, large shower, toilet and sink.  The en-suite shower room with high ceiling is located in the bedroom above the snug and is a great size with a good shower, toilet and sink.
There's also the small downstairs toilet, which is perfect for when kids suddenly need to go to the toilet again as you're leaving the house!
Garden
The garden has an outdoor seating area on the patio area at the back door, great for al fresco dining, even on a mild autumn day! Behind the driveway is a large private garden, plenty of space to let the kids run about together.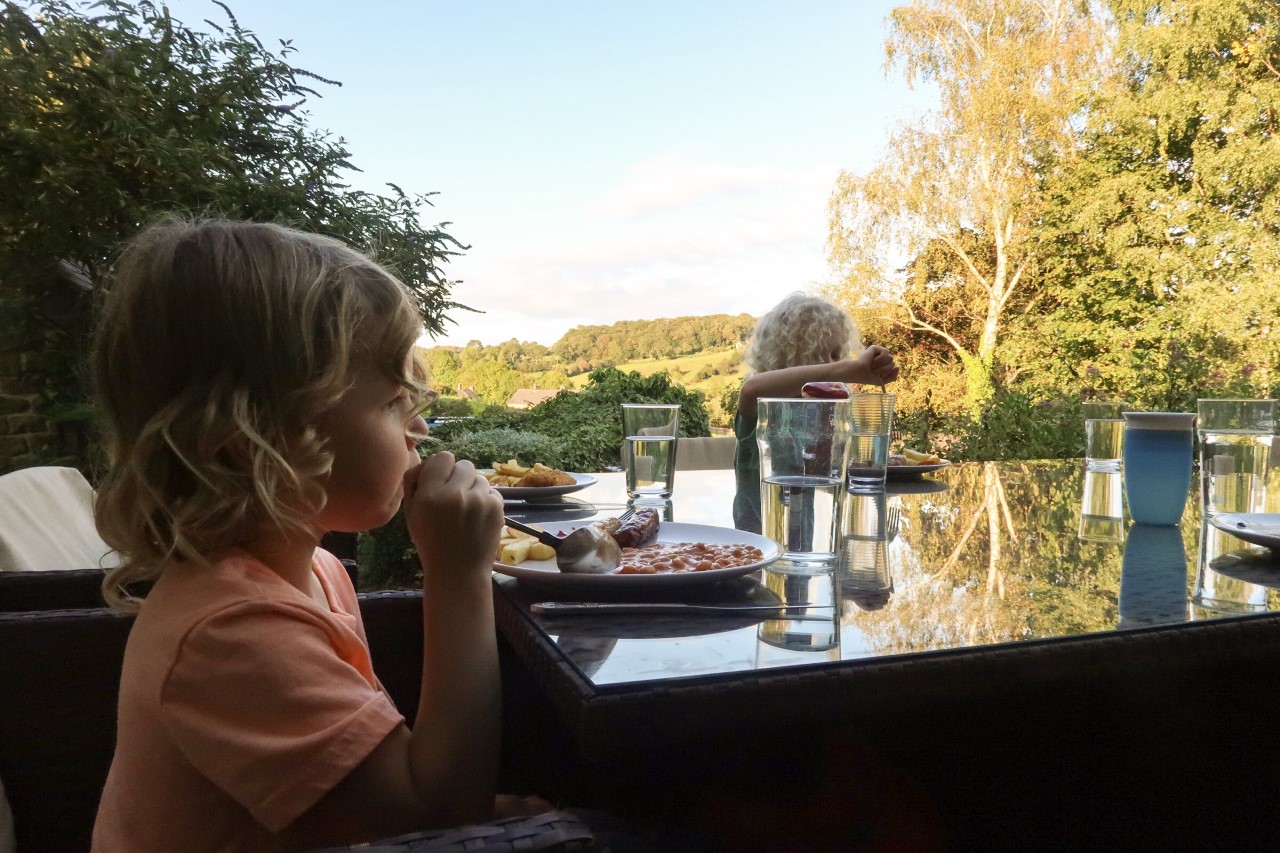 There are beautiful views at the back of the property to the hills, which look like a typical countryside painting of sloping fields and stone cottages.  Plus it's not too far to get up into the woods and hills yourself along one of the many walks around the area.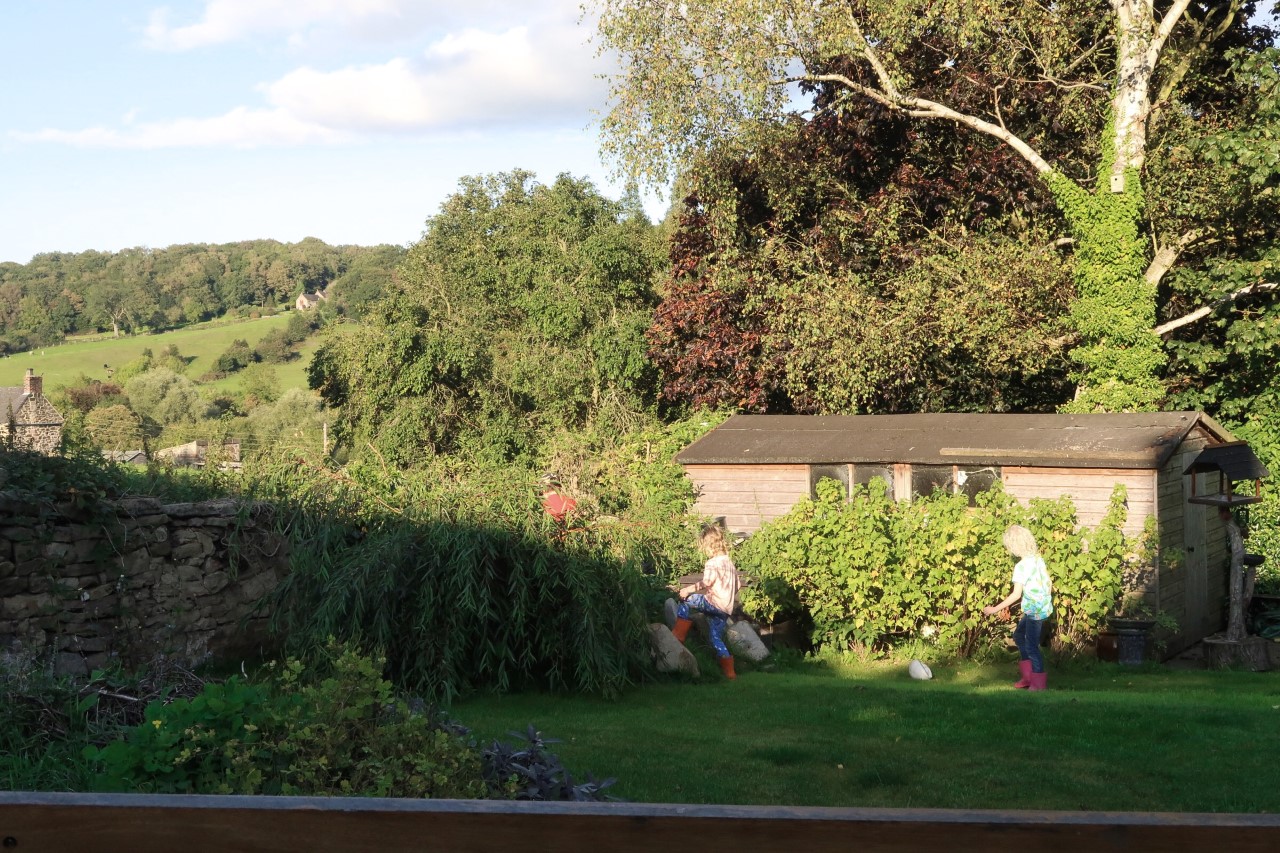 Around behind the kitchen is a pear tree, which was full of delicious pears when we visited, the kids had a great time picking them to eat! The final garden area at the front of the house is small and pretty, with a horse chestnut tree full of conkers in September.  So of course the children made sure to find as many conkers as they could before we left!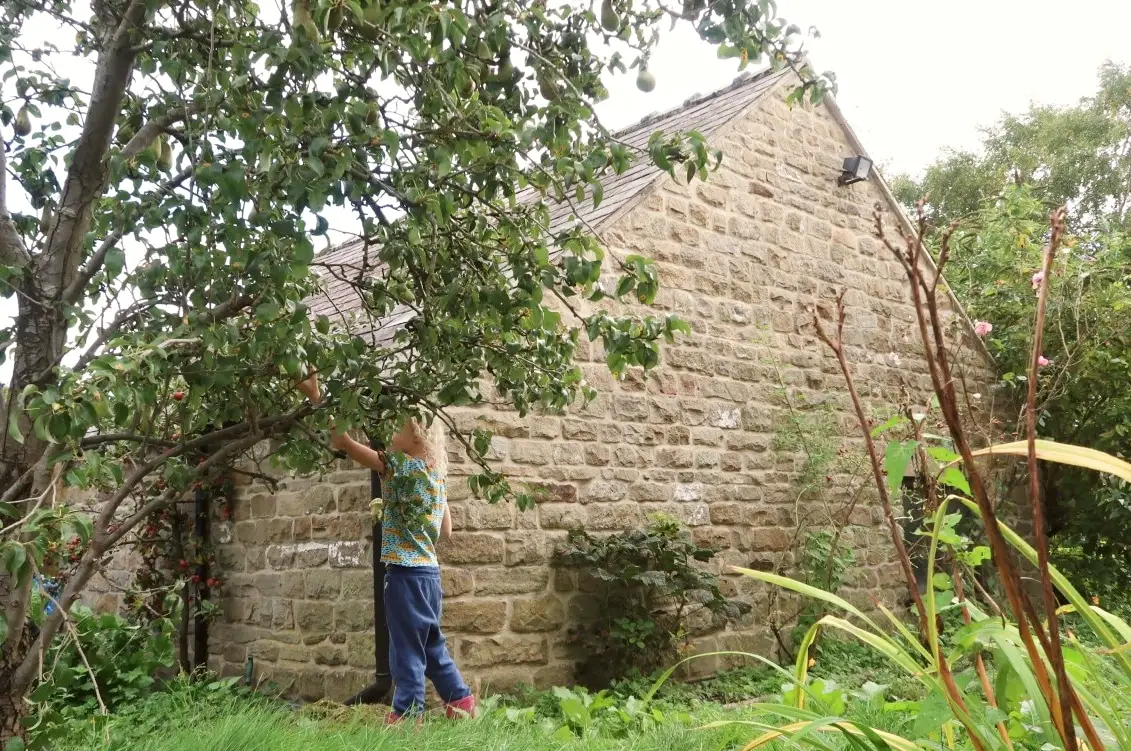 Local Area
There is a huge amount of places to visit in the local area and we never managed to get further than a 20 minute drive away from the cottage as there's so much to see and do locally.  We had some lovely walks around the village and found another fantastic Horse Chestnut tree as well as information about the world's oldest surviving railway tunnel.
A trip to the village next door to see Crich tramway village, you'll want to set aside a whole day to visit with the kids, there's a lot to do!  There are several cotton mills in the area and we chose to visit Cromford Mill, which is rather inexpensive and has plenty to do with the kids, from pedalling a bike to make a water wheel work to learning about spinning cotton.
We also had a very wet visit to the National Stone Centre, which you could spend a whole day at, although we cut it short as the kids were soaked through.  There's some great walks taking you through the geological history of the area, a lovely small museum and cafe, plus panning for gemstones.
A little further afield is Heights of Abraham at Matlock Bath, which we have visited on a previous trip to the area, a brilliant place for a family day out.  There is also Chatsworth House and plenty of caves to visit up in the National Park too!
You will be really spoilt for choice and may have to come back a 2nd or 3rd time to fit everything you want to do in!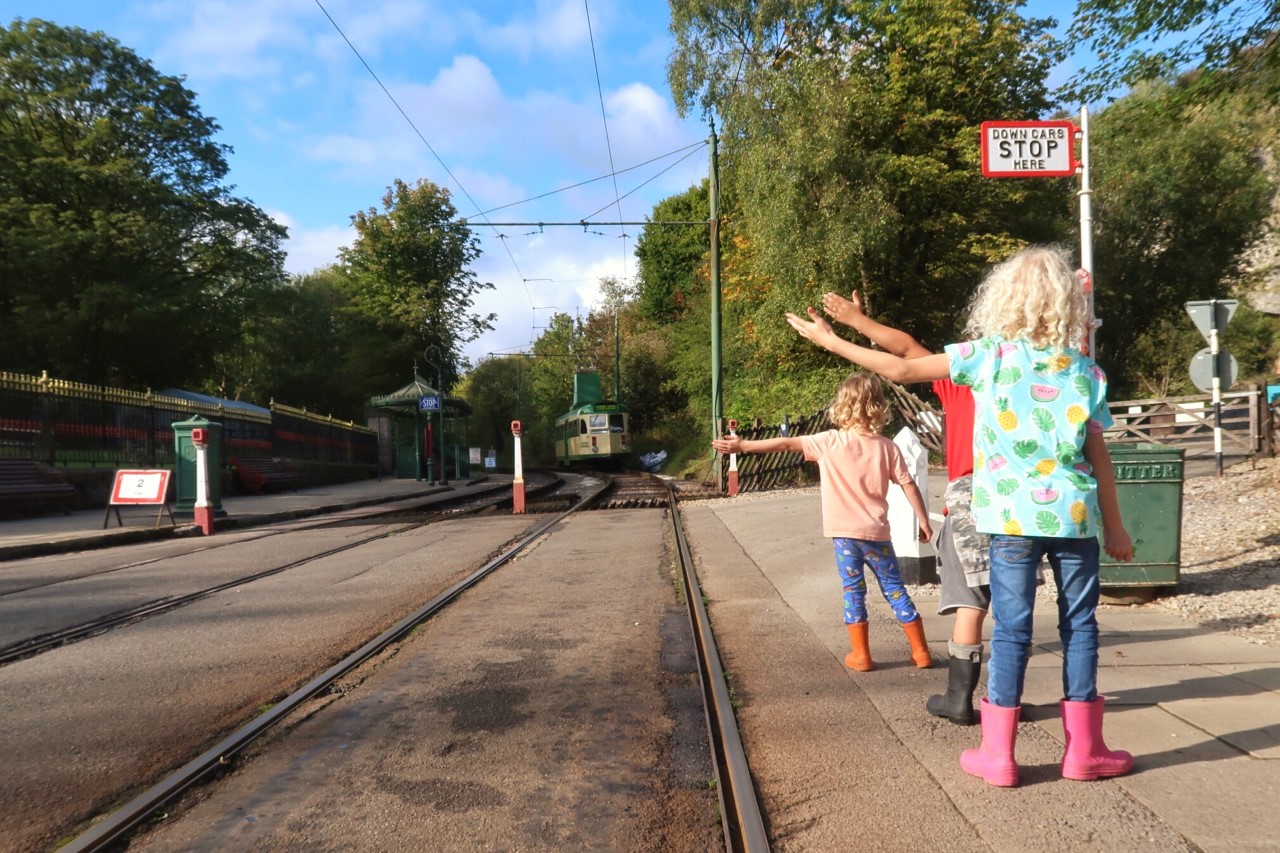 Pin For Later