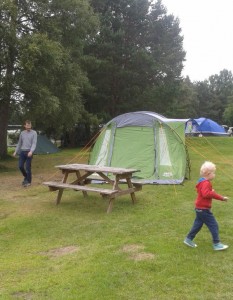 This past weekend we went on our first family UK camping trip.  I won't lie, it wasn't the easiest camping trip as it appears that neither child wanted to sleep, but despite lack of sleep it was a great weekend!
We booked a pitch at Glenmore Campsite, under the shadow of the Cairngorm's.  We arrived and booked in, not long later we had the tent up.  We shouldn't have worried about getting a tent up with the boys there, it was easy enough as they ran around playing as we put it up.  A shame the midgies were attacking us at every moment when pegging out the tent!
I also, on a whim, brought my hammock with us.  It's a little old now, but hasn't been out since my gap year when I slept in it every night for months.  A loved lying in it and looking up at the trees above, both Chris and I found it really comfortable, probably more so than our beds in the tent!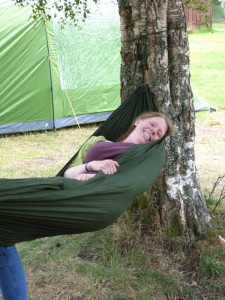 The weather was dry when we arrived, but unfortunately it started raining during Friday night and continued through to Saturday afternoon.  This wouldn't have been so bad if we didn't have a little person who is attracted to any small body of water and immediately jumps in, falls in, kneels and sits in the puddles.  I quickly realised I hadn't packed enough changes of clothes for A! He didn't seem to care and lots of fun playing in the water and very annoyed when we stopped him the following day on his last change of dry clothes!
 Glenmore campsite is right beside Loch Morlich, so of course we had to go for a little explore.  You can hire boats and kayaks there, I remember sailing toppers on this loch when I was (a lot) younger.  The boys had fun playing on the beach and throwing a dogs toy they found into the water.   As I was the only one with tall wellies I was designated to wade in to get the ball each time.  A, of course, went in above his wellies early on and then fell over in the water.  As he was soaked through we didn't stay too long!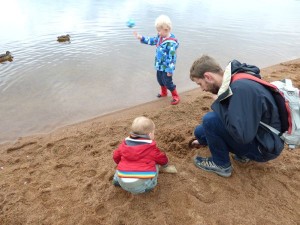 Between the loch there is a little park area, where the boys had fun running around and playing on the equipment.  There were no slides, so O was a little disappointed, but we did have fun on the wobbly bridge, logs and swing.
Notes for our next camping trip;
*  Take more spare clothes and jackets for our toddler
* Take 2 pairs of wellies each for the children
* Bring midge repellent
* Buy self-inflating mats for sleeping
* Bring a foldaway table and chairs (we were lucky there was a picnic table available)
* Bring extra warm clothing for sleeping, maybe even thermals!
Do you have any other camping tips?
J x