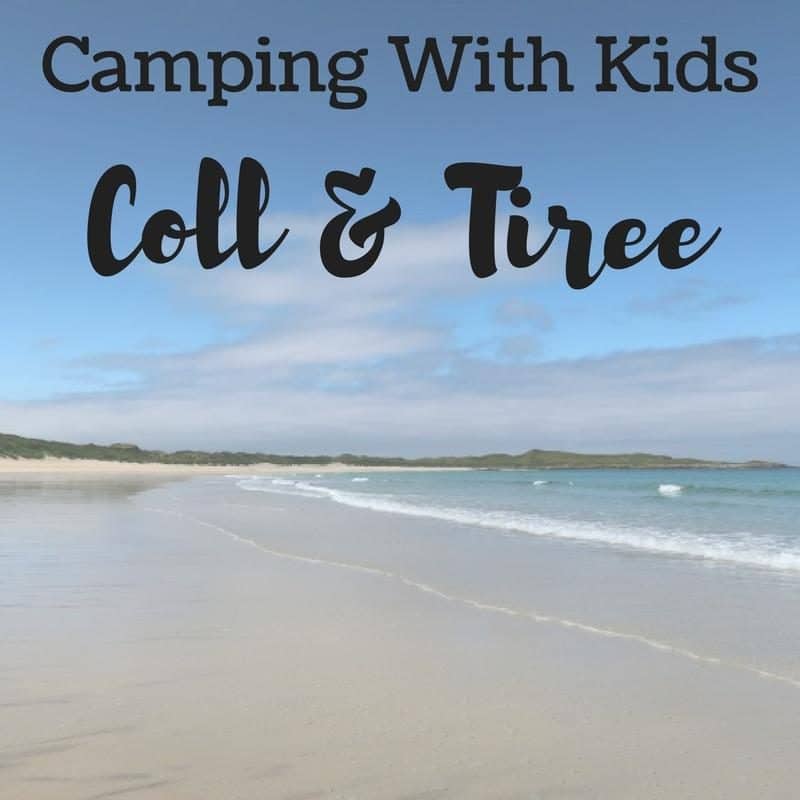 I seem to have made it a bit of a mission to visit as many Scottish Islands as I can with my family.  I love being by the sea and our islands are particularly stunning places to be and often rather empty.
We have managed to visit two other islands so far this summer, Lewis and Harris, both were stunning.  So I was pleased to visit another two more beautiful islands this year.  The isles of Coll and Tiree are located North West of Mull and you can get the ferry there from Oban.
Ferry To Coll and Tiree
The ferry to Coll takes approximately 3 hours and another hour to get to Tiree.  We always get to the ferry a minimum of 30 minutes before last check-in.  This is because I like to be organised and it's also nice not to be stuck behind others when driving away from the ferry!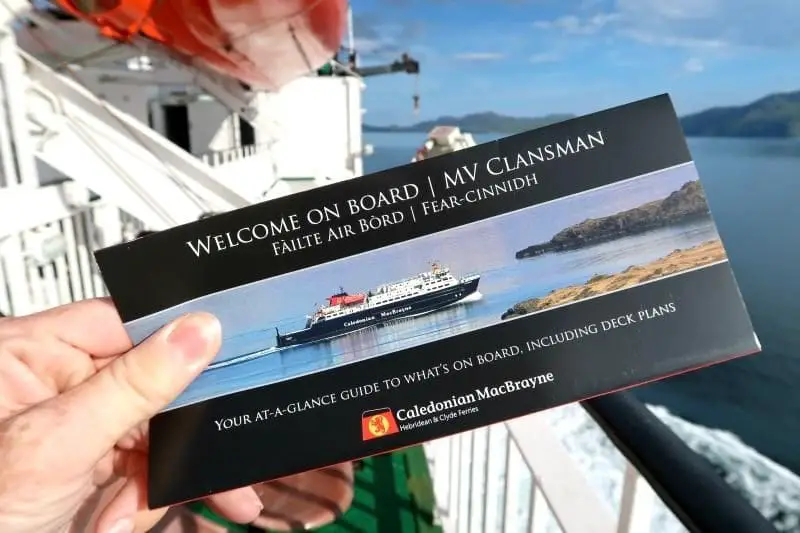 Our ferry was the Clansman, which has a dining area, coffee shop and plenty of seating areas both inside and out.  There was also a small kids play area, which is always appreciated for entertainment.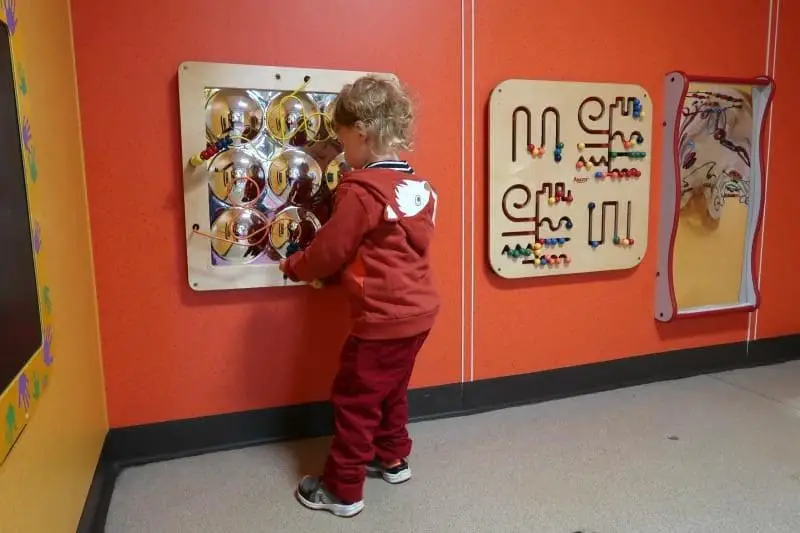 Everyone seems to have their own routine when they get on a ferry.  Some like to choose the airplane style seats to have a sleep, others immediately head outside and people with young kids (us included!) find a seat with a table in the dining area.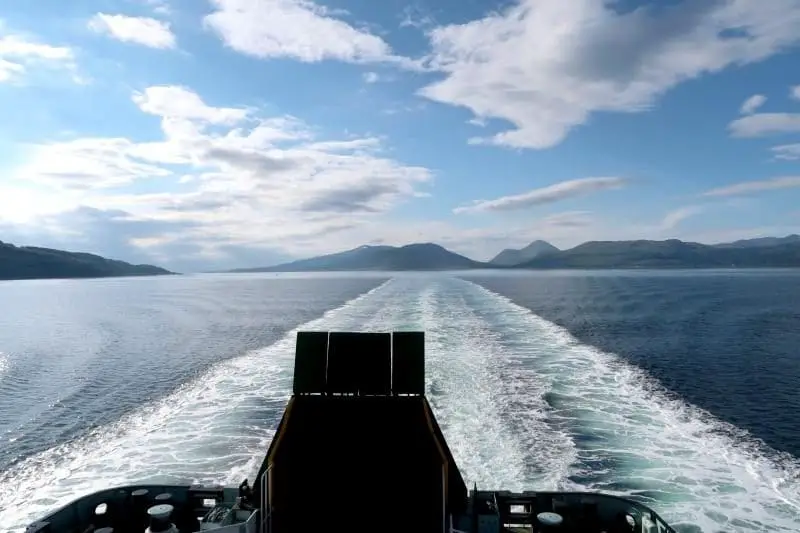 Having a table seat is always useful on longer journeys when you can have space to get games, sticker books etc. out as well as having somewhere to eat breakfast or lunch.
Coll
On Coll there were only a handful of cars departing from the ferry, it appears most people go straight to Tiree and skip Coll.  This was great news for us, as we had the beautiful island almost to ourselves, but not so great for Coll's small tourism industry.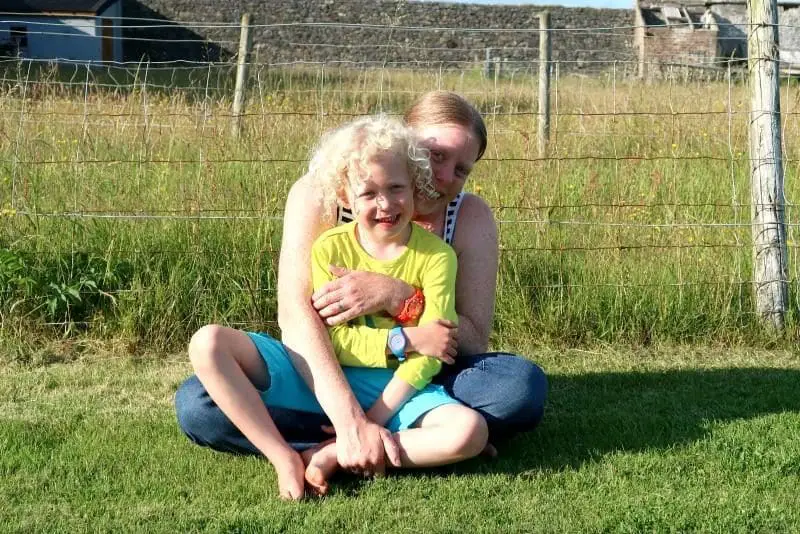 We stayed at the lovely Garden House Campsite that is only 5 miles from Arinagour, the main village, where the ferry docks.  The campsite is within an old walled garden, once part of the Breachacha Castle estate, which is great for camping on and very flat.  The walled garden has a low arch, so larger vehicles (or those with bikes attached to the top!) must be aware of this.  The owners are lovely and very helpful, there is also space for a couple of vehicles outside the walled garden if they are too large to enter into it.
The campsite has two toilets, a shower, information area, fridge/freezer and microwave available to use.  There are no sockets to use or wifi available (although we had pretty good mobile reception anyway).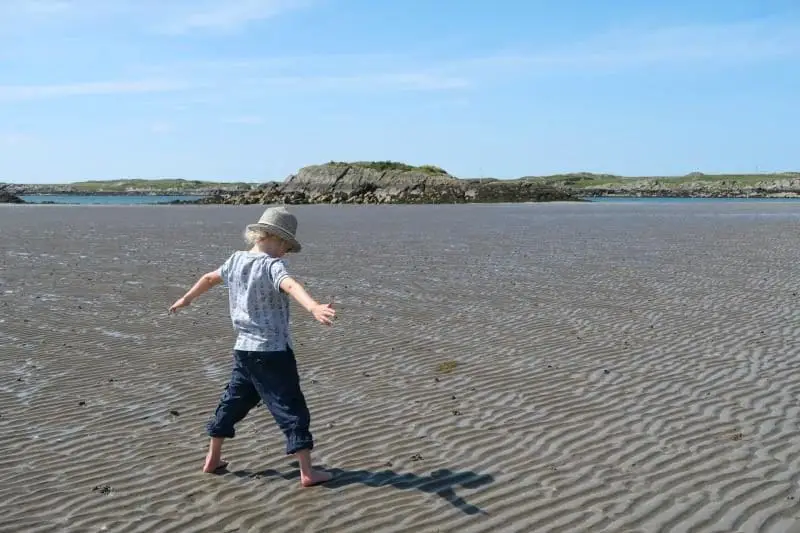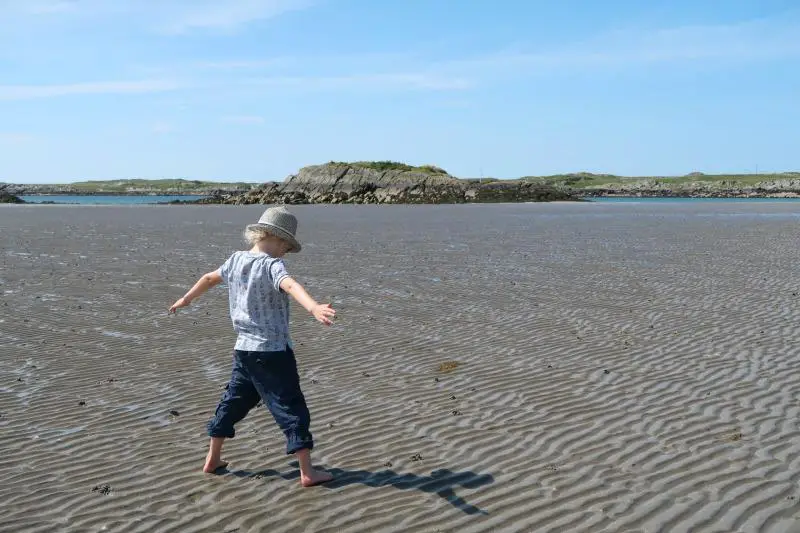 It was only a 5 minute walk (10 mins with kids) to the closest beach through a field.  The beach is lovely, but as there are so many around Coll we actually only visited it once.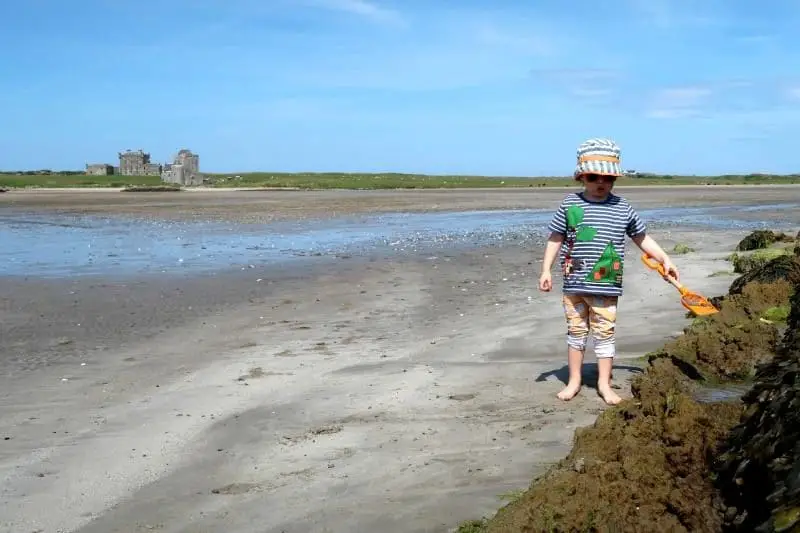 You can easily cycle everywhere in Coll, the roads are all single track and cars are generally wary of cyclists.  I would definitely bring bikes if we visited again when the boys are older, you can also hire bikes from the post office if you don't want to bring them with you.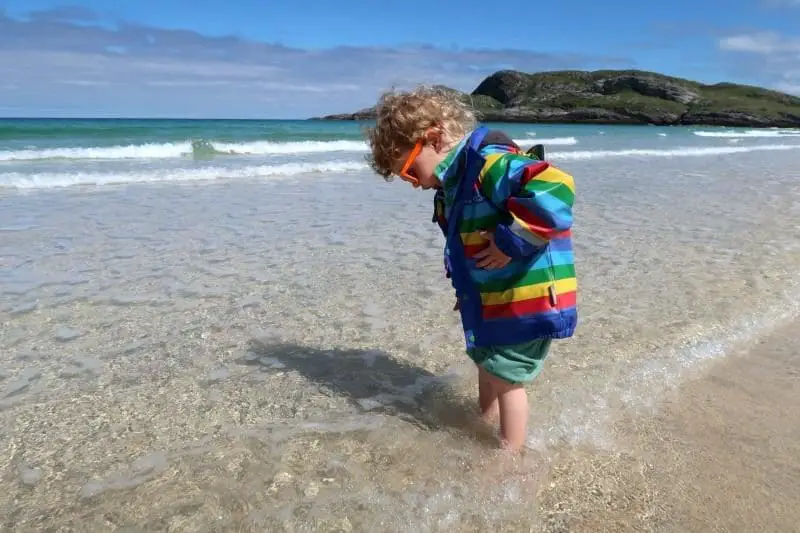 Feall beach is a 5 minute drive away and you can walk along the track through the machair to get to the beach itself (most of Coll's beaches require a little walk to the beach itself).  It's a lovely stretch of sand with sparkling turquoise sea and even caves to explore.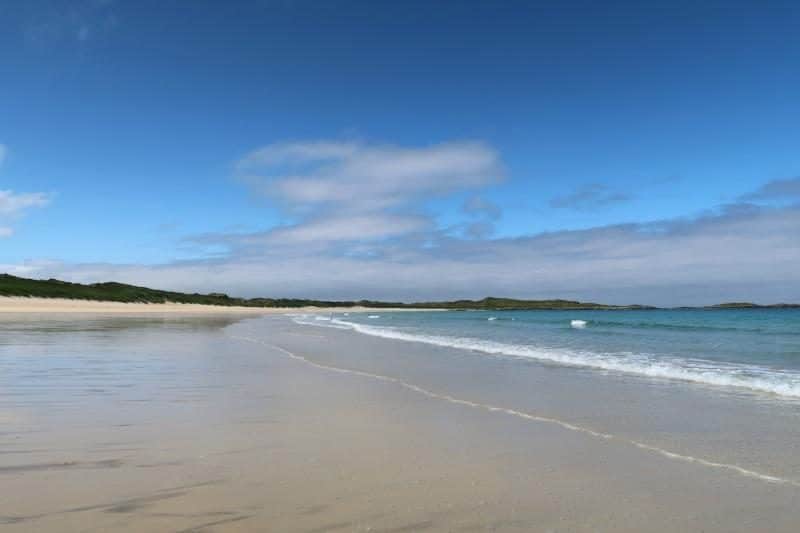 We also had a visit to Cliad beach, which was probably our favourite.  It had beautiful sandy white beaches, but with the addition of rocks, perfect for climbing and playing on with the kids.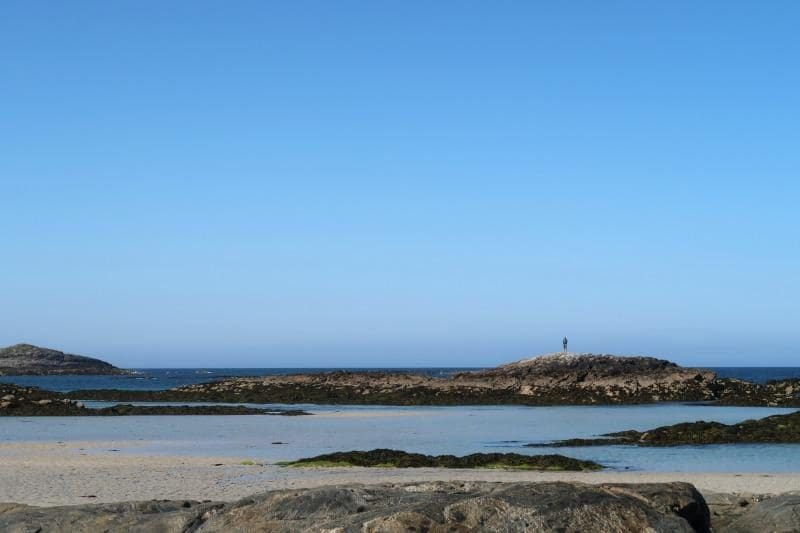 Of course with beautiful beaches like these we had to make the most of it with some rock pooling and plenty of sandcastle making.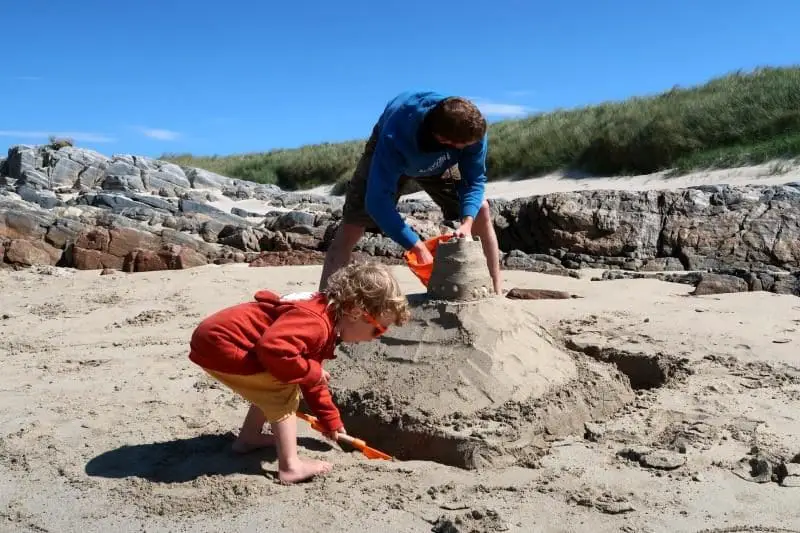 There were a surprising amount of jellyfish scattered along the shores of some of the beaches.  Great for the kids to see what jellyfish actually look like.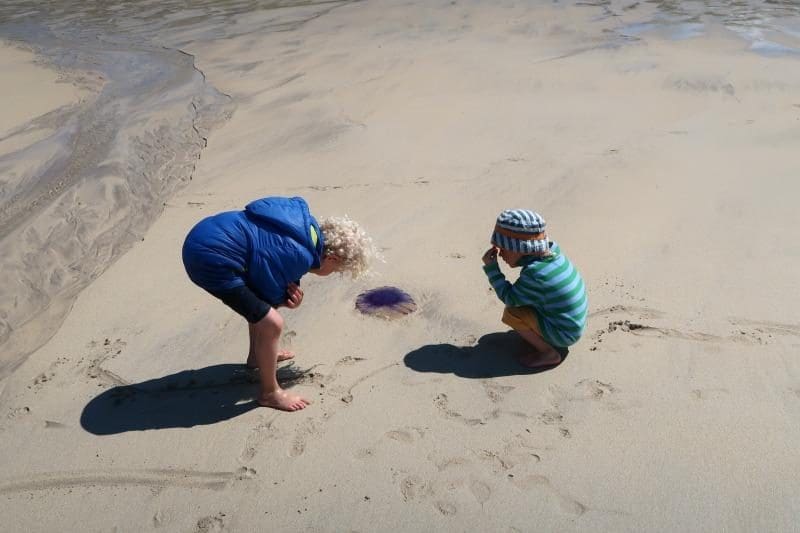 Sorisdale Bay in the North of the island has fantastic views across to Mull and the small isles.  There are plenty of rocks to explore and rock pools to watch the sea life.
We also had a nose round the old settlement there, little thatched cottages that must have once housed local families.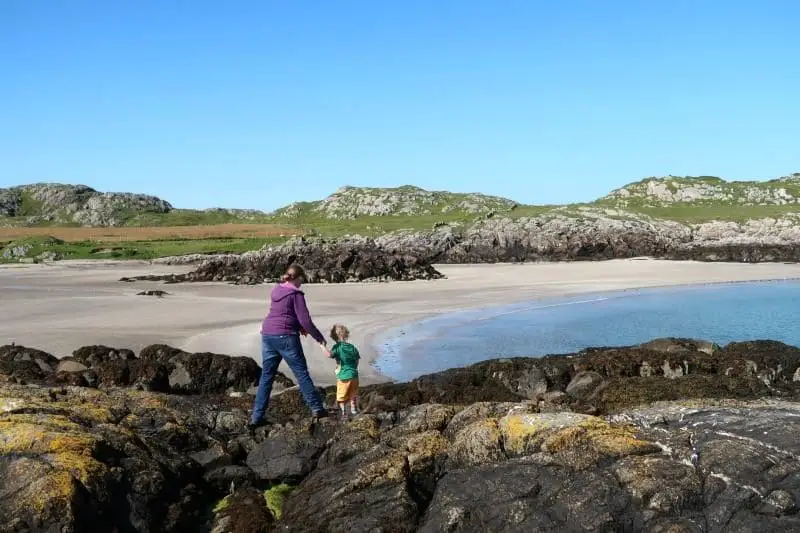 The only food shops on Coll are in Arinagour.  There are two locally run food shops.  One stocks basic food you would buy in a supermarket, the other (T.E.S.Co) is more specialist and has organic, gluten free and dairy free foods among others (both are only open in the mornings and not every day).  The post office has usual post office items and Coll made crafts.  The Island Cafe is open certain days of the week and apparently has good food, we didn't manage to eat there as it was shut when we visited.  We did try out the food at the Coll Hotel and it was delicious!
There is also a small children's play park down from the hotel, which the kids enjoyed playing at. It has to have one of the best views of a kid's play park!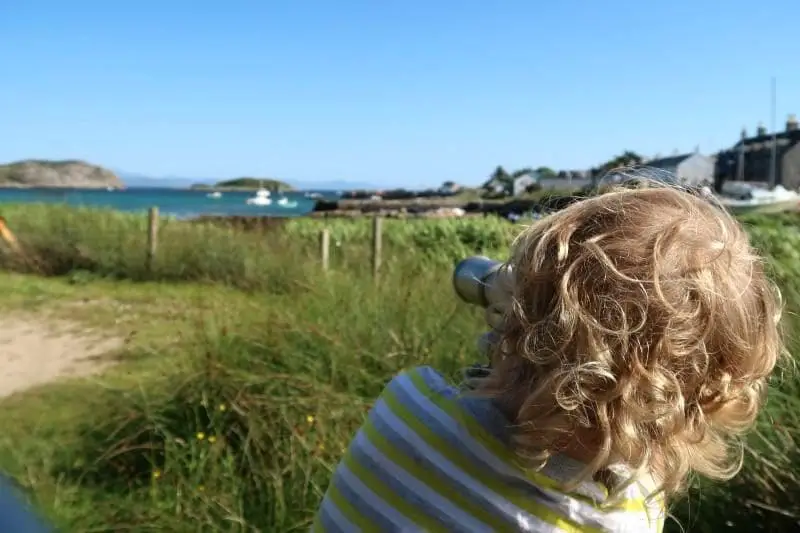 Tiree
After 3 days on Coll we had to say goodbye and catch the ferry to Tiree.  Unfortunately for us it was a morning of torrential rain and we were completely drenched, we may as well have been swimming fully clothed!  I definitely need to buy waterproof trousers for us adults as the kids fared much better, despite a wet foot from eldest who's welly had a hole.
Fortunately the weather was (a little) drier on Tiree and after a quick stop at the Scarinish Co-op to buy supplies, including superglue for the hole'y' welly, we soon had our tent up.  On Tiree there is only one campsite with facilities, but you can pay a small amount to camp at one of the 'croft sites' dotted around the island.  This has to be paid for in advance and wild camping out these sites is not allowed, to protect the machair and wildlife.  The croft sites overlooking Gott bay had a particularly great view and if our kids were older we would probably have tried one of these sites.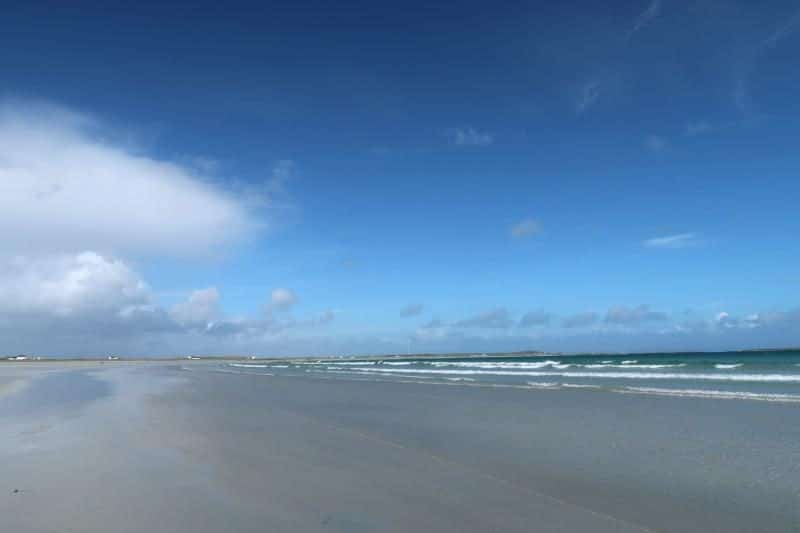 Tiree's beaches are much more accessible than Coll's, you can park the car (or bikes!) right beside them.  This does mean that they tend to be busier, particularly those with good waves like the beach at Balevullin.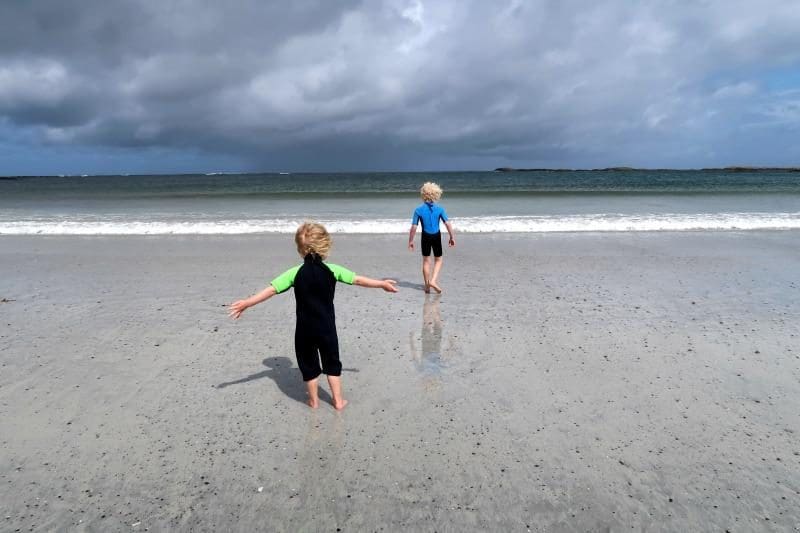 It's fun watching the surfers and windsurfers on the waves and there are plenty of places to have your own lessons on Tiree.  I would love to have lessons with the boys when they are older and can actually swim.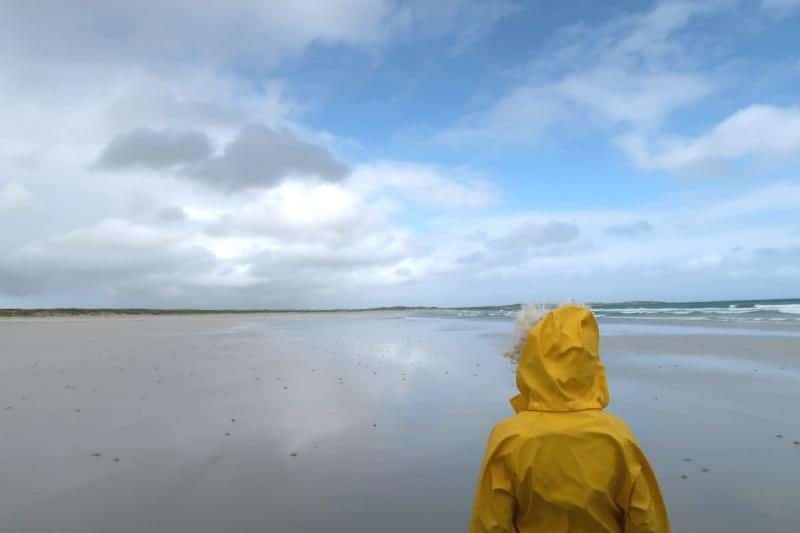 It was rather windy whilst on Tiree, which meant there were a lot of short, but heavy showers when we were there.  We were slightly concerned about our tent, which had managed to break a pole on the journey between the islands.  Fortunately with good old duct tape it survived the onslaught of wind and rain.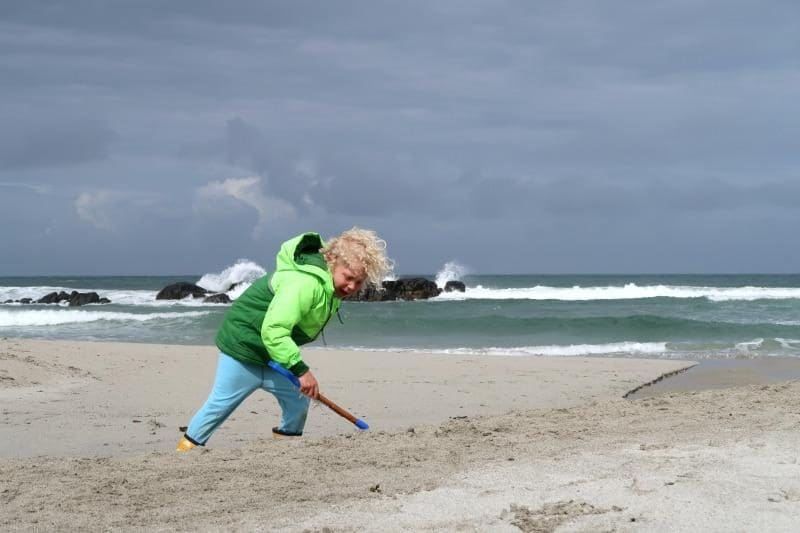 The Balinoe campsite on Tiree run by Wild Diamond has a bothy with tables, chairs, several fridge/freezers, shelves for food, sink and cooker.  Plus there is free wifi and you're welcome to use the plug sockets whenever you wish.  This bothy was brilliant for us, it gave us somewhere to take the kids first thing in the morning to have breakfast and play some games whilst other campers were still sleeping.  There is also a toilet in the bothy, but two more portaloos and porta showers behind, all of which are regularly cleaned.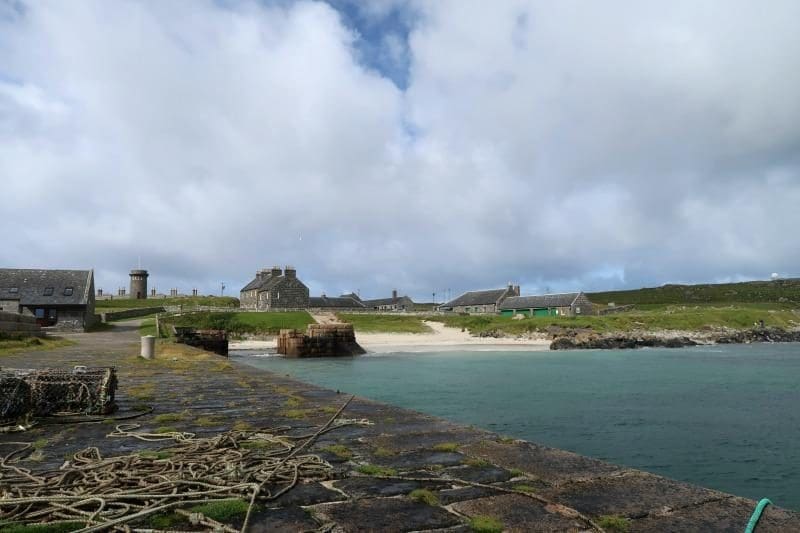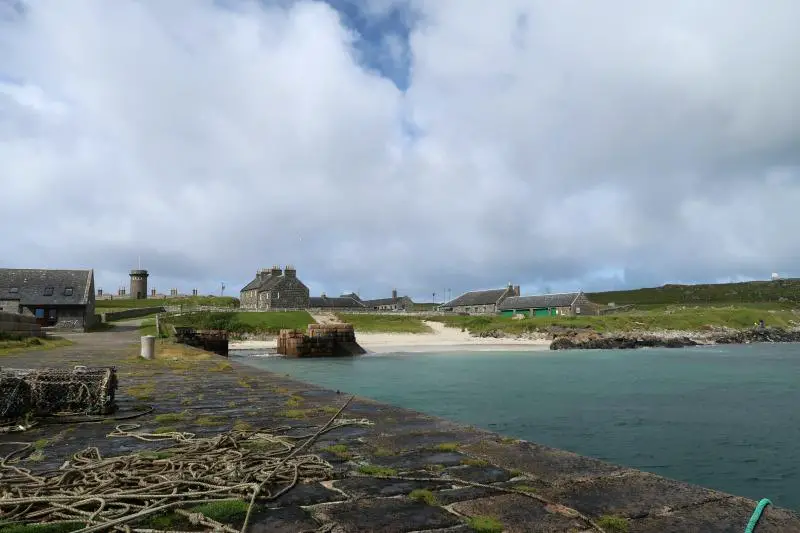 We loved the reconstructed village of Hynish, where the Skerryvore lighthouse keepers and their families stayed.  I will probably write another dedicated blog post just for Hynish very soon.  It has a great, but small beach beside the dock too.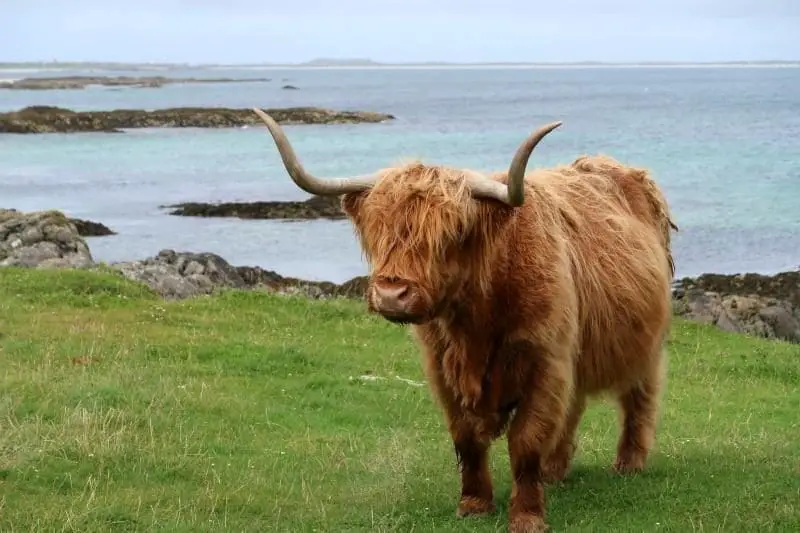 There are several great little cafes and craft shops around Tiree.  We personally visited and enjoyed the food at the Cobbled Cow and Farmhouse Cafe.  For craft shops I particularly loved Chocolates and Charms, where there are so many beautiful items (you can get hot drinks and cake too), and Tiree Glass which has the most gorgeous pieces of recycled glass.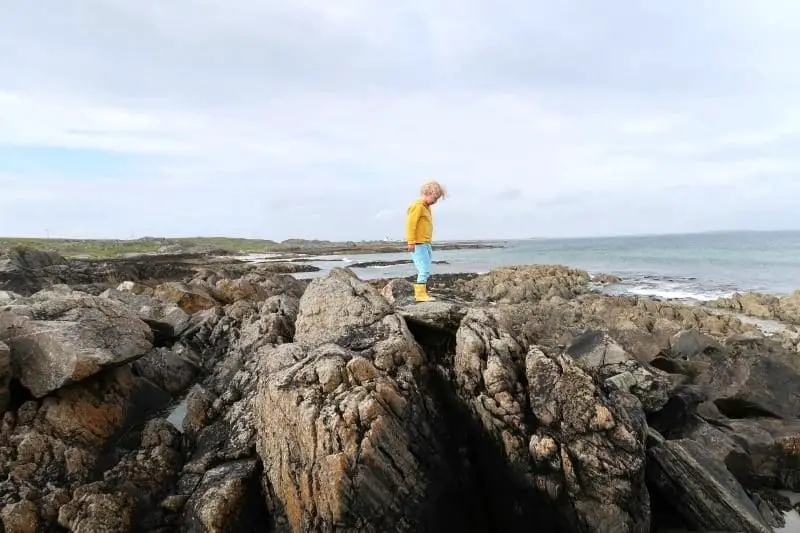 If you get the ferry back check out the art installation at the pier, it's a bit weathered now, but still worth a little look.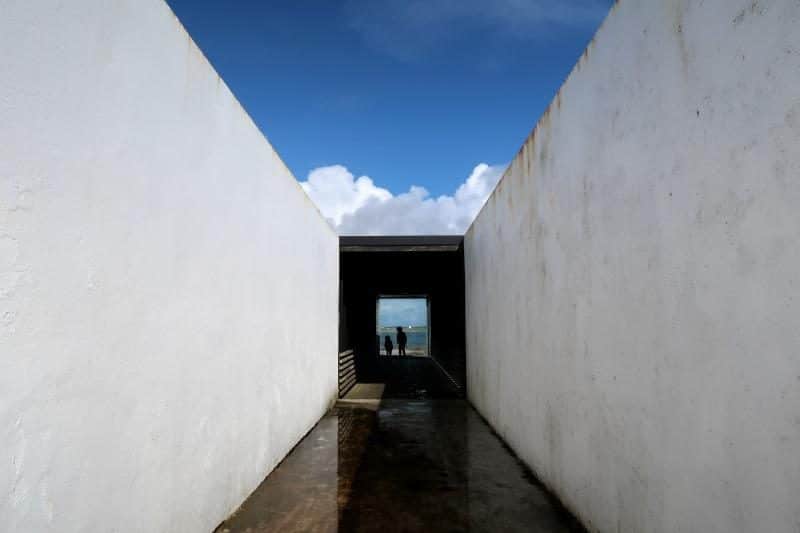 Pin For Later