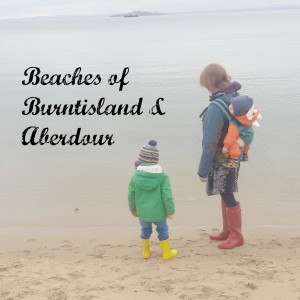 Last Sunday I decided we were going on a long-needed trip to the seaside.  I find it very peaceful and soothing being beside the sea and felt we needed a family trip to the beach and so off we went.
We were originally going to visit the beach at Elie, but as the weather was a bit ominous looking we thought we would try a beach closer to us rather than drive a long distance for the weather to cut the day short.  We live in central Scotland, so most beaches are around an hour away, the best ones are further than that (I really want to head over to Culzean in Ayrshire, it's a lovely day trip).  Instead of Elie, we tried Burntisland.  The beach was located behind the grassy front and the coastal railway line.  This was a bonus for O as he could play on the beach and watch the trains go by at the same time!  Unfortunately the tide was in so only a narrow strip of sandy beach was left.  Several local people were walking dogs along or playing with kids in the sand.  We drew pictures in the sand as O paddled in his wellies along the shallows looking for things to throw in the water.  O decided he was hungry fairly quickly and as it started to drizzle we headed back to the car (a five minute walk from the beach) to get the boys some food.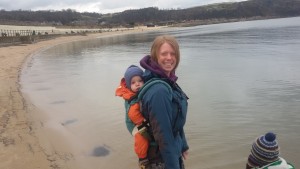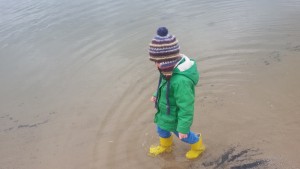 After lunch in the car we drove round to another beach at Aberdour.  This beach was much more suited to O as it was partly sandy and partly covered in stones, so plenty of rocks to throw into the beautifully clear water.  While O found rocks to throw, daddy and I looked for sea glass (daddy occasionally showing off to O how far he could throw the rocks!).  I used to make sea glass jewellery, but stopped after O was born as I was worried about all the random bits of metal wire that fire around when you cut it, plus the lack of time nowadays! I still love collecting sea glass though!
At the end of the beach there was a little stream flowing into the sea, so of course we had to try and dam the flow (word of warning, don't say let's dam it too much in front of a 3 year old, he spent a fair amount of time running around shouting 'Dam It! Dam it!'!!).  I let A out of the carrier so he could have a play too, further up the beach away from the water as he didn't have his wellies on.  He had great fun wandering around in circles and racing over the sand looking at everything.  I had to stop him running into the sea though.  Hopefully it will be warmer next time we go and they can run around barefoot!  Aberdour also has a little cafe at the beach, we never went in, but it looked like a nice spot for lunch another time.
Both boys fell asleep on the way home, which is the annoying thing about living too far from the beach.  Hopefully it won't be long before we get back to the seaside again!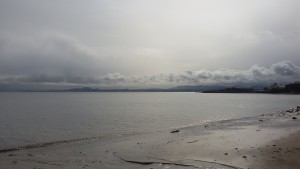 J x