I can't believe that it's December already, that means it is almost time for a new year.  We have several things planned already, including travelling to Orkney for a friend's wedding, A's second birthday next month and more camping with our new tent.
However, if I want to stay organised then I need a great calendar to plan our lives for the next year and make sure we don't miss anything.  We bought a kitchen calendar from Snapfish last year with photos of the boys from each month, which was lovely, but this year I wanted to make it a little different.  Instead of just pictures I chose to set ourselves little 'challenges' each month in the form of a bucket list.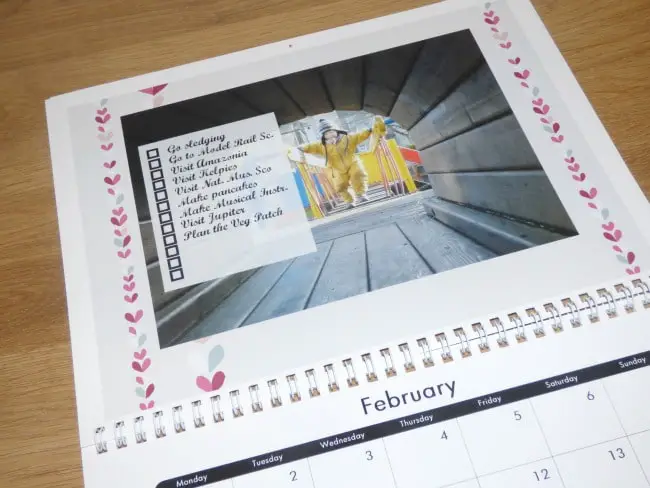 Every month I have written down places we need to go, days out, crafts to make or just little projects I want to do with the kids.  I've even included a little check box so I can tick each item off my list through the month.
I'm hoping that this will keep me very organised and include plenty of fun for the kids too.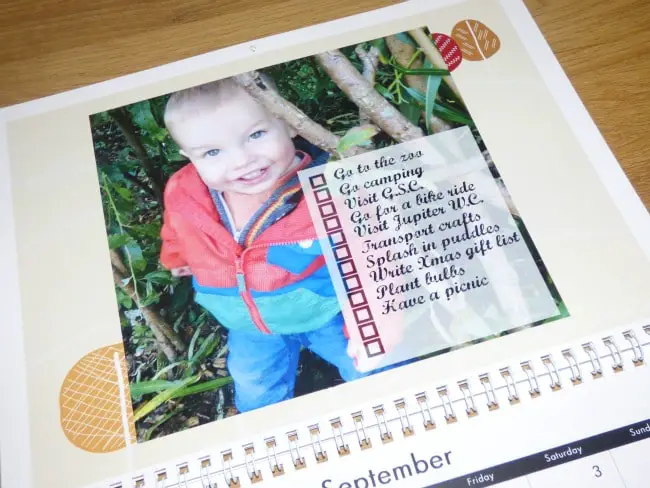 What do you think of our bucket list calendar?
It's really easy to create bespoke calendars using Snapfish.  You can choose from a selection of different backgrounds and upload whatever images you would like.  I chose to just have one image per page, but you can have several if you prefer and add text.  I also added photos of some of our family on their birthdays, so we don't forget!
The calendar itself is great quality and the photographs  look fantastic, not at all grainy like some photo calendars I've had in the past.  They would make great gifts for family and friends.
Visit Snapfish to create your own calendar or if you're feeling lucky fill in our Rafflecopter competition below to win one of three 8.5 x 11″ classic wall calendar's and free delivery.
Do you keep your calendar up-to-date?
J x
Disclaimer:  I received credit from Snapfish to purchase this calendar, however all opinions are my own.