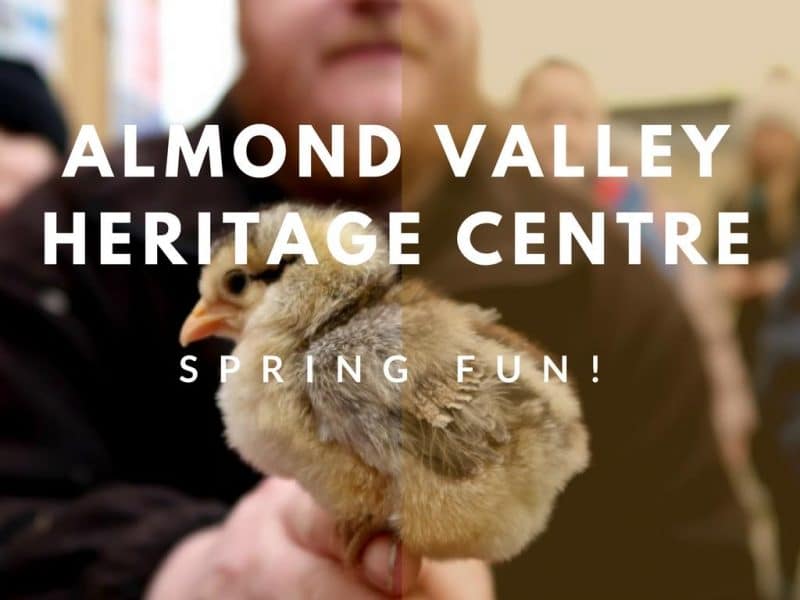 We have visited the majority of the child friendly attractions in Central Scotland.  However, for some reason we have never managed to actually visit Almond Valley Heritage Centre.  But last week we made up for it and finally explored the heritage centre!
Almond Valley Heritage Centre
Almond Valley is a bit of a mix of everything.  There's the museum of the shale mining industry, sheds and byres housing a range of animals including rabbits, goats, pigs and geese.  An archaeological dig site, trampolines, go karts and zip lines, plus the indoor soft play and tea room areas.  During the spring and summer there are also the tractor and narrow gauge railway rides, to add even more fun!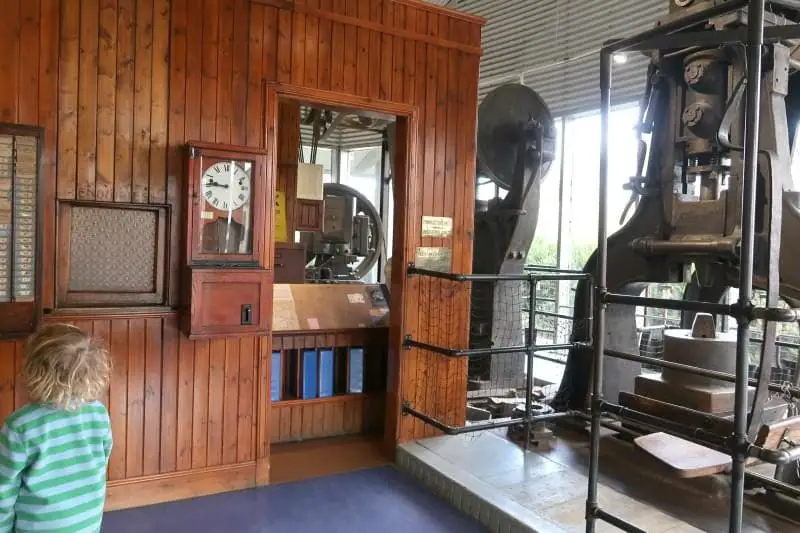 We started off in the shale museum, which has loads of interactive areas for the children.  It's perfect to introduce why shale was important to the area and how the people lived and worked.  This is where seasonal activities and crafts are, so check out the museum for Easter activities!  You can also pick up a sheet to find the 10 mice hiding around the museum, if you find them all take it back to the reception desk to get a sweetie.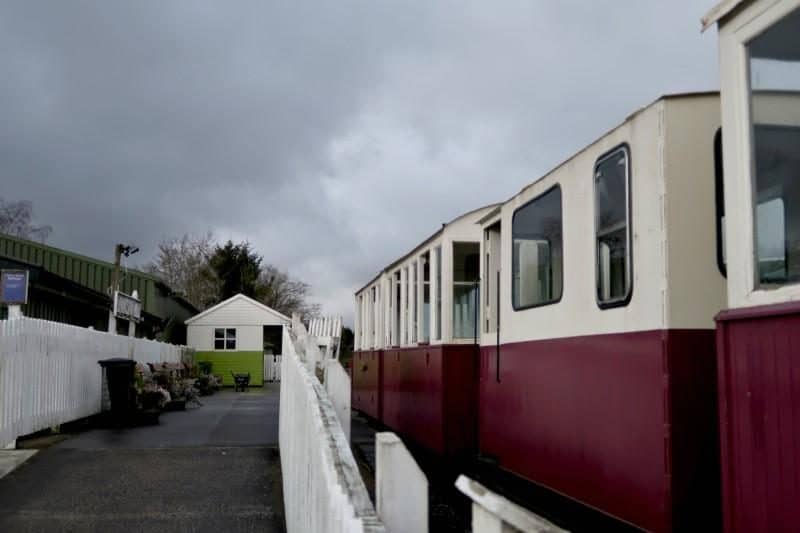 Outside the museum is the narrow gauge railway, which runs at weekends and during the holidays.  We visited before the holidays, so we didn't get a chance to ride the train, but the tractor and trailer ride was running for visitors.
There are plenty of kids activities throughout Almond Valley.  Both boys loved clambering around the wooden combine and the play barn.  I can imagine they would be quite popular on busy days, but as there's so much to see and do I don't think we would stay at any one thing for too long!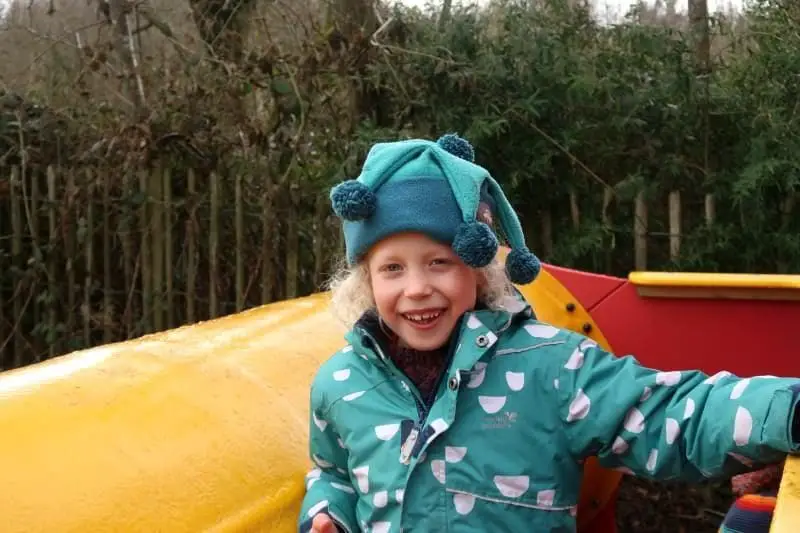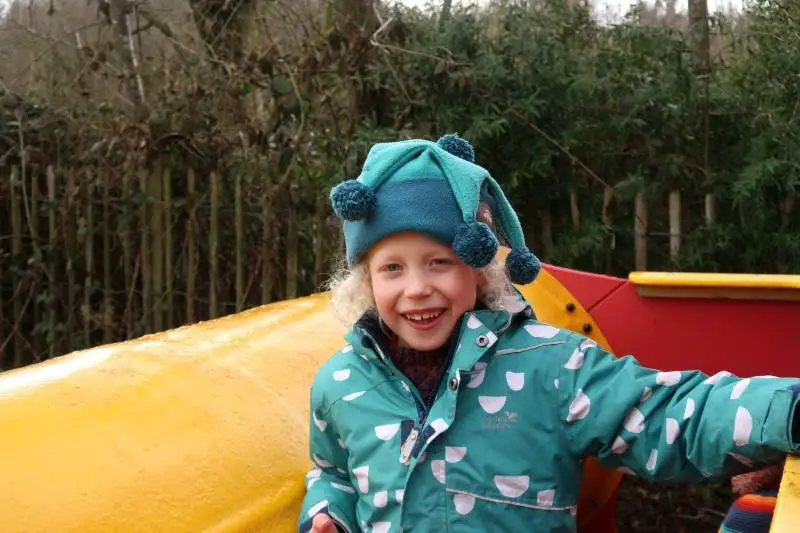 A big highlight of Almond Valley is of course the animals.  We were lucky enough to get to handle a little chick in the Wings and Whiskers barn.  It was lovely being able to compare the eggs in the incubator, tiny chicks and the bigger 2 week old chicks.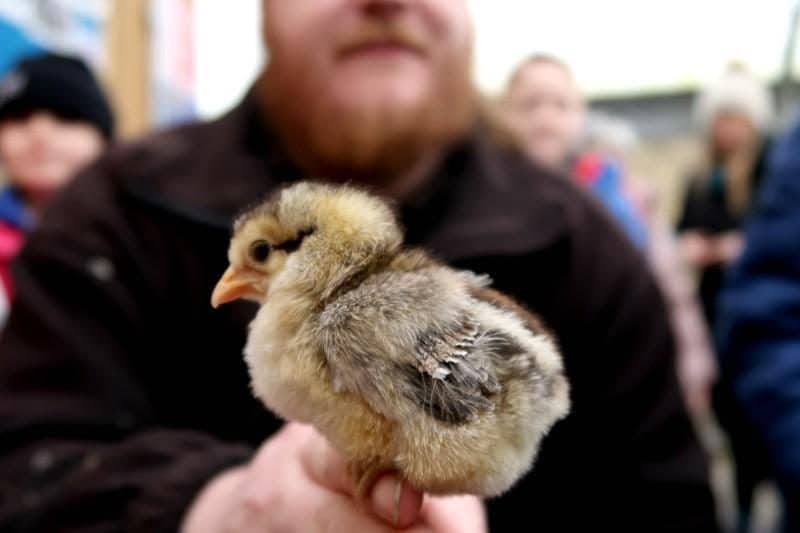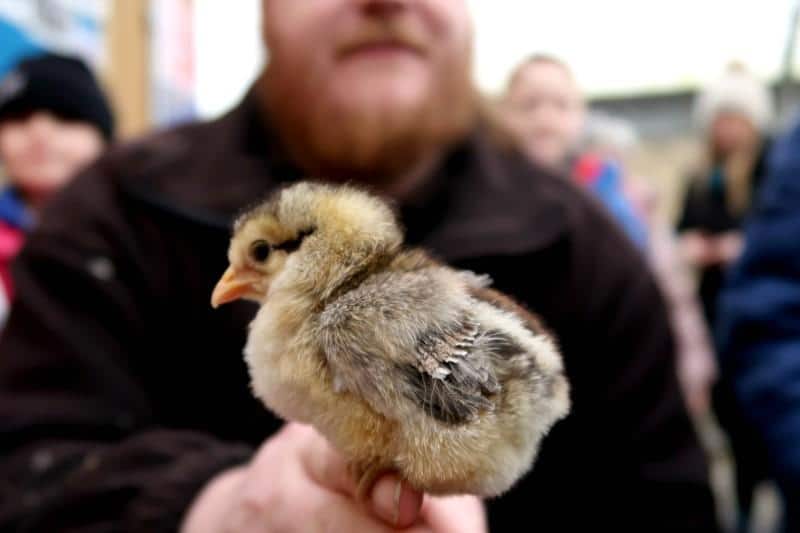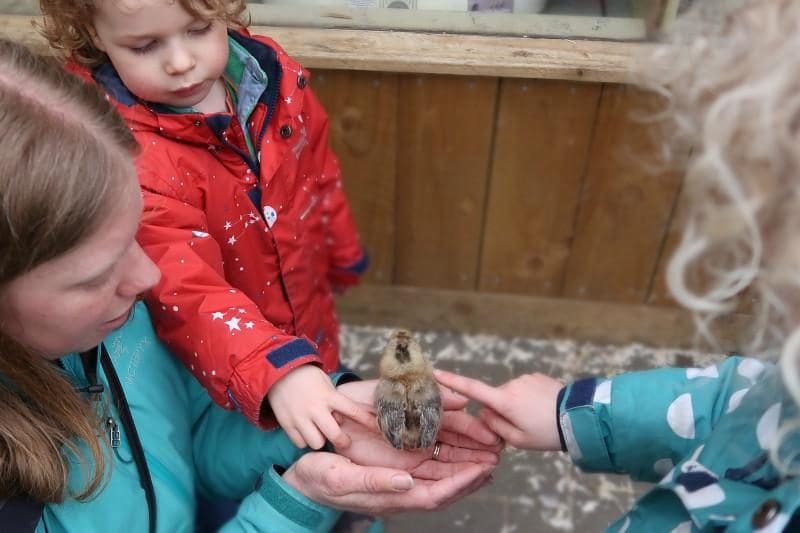 During the Easter holiday period there will be handling sessions with the smaller animals during the day.  We didn't see any lambs during our visit, but there were some sweet baby pygmy goats racing about their paddock.
After inspecting all the animals in their byres we walked over Charlesfield Bridge to check out the play areas.  Amongst the trampolines is a large tent that  has a huge sand filled pit to dig in.  But this isn't just a play sand pit, it features a recreated archaeological dig under the sand.  Children can use the brushes and buckets to dig away the sand and reveal bones and other artefacts.  It would have been good if there were a few loose parts or stones in the sand, as then the sieves at the side would have worked well.  The boys had a great time in this area and were reluctant to leave.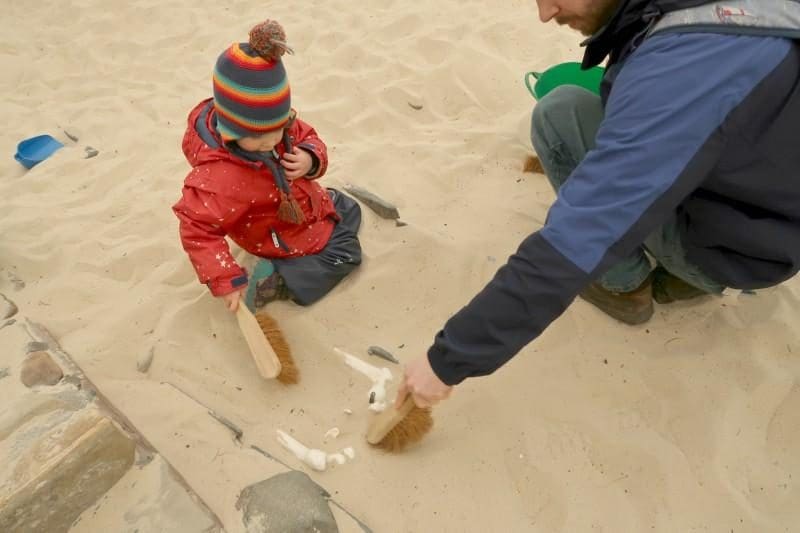 Outside the tent is a play mine where the kids can pretend to drive the mine train and run up and down the pretend mine behind.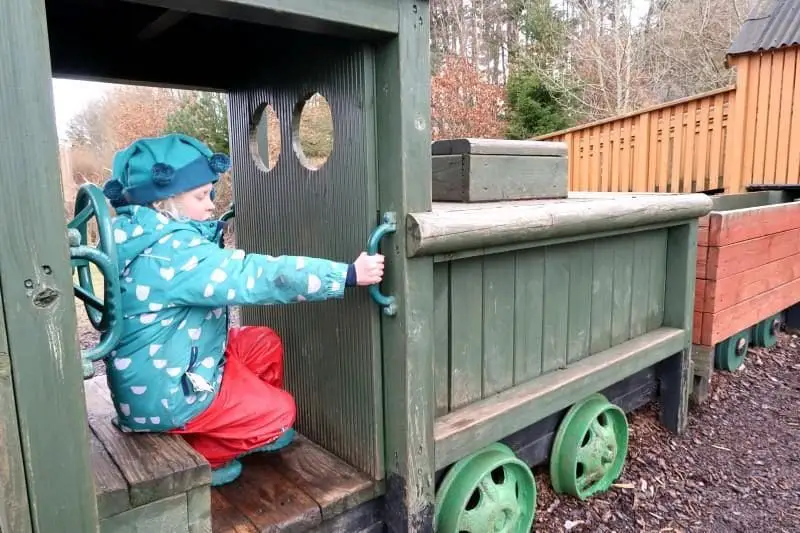 One of our youngest's clear favourite's is the bouncy pillow in this area, he had an amazing time jumping as high as he could!  We were lucky it was actually dry for our visit, as this is out of use when wet.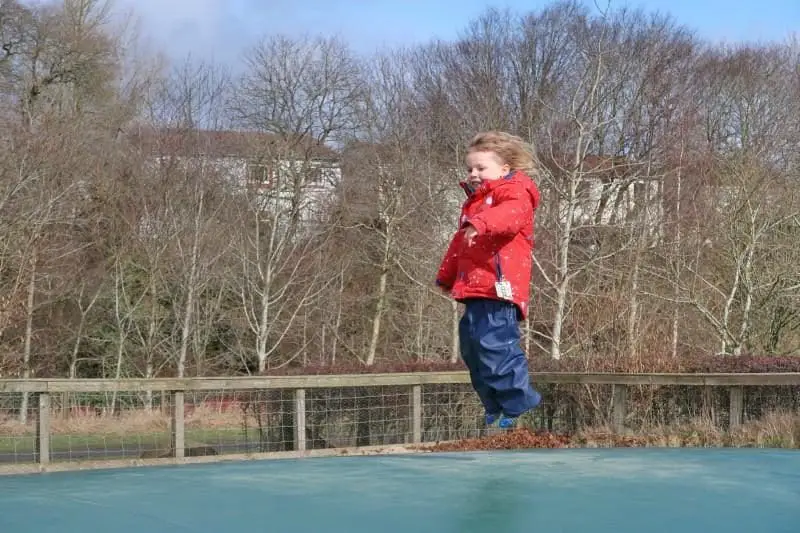 Beside the jumping pillow are the go-karts, our 6 year old happily pedalled around the track and our 4 year old went on a double seat go-kart with daddy.  The go-karts take you behind a big picnic byre and around a little tractor area for the under 5's.  Unfortunately the under 5's tractors seemed a bit difficult to pedal, I'm not sure if they were stiff or if little one wasn't used to pedalling in that position. He still had fun with me giving him a push around the track.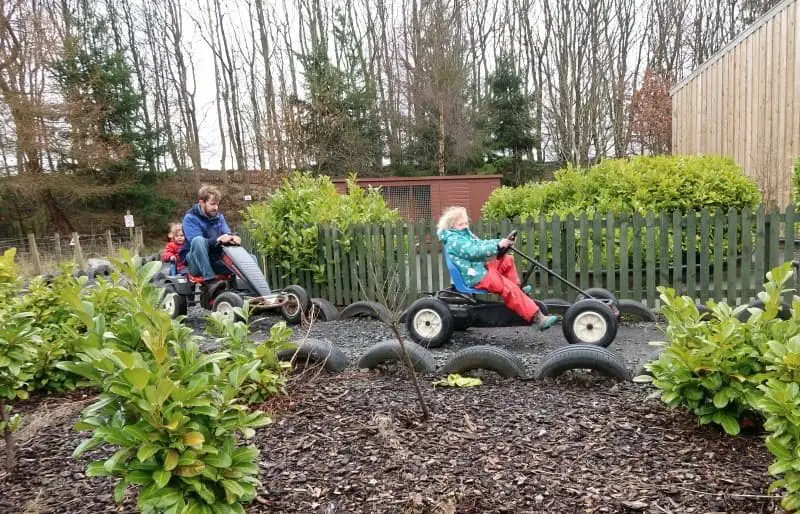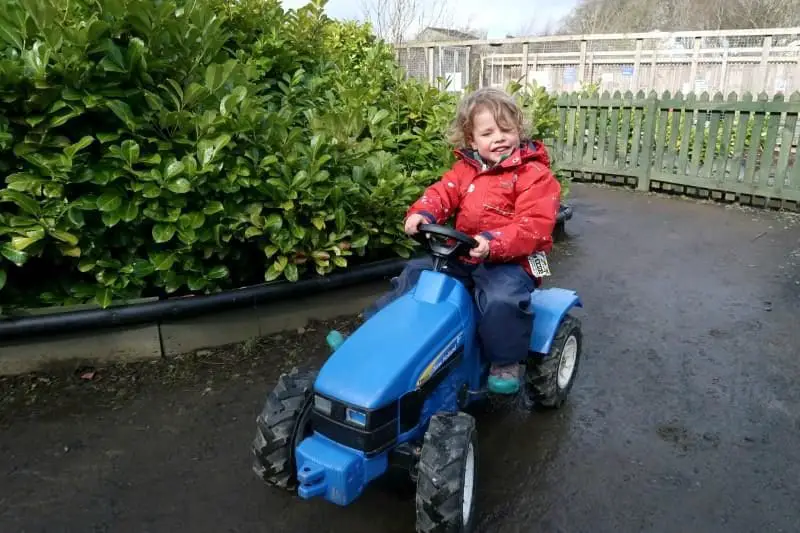 We didn't manage to make it around the corner to see the zip wires and subterranean trollies.  But hopefully next time we can get all the way around to everything else we missed!
We went back toward the main buildings to have a snack at Morag's Milk Bar Tearoom and have a short play in the softplay area there.  It's a good size soft play for younger children, however for older children they would probably prefer the adventure zone indoor play area that is set around the mine and train theme.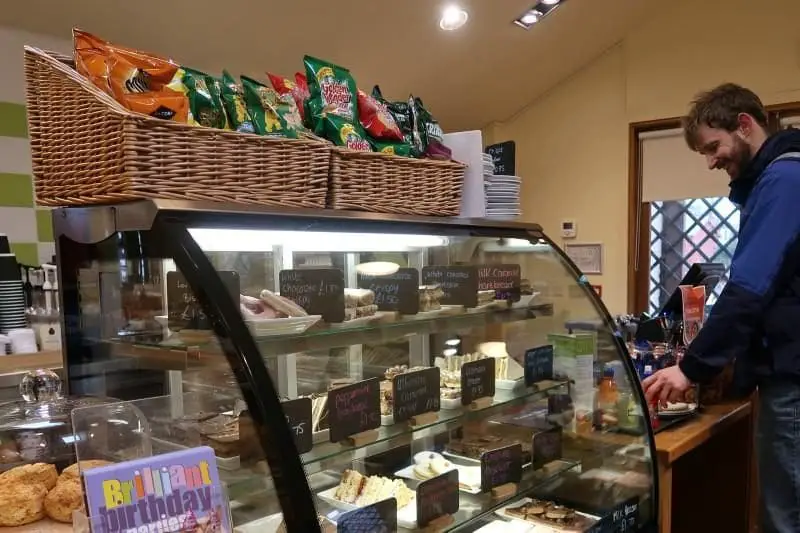 There will also be a new adventure play area to open during the summer toward the go-karts, in a large dome like structure.  They were working on it whilst we were there and it looks like it will be pretty exciting!
I really can't emphasise enough that there is literally TONS of things to do here.  I haven't shown you half the things we did as this would just be a post of photos.  We only spent a morning at the site as we had other plans for the afternoon, but you could easily spend a whole day at Almond Valley and still not get round to visiting everything.
Easter Activities
During the Easter period from 24th March until 16th April there are a lot of extra Easter activities available.  Just to make your day even busier!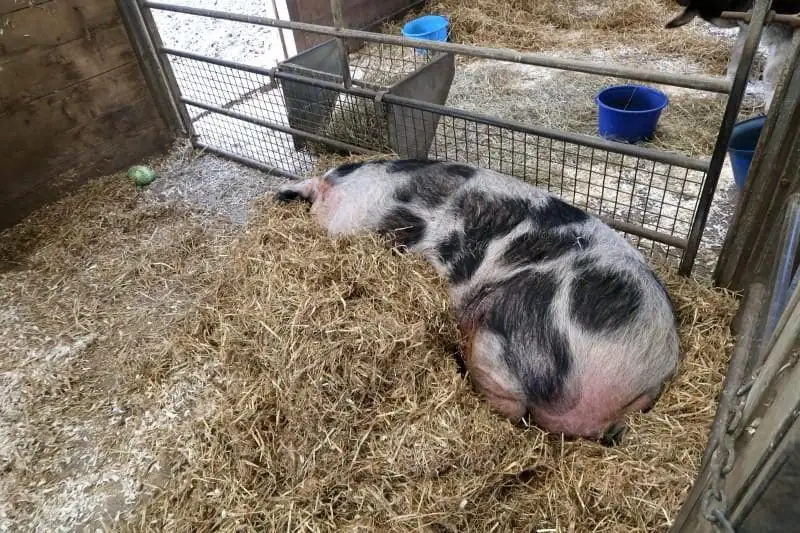 There will be a springtime trail with clues to crack and puzzles to solve, a hunt around the farm for hidden eggs (don't forget to claim your reward!), spring crafts in the museum, small animal encounters at Wings and Whiskers barn and of course tractor and train rides (50p per person for tractor rides and £1 per person for train rides).
During the Easter weekend, 30th March – 2nd April, you can also watch the plastic duck race and maybe even win a prize!
Competition
We had an amazing time and can't wait to head back to check out the Easter fun and maybe even visit the areas we missed!  If you are considering visiting, then please do enter our competition below to win a family day ticket to Almond Valley in time to enjoy the spring activities!