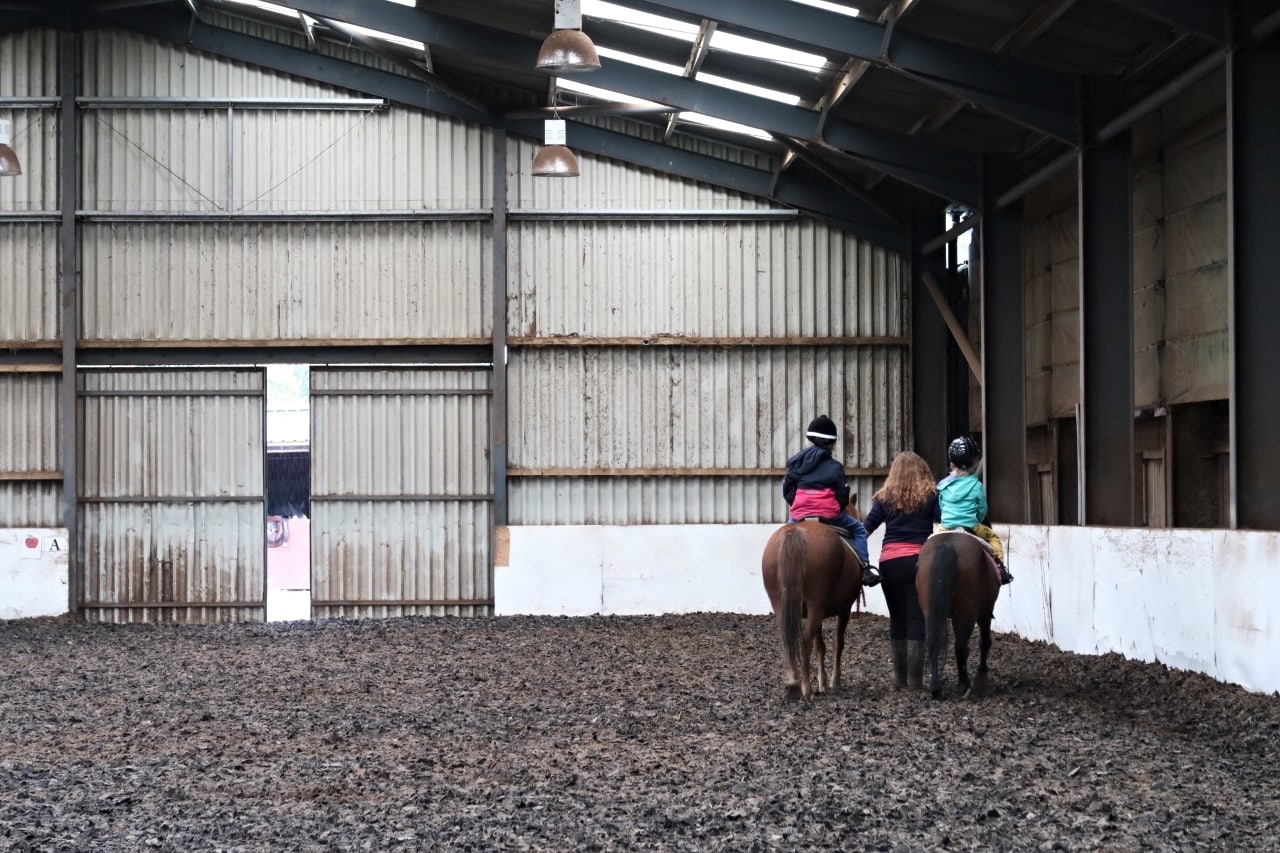 AD – This is a collaborative post
As part of our collaboration with Great British Racing the boys were given a horse riding lesson each.  Only our youngest has been on a horse before, but I thought it would be something that might interest them.
My youngest has always seemed fairly fearless (when he's on land!) so it came to no surprise to me that he was excited to try out horse riding.  His elder brother is a lot more cautious and wasn't too sure about riding a horse at all.  So I knew this could go two ways, we could end up having one child scared to go on a horse again or loving it and wanting more riding lessons!
First Time On A Horse
It was torrential rain when we arrived at Tannoch Stables, Cumbernauld, and I was really worried that it wouldn't even go ahead.  Fortunately the stables also have an indoor arena, so the boys could still ride without the rain soaking them!
We were led to the stables where the children were each given their own horse to ride for the session.  Before the children could begin their lesson they first had to find their horses.  Littlest had a lovely calm pony called Toby, whilst our 7 year old had a slightly more skittish pony called Wee Rosie.  They helped lead their ponies into the indoor arena and out of the heavy rain.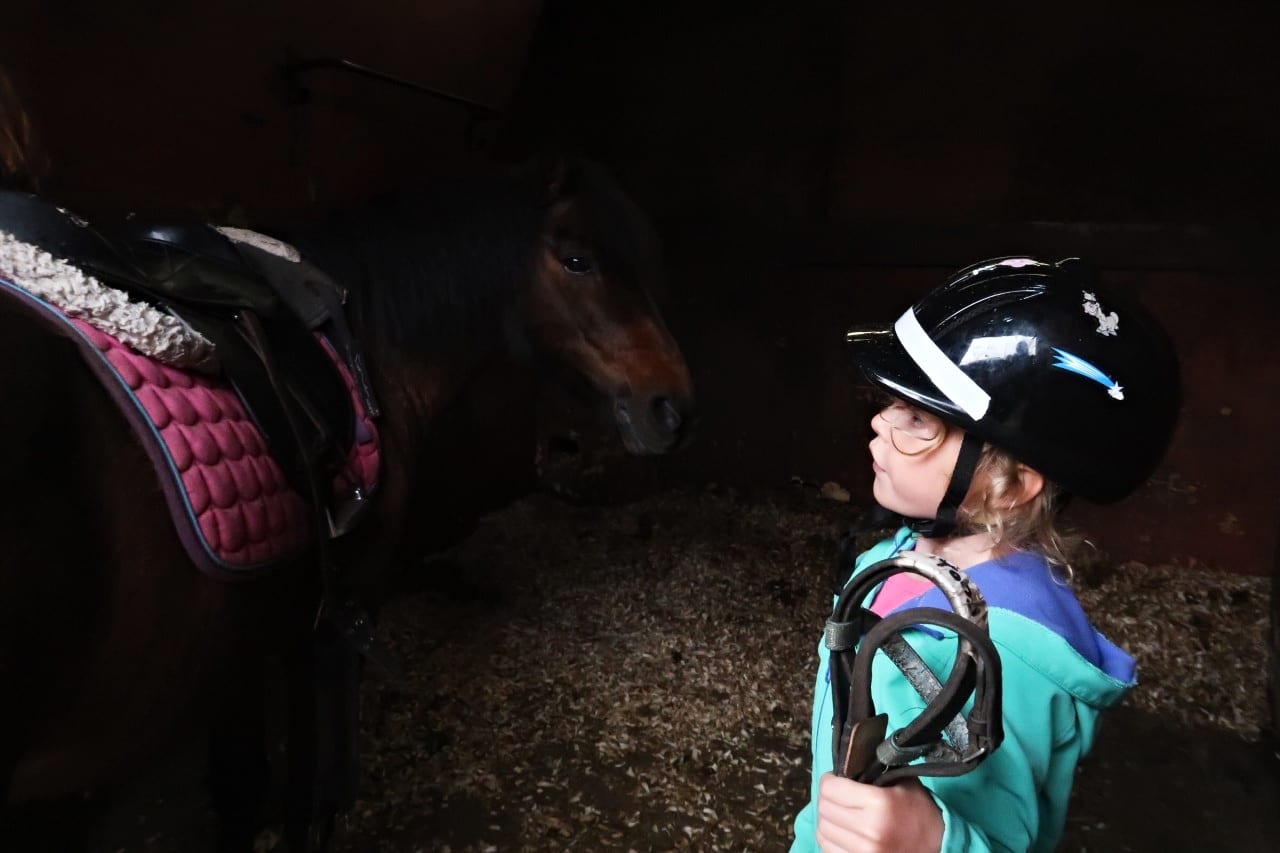 The Lesson
As neither of the children had much experience on a horse their instructor first led them round the arena at a walking pace.  After the initial walk to get used to being on a horse the children were tested on their skills with a few challenges.  These were designed to get them feeling more comfortable in the saddle and able to hold the reigns correctly.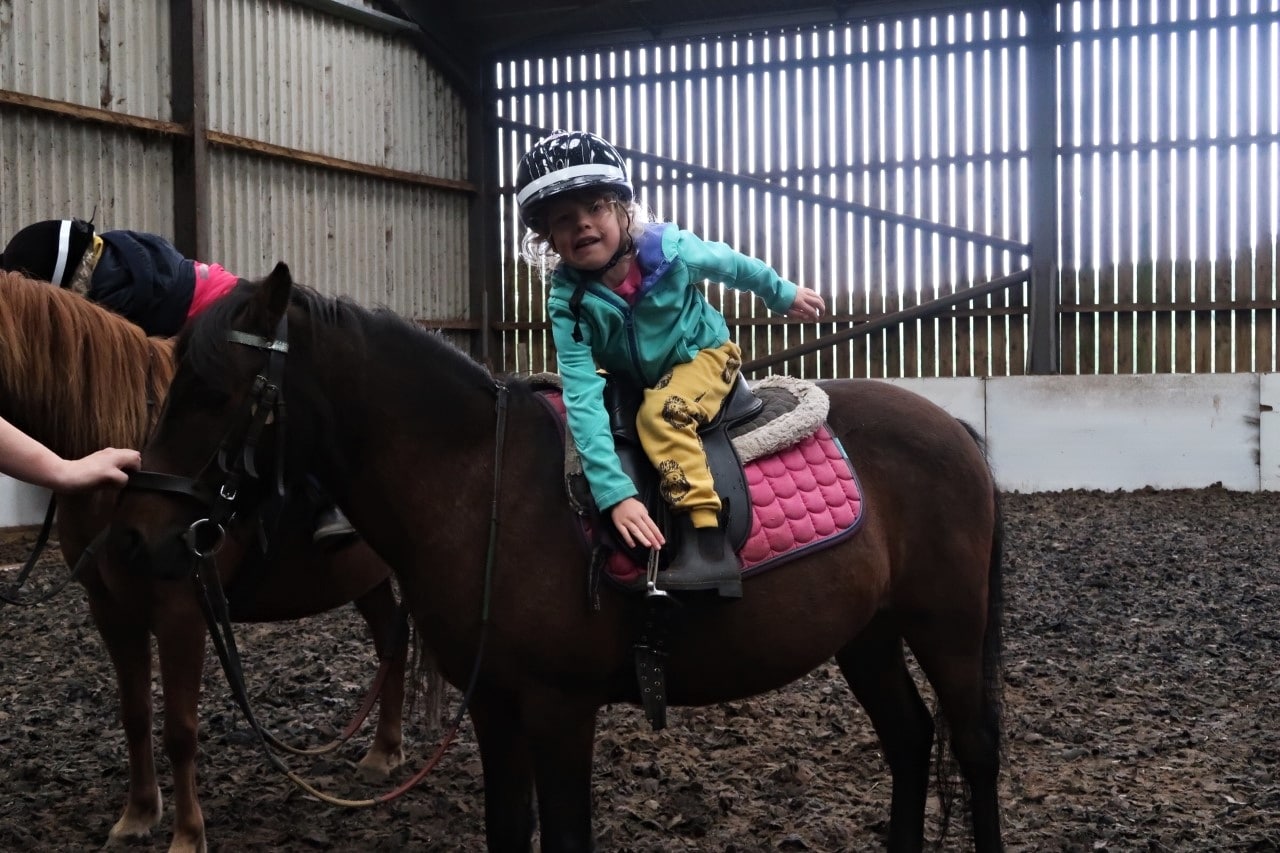 The challenges included playing head, shoulders, knees and toes on a horse and touching toes with opposite hands.  Practising using the reigns to steer the ponies to the left or right across the arena and then finishing off with trotting around the arena one at a time.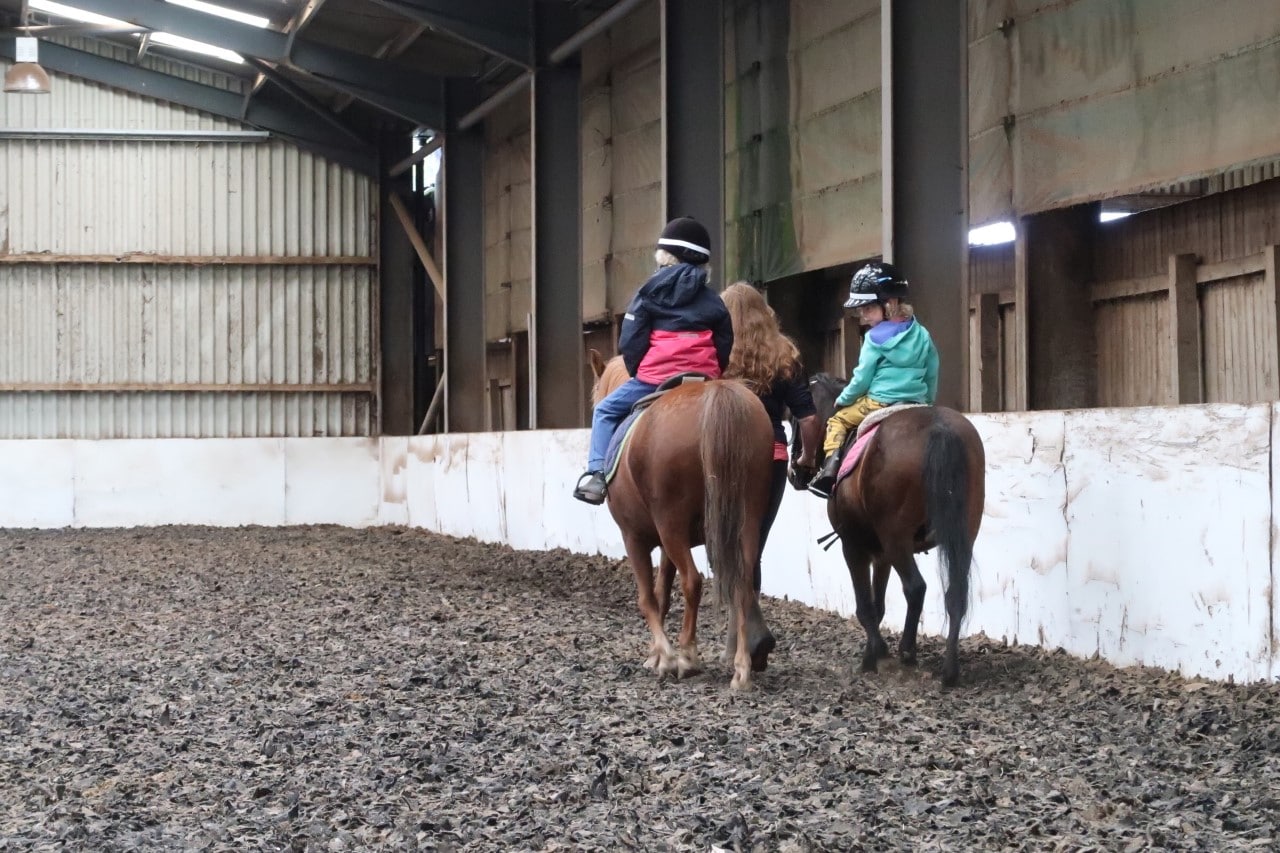 Watching the boys trotting around with big grins on their faces and looking very relaxed as they gently bounced up and down in the saddle I realised that this was going to be something we would have to repeat very soon.
Kid's Verdict
Once the lesson was over and the children had helped to return the ponies to their stables we had a little discussion about what they thought.  The verdict was that they had a fantastic time and want to go back again for more lessons!  So now I need to work out how to afford a few more lessons with all their other activities they do!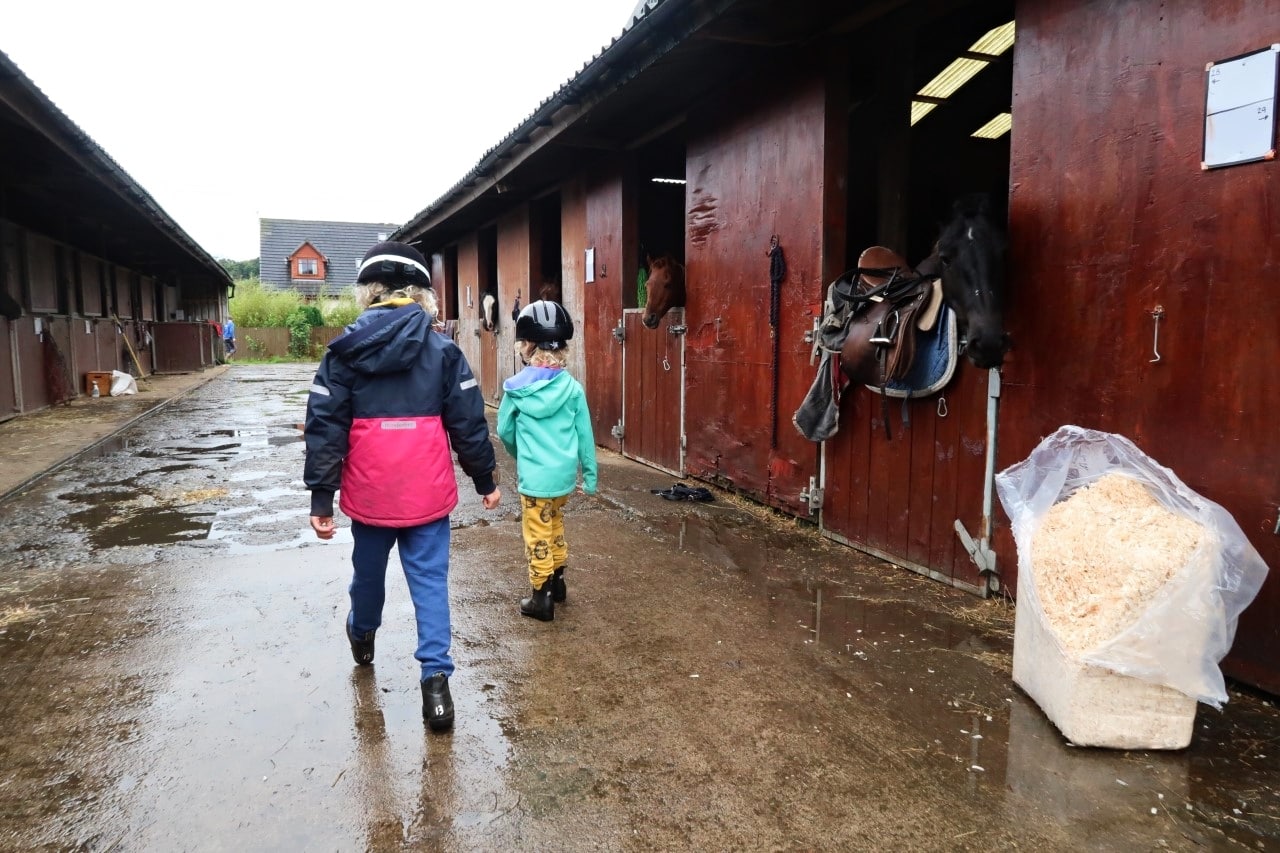 I think the children would like to now learn how to control the horse on their own, without having someone leading them around the arena.  This would be great for their confidence too, knowing that they can try new sports and learn new skills.
Horse riding is certainly something they can take into the future as a way of enjoying time with animals as well as a transferable skill of over coming new challenges.
Great British Racing
This is the last post in our collaboration with Great British Racing, with my two other blog posts about the family race days available here and here. It's been a great summer learning about horse racing, how it works and knowing that they treat their horses well.  It's also great that children are not only welcome at their races, but mostly they are free to enter into the grounds and there are lots of great things for the kids to take part in on family days.
We'll certainly be back to the races again sometime soon, perhaps we can go to a horse race with jumps next time, that would be great fun to watch!  To find out more about the family friendly races at Great British Races click here: Under 18's Race Free.