---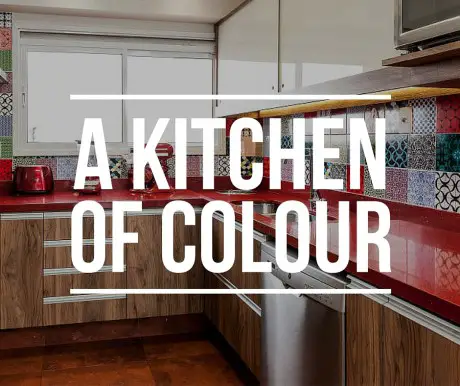 Do you have a certain room in your house that you really want to redecorate?  For me it is the kitchen.  We moved into the house when it was new, but weren't given a chance to to choose any of the internal fittings or tiles.  Instead we have plain white tiles, non-fitted cooker and cluttered surfaces.  It's definitely a big bug-bear of mine and if we had the money it's definitely the first place in the house that would be ripped out and started afresh.
The first change in my dream kitchen would be new beautiful tiles in a variety of colours like the picture below.  The mish-mash of patterns and colours together would be perfect for our colourful house.
The tiling is probably the most important thing to improve our kitchen, but I would also love to install shiny bright coloured worktops or cupboard doors.  Our fridge is already red so I would need to decide between having it all matching or a contrasting colour.  The red kitchen above and the yellow kitchen below would look amazing.  The only problem with the beautiful doors would be smudgy child fingerprints everywhere, but I'm sure the cleaning would be worth it!
With all the beautiful cupboards and worktops we would also need to think about the lighting.  Pendant lights are my favourite and this trio of colourful lights would be perfect above our kitchen table.
Our kitchen is at the back of the house, so we have lovely views of the garden out the patio doors and windows by the sink.  It would be great to continue the beautiful decor out of the kitchen and into the garden with outdoor lights.  I have lots of outdoor lighting ideas including cosy lights woven through the plants or trees lit up from the base or perhaps even lighting up the outside of the building.  I'm not sure which way I would go, but first I need to get the kitchen sorted!
How would you decorate your kitchen?  Would you go for lots of colours like me or perhaps a more neutral palette?
J x
Disclaimer:  This post is in collaboration with Homify.