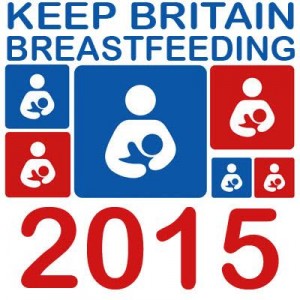 Thanks for hopping over from Mummies Waiting and welcome to my post for the Keep Britain Breastfeeding Scavenger Hunt Day 5 Extended Breastfeeding we have over £700 worth of breastfeeding and baby goodies up for grabs including prizes from More4Mums providing a set of 'Hot Milk' Lingerie, a signed hardback limited edition copy of Milky Moments and a £30 voucher from Milk Chic  Full details of the Grand Prize can be found here and all entries to be completed via the Rafflecopter at the bottom of this post.
I've been breastfeeding for a total of almost 4 years now, I breastfed my eldest until he was 2 years and 2 months old and my littlie is now almost 19 months and still happily breastfeeding day and night.
There are certain signs that I've noticed in both my boys as toddlers and in other toddlers that are so typical of breastfed toddlers, I thought it would be fun to post here.
1.  The hand down the top.  Sometimes that little hand is just hanging there, other times he likes to squash and pinch and prod.  Of course it doesn't stop with me, other family members and friends have had little hands down their tops too, much to my amusement!
2.  The toddler hanging onto the top, yanking it down so the entire chest is on display!  I've given up on worrying about my bra being on show now.
3.  Dive bombing siblings out of the way.  As soon as O comes up for cuddles the little toddler immediately climbs up and pushes him out of the way and then demands milk.  After about 5 seconds he's off and running again.
4.  The not being able to sit down for 5 minutes without the toddler jumping on you and demanding milk.  Of course, each feed lasts a matter of seconds and he's distracted by something else.
5.  When asleep beside you a little arm needs to be touching, just to make sure his milk hasn't run-off without him!
Joking aside, feeding a toddler is wonderful for both the mother and child.
There is the bond between toddler and mum, the knowledge that there is always comfort when the little one is hurt or milk to get him to sleep.
Then of course breastmilk still has a high nutritional value, even when your toddler is fussy about food, they will still be having plenty of breastmilk, tailored specifically to their current needs.
There is evidence that antibodies in breastmilk increase in the second year and the longer that children are breastfed for the fewer illnesses or shorter duration of illnesses they have.
It's great that breastfeeding past infancy is becoming more commonplace.   The more young people who see toddlers being breastfed, the more likely extended breastfeeding is going to become the norm in the future.
So keep on breastfeeding for as long as you and your child are happy!
For more extended breastfeeding experiences please hop on over to A Novice Mum where you can gain further entries into the grand prize draw. Full terms and conditions can be found on the Keeping Britain Breastfeeding website. UK residents only.