Life with kids is always busy, we hardly ever seem to have an entire 'day off' at the moment.  From visits to castles, meeting with friends, craft group, gymnastics, swimming, science club and a whole lot of other groups we just don't seem to stop!
Ready For The Day Out
Home education certainly doesn't mean staying at home and sitting at the kitchen table all day long!  Most mornings we start off slow then pack our bags for a day out.
Packing the bags mostly means making sure we have plenty of water and food.  My two boys can easily eat there way through a whole bag of food whilst we're out so I tend to overcompensate on the food side!  This is the main reason the boys are now carrying their own bags, to take some of the weight of the snacks!
I love to take fruit with us when we are out, but the reality is that it tends to get squashed in the bags or bashed about in boxes.  More often than not the fruit remains uneaten as it doesn't look appetising after we've been out for an hour or two!  So finding healthy snacks for the kids to eat that remain tasty and appetising is a hard task.
Fortunately we have found a great new healthy kids snack in the form of GoGo squeeZ fruit and yoghurt snack pouches.
GoGo squeeZ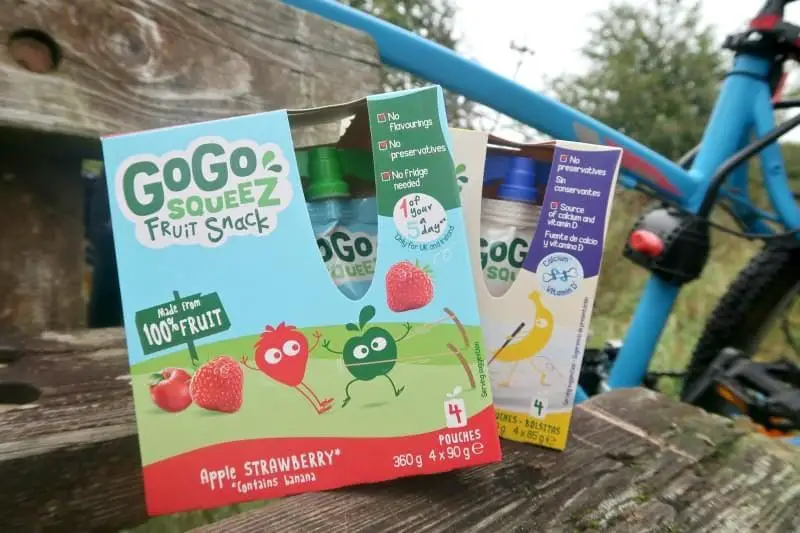 The snack pouches from GoGo SqueeZ do exactly what they say on the packet, they let you 'GoGo' out into your busy lives and 'squeeZ' a tasty healthy snack from the pouch.  They come in two delicious yoghurt flavours of banana or strawberry and three yummy fruit snacks of apple, apple and strawberry or apple and mango.
The fruit snacks are purely made from 100% fruit with no added preservatives, dairy and gluten free and fun to eat!  They taste delicious (of course I had to have a little taste too!) and definitely a great alternative to taking fruit out on your daily adventures.
Both of the children love yoghurt so they were especially pleased to see that they could eat yoghurt from a pouch rather than only having it cold from the fridge.  A simple pasteurisation process allows them to be stored at ambient temperatures without preservatives and eaten on the go.  If the kids don't finish them (unlikely as they are so tasty!) then you can put the opened pouch in the fridge for later.
On our youngests nursery days we cycle to the next village, 3 miles away so he can go to nursery.  So we thought it would be the perfect time test the pouches as food on the go.
The Test
We stopped part way along a cycle track (in the fog!) to test out the GoGo squeeZ pouches.  Both boys were excited to have a pouch in their bags and there was a comment that the easy to open lids looked a bit like helicopter wings.  Perhaps that should be a craft project for another day?!
The hardest decision for the children was which pouch was their favourite!  Each one they tried was a thumbs up, but eventually our eldest decided his favourite was the apple and mango fruit pouch.  Littlest thinks they are all equally tasty!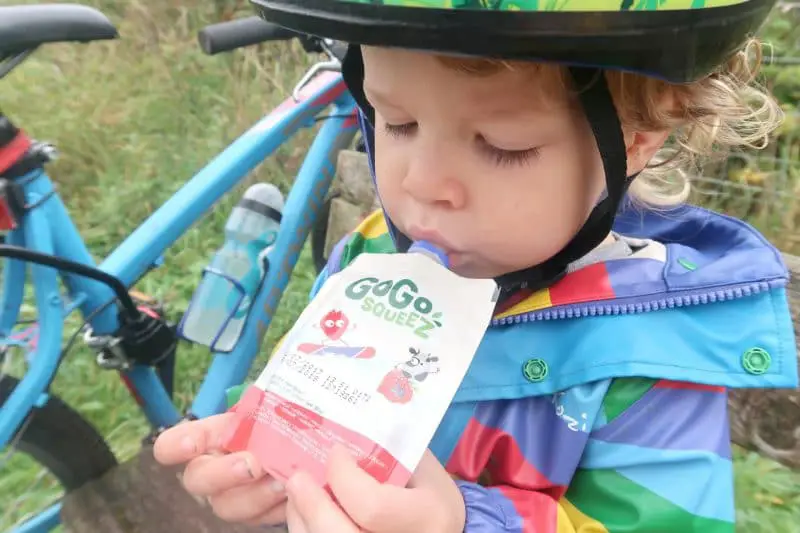 I love that they are quick to pop in the bag and the three year old can even eat his on the back of my bike as we're cycling along to nursery.  A brilliant, nutritious snack to keep him going whilst at nursery for a few hours.
We took a few extras to take photos of the pouches, so once our little one was at nursery the six year old begged to stop on the way home again to have another pouch.  Clearly they are going to be a regular purchase in this household!
You can buy the GoGo squeeZ pouches at your local Tesco supermarket or on Amazon.  I guarantee your children will love them, the perfect healthy snack for lunch boxes.
* This is a collaborative post with GoGo squeeZ, however all opinions are my own.