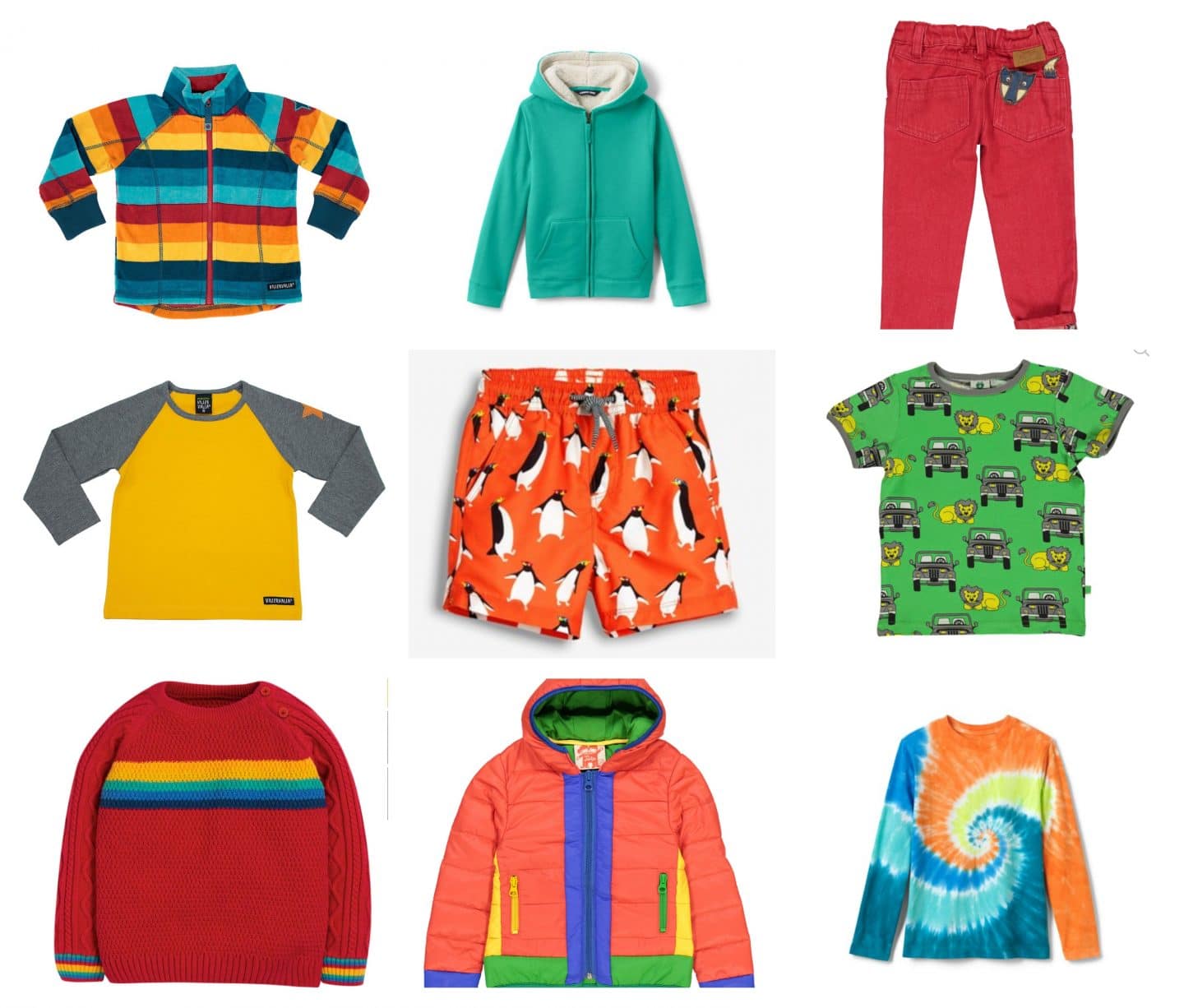 Now that my children are getting older it's becoming harder and harder to find bright coloured and fun clothing for them.  The girls sections of clothes shops seem to have much brighter clothing, but boys seem to suddenly go into darker colours with navy, maroon and dark green being the norm.
My eldest has just turned 8, although he's been in size 8-9 clothing for a while already, and he does like the brighter colours or patterns.  It can be a struggle to find the bright and fun clothing for boys, so I've listed some of our favourite brands that have brighter colours for children to help anyone else looking for similar items.  We often pick items from the 'girls' sections too, but the brands below were specifically chosen for having bright boys clothes at around the 10 years of age mark.
Let me know if there are any other good brands that have bright boys clothing!
Bright and Fun Boys Clothing
Lands' End
We currently get a lot of the boys clothes from Lands' End, the boys section has lots of fantastically bright coloured items.  The children particularly like this tie-dye top and the cosy bright sherpa hoodie for the autumn.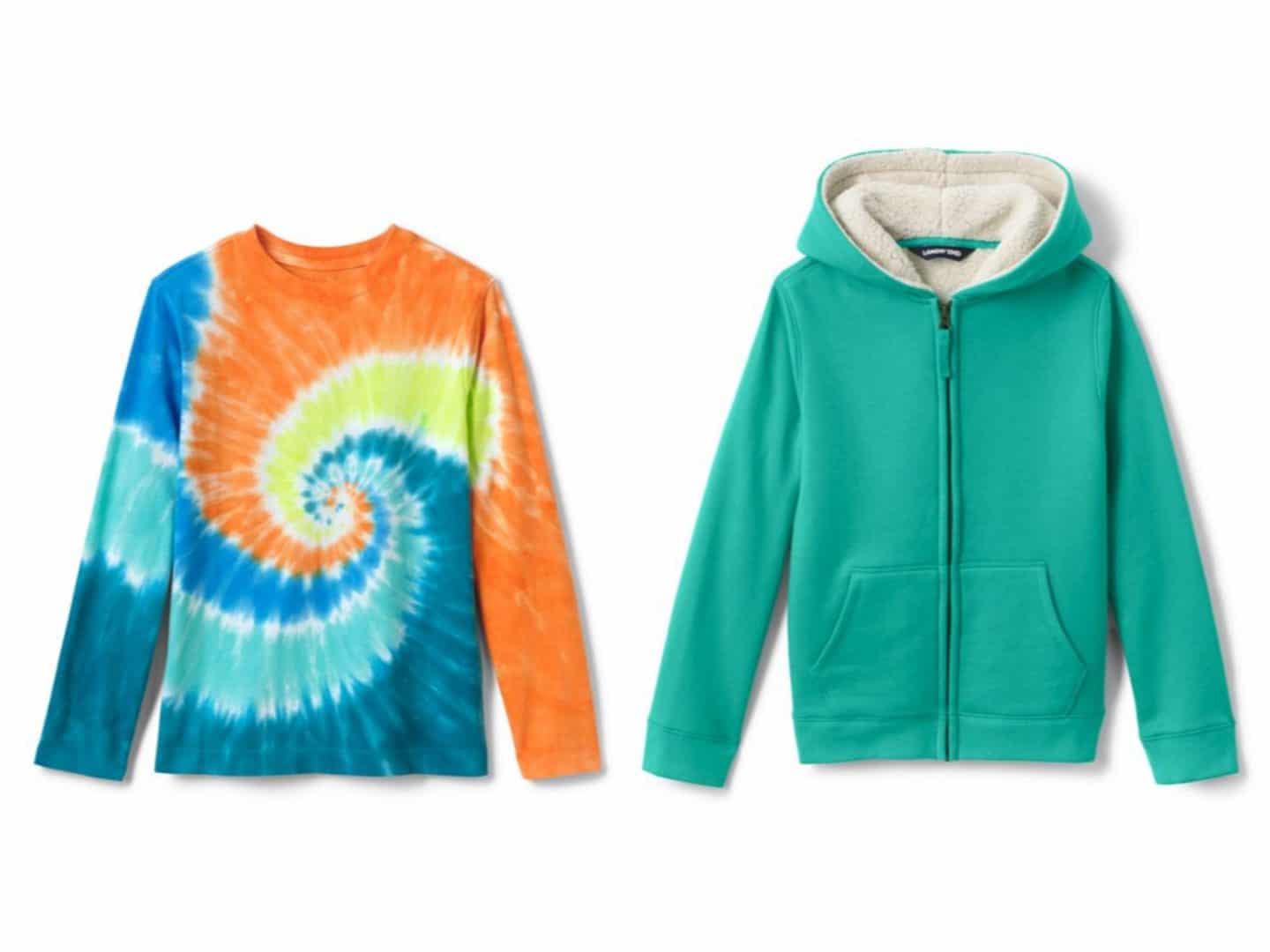 The age range for this bright boys clothes range is 7-13 years old, although there are different options available for younger children.  We also find that a lot of the girls clothing items are great for the kids too, however I would tend to get a size larger as they seem to be quite tight.
Frugi
We adore Frugi clothes, they always have beautifully bright colours and patterns, plus some great applique designs too!  For the older boys range (up to 10 years old) we especially love this cosy red cable knit jumper with rainbow stripe and the bright yellow slim cords.  Cords are the perfect trouser option for winter as they are cosy and are surprisingly tough when kids are climbing trees and running around outside with friends.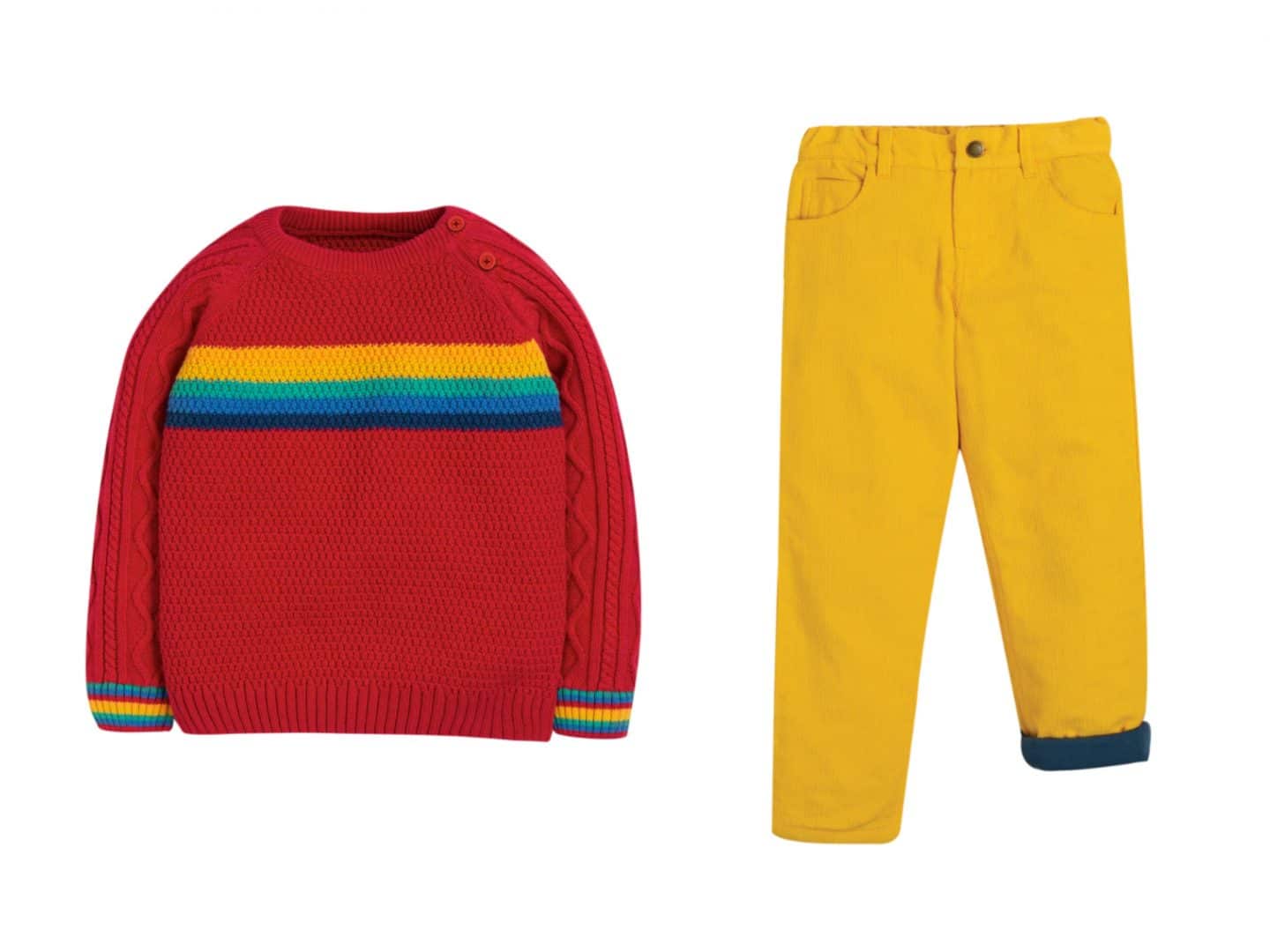 Again there are also plenty of options in the 'girls' section which would be perfect for any gender, my youngest chose a cute turquoise shell pattern fleece from there earlier in the year.
Boden
Although I was introduced to Boden before children for the adult clothing range, it's the children who get clothes from there now (they have much better outfits than me!).  Both children have a variety of items from Boden, including bright jumpers, tops and cords.  My boys love sequin tops, although often these seem to be found mostly on items in the 'girls' sections of shops.  So it's good to see that Boden realises boys love sequins too, like this fab shark t-shirt.  They also currently have a cool beetle long sleeve top in orange, although my eldest's favourite's are the new Harry Potter themed tops, including a Hedwig and Hogwart's Express one!  The largest sizes in brighter items are around 11-12 years.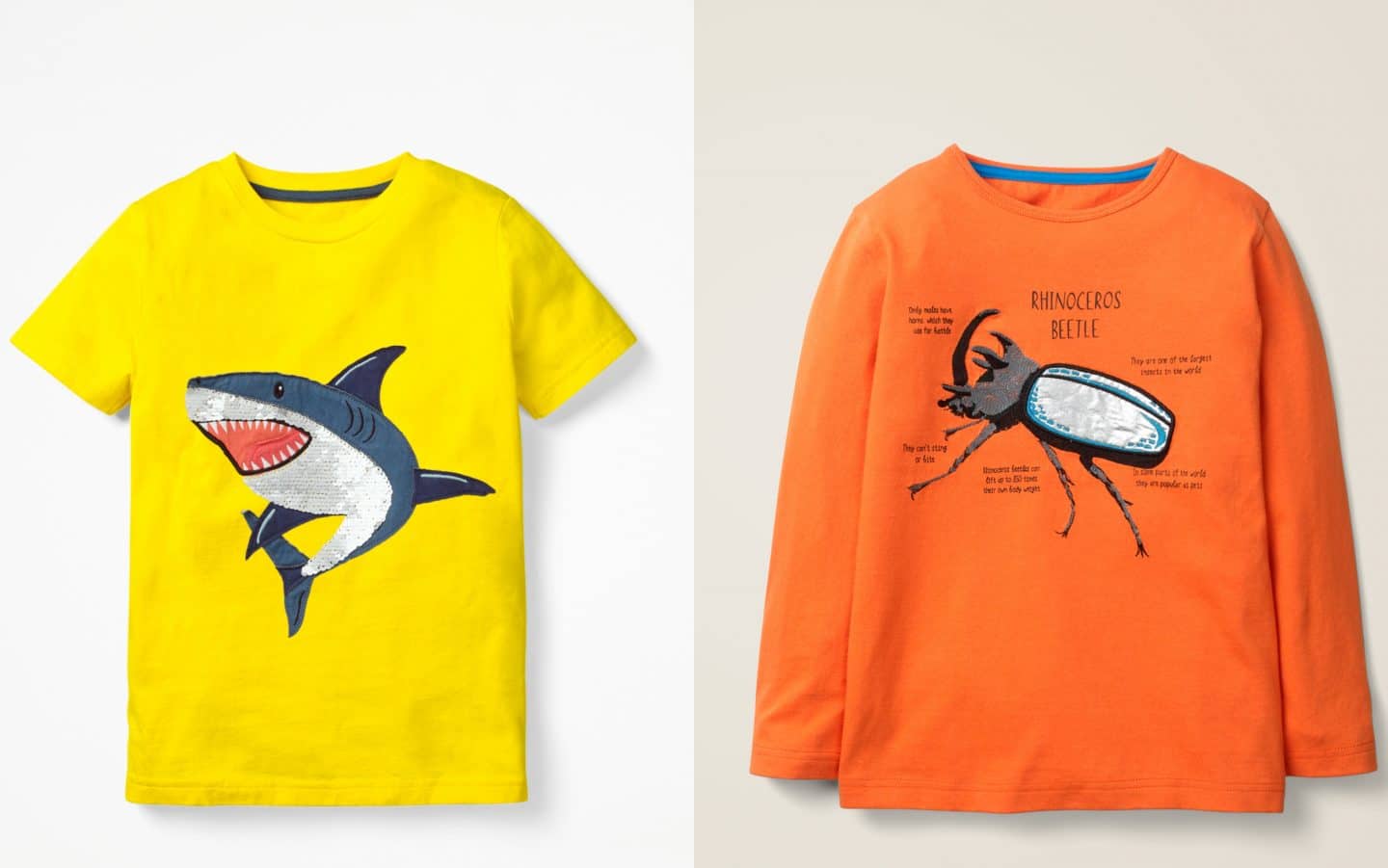 H&M
Although H&M can be a little hit and miss, if you search in the 'boys' section of H&M you can often find some fantastic bright clothing items.  My eldest has found bright red and yellow cords and twill trousers in the past, although at the moment there are only rather dull trousers available.  Fortunately there are still plenty of brighter clothing items for their top halves, including this orange gaming t-shirt and yellow hoodie.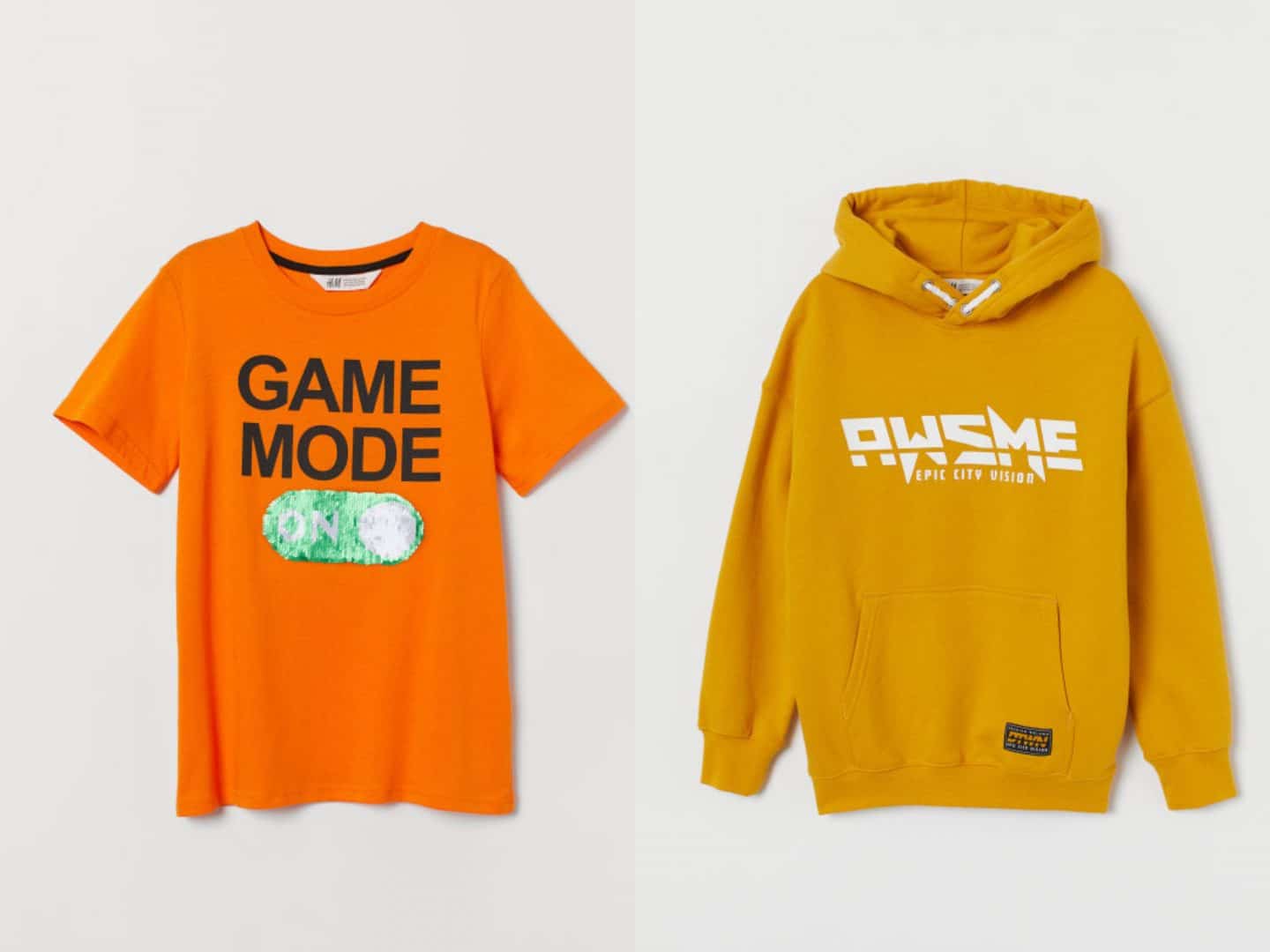 The clothing ranges vary in size, but these items above are in the 8-14  years age range.
Smafolk
The Danish brand, Smafolk, has some fantastic designs with a huge range of brilliant prints from animals to vehicles and vegetables!  Some may look a bit young on older children, but there are plenty that would be suitable for older children.  The largest sizes are around 11-12 years old.  I can see my eldest loving both of these tops, he loves blue, although it's hard to find lighter and brighter blues at 8 years old.  He often has to settle for navy, which just isn't the same.  The blue polar bear long sleeve top is perfect for winter with it's wool mix and the green SUV and lion t-shirt would be great for summer.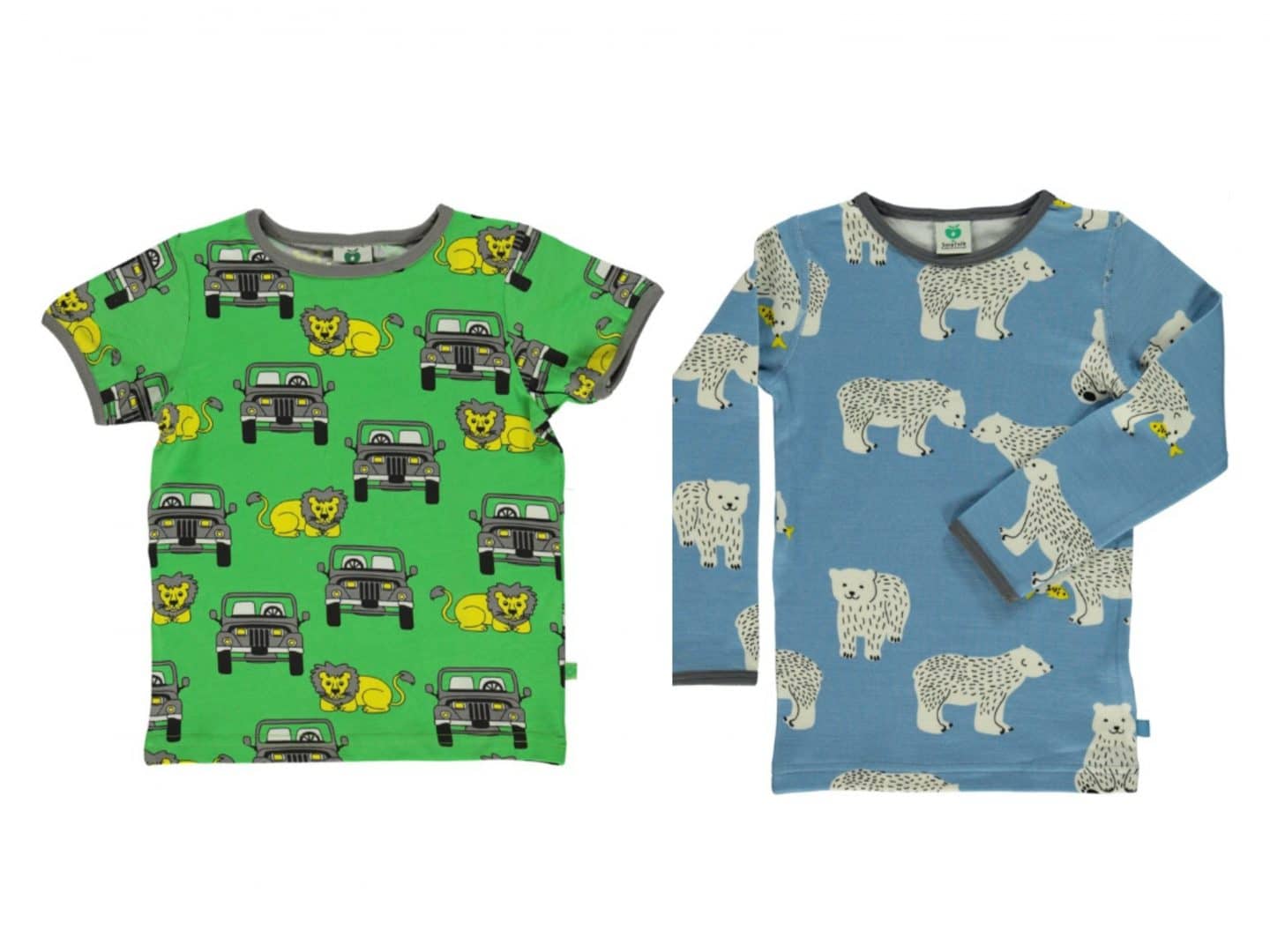 Duns Sweden
A fantastic Swedish brand, Duns Sweden, has lots of interesting designs in bright colours for children up to the age of 12-13 years old.  The patterns can be bold or smaller repetitive designs that you need to look closely to work out what they are!  Both our children like space themed clothing, so the long sleeve Lost in Space top is right up there street, as is this down in the deep jellyfish top.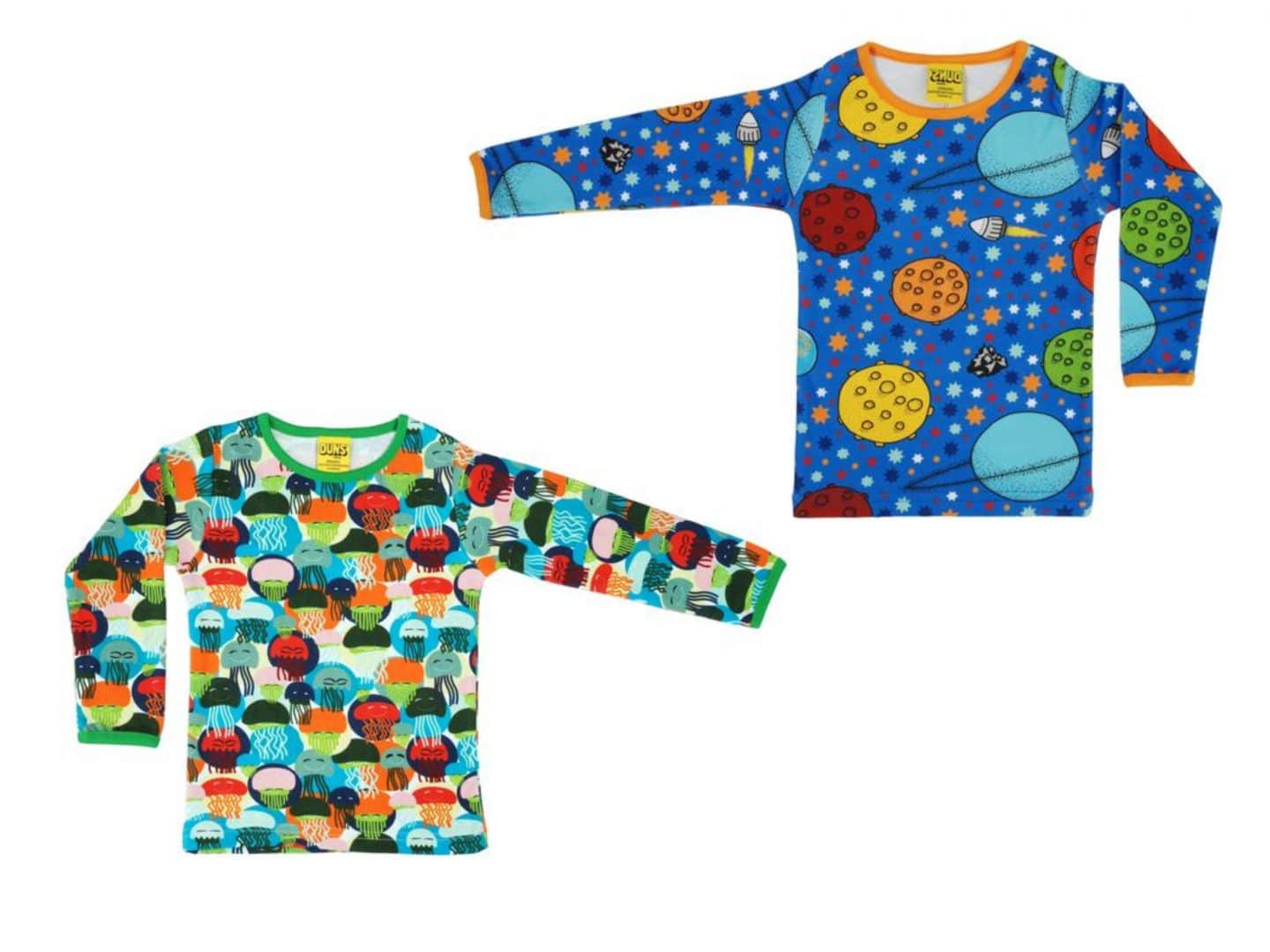 There are plenty of other items that are brighter and often you can choose the same pattern in different colourways, which is always helpful.  I also am particularly pleased to see that they don't section the kids clothing into 'boys' and 'girls', but separated by clothing item choice.
Tootsa MacGinty
Tootsa MacGinty is another of the shops I love for the fact they don't separate kids clothing into boys and girls, instead you can choose the clothing items to look at and choose from whatever your child would prefer.
I think my two would love to have a whole wardrobe of Tootsa items, but we especially loved the colourful puffer jacket for autumn and the yellow cords with fox poking out the pocket.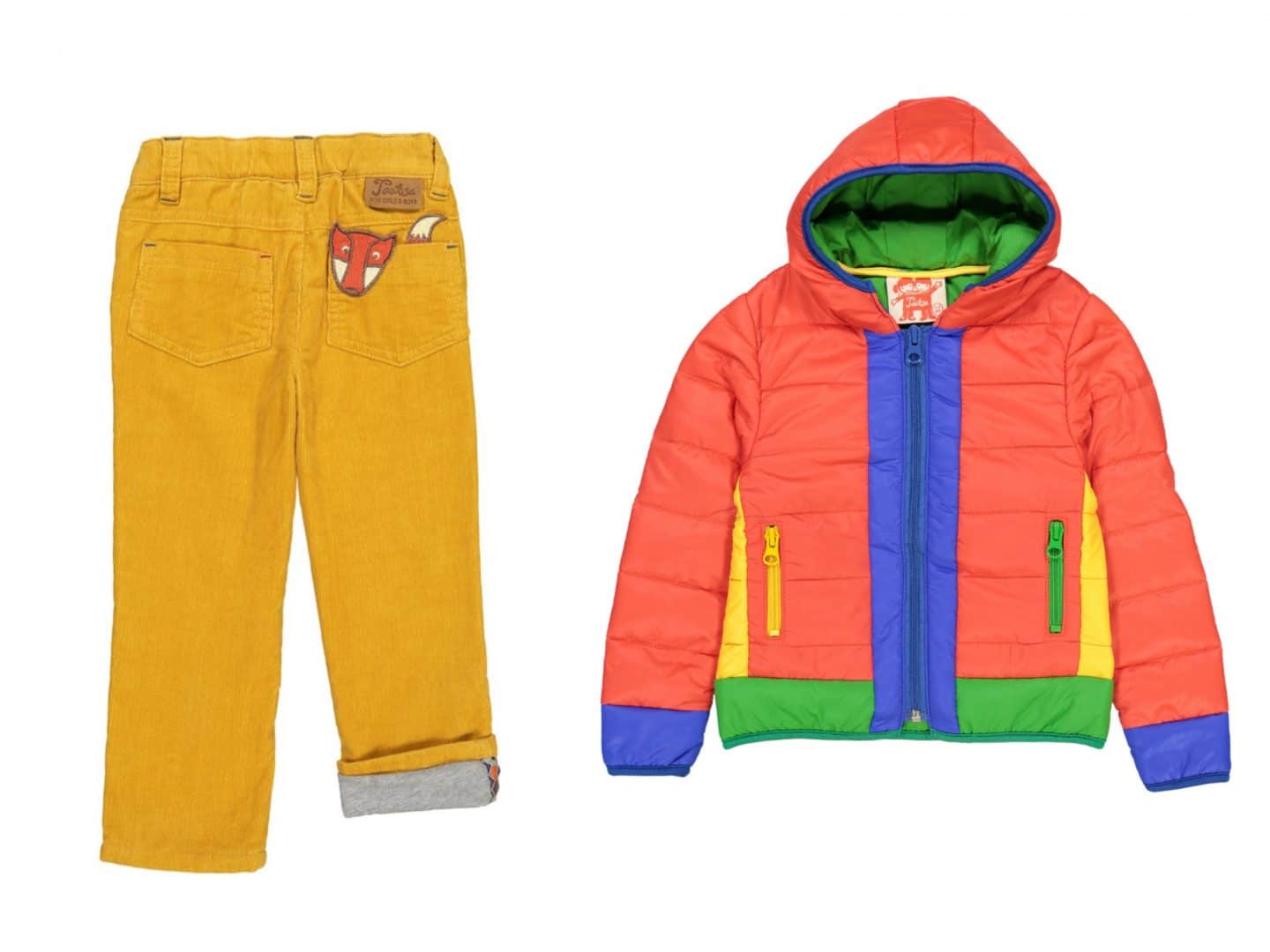 The children's range on Tootsa MacGinty go up to 10 years old, so still a couple more years for my eldest to fit into these delightful items!
Next
Next is a popular high street brand and you may be surprised to find that they have plenty of bright clothing in the 'boys' section, including this rather bright splash of paint top, which would suit even the older teenagers and the great orange penguin swim shorts which will be brilliant for holidays next year.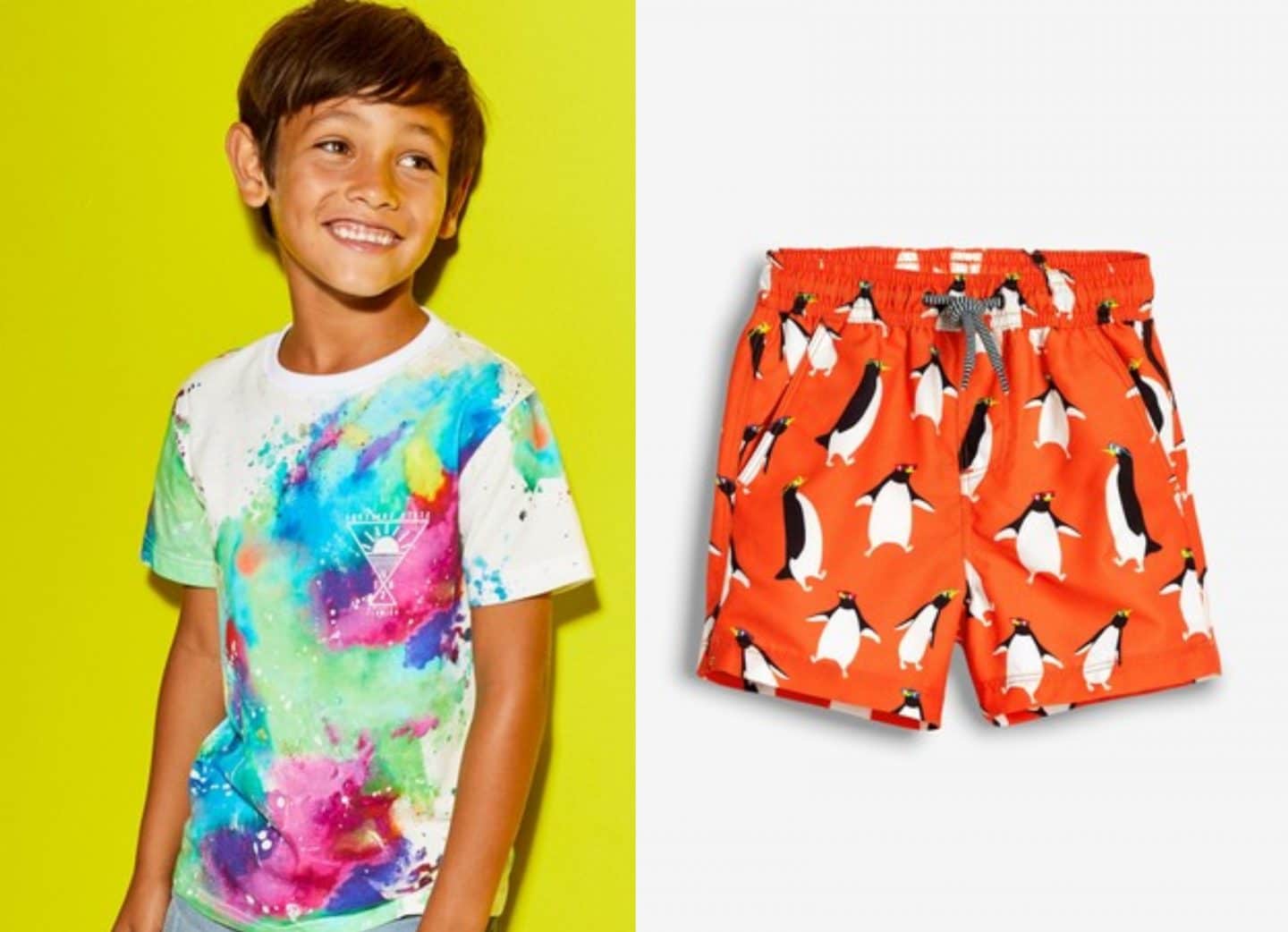 The children's ranges can go up to as old as 16 year, but it depends which range the product is within.
Muddy Puddles
It's great to have bright clothes to wear, but it's also good to find bright coloured outerwear for the children too.  One of the brands that we always love for winter jackets and warm accessories is Muddy Puddles.  Their new winter range is in with some lovely bright coloured and unisex Blizzard jackets, perfect for snowy days and bright coloured welliesbright coloured wellies which are great for splashing in the autumn puddles.
If you need thermals they also have great bright colours that are unisex up to the ages of around 11-12 years of age.  Perfect if you are planning a ski trip this winter or live somewhere chilly like Scotland!!
Villervalla
The Swedish brand Villervalla has plenty of choice, although the brand website only has prices in SEK, so you have to check a price conversion page.  If you don't want to buy the items from Sweden you can also find some Villervalla items on various UK clothing websites.  The sizes range up to 12 years old and have some lovely bright stripes as well as bold solid colours and plenty of stars (a trademark of Villervalla).  This stripy fleece is perfect for my two and my eldest really does suit yellow like this fab long sleeved yellow top.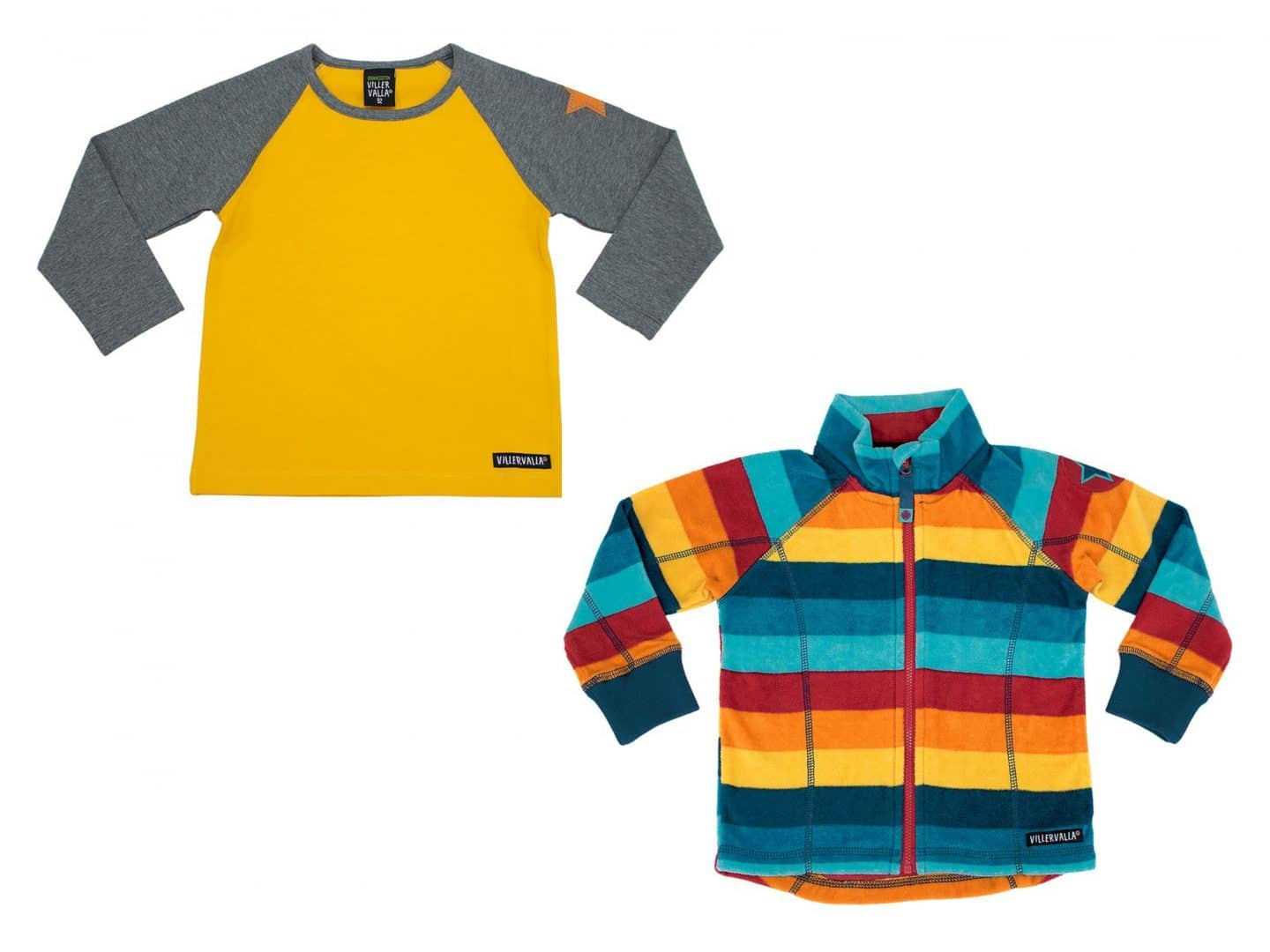 Pin For Later