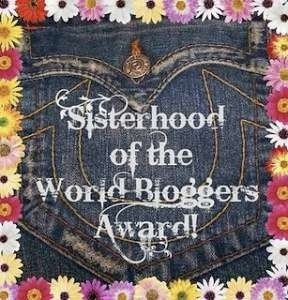 A little while ago (I've been a bit slow at these tags!) I was nominated for the Sisterhood of the World award by Becky over at Cuddle Fairy.
Here are the rules:
Thank the blogger who gave you the award & link back to their blog.
Answer the 10 questions given to you (I'll be answering 20 so).
Nominate 7 bloggers for the award.
Write 10 questions for your nominees to answer.
Display the Award on your blog or post.
So here we go with the questions;
1.  What's your favourite blog post that you have written?  Probably this one about our Venice holiday.
2.  How long have you been blogging?  Almost 6 months now on this blog, but on and off for years with other blogs!
3.  What's your favourite dessert?  Chocolate gateau.  Without a doubt!
4.  What's your parenting motto?  Breathe, stay calm.
5.  If you could fill a magic wand with any power in the world (ie: magicing the dishes clean) what power would you choose?  I like the cleaning idea!  But I 'm going to be cheesey and say to bring peace to our world.
6.  Who has inspired you & why?  My parents have always been my biggest supporters and inspired me to follow my dreams, wherever they may take me.
7.  Is the glass half empty or half full?  Half full.
8.  If you were forced to watch a cartoon over & over again, which one would you choose?  Not a huge cartoon fan here so I really can't think of one.  Does anime count?  I love Nausicaa of the valley of the wind.
9.  What's your ideal holiday?  An activity/adventure holiday, I'm not a relaxing on the beach type of girl (I just get burned!).
10. Heels or flats?  Flats, I'm rubbish at walking in heels.
I nominate:
Becky @3princesse_1dude
Leandra @larabeeuk
Laura @laura_babykicks
Claire @thefrfamily
Clare @mudpiefridays
Becky @littleoandme
Jade @Raisingtherings
Your questions:
1.  Would you prefer wine or chocolate
2.  Where would you most like to spend 2 weeks holiday?
3.  Neutrals or colour?
4.  What was your favourite childhood toy?
5.  Beach or jungle?
6.  What is your happiest memory?
7.  Which gadget would you most like to own?
8. If you had a robot, what would you first programme it to do?
9.  What is your favourite relaxing activity?
10.  Favourite flower?
Please let me know if you complete the award so I can read your answers.
J x