Disclosure: Our stay was hosted as part of a Greek press trip for this Milos Travel Guide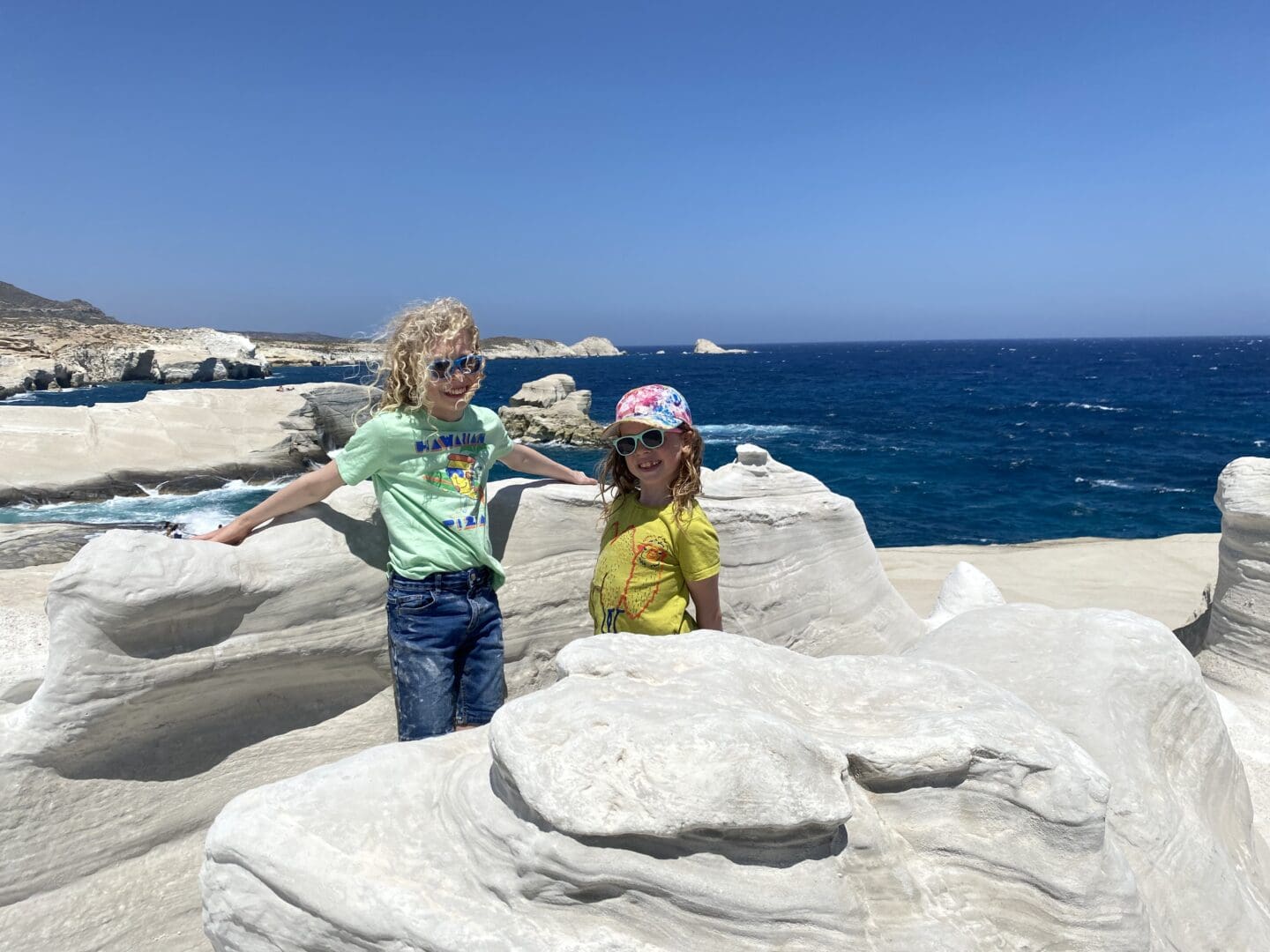 Milos is a beautiful curved gem in the Aegean Sea. The central harbour area carved out from an ancient volcanic crater. It also means there is a natural harbour with calm turquoise seas to swim in. The natural beauty of the island and Mediterranean climate make Milos a popular choice of the Cycladic islands to visit.
Getting To Milos – Milos Travel Guide
You can get to Milos via several different methods. The cheapest transport is by ferry from Athens port of Piraeus. It's approximately €75 for a return ticket to Milos, although if you have time you can make it a longer trip stopping off at other islands on an island hopping trip. The price for the ferry varies by the type of seating that is chosen, the better seats clearly being more expensive. The 3-4 hour boat trip is comfortable, with the availability of toilets, a small cafe with food and drinks, plus outdoor balconies to watch the scenery. Be aware that the air conditioning can make it chilly inside the cabin, so bring a thin jumper! On windy days the boat can rock significantly, so if you get seasick I recommend taking sea sickness tablets.
The other common option is to arrive by plane to Milos. There is a small airstrip for planes to land several times a day with direct flights from Athens. It's much quicker than ferry, but also costs double the ferry price. If you're short on time, then this is perhaps the best option for travelling to Milos.
Alternatively you can charter a yacht to sail around the islands at your leisure. This is obviously the most costly option, but if you are looking for a holiday of a lifetime then this could be the option for you. It's a fantastic way to get to know the Greek islands in a more intimate way.
Getting Around On Milos
On Milos itself you will most likely want to hire some sort of transport. You can certainly use the local buses or taxi service, but this does limit exploration. In the main town of Adamas you will find several hire shops for car hire, motorbike hire and quad bike hire. If you're travelling with kids then car hire would be the best option. It will allow you to explore Milos island fully and enjoy all the different sites. Please note that you will need to bring an International Driver's License with you!
Where To Stay On Milos
Milos has many small hotels throughout the islands towns, as well as larger resort style hotels. Even the larger hotels have a friendly and personal service, delicious food and often the benefit of a pool. In the main town we can recommend Thalassitra Village Hotel. This is a beautiful boutique hotel with white washed walls and fantastic service. The rooms have a small kitchenette area and a pool to cool off in. A fantastic place to enjoy your holiday and also relax on hot afternoons.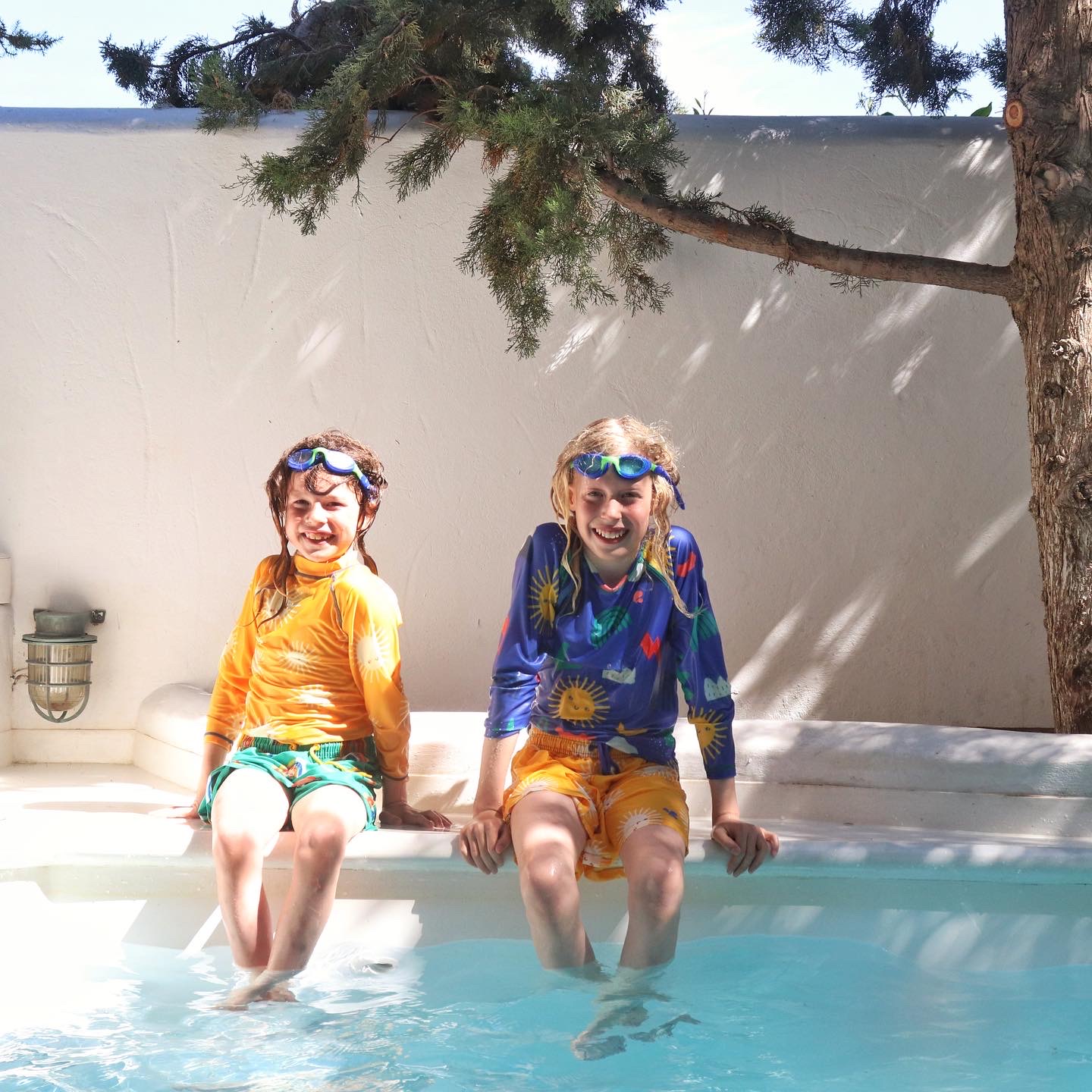 Although if you are looking for a smaller budget hotel we would recommend you stay in the main port of Adamas. Here you can find cheaper options, although I would definitely suggest checking their reviews first. Some places don't have the best air conditioning, which you will need! We left the window open in one hotel due to the air conditioning not working and were bitten by flies!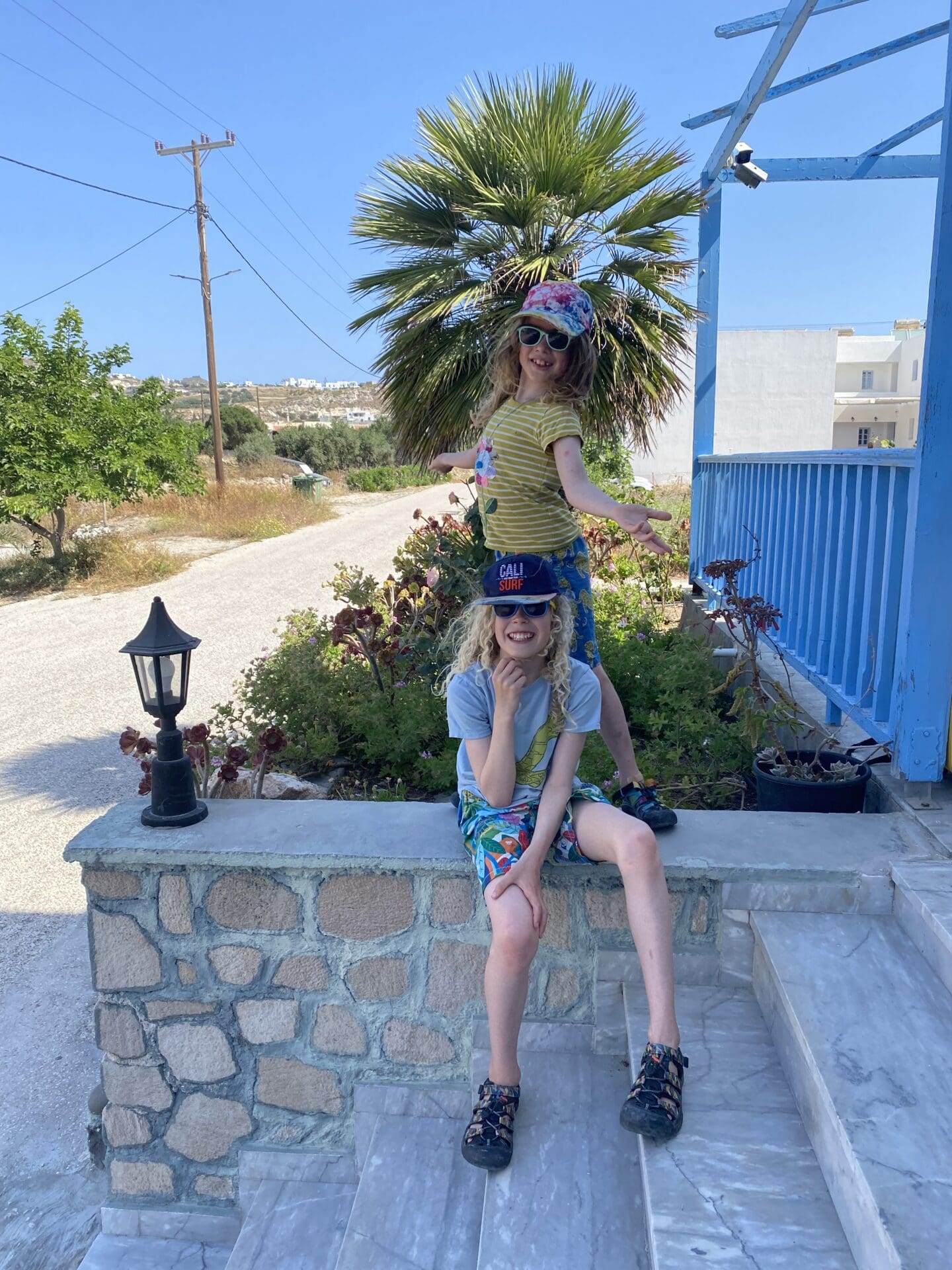 Where to Eat on Milos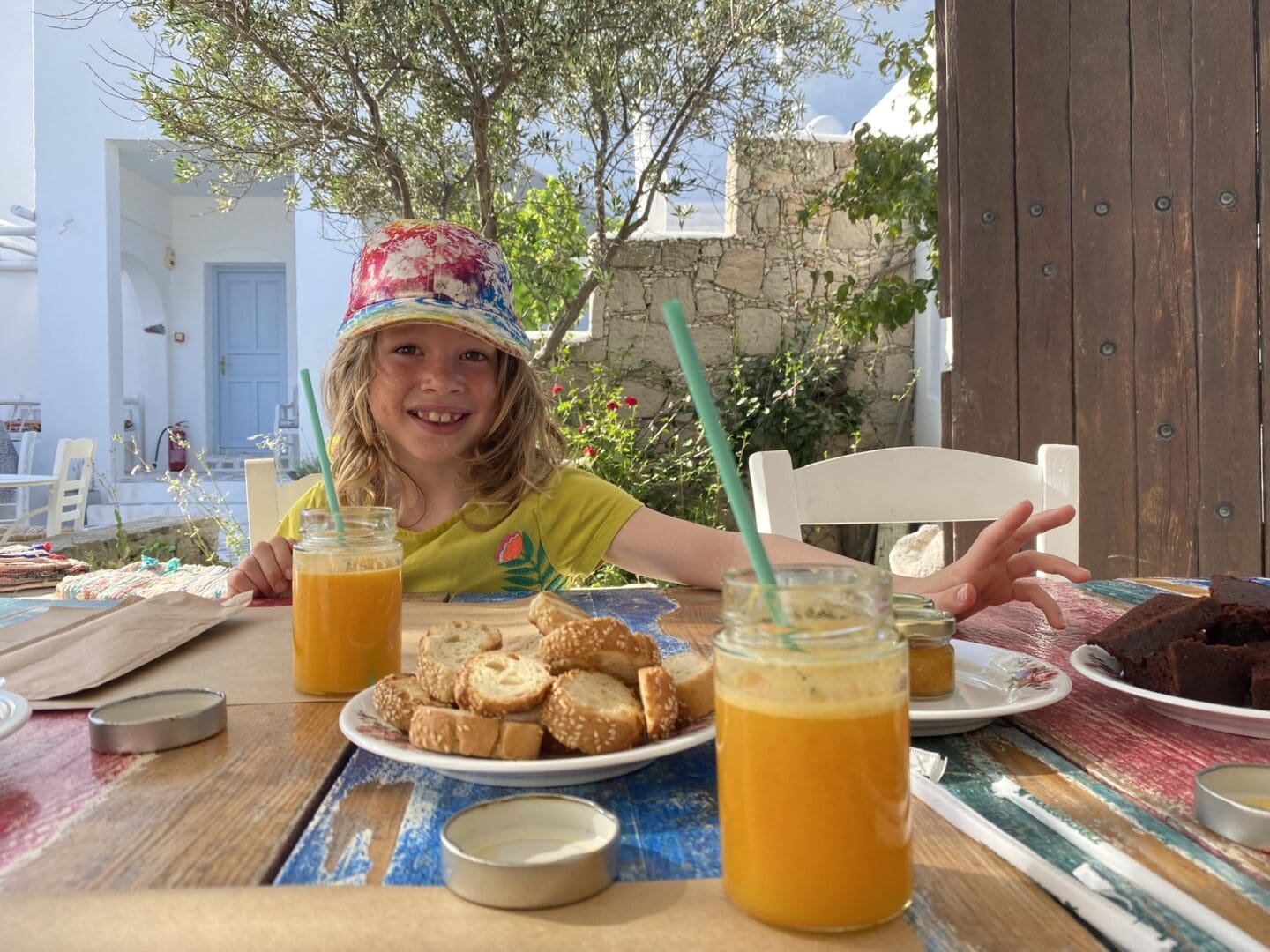 You will find no shortage of places to eat on Milos! Along the front to the East of the harbour are some great restaurants beside the ocean. We particularly enjoyed eating at O Petrinos (very friendly staff and excellent food) and Trapatselis Traditional Restaurant (awesome seafood and lovely view). Another great place for food is Alevromilos, which specialises in Cycladic cuisine. Alevromilos is one of the best restaurants outside the main town on the hill, but worth a visit. The courgette fritters and sauce were amazing!
There are also plenty of small supermarkets to buy some bread and snacks to take with you for lunch. It makes it a lot easier when you are too hot to eat much during the middle of the day. We chose to buy chocolate croissants from a local bakers for breakfast in the morning, although you can also usually find a delicious breakfast at your hotel if you ask!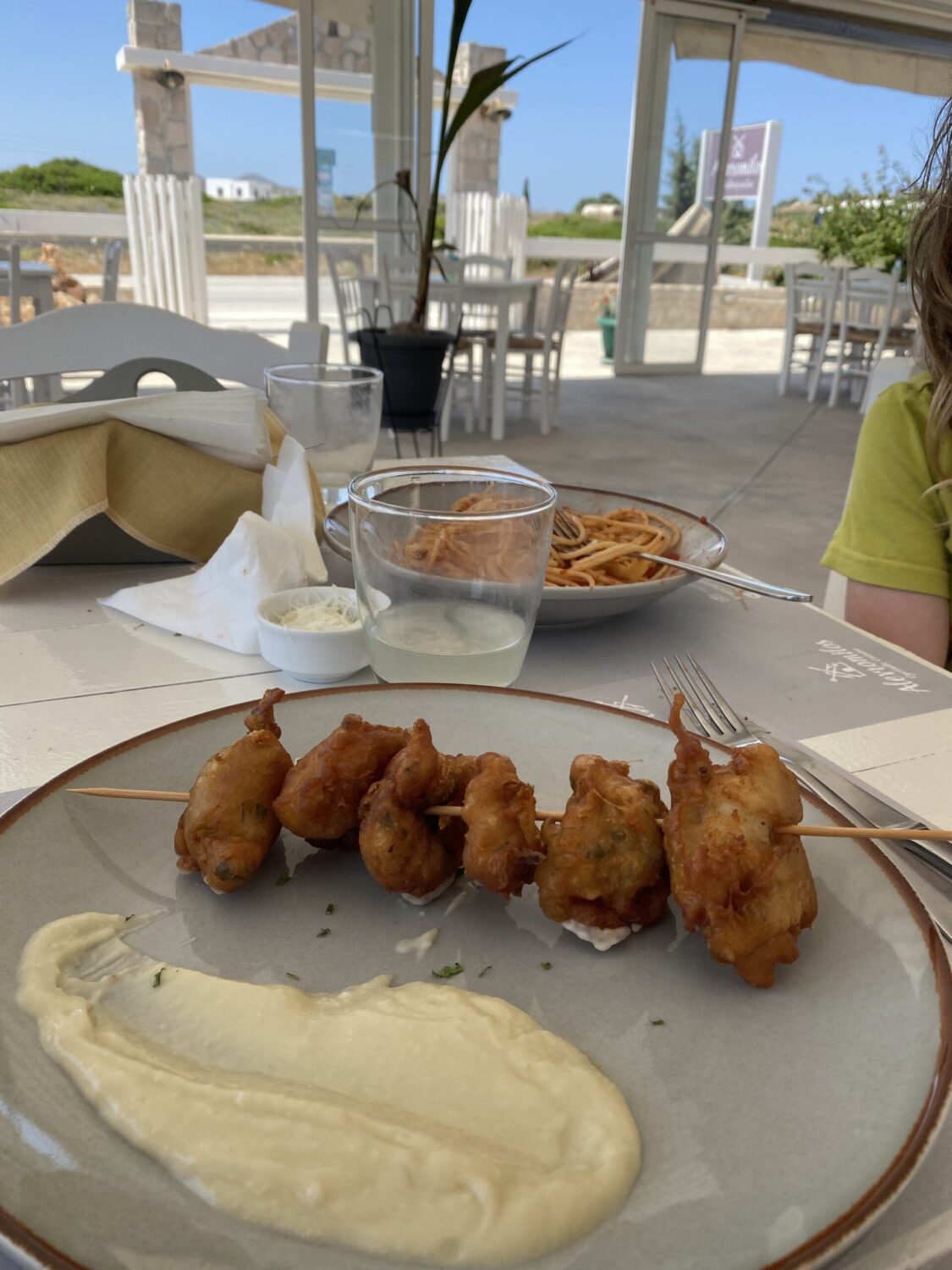 And don't forget to buy an ice cream at the main ice cream parlour at the harbour front. Aggeliki has a whole range of ice creams to choose from as well as other delicious desert options. A good place to sit and people watch as well.
Best Places To Visit On Milos With Kids
Boat Tour – Milos Travel Guide
The one thing you have to do when visiting Milos is take a boat tour around the island. There is no possible way to see some of Milo's most important coastal sights without taking a full day trip on one of the many boats that leave Adamas Port each day. We chose to go with Le Louda, a wooden sailing boat, that even has a crows nest. It's a slower way to go around the island, but definitely a beautiful option. If you are taking kids I'd recommend buying a snorkel and pool noodle to take with you in the trip. They will make swimming in deeper water safer and more enjoyable for the kids.
From the boat you will see fantastic rock formations and stunning blue waters. Most tours stop at the famous Kleftiko Caves, once home to pirate ships! It's definitely a favourite spot for people to swim and snorkel. Our bought gave us a tour around the sea caves in a Zodiac boat and we spent a lot of time playing in the gorgeously crystal-clear waters.
Lunch on board the boat was a delicious range of traditional Greek foods. The kids tried some dishes and the eldest particularly liked the homemade humus. Whereas the littlest most survived on bread! Either way they will find something to eat, including plenty of vegetarian options.
There we're several other stops for swimming, all close to the shore that you can swim to if you chose. Or simple stare out at the beautiful turquoise sea. Even the kids were stunned at how blue the sea was and couldn't wait to get in! Aside swimming in the beautiful sea it was also fantastic to watch the coast as we passed a ;overly traditional fishing village or the more rugged looking remains of buildings at an abandoned Sulphur mine.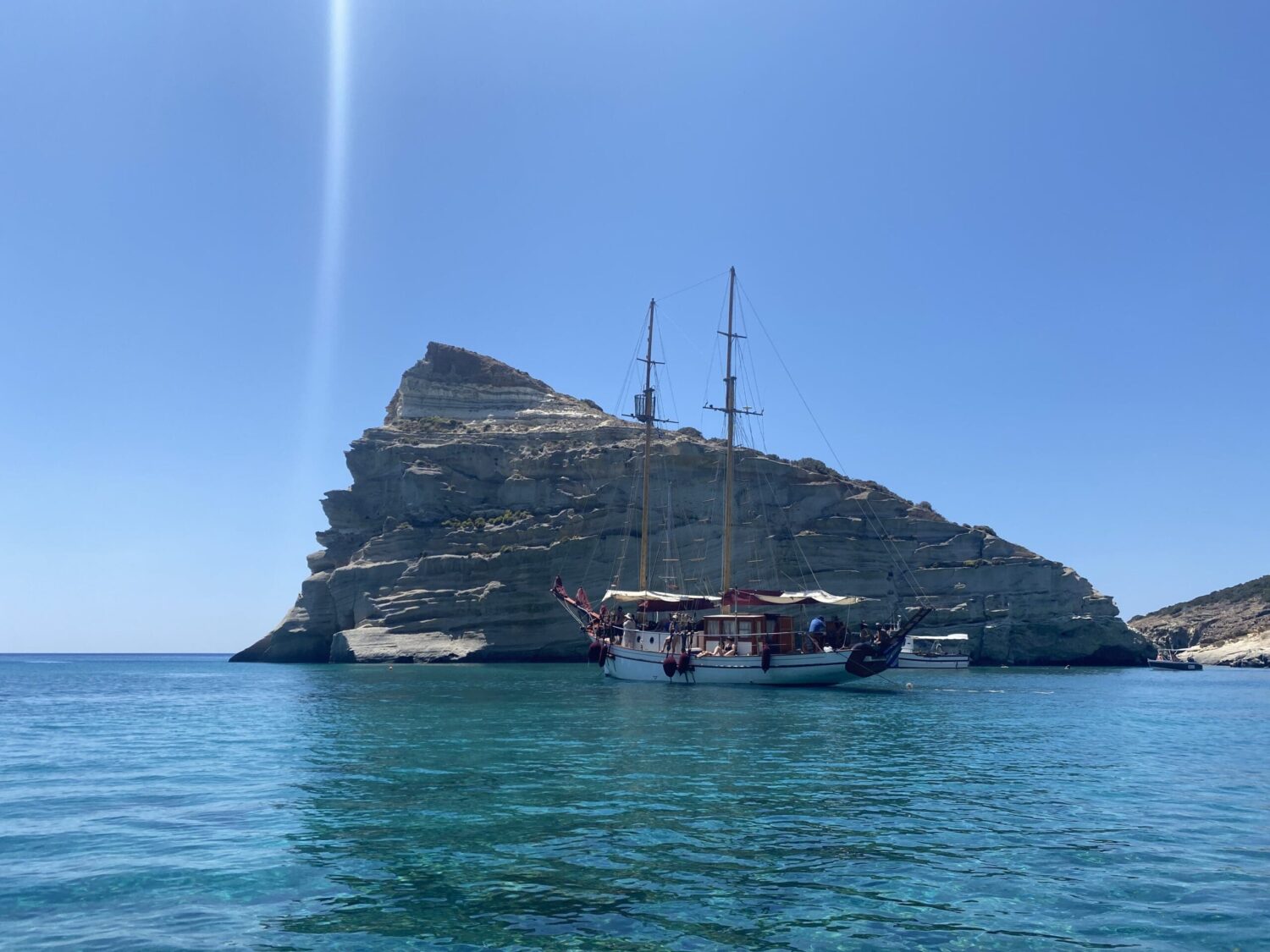 Sarakiniko
Another popular beach is less of a beach and more of a rocky lunar landscape. Sarakiniko beach is a tiny piece of sand with a narrow inlet of water, great for swimming in, although big waves can appear at the entrance of the inlet when windy. The small beach is still worth visiting, although you may need to leave towels on the rocks. The white rocks are the real highlight here, bring sunglasses as they're bright! Don't forget to explore the mines beside the beach. There are a network of dug out tunnels, which are cool to investigate!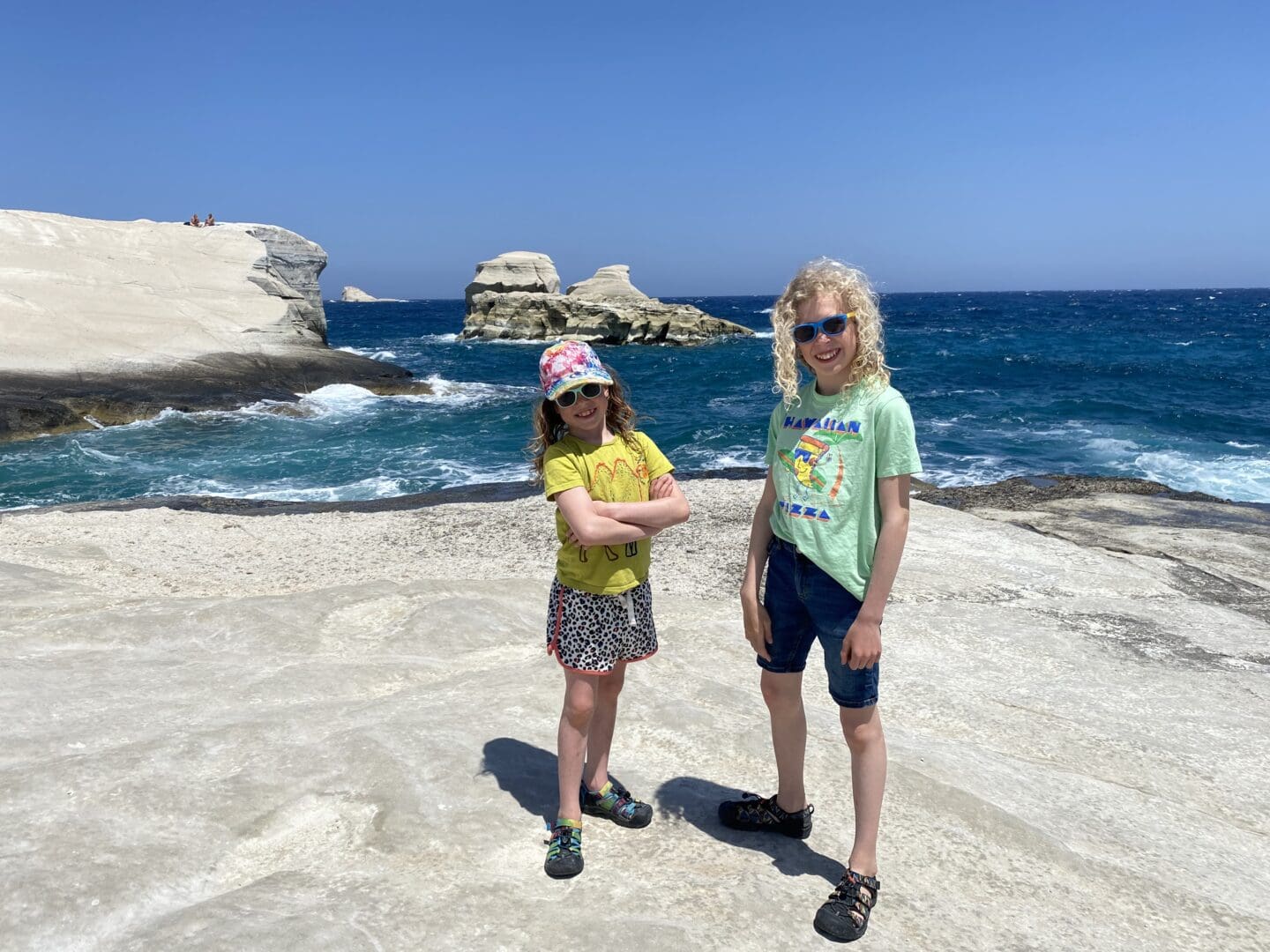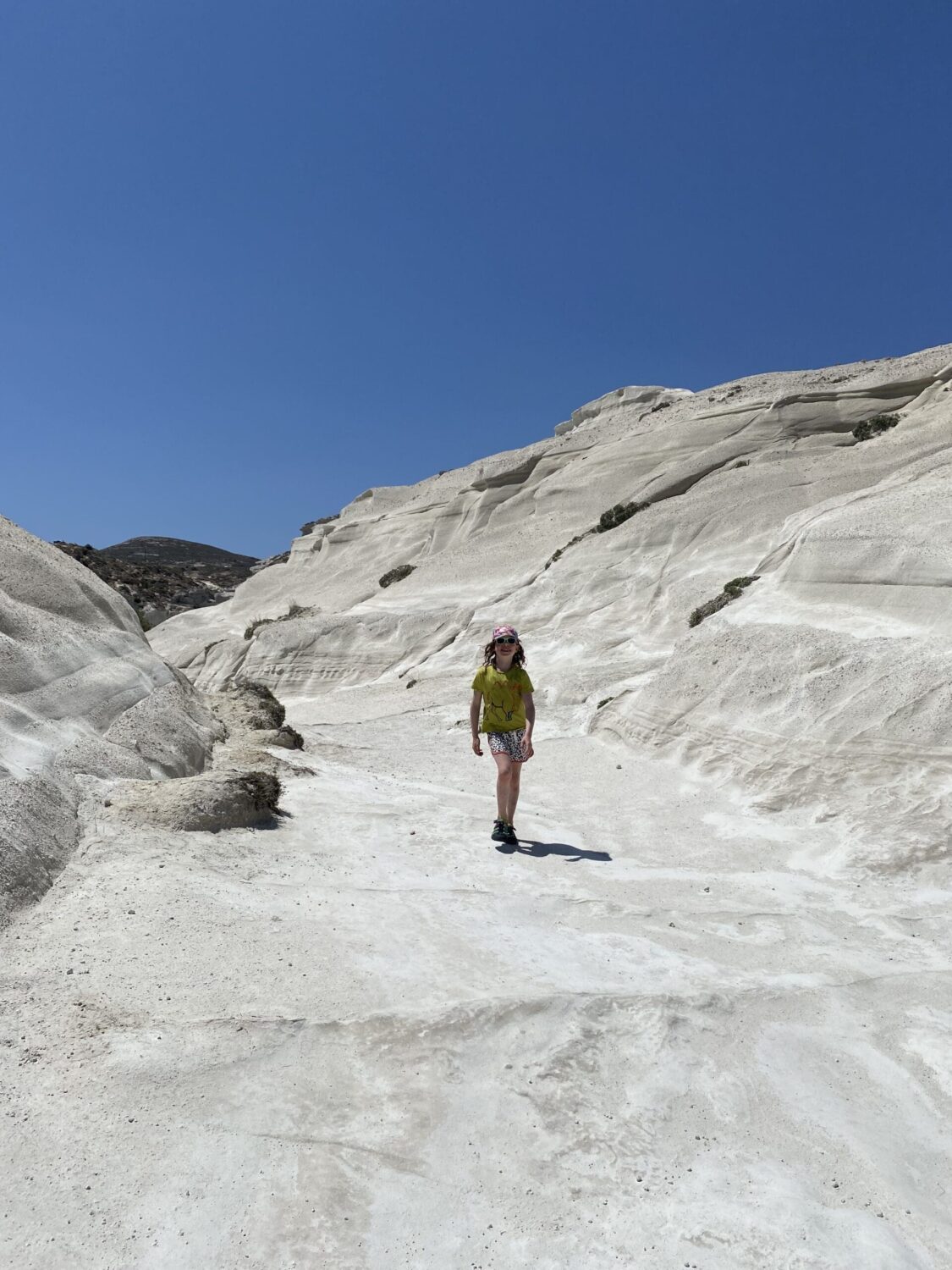 Ancient History
Above the colourful fishing village of Klima are the catacombs of Milos and ancient theatre of Milos. The catacombs were known for many years and unfortunately were looted by local people, opening the graves and exposing the bones. So now there are no remains left. However, you can see the different alcoves where the family burials were made. It's an interesting tour and perhaps at some point they will discover more burials that haven't been accessed already.
Nearby is the ancient theatre, which is a small but well made marble amphitheatre where there once would have been comedies, tragedy's and gladiator fights by the people who lived in the area. There are surfing carved marble archways and many rows of marble seating, you can definitely imagine the theatre being used in it's hey day!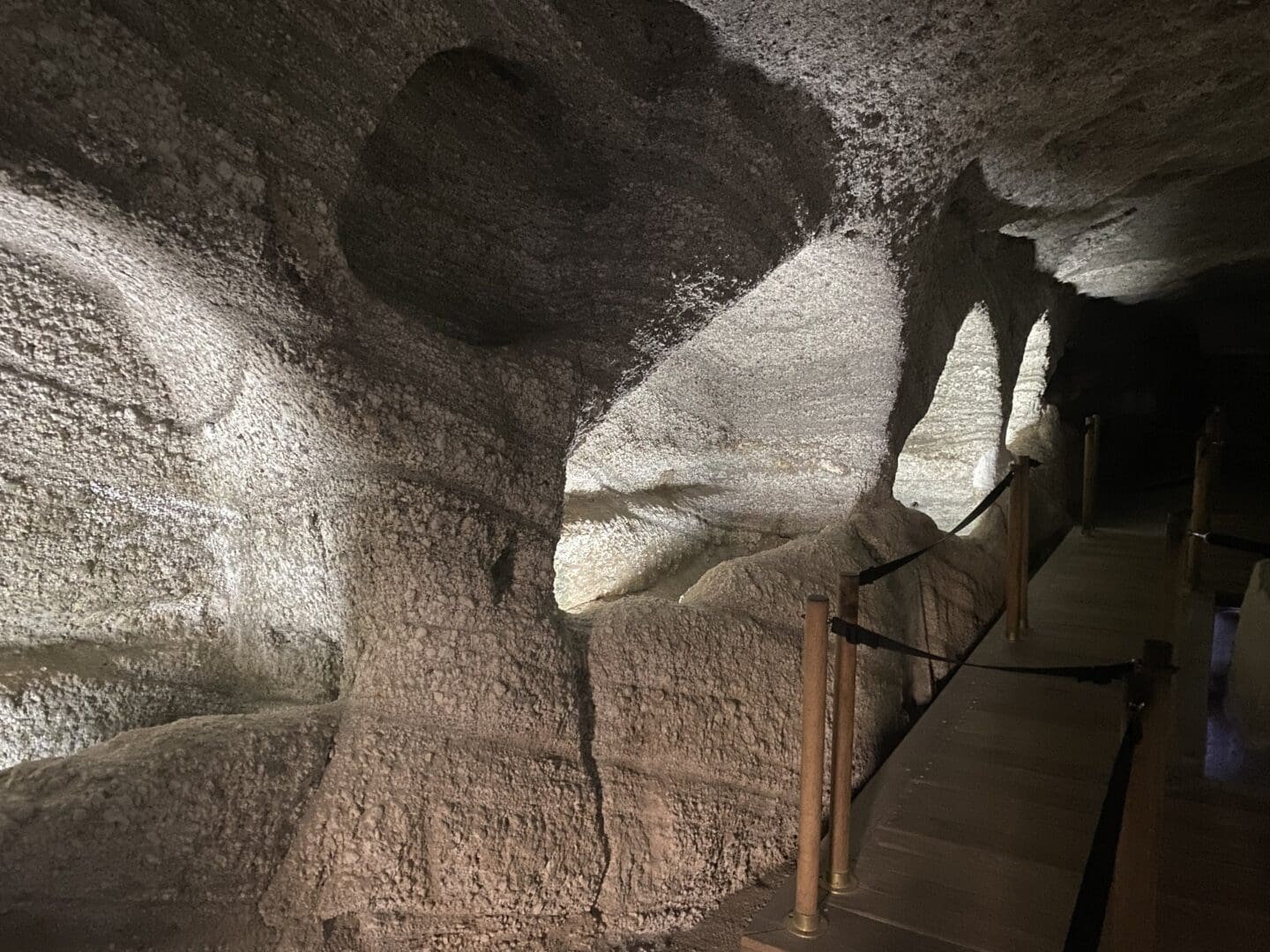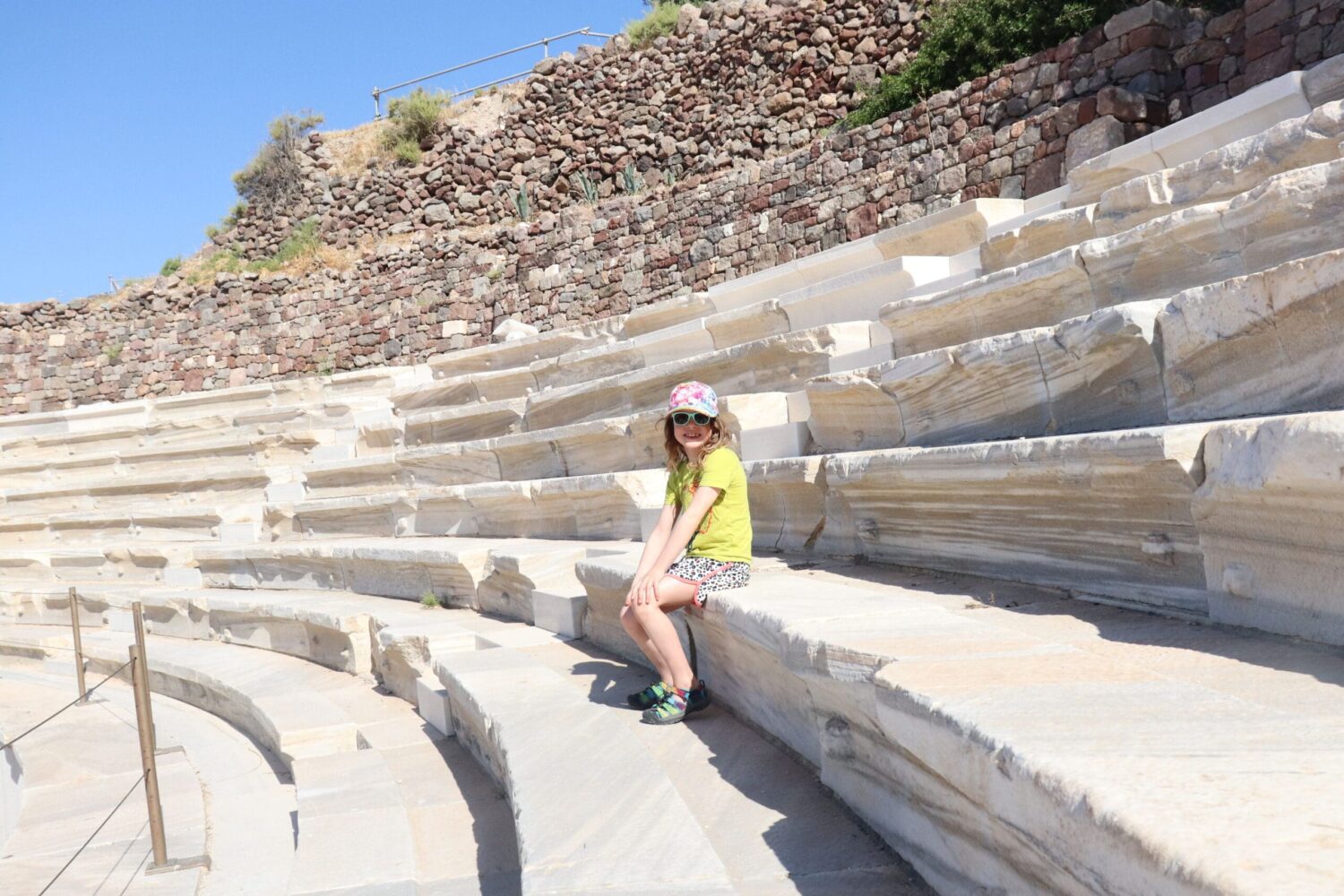 A short walk up the hill is the village of Plaka. Here you will find Plaka castle, which is a Venetian castle and worth a visit when you're in the area. This is the only remaining evidence of the Venetian rule over the island. At the base of the ancient city walls near Plaka is where the Venus de Milo was found. This is a statue of what appears to be the goddess Aphrodite. The statue was ultimately gifted to the King of France and is now located in the Louvre, Paris. It is possible it may come back to Greece one day as the municipality are supporting it's return.
Beaches
The Greek island of Milos is popular for other beautiful beaches too. The best beaches are considered to be Tsigrado beach, accessed by a rope ladder down a cliff. It may not be suitable for all children, depending on how safe they are with ladders. This does make it more secluded though. Probates beach is 13km from Plaka and an organised sandy beach with sunbeds, umbrellas and a restaurant. Papafragas caves is East of Plaka and is a small beach accessed by a steep rocky path. But it feels very secluded with rocky walls surrounding it like a private swimming pool.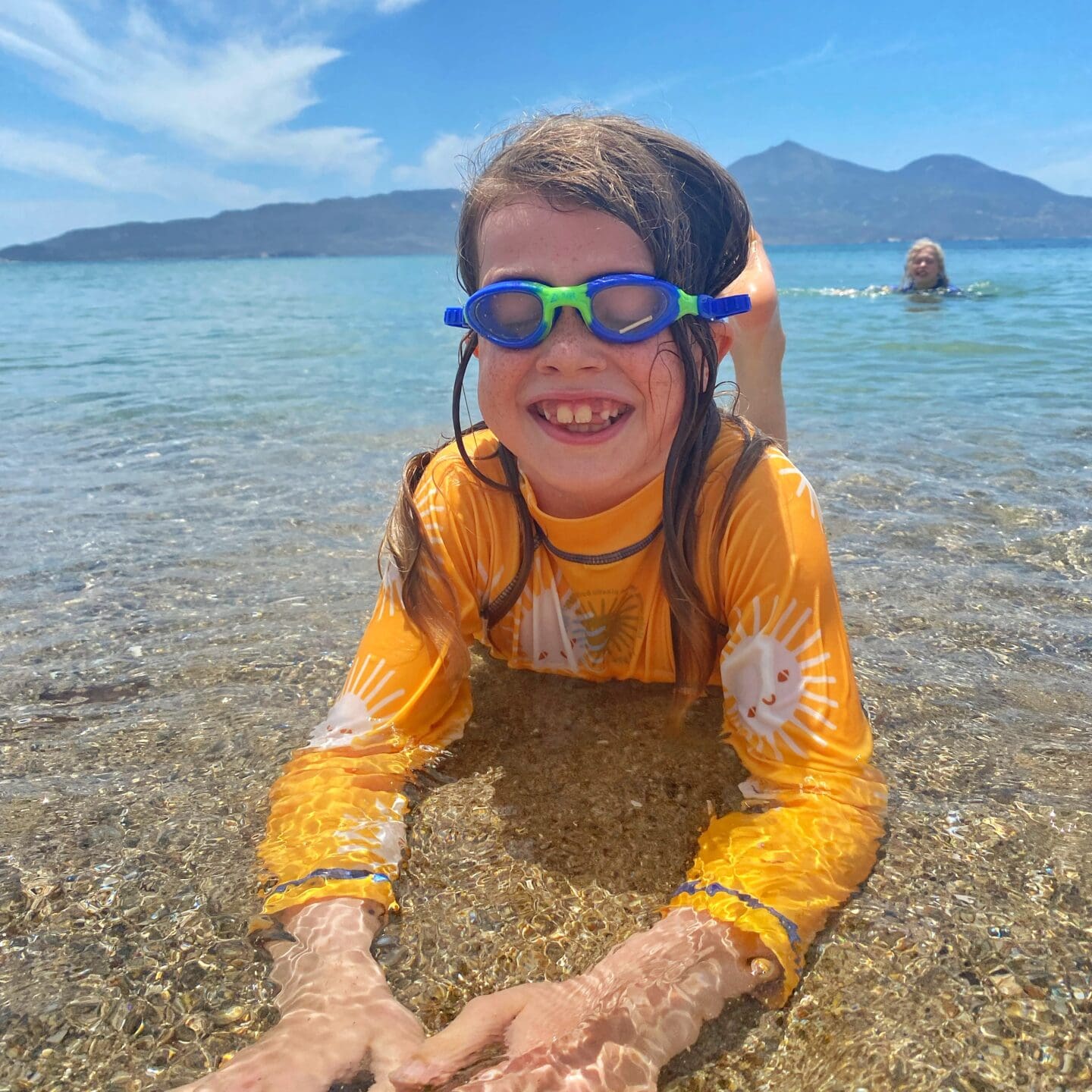 Mining History – Milos Travel Guide
Milos mining museum is located in the largest village in the island, Adamas. It's an interesting place to visit and find out the previous lives of Milos inhabitants, who predominantly worked in the Milos mines. There is also a great exhibition on the different rock types found in the area. We enjoyed our visit there and the kids chose to buy a necklace each as a souvenir.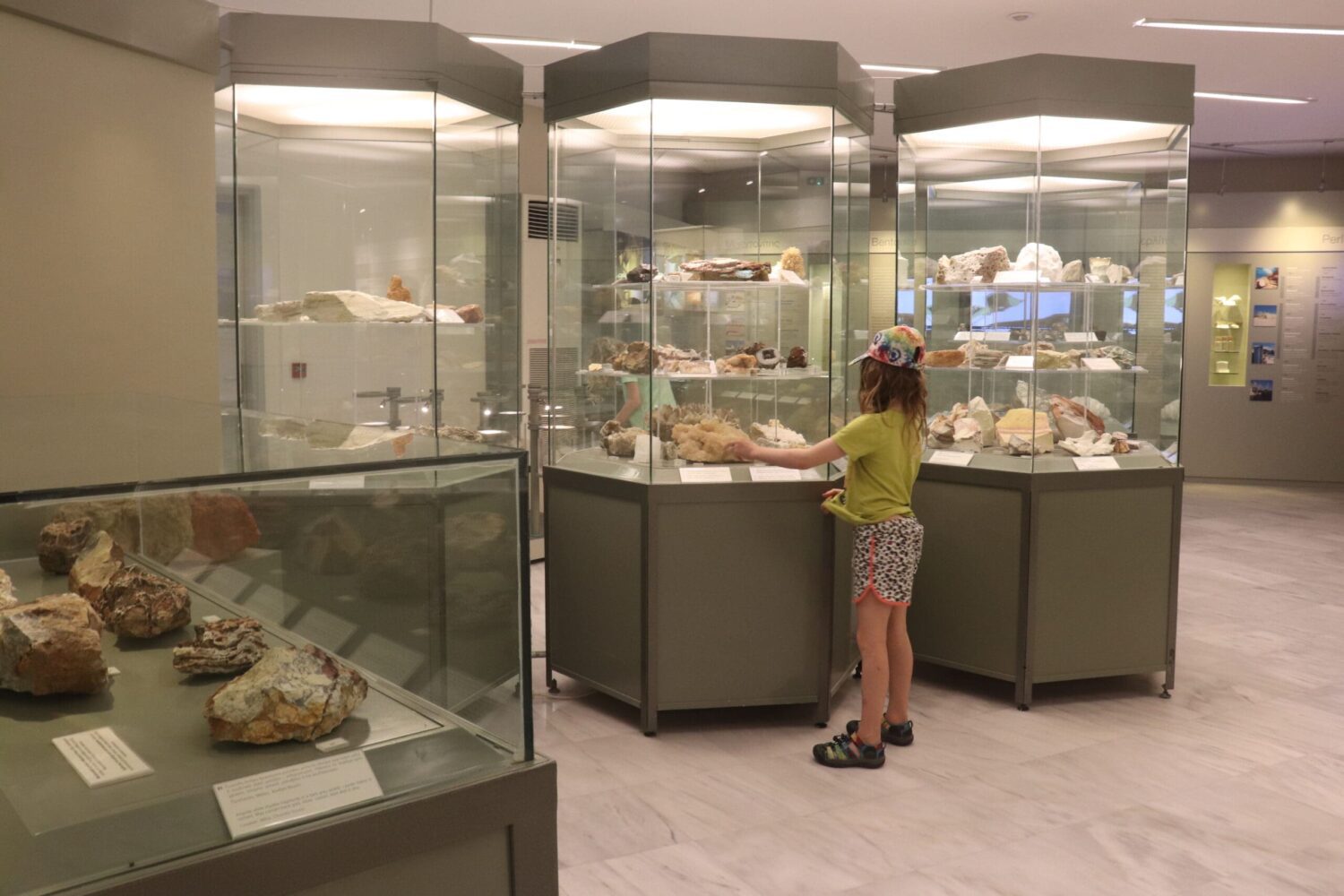 Volcanic Activity
As a volcanic island, Milos has a large number of different geological formations. The high cliffs are beautiful to look at and have many sea carved archways to look at. Although there is no volcanic activity on the island, it still has areas of hot springs. Including right beside the sea. If you dig in the sand at certain point around the huge sea filled crater you will find hot water just below the surface! There is also a volcanic geological trail available in the Milos mining museum, which gives directions to certain craters and fumaroles. The fumaroles can still be seen to be pouring out steam and a sulphurous smell. The volcanic rock itself is interesting to look at whilst exploring the island.
3 Day Milos Travel Guide Itinerary
On the first day of your visit to Milos get your bearings with a drive around the island, stopping off at the catacombs and ancient theater of Milos, before spending a few hours relaxing at Plathiena beach. Grab a drink and enjoy the view and turquoise water for the afternoon. Head into Plaka for dinner and watch the sunset from beside Plaka castle.
On your second day take a full day boat tour around the island, or if you're feeling brave hire your own boat to tour the island yourself. It's best to spend a day touring the island and stopping off to swim and eat (bring snacks and food!). Major stops should include Kleftiko and other difficult to access beaches. Head into Adamas for dinner by the water.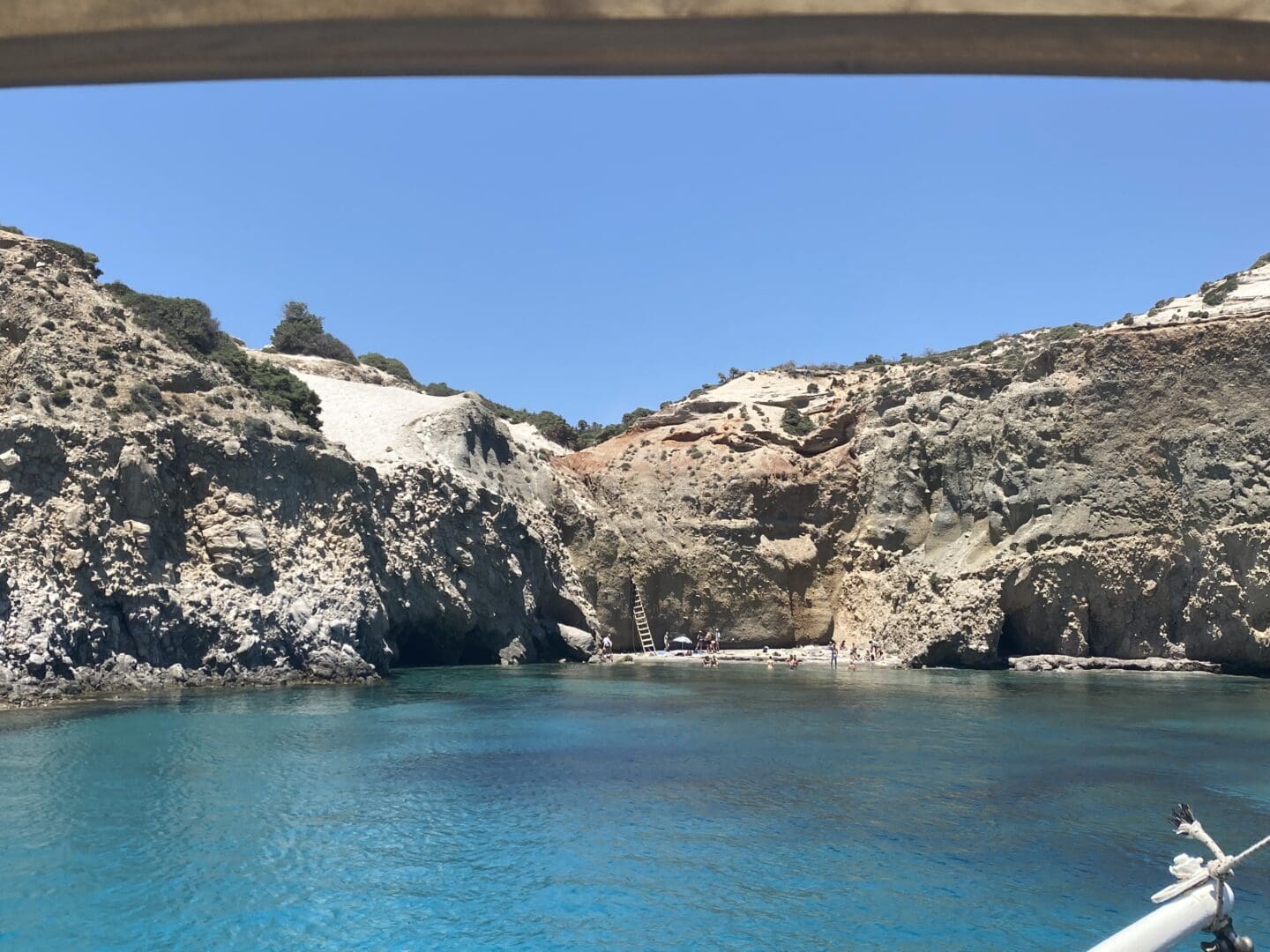 For your final day visit Sarakiniko early in the morning before the crowds arrive and then head off for lunch before visiting Papafragas caves beach. Late afternoon head into Adamas to visit the mining museum and have dinner nearby. If you have time search for the hot springs of Alykes, Google for the location, but you'lll need to dig in the sand a few centimetres.
Other Awesome European Travel Adventures
Pin Milos Travel Guide