We have had a great time setting up our new fish tank from Tetra.  You can read more about our new Tetra aquarium over here, including how to set it up and essential items.
Today I am running a competition where you can win your very own children's fish tank.  The My First Aquarium comes as an 18L tank, which is suitable for tropical, marine or cold water fish.  It also includes plenty of accessories and even fish food!
Why Do Kids Need An Aquarium?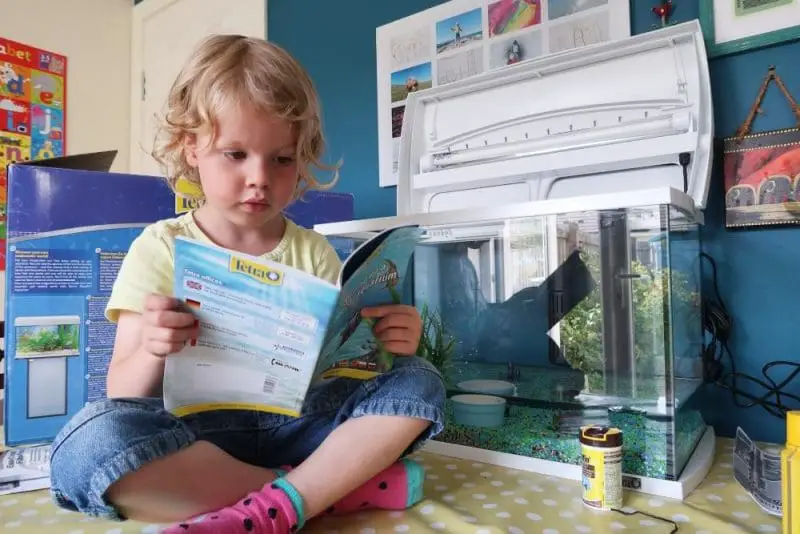 Do you wonder if kids would be interested in having fish?  Are they too boring compared to a cat or a dog?  Well there are plenty of benefits for children!
Educational benefits
Of course there is the learning about fish ecology, how to reduce stress, what they require to make their environment comfortable to live in, what they need to eat.  It's great seeing the children get involved, understanding how to recreate a mini home for their fish.  Ours is currently a little sparse, as the boys have noticed, so our eldest has chosen to get another decoration for the fish to hide in as a birthday present.
Aside the ecology, the kids can also learn about water chemistry and temperature, they need to understand what the environment should be like for their new pets and keep them happy.
Imagination and Creativity
I know that our two were very excited to decorate their aquarium, I am sure most children (and adults!) enjoy the creative side.  They can choose everything from the colour of the gravel, to the plants and artificial decor.  Moving them around every so often to make it pleasing to the eye as well as for the fish.
Their imagination comes into their own for naming fish, or at least it did for our fish.  Including Pearl, Serenah, Dave and Jim! Ha ha!  It's great to see them guessing what the fish are thinking and using their imaginations as they chat to them.
Responsibility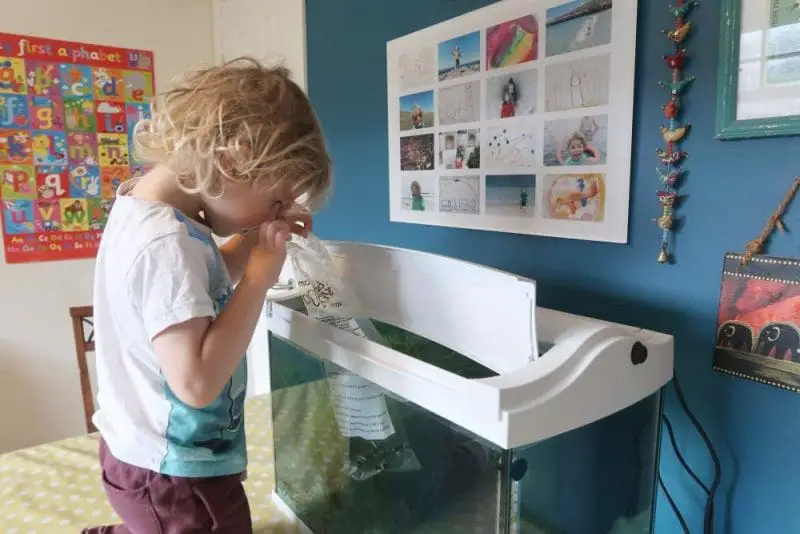 Any pet involves some responsibility.  The boys will be involved in everything, from helping set up the aquarium to adding new fish, decor, feeding and cleaning.  With all this work comes responsibility, they need to remember to feed the fish 2-3 times a day and clean the tank when it's needed.
It's a great learning curve, with a little bit of help from us.  Hopefully they will grow up caring about their environment a little bit more, even those creatures who seem a lot smaller than them.
Competition
The competition is to win a My First Aquarium by Tetra.  The 18L My First Aquarium is a great way of introducing pets and the tank can be used as a home to a range of fish.  The aquarium is as a complete kit and includes a Tetra EasyCrystal filter and two additional cartridges, gravel and a plantastic to allow children to get creative. New fish will also receive the nutrition they need from the start thanks to a sachet of TetraMin food, as well as a small sample of Tetra AquaSafe to ensure the aquarium water is safe and ready for its new arrival.
To win a Tetra My First Aquarium fill in the form below, good luck!