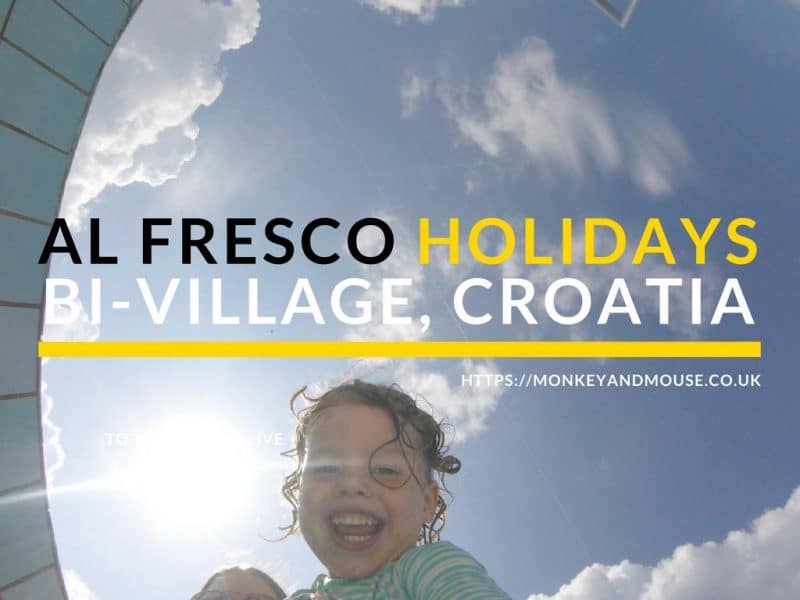 We're just back from the beautiful Istrian coast of Croatia.  As normal youngest started counting down the days a couple of weeks beforehand and both children were full of questions.  Including a million of 'how do you say (enter random word here)' in Croatian!  I love that they are interested in learning languages, although it can be grating to look up that many words for them every day!
The morning we left for our trip there were two excited little boys on the plane.  Fortunately it is a quick flight as I was exhausted from our littlest being awake several times during the night and I was struggling to keep my eyes open!
Landing in Pula we felt the heat as soon as we stepped off the plane and it wasn't long before we had collected our luggage and made our way to find our hire car.  Our holiday was all booked through Alfresco Holidays who have the option to add in travel (flights or ferry depending which country you are heading to) and car hire when booking your accommodation.  It certainly takes away a lot of stress and you can easily see your booking details when you log onto the website.  Our car also had two car seats for the children included, so they were safe and happy in the back.
Our car hire was with Europcar who we've used many times in the past and always been happy with.  This was no exception and the car hire process at the airport was quick and painless.  Kids and luggage were all in the car and we were off on our way to the campsite in no time.
Bi-Village Campsite
The chosen campsite was Bi-Village, which is only a 15 minute journey from Pula airport.  We registered our details with reception at the campsite, but had to wait until 4 o'clock to check in with Alfresco Holidays.  This meant we had 3 hours to get something to eat and play in the pool!
It did initially take us a little while to find somewhere to park the car as according to the map there are one-way areas and the main 'road' through the site had bollards to stop cars from using it.  Once we finally found our way to the parking area we quickly changed into swimming gear (purposefully kept in a separate compartment of the luggage with a towel for this reason!) and went to play in one of the campsites 3 pools.
Once 4 o'clock came around I went to sort out check-in whilst the boys all stayed at the pool (the slide was a big hit!).  It was fairly straight forward, although the rep didn't appear to have my holiday details, so I was glad to have the itinerary on hand showing what had been paid already.  You do also need to pay a 60 Euro deposit in case of damages to your mobile home.  This is returned when you leave the mobile home, providing all is left in good order.
I was a little disappointed to find out there was no cycle hire on site.  The Alfresco Holiday rep mentioned there was a bike rental place 1km down the road, but as we didn't have a bike rack for the car and didn't want our youngest cycling on the road to get back to the camp we didn't hire any.  Our mobile home was at the back of the park, so it was quite a walk for our 4 year old to do several times a day, although he did manage with only a little bit of complaining.  The mobile homes were only a 5 minute walk from the nearest pool and a couple of minutes further to the main shopping area and restaurant.
Bi-Village holiday resort has 3 swimming pools, two of which have tile slides and all have various bubbles and shallow areas for little ones.  We tended to go to the closest pool which had one of the slides that the boys loved.  Swimming is especially good for my eldest to practice and gain confidence.  He's already mastering front crawl, but the extra daily practice really helps him when he gets home.  Littlest is still gaining confidence getting his face wet, but he's getting there!
Quiet time at Bi-Village is between 1-3pm, the swimming pools are shut and cars can't go in or out of the gates.  You can still play in the play area or use the beach, we've found this common practice in other similar campsites in Spain and Italy.  I think they all take a siesta during the hottest part of the day and stay up later in the evening!
Just beside the reception area is the main 'shopping area', which includes a mini-market, restaurant, gelateria, several shops for beach/swim wear and souvenirs.  We visited the gelateria several times and enjoyed the sundaes and various ice cream flavours.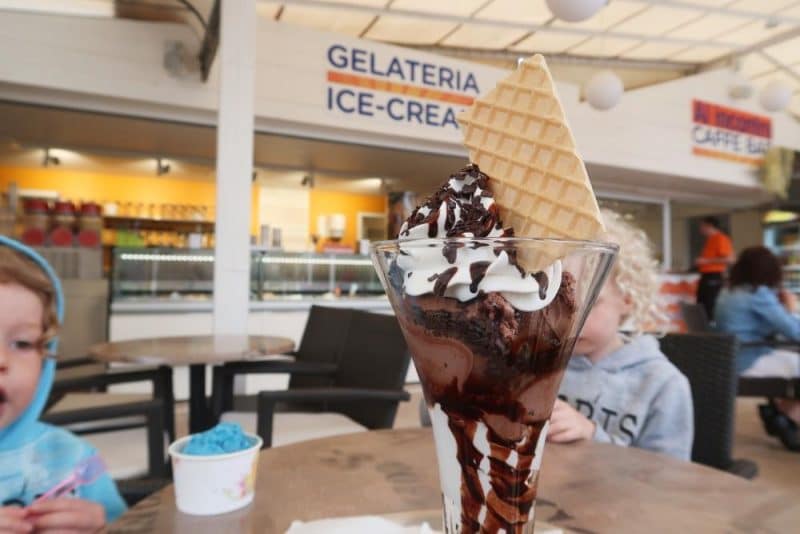 A children's play area and a variety of activities that you need to pay extra for are behind the reception area.  There's the much loved mini golf, bouncy slides, target practice, trampolines and a ropes course set at various heights for different abilities.  They are all paid for activities (except for the play park) and great fun for the kids!  The covered stage is just beside this area where several nights a week there is entertainment for children.
We visited two of the 3 restaurants on site and both times the children were happy with their food.  There was also a great meat selection, but not much of a vegetarian choice and the fish dishes seemed to cost a fair bit more than chicken.  But the meals were good and most were reasonably priced.  We never ate dessert at the restaurants, because… you know, the gelateria was just downstairs!!
The beach is a shingle beach, as most of them are in this area.  We knew this in advance and the boys still had fun swimming and splashing in the ocean, throwing stones in and generally having a good time.  You can swim out a bit further from the beach in the cordoned off area, which separates swimming and boat/windsurfing areas.
You can buy beach shoes fairly cheaply at any of the beach shops at the campsite.  They can be worn in the water to walk on the stones without hurting your feet.  We bought a pair each and it was so much easier for the kids to play in the water!
You can also get an amazing view out to the Brijuni Islands from the beach.  If you have older children or strong swimmers then you might want to try the floating inflatable obstacle course in the sea.  It looked great fun, but a bit too much for my two yet.
Bellini Mobile Home
Our home for the week was one of Alfresco Holidays Bellini mobile homes.  It consisted of two bedrooms, one double and one twin, with the possibility of extending the sofa out to a bed.  Sheets and towels can be hired,  we hired 3 packs that came wrapped up when we arrived, although I am not particularly good at making beds with a flat sheet!!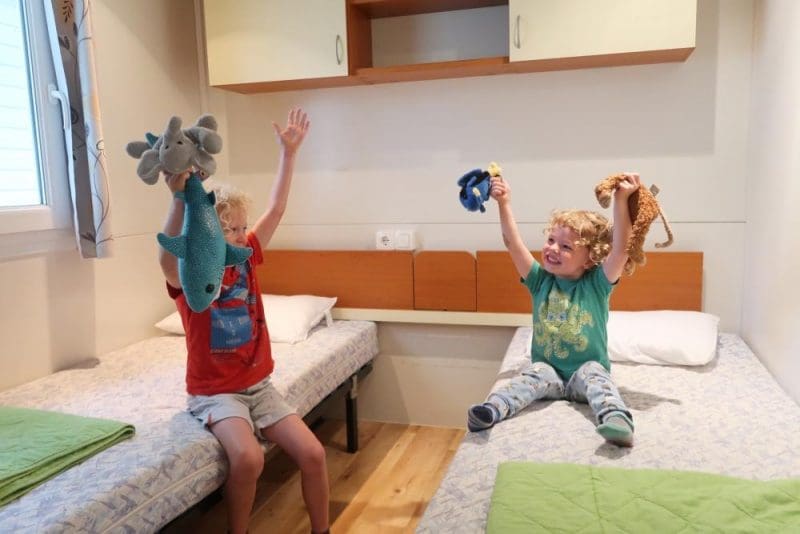 The kitchen included an oven and hob, microwave, sink and plenty of crockery and cutlery.  The interior was a little dated, but perfectly clean and all in working order.  The air conditioning was brilliant and it was such a relief to come back to the cool air after melting in the heat outside.
Each night our 6 year old would spend time at the dining table cutting and sticking things into his journal.  He loved being able to put all his holiday memories down into the book and it's a great thing as a keepsake and to show his grandparents what he did on holiday.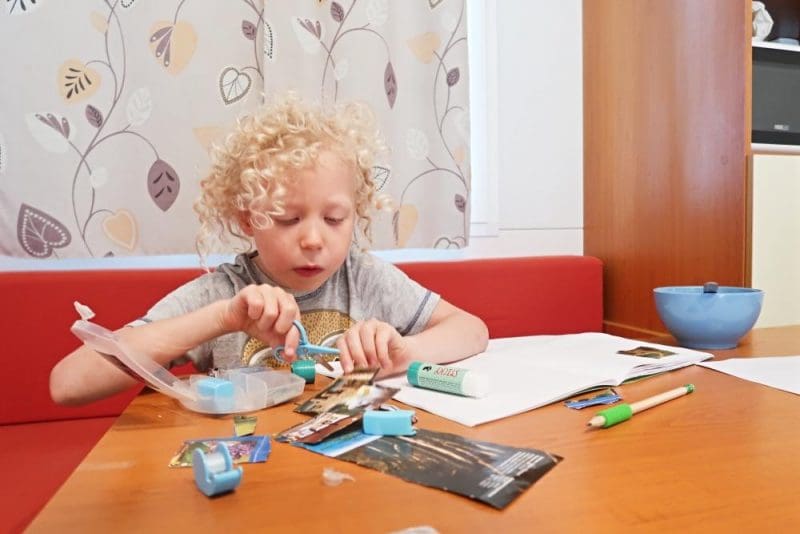 Although we had a table indoors we mostly ate outside on the decking.  It's not like we usually have that option at home in Scotland, so we made the most of being outdoors when we could!
WiFi hotspots are in various areas of the campsite and you are given 2 hours free each day, but can pay for more.  The first couple of days we didn't seem to have much reception where our mobile home was.  However, it was much better in the last few days, so I think it just depends on how close you are to the hotspots and a little bit of luck!
Sightseeing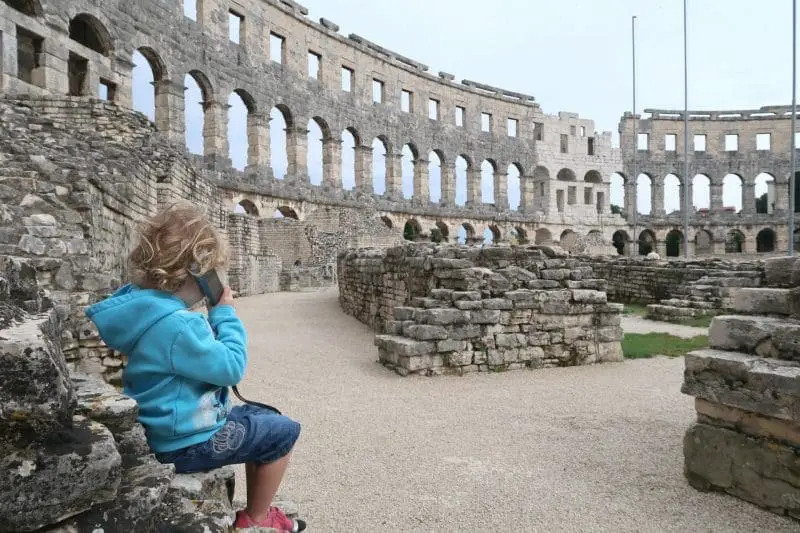 There are a lot of places to visit in Istria and we only managed to visit a few places along the west coastline.  I know there are plenty more interesting places further inland and on the east coast.  Our first stop was Pula (10 minutes from where we were staying) to visit their huge amphitheatre, which is the 6th largest in the world.  You can hire the audio phones pretty cheaply when you walk into the arena.  We hired two for the children to listen to the history, which went down well with them!
One good tip for visiting Pula centre is to get in early as parking spaces are very limited and have change for the parking machines (15 Kuna per hour).  If you are struggling for change you can pay for parking at some of the newsagent stalls near the parking areas.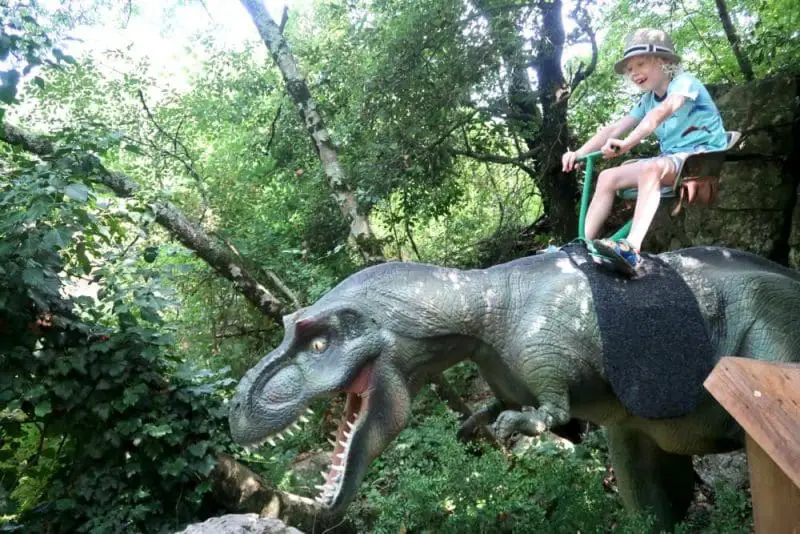 For children around 6 and under the Dinopark at Funtana is great fun.  It's probably a bit too young for older children and just be warned that it's a little rickety and most rides you need to start and stop yourself.  One of the highlights here was the show, where the children saw acrobats, clowns, unicycles and more.  Keep your head down if you don't want to be invited to participate! Ha ha!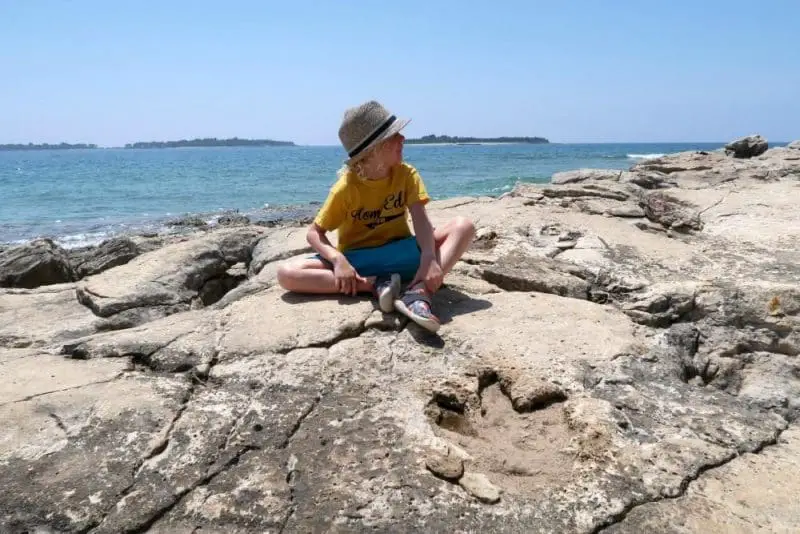 Brijuni Islands were one of the favourite places we visited and very easy to get to from Bi-Village.  We just walked from our mobile home along the beach to Fazana.  You need to book your trip a couple of days in advance from the National Park office (I emailed), then collect and pay for your tickets at the office beside the pier.  On the island you are split into language groups and then driven around the island on a road train with a tour guide.  This is all included in the admission price, but it's not compulsory.  After the road train tour we left the group to hire a golf buggy (you can also hire adult, kids bikes and trailers) and whizzed off on our own to look at the dinosaur footprints on the beach.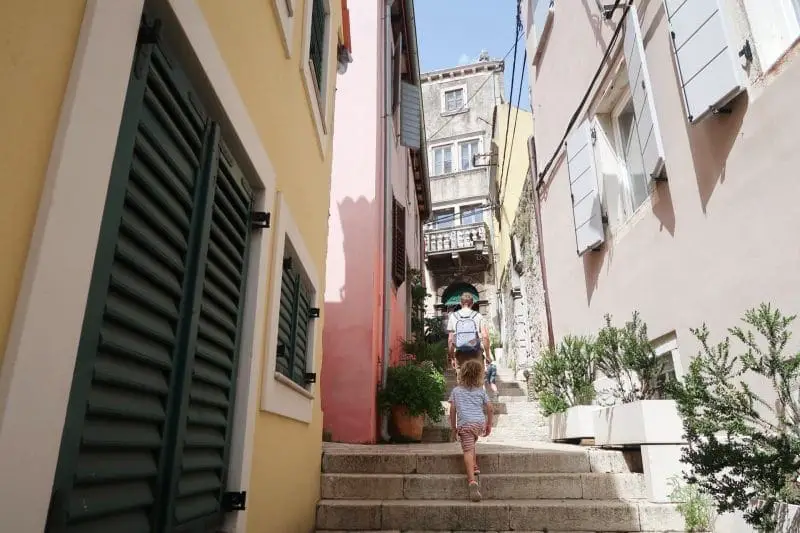 Rovinj has a Ventian influence and the old town used to be an island before land was reclaimed to make it part of the mainland.  The town is lovely to walk around, with plenty of restaurants and ice cream.  You can get boat tours around the nearby islands and Limski canal, including in a fantastic looking 'Nemo' boat that the kids wanted to go on.  Again parking is at a premium, and we only managed to get a space in an area for 180 minutes, so we didn't have time for a boat tour.
Verdict
Overall the campsite was very well equipped and had plenty for the children to do.  Favourite haunts were the mini golf, swimming pool and Gelateria!  We also loved our travels in the local area, from the history of Pula's Arena to kiddy fun at Dinopark.
The Bellini mobile home was great to cool down in and it was well equipped, although perhaps a few washing up essentials such as sponges etc. would have been nice.  The only downside to the campsite was the lack of bike hire, but if you have older kids or a buggy for little ones then this shouldn't be an issue.  The pools were fantastic for our little family and we loved being able to get to the play areas and restaurants really easily.
We would definitely come back again with Al Fresco Holidays!
* We received this holiday from Al Fresco Holidays for the purpose of this post, however all opinions are my own.