Tent (Obviously!)
Well you can't really going camping without a tent.  Well technically you could use a bivy or a shelter, but for Scotland a tent is highly recommended.
Our own tent is a few years old now and been through the wars a little with several major repairs to keep it up and us dry.  I love the amount of space we have, a large'ish living area and a separate sleeping area.  However one thing it is missing is a front 'porch'.  I have seen many other tents who's designers had the forethought to actually put a small sheltered area at the front of the tent to keep items dry and also the inhabitants when they have to go in and out in the rain.  The next tent we buy will HAVE to have that front porch area as we have now realised how useful it would actually be!
Something like this Vango tent would be perfect to keep the rain out the tent when going in and out.
Waterproof Jacket (That is Actually Waterproof!)
I have had many waterproof jackets over time, some have been cheap and some expensive, others leak after a few wears and others last longer.  But the best waterproof jacket I have had the pleasure to wear has definitely been this brilliant blue Arcteryx Beta SL Gore-Tex Jacket from Tiso.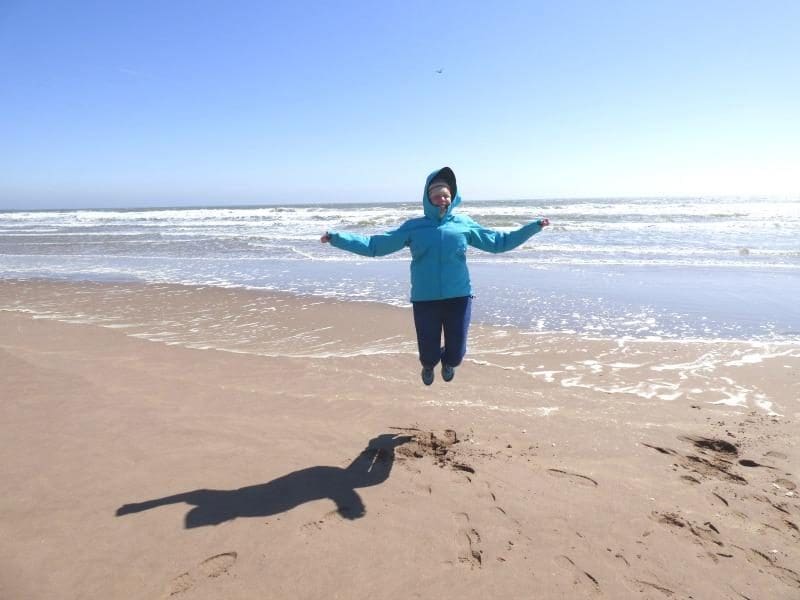 This jacket has been thoroughly tested in the wettest and windiest environments of Scotland, from the coast to the hills and it's been amazing!  Despite the fact that my legs may be soaked and cold (I really need to sort better waterproof trousers!), my top half has been bone dry and warm.  The Arcetryx jacket has definitely protected me from the elements, which is just what you need when you are camping in the rain and wind for 7 nights.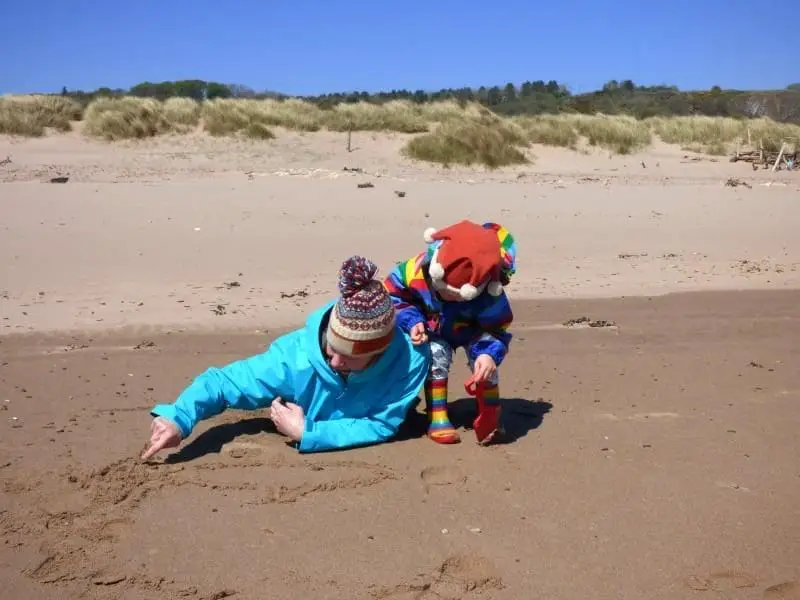 The hood is also on the larger side to allow it to go over a climbing helmet.  Although I don't rock climb, it is still perfect for fitting over my bike helmet when we're out on wet bike rides and when the helmet is off you can use the toggle to reduce the size of the hood.
I had great fun on Coll and Tiree, clambering over the rocks without worrying about getting cold or wet.  The sleeves are nice and long to go over my sleeves and not riding up far when I stretch to reach a rock or help one of my children.
So yes, you definitely need a waterproof jacket that is actually waterproof.  Particular in our country where it rains A  LOT!  So check out reviews and make sure it's going to stand the test of the weather and time, otherwise you'll be miserable and cold!
Fast Cooking Stove
Everyone knows that you want to be able to cook quickly whilst camping.  Unless you don't have children and you are blessed with a beautifully dry and warm day.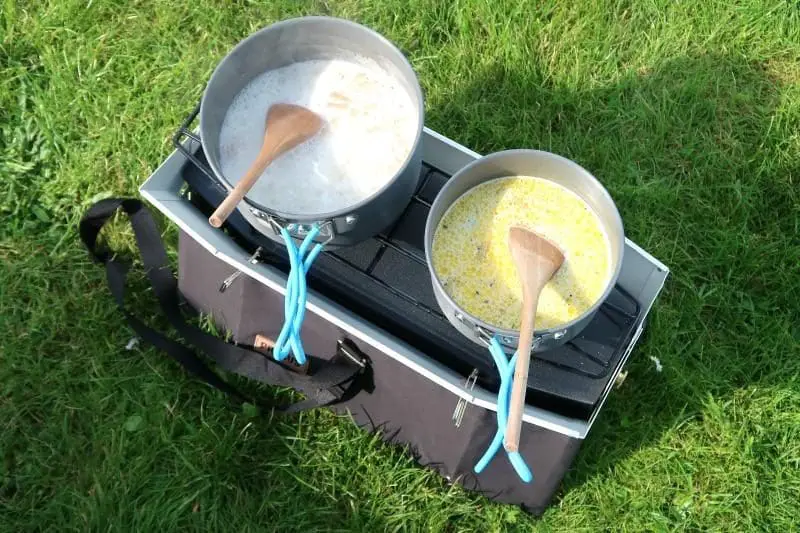 We were incredibly pleased to have had the Primus Onja Stove to review and it was brilliant throughout our stay, camping on Coll and Tiree.  Well except for one small snag when we first tried to attach the gas canisters to the stove.  Every video we watched they calmly twisted on the canisters, but that just didn't work when we attempted it.  What we had failed to realise was that the part where the canisters should attach to the stove need to be pulled down a little before the gas can be attached.  We surely can't be the only ones who had that problem, but we couldn't find any information anywhere else about it!
Once the gas canisters are attached, it's really simple to open up the stove, remove the wooden chopping board and light it.  It really does go furiously and boiled our food within minutes, which is a lot better than previous stoves.  I have a lot of memories of sitting outside the tent in the heavy rain cowering over waiting for the food to cook.  Not particularly fun!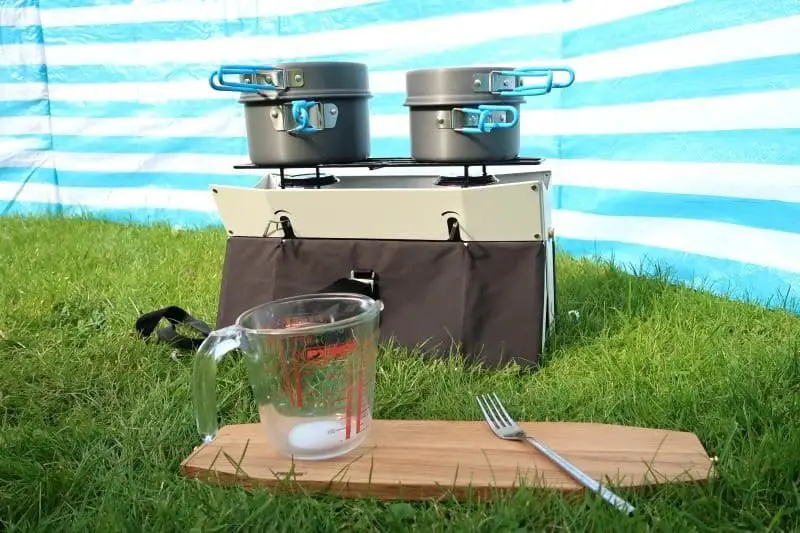 The Primus Onja stove has a carrying handle and can easily be folded up to be carried over the shoulder, great for a walk down to the beach or wherever your dinner is to be eaten.  The two fast burning hobs means that dinner can be cooked quickly and you can easily have two options to keep everyone happy.
Stacking Pots and Pans
When camping you really want to save space.  Whether you are packing a car or a rucksack, space saving items are a must.  The Highlander Apex Weekender Cookset is a perfect example of this with two stacking pans, lids and 4 small bowls.  They all stack together into the largest pan, with the handles folding inward.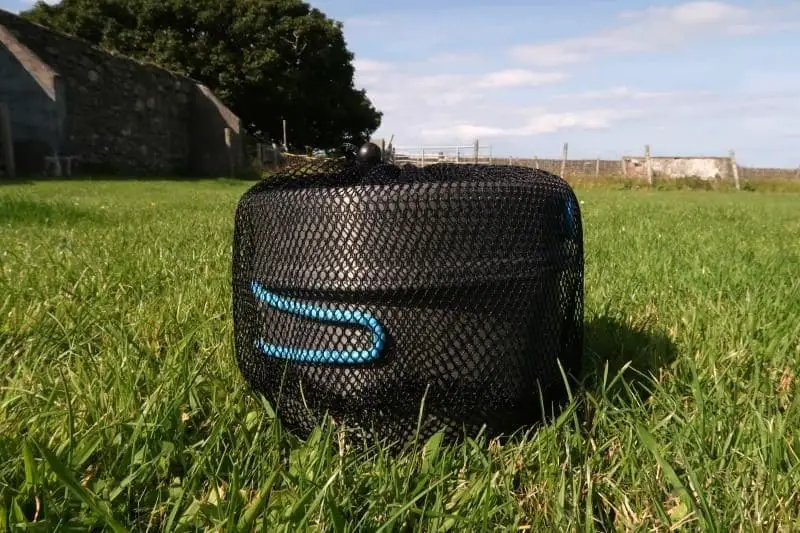 We always use two pans at a time, so we can cook enough for the four of us to share.  So these pans are perfect for us as a family.  The lids also double up as frying pans, so you can easily cook a delicious breakfast or some freshly caught fish if you feel like it.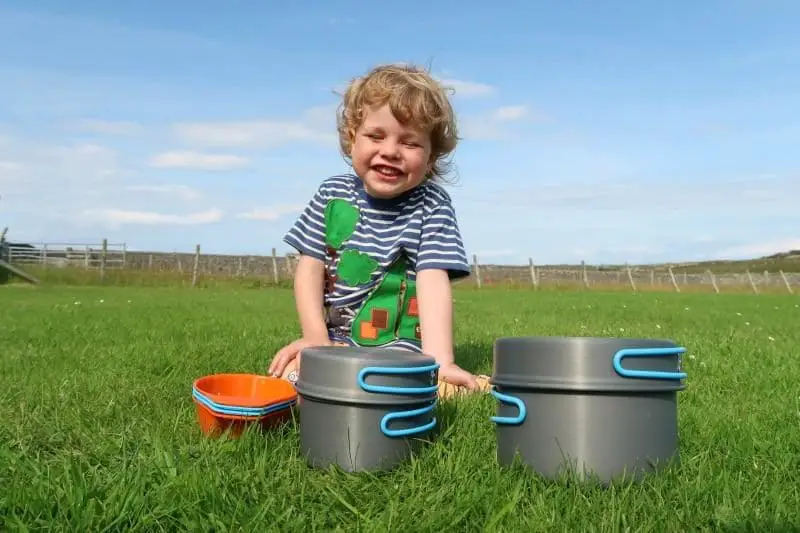 Admittedly our cooking wasn't quite so adventurous and mostly consisted of quick pasta or tinned food!  Maybe when the kids aren't roaring about how hungry they are we can try to cook something more exciting.
Cosy Sleeping Bags
You wouldn't want to miss out on a good night's sleep because you were too cold.  So a cosy sleeping bag is a definite must when camping.
Sleeping bags have different seasons dependent on where and when you want to use it. We typically go for a 3 season sleeping bag as we tend to use them during the spring and summer in Scotland, where the nights can still be a little chilly when wet and windy.
If you are needing it to be space saving you can check out the variety of lightweight sleeping bags that can be both incredibly small and warm.
Inflatable Mattresses
I spent years using foam mats whilst camping and it's only recently I have realised how much better an inflatable mat can be!
An inflatable mat or mattress has a pocket of air that not only makes bumpy ground comfier, but also acts as insulation against the cold ground.  If you are lightweight camping you can buy the thin Therm-a-rest or Sea To Summit mats that will roll up for carrying with a rucksack.
If you are taking the car and kids then I highly recommend an airbed for extra comfort and a good night's sleep.  Or at least as good as it can be with children!
Variety Of Footwear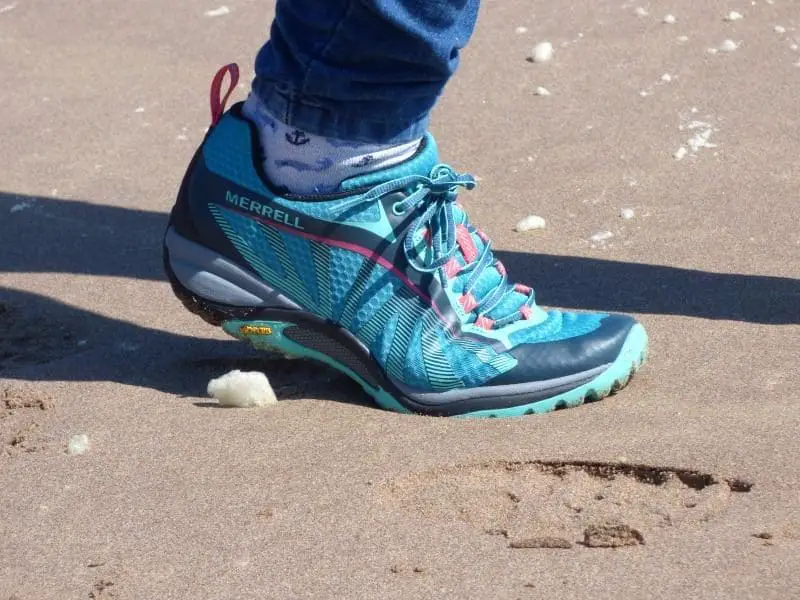 I normally take a variety of footwear whilst camping.  Even if it's lightweight camping I suggest a minimum of two pairs of shoes.
The first is most likely a pair of walking boots and the second should be something lighter such as trainers or even sandals in the summer.  There is a good chance that your footwear will get wet (even with the best intentions!) and you don't want to leave your feet wet for long.  I have memories of a particularly bad case of Trench Foot whilst in the rainforest in Belize and dry footwear is most definitely a must in my opinion!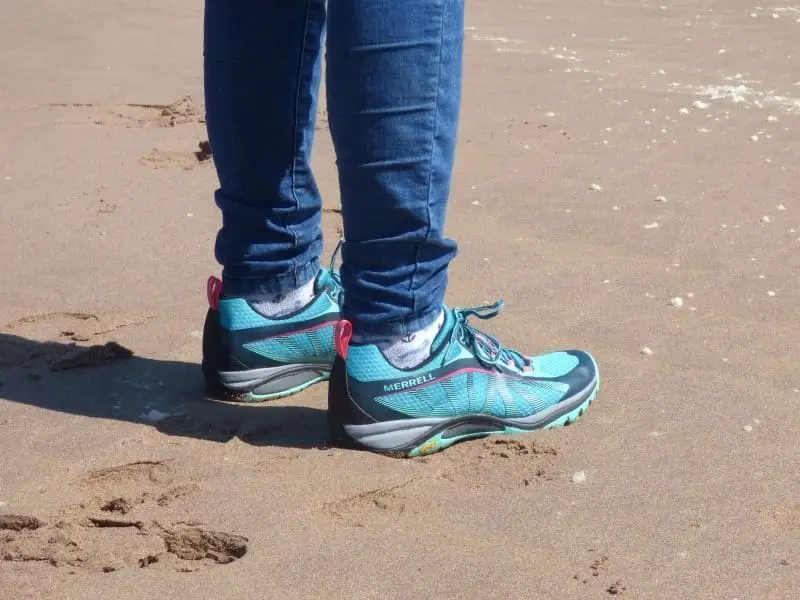 The Merrell Women's Siren Edge Trail Shoe is perfect for walking along easy trails and for clambering over rocks at the beach.  I must admit I was drawn toward them for their gorgeous blue colour, but they have amazed at how good they are as a walking shoe.
I spent a good deal of my time whilst camping where the Merrell's whilst we were exploring.  They are such a comfy fit and have a fantastic grip for clambering (and jumping) over rocks.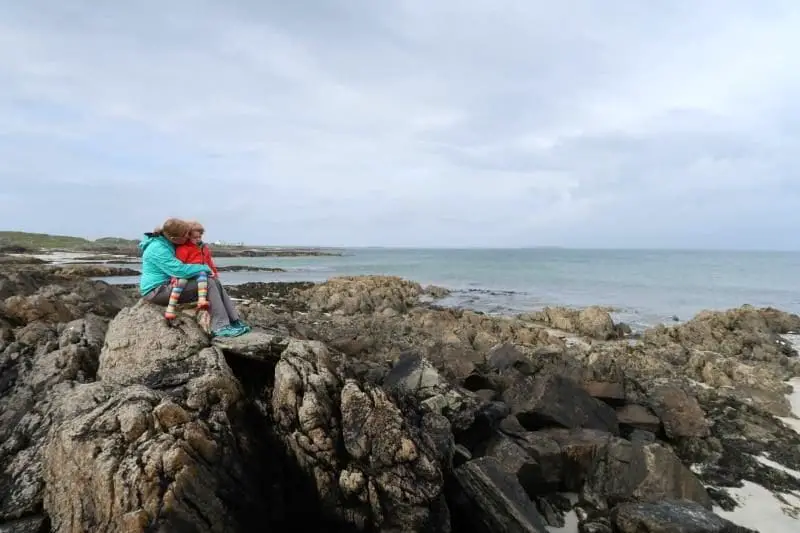 If you have space for other footwear (i.e. if you have a car!) then I recommend wellies for really wet/cold days and sandals for ease of putting on when getting in and out the tent to visit the loo and other necessities.
Duct Tape (This is essential!!)
I'm deadly serious about duct tape, I know it's a cheap item compared to the rest on this list.  However, it may well save your camping trip!  We have used duct tape to tape up holes in the groundsheet, fix splintered tent poles and even seal holes inside walking boots.  It's a magical tape that must not be forgotten on ANY camping trip!
What are your camping essentials?
Pin For Later