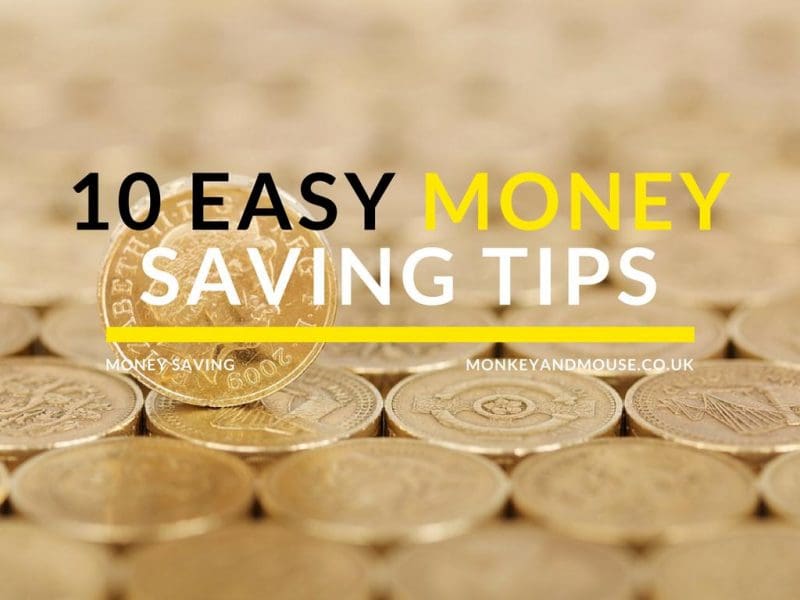 Household bills can be such a big expense, but there are lots of ways to reduce this.  Why pay loads when you don't have to!
Here is my list of 10 easy ways to save money with household bills.
Making A List And Checking It Twice
It's not just Santa that needs to make lists!  When you are off food shopping you should not only make a list, but check around the cupboards, fridge and freezer to make sure you aren't duplicating any items that you already have.  There's no point spending hard earned cash to have twenty packets of Jacobs crackers or tins of beans at that back of the cupboard?!
Check your Plan
Most of have mobile phones nowadays and they likely get a lot of use!  But are you on the right plan?  Check your account and find out what you mostly use your mobile for, then see if this matches your mobile plan.
If your plan doesn't match your usage, phone up your provider and change to one that suits you needs and hopefully saves you money too!
Turn It Off
Don't leave items plugged in or on overnight.  Aside from being a fire hazard and environmentally unfriendly, it's also a good way to watch the pennies roll out your pockets.
Most common is leaving a television on standby or a phone charging overnight.  After two hours your phone is charged up anyway, so what use is it doing other than spending your hard earned cash for the rest of the time your sleeping?
Changing Energy Supplier
It's an obvious one, but so little of us seem to regularly change our energy suppliers.  We should be doing it a lot more frequently, several times a year would be sensible.
Always check if you'll be charged for leaving before the end of a contract with a supplier, but sometimes that cost is outweighed by the savings with a new supplier.  I definitely need to look into this again!
Switch Supermarkets
Consider switching your main food shopping to a cheaper surpermarket.  It might be difficult to find everything you want the first few times, but after a little while you'll find what you need and it can be a lot cheaper.
Try it out for a month or two and keep your receipts to see if it really makes a difference for you.
Cashback Sites
Comparison sites are great for deciding which insurer or energy supplier to go with, but don't dismiss using cashback sites too.
Sometimes the more expensive options can have a good cashback offer, thus making your overall cost of insurance or energy supplier a lot lower.  I have used Top Cashback and Quidco in the past, but there are plenty of others too.  This isn't restricted to household bills either, you can also earn cashback on almost any online purchase!
Don't Buy New
Everyone knows that if you buy a brand new car it will lose a significant amount of money as soon as it leaves the building.  The same applies to books and kids toys, as soon as they're opened then they are worth a lot less.  Plenty o charity shops or online vendors sell used items in good condition and for a lot less than they would cost new.  Why not check out your local charity shop with the kids, it's amazing what gems you can find in there!
Of course I'm not saying don't buy new EVER, clearly for certain times it will be nice to have something new too!
Walk Or Bike It
Transport can cost a lot, whether you drive or take the train it can become quite expensive.  Consider if it's possible to make any of your weekly journeys by bike or walking?  That pop down to the shops for a couple of things?  Could you walk there and back instead?  Bonus, you get more exercise too!
There also plenty of comparison sites for finding cheaper car insurance or train tickets.  Have a look around and see if you can save a little this way?
Do It Yourself
DIY doesn't just mean fixing things around the home.  What about those expenses such as a window cleaner or cleaner that comes round once a week.  Can you find time to clean the windows yourself?  Clean the house?
This can reduce outgoing expenses considerably.  Consider what other expenses you are paying for that you could do yourself instead.
Claiming Back Money
Saving on bills is important, but so is claiming back on where you have overpaid or been mis-sold products.  There are lots of way to claim money including mortgage claims, uniform tax refund (eligible for anyone who wears a work uniform), reclaiming PPI and even claiming for late flights or train journeys!
Have a good look at your finances and check for anything that you know could be a potential claim and start enquiring.  It can't hurt to check if a claim can be made!
* This is a collaborative post.