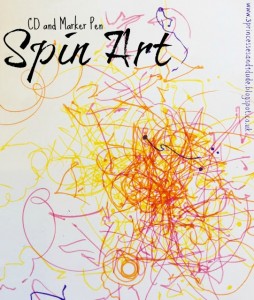 Please welcome Becky from 3 Princesses and 1 Dude.  Becky has kindly written this fab guest post about her kids fun with Spin Art using CD's and Marker pens.
I shall hand over to Becky without any further ado…
I got the idea for this from Facebook its an awesome activity so decided to share, it was great fun and although the little ones couldn't quite grasp the spin technique they had fun trying to get it right, occasionally spinning successfully, and loved watching my pen spinning and drawing! I cant wait to try it again with Ellie when she is home from her Dad's, she is 10 now and I know she will really enjoy it!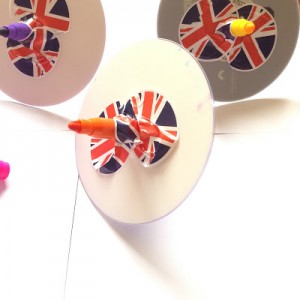 What you need:
CD's/DVD's
Variety of Marker Pens (preferably chunky to just fit through the whole of the CD/DVD)
Sticky Tape (to hold the pen in place)
Card or paper. (We used A4  card but to be honest I think you should use something bigger, like a roll of wallpaper lining)
First of all poke you pens through the CD's and tape them in place. Experiment with how far up you tape them, we found that some spun better than others, I am assuming this is because they were all slightly different.
Next…spin…spin and spin…
The monsters sat with this activity for a good 45 minutes they really loved it! It was something different and exciting. And a great way to get creative!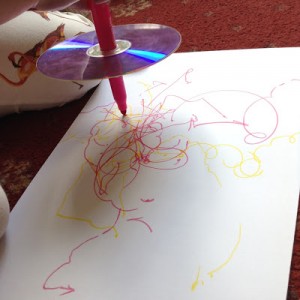 There's a short video on my You Tube channel, you can watch it HERE:
The finished products: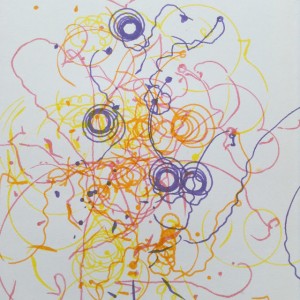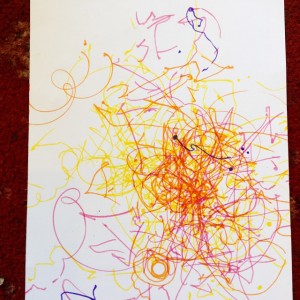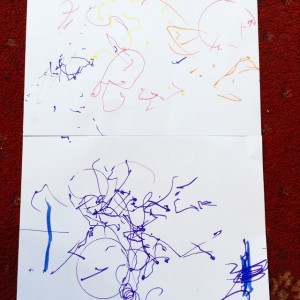 Thanks Becky!  I love this idea, it's awesome and I will definitely have to try it out *ahem, I will let O try it out (but I want a go too!).
Pop over and visit Becky's blog or connect on twitter or Facebook.
J x