Several, who am I kidding? – Many years ago before I was married I went travelling off on my own to Peru.  It was probably a bad idea from the beginning as I missed my boyfriend (now husband) and spent a lot of the time wishing he was with me.  I did have some great fun whilst I was away and met lots of lovely people, but there was one experience that was complete holiday hell for me.
I was heading up on the bus along the coastline from Lima to Trujillo, but it was a long journey.  I didn't mind the bus journey, I watched the Spanish subtitled films and my favourite part of the bus trip was when they came round with Bingo cards.  I listened really hard to understand the numbers in Spanish and try and score out my numbers first, I was close to winning once, but just a bit too slow!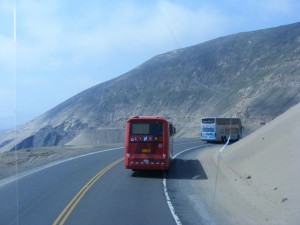 I knew that this particular journey would get into Trujillo bus station when it was dark, so I had flicked through my guidebook and chosen somewhere to stay in advance.  My plan was to simply ask a Taxi driver to take me there, go to my room and relax with my guidebook before a good nights sleep.
That didn't happen…
When I arrived I collected my rucksack and found a taxi.  I explained to the taxi driver where I would like to go, but he kept saying something in Spanish that I didn't understand.  He was getting quite annoyed, but I still didn't understand and kept telling him I wanted to go to this particular guest house.
In the end he told me to get into his cab and we headed off to my destination.  When we arrived I realised what he'd been telling me, the place had closed down and was no longer running.  It was getting late so I asked him to take me somewhere else on my guidebook list, which he did.
I got out the car and paid the driver, then walked into the building.  I have no recollection of what the place was called, but it looked a bit run-down. Nevertheless, I went on inside and asked if I could have a room.
After filling out my details at the desk I was taken to my room.  And then I almost burst into tears…
The room looked like a jail cell, a concrete box, with no windows and a single rickety bed with a thin stained mattress.
The walls didn't reach the ceiling, so if someone really wanted to they could climb over and I could hear someone down the corridor throwing up in the toilets.
The man from reception left me there, I closed the door and realised it didn't lock.  I looked around the dirty, small cell, held back my tears, picked up my bag and walked straight past the reception and out of the building.
It was quite late and the streets were busy, people jostling me as I walked past.  I couldn't find any other places to stay nearby and wasn't sure where I was on my tiny map.  I started to feel vulnerable and scared so decided on flagging down another taxi.
This time I asked the driver to take me to a good hotel, so he drove for some distance out of the centre of town to a large glass hotel.  It was very clean and posh, not somewhere I would normally stay in my scruffy backpacker clothes, but it was safe and it was clean.
I was shown a large pristine, white walled room, that was a bit too sterile for me normally.  However, that night I didn't care, I just needed some sleep and hoped to find somewhere better the following day in the light.
Fortunately, the next day I met up with another backpacker I had previously met in Lima.  I told him what had happened and he suggested we try one of the guest houses in Huanchaco, a little village on the outskirts of Trujillo, beside the beach.  We found a great little place there and spent a few days by the beach and enjoying the sights around Trujillo.
To sum up, Peru is an amazing place to visit, I loved my travels there and definitely intend to go back as I didn't manage to see everywhere.  I missed my boyfriend so much I came home early!  But, maybe when you arrive late, it's best to phone and book a guest house in advance, then you at least know it exists.
J x
* This post is my entry to the Holiday Heaven and Hell Competition