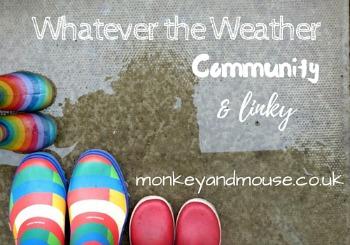 Did anyone manage to see the supermoon this week?  Unfortunately it was too cloudy here to see it, but I have heard it was pretty amazing! Although we had a little snow last week, the beginning of this week has been rather mild and meaning we can have less layers on, which makes it so much easier to get about.  Have you had warmer weather where you are?
The winner of the Mac in a Sac giveaway has been chosen and is Potty Adventures, with his post Hiking With Kids: The Sandstone Trail.  Congratulations and I will be in touch with how to claim your prize.
There were (unsurprisngly) not many link ups last week, probably because everyone was too shocked with a certain election, but thank you to everyone who did link up!  My favourites were The Ladybird's Adventures at Coombes Valley, Leek with a great description of the play trail there.  I also enjoyed Hip2Trek's Malham Walk, which looked amazing.
Linky:
Whatever the Weather community is the place to link up your outdoor, family themed blog posts, old or new, every Wednesday – Friday.
Linky Rules:
You can link up to 2 blog posts
Please add the #Whatevertheweather badge to your blog post
Comment on the host post and at least 2 other posts
If you would like to tweet your blog post to me @monkeyandmousey, I will also retweet to my followers.
Facebook Group:
We have a shiny new Whatever the Weather Online Community Facebook Page.  Why don't you come over and join, link up your latest outdoor family blog post, share your expertise, ask for advice, share blogging ideas and outdoor tips.
Pinterest Board:
All blog posts linked up to the weekly linky will be pinned to the dedicated Whatever the Weather pinterest board, giving your blog posts a greater reach and hopefully gaining you more readers.
Instagram:
To continue the community onto my favourite social media, tag your outdoor, family instagram photos with #Whatevertheweatherkids and I will tag and share my favourite 4 each week on my Instagram profile.  The hashtag is open to bloggers and non-bloggers alike.  I can't wait to see all your gorgeous photos!
Of course it would also be great if you would like to follow me on Facebook, Twitter, Instagram and Pinterest.  I look forward to our little community growing and sharing the love over the year.