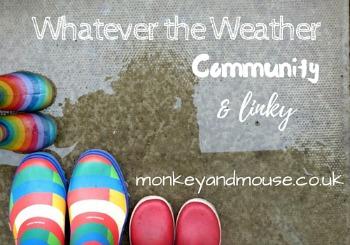 Loving all the firework and bonfire photos on Instagram this week, fantastic captures of light in the dark.  Now that's over I feel it's time to start looking forward to Christmas and all the excitement it brings.  We actually have snow here whilst I am writing this, so it definitely is starting to feel wintery!  Is it chilly with you too?
Apologies for not choosing a winner yet for the last giveaway, that should be announced next week!
Thank you to everyone for linking up again last week.  My favourites were Jacks Paper Moon's 'Neath The Cover of October Skies, such gorgeous autumnal photos.  The Helpful Hiker shared a lovely post Introducing us to Forest Schools, lots of great points about why it's great for kids.
Linky:
Whatever the Weather community is the place to link up your outdoor, family themed blog posts, old or new, every Wednesday – Friday.
Linky Rules:
You can link up to 2 blog posts
Please add the #Whatevertheweather badge to your blog post
Comment on the host post and at least 2 other posts
If you would like to tweet your blog post to me @monkeyandmousey, I will also retweet to my followers.
Facebook Group:
We have a shiny new Whatever the Weather Online Community Facebook Page.  Why don't you come over and join, link up your latest outdoor family blog post, share your expertise, ask for advice, share blogging ideas and outdoor tips.
Pinterest Board:
All blog posts linked up to the weekly linky will be pinned to the dedicated Whatever the Weather pinterest board, giving your blog posts a greater reach and hopefully gaining you more readers.
Instagram:
To continue the community onto my favourite social media, tag your outdoor, family instagram photos with #Whatevertheweatherkids and I will tag and share my favourite 4 each week on my Instagram profile.  The hashtag is open to bloggers and non-bloggers alike.  I can't wait to see all your gorgeous photos!
Of course it would also be great if you would like to follow me on Facebook, Twitter, Instagram and Pinterest.  I look forward to our little community growing and sharing the love over the year.