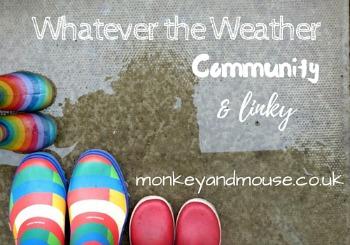 It's been our turn for visiting a pumpkin patch this week and we are now the proud owners of three beautiful pumpkins ready for a little Halloween magic later this month.  We've also been getting a bit crafty with our Halloween craft kits and splashing in plenty of puddles after the heavy rain here.  I hope you have managed to have a good week?
I loved last weeks posts with loads of autumn fun, my favourites were Potty Adventures, Hiking With Kids: The Sandstone Trail, which looks like an amazing walk! I also really enjoyed reading about Growing Family's Frog and Toad Abode, which looks amazing and is bound to attract some residents soon.
You are both in the running to win a fantastic Mac in a Sac, explained below…
Linky:
Whatever the Weather community is the place to link up your outdoor, family themed blog posts, old or new, every Wednesday – Friday.
We have a new competition which will be running until the last week of October.  For your chance to win, simply follow the rules below and I will choose my favourite 2 posts each week to be put through to the final 8, where an overall winner will be chosen after 4 weeks.
The prize up for grabs this month is a Mac in a Sac in your choice of size and colour, great for anyone who loves to be outdoors!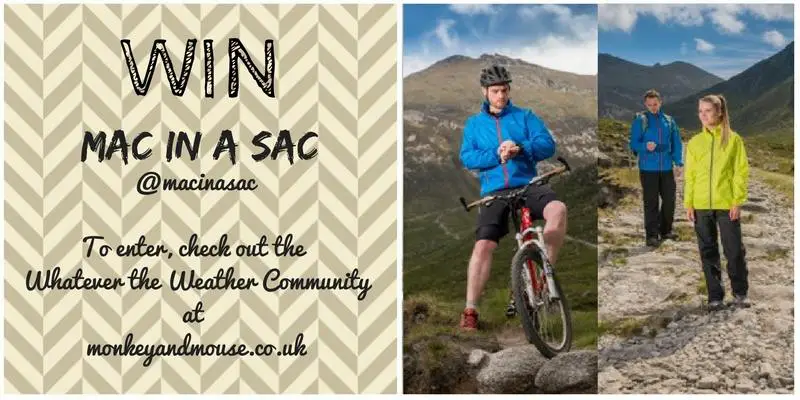 Linky Rules:
You can link up to 2 blog posts
Please add the #Whatevertheweather badge to your blog post
Comment on the host post and at least 2 other posts
If you would like to tweet your blog post to me @monkeyandmousey, I will also retweet to my followers.
Facebook Group:
We have a shiny new Whatever the Weather Online Community Facebook Page.  Why don't you come over and join, link up your latest outdoor family blog post, share your expertise, ask for advice, share blogging ideas and outdoor tips.
Pinterest Board:
All blog posts linked up to the weekly linky will be pinned to the dedicated Whatever the Weather pinterest board, giving your blog posts a greater reach and hopefully gaining you more readers.
Instagram:
To continue the community onto my favourite social media, tag your outdoor, family instagram photos with #Whatevertheweatherkids and I will tag and share my favourite 4 each week on my Instagram profile.  The hashtag is open to bloggers and non-bloggers alike.  I can't wait to see all your gorgeous photos!
Of course it would also be great if you would like to follow me on Facebook, Twitter, Instagram and Pinterest.  I look forward to our little community growing and sharing the love over the year.