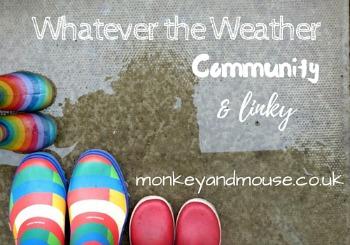 Firstly apologies, I am way behind at the moment and haven't gotten round to commenting on everyone's blog posts from last week (although I have flicked through all of the blogs for a quick look!), believe me that's my main aim today, to catch up with each and everyone!  The main reason for being behind is that we took a little trip across to Arran for a few days and had our very last camping trip of the year, it was lovely if a bit windy and I will be writing up some of our trip very soon to share with you.
From my quick looks last week (I promise I will be back to comment) I particularly loved Lakes Single Mum's walk along Hadrian's wall, it's been many years since I've visited and I really want to go back again next year.  I also loved Lucy at Home's run through of adventures to be had with the kids in North Wales, I didn't realise there were quite so many great places to go and I will definitely be visiting Wales again with the boys!
Linky:
Whatever the Weather community is the place to link up your outdoor, family themed blog posts, old or new, every Wednesday – Friday.
Linky Rules:
You can link up to 2 blog posts
Please add the (BRAND NEW!) #Whatevertheweather badge to your blog post
Comment on the host post and at least 2 other posts
If you would like to tweet your blog post to me @monkeyandmousey, I will also retweet to my followers.
Facebook Group:
We have a shiny new Whatever the Weather Online Community Facebook Page.  Why don't you come over and join, link up your latest outdoor family blog post, share your expertise, ask for advice, share blogging ideas and outdoor tips.
Pinterest Board:
All blog posts linked up to the weekly linky will be pinned to the dedicated Whatever the Weather pinterest board, giving your blog posts a greater reach and hopefully gaining you more readers.
Instagram:
To continue the community onto my favourite social media, tag your outdoor, family instagram photos with #Whatevertheweatherkids and I will tag and share my favourite 4 each week on my Instagram profile.  The hashtag is open to bloggers and non-bloggers alike.  I can't wait to see all your gorgeous photos!
Of course it would also be great if you would like to follow me on Facebook, Twitter, Instagram and Pinterest.  I look forward to our little community growing and sharing the love over the year.