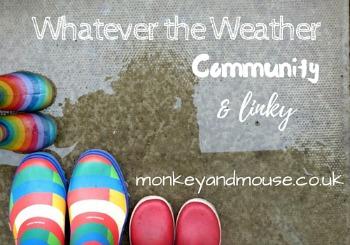 This week has been sunny here again and we've managed to get out for a lot of day trips, which of course has meant less blogging!  Today we are away on our last camping trip of the year, fingers crossed for good weather!
My favourites from last week were Me and B Make Tea's Sand Sculpture Festival at Weston-Super-Mare, the sculptures are amazing!  I also loved The Seasonal Child's Beach Art using pebbles, an easy thing to do, but lots of fun.
Linky:
Whatever the Weather community is the place to link up your outdoor, family themed blog posts, old or new, every Wednesday – Friday.
The competition for Wiggly Wigglers has finished and the winner is Katy from Hot Pink Wellington's.  Another competition should be starting very soon, I am currently finalising a few little details.
Linky Rules:
You can link up to 2 blog posts
Please add the (BRAND NEW!) #Whatevertheweather badge to your blog post
Comment on the host post and at least 2 other posts
If you would like to tweet your blog post to me @monkeyandmousey, I will also retweet to my followers.
Facebook Group:
We have a shiny new Whatever the Weather Online Community Facebook Page.  Why don't you come over and join, link up your latest outdoor family blog post, share your expertise, ask for advice, share blogging ideas and outdoor tips.
Pinterest Board:
All blog posts linked up to the weekly linky will be pinned to the dedicated Whatever the Weather pinterest board, giving your blog posts a greater reach and hopefully gaining you more readers.
Instagram:
To continue the community onto my favourite social media, tag your outdoor, family instagram photos with #Whatevertheweatherkids and I will tag and share my favourite 4 each week on my Instagram profile.  The hashtag is open to bloggers and non-bloggers alike.  I can't wait to see all your gorgeous photos!
Of course it would also be great if you would like to follow me on Facebook, Twitter, Instagram and Pinterest.  I look forward to our little community growing and sharing the love over the year.