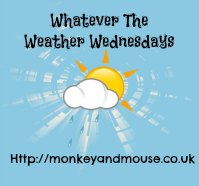 We're back from our holidays and have had an amazing time in Orkney, lots of fun at my friends wedding and the boys looked so sweet in their kilts.  I am working my way through commenting on the last couple of weeks posts and hoping to be caught up in the next few days.
My blog post this week is our visit to Skara Brae neolithic village in Orkney.
This linky is the place to share your outdoor family fun posts, whether they're old or new I want to read them!
I am also going to feature the post that has commented on the most posts each week.  This will be chosen as of the Monday evening, to allow everyone to get their comments completed.  The more comments you leave on others blogs, the more likely you will be featured.
We had so many comments last week that we actually have a tie with three bloggers, thank you everyone for making sure that everyone gets comments.  This week's featured bloggers are Kippers and Curtains beautiful post of Sheffield Park Gardens, Pitter Patter Travelers exciting first rodeo and Travelling With Our Kids visit to the stunning Bracklinn Falls.
It would be fantastic if you would like to share your post on twitter using the #Whatevertheweather hashtag and if you include @monkeyandmousey in your tweets I will retweet  too.
I would love it if you wanted to follow me on social media too, Monkey and Mouse: Twitter, Facebook, Instagram and Pinterest.