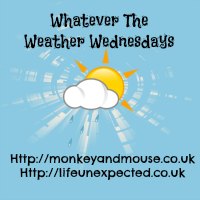 I've had a fantastic few nights away on the island of Mull, camping with my family, with no internet access we could concentrate on our boys without distractions.  Unfortunately this means I haven't had time to comment on all you lovely linkers from last week, but please don't worry, I will be commenting on every post ASAP from last week.  My blog post this week is a fantastic trip from our Mull holiday to the island of Staffa and Fingal's Cave.
A quick note, some of my comments seem to be going into spam, so if you haven't noticed a comment from me, then please do check there.  We both comment on every blog post linked up, so please let us know if there are any problems! x
I am co-hosting this fantastic linky with my lovely friend and blogger Chloe from over at Life Unexpected.
This linky is the place to share your outdoor family fun posts, whether they're old or new we want to read them!
We are also going to feature the post that has commented on the most posts each week.  This will be chosen as of the Monday evening, to allow everyone to get their comments completed.  The more comments you leave on others blogs, the more likely you will be featured.
This weeks featured bloggers are Training Mummy with her fantastic Neverland Park post, I never knew this place existed and will have to make a visit over there!  The second featured blogger is Pixiedusk, with a gorgeous photo of her little boy fixing a camera to his scooter for his own ingenious scooter cam.
It would be fantastic if you would like to share your post on twitter using the #Whatevertheweather hashtag and if you include us in your tweets (@monkeyandmousey/ @lifeunexpected2), we will retweet  too.
We would love it if you wanted to follow us on social media too, Monkey and Mouse: Twitter, Facebook, Instagram and Pinterest.  Life Unexpected: Twitter, Facebook, Instagram and Pinterest.