I, like many people around the UK, woke up to shocking news this morning.  The votes had been cast and the UK has voted to leave the EU.
If you had asked me yesterday what I thought would happen on Friday, I would tell you that it would probably be close, but it will be a remain majority.  How wrong I was.
Maybe it's because I live in Scotland or maybe it's because the demographic of my social group, but I didn't actually know of anyone voting to leave the UK, all my friends and family were voting in, as was I.  I thought it was a sure thing!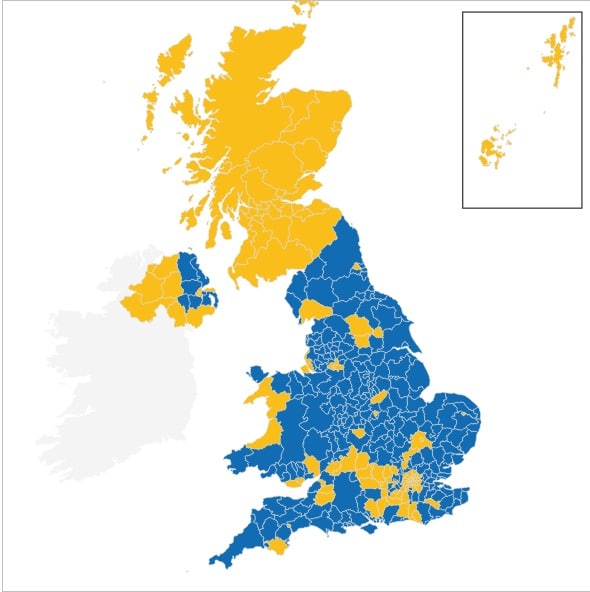 Many people I know have jobs directly linked to the European Union, not surprising when there are over 3.5 million jobs in the UK linked to EU's single market.  What will happen to their jobs?
The UK's biggest trade partners are in the EU, this is the main reason large American and Asian companies build factories here, because we are in the EU single market.  Will they want to keep their factories here now?  Do you think the EU will still want to buy our goods and services when they could buy them from other single market countries?
What will happen to the 1.4 million British nationals that work and study in the EU.  They will no longer be EU nationals with freedom of movement.  Will they need to return home to the UK?  They won't have the same rights as they once did.
Of course it's no secret that the UK receives a lot of funding including subsidies to farmers and grants for scientific research.  What will happen to our world-leading universities and companies?  Will the UK government shell out for the shortfall?
There are of course many fantastic EU nationals who live and work in the UK and have done for years.  They don't have British passports, but call it home, have families here and work here.  Do they have to leave?  I certainly hope not, there are many EU nationals who are among my closest friends and bring a lot to the UK.
Whatever happens there will be big changes, hopefully the pound will recover, there will be big changes but it will take a couple of years to sort out.  Until then, we will just have to hope for the best and that Boris doesn't become PM.
However, Scotland may not wait it out, there is a lot of talk about a second independence referendum.  The main reason being that a large number of the 'No' voters in 2014 wanted to stay in the EU and were told the only way to guarantee that would be to stay in the UK.  Two years later and the UK has decided to leave the EU, despite all Scottish counties voting a majority to remain.  So, unsurprisingly, many Scottish voters want a second Scottish referendum, we could then remain part of the EU as the majority of Scottish voters wished.
Only time will tell what will happen, don't panic as it won't change overnight, but there will definitely be changes, lets hope they are for better and don't undo all the great work that has happened through the EU partnership.  I personally have my fingers crossed for an independent Scotland, I do not want to be in a country where the likes of Boris Johnson is the PM, imagine him and Donald Trump plotting together!!
What are your hopes for the future of the UK?
J x