I have always been a fan of tie-dye, it may be my inner hippie calling out, but it's probably just because I love colour so much!  I've never been one to shy away from colour, I even remember going to one High School disco in red trousers and red polo shirt top in the 90's, which even then was a bit unusual.  My boys are used to wearing bright colours, with the eldest often choosing bright yellows and blues and my younger boy loving pink, green and orange.
This does pose a bit of a problem with clothing.  If you have read this post, then you will know that I struggle to find boys clothes that are not dark colours or just boring blue.  So, in an attempt to make some brighter clothes for the boys I am resorting to dyeing clothes and I really wanted to test out some different dyeing techniques.
I loved the idea of ice dyeing, which I saw a while ago on Pinterest, but cannot find the post now.  The only problem with the tutorial I had found, was that it was American and used bottled dyes, whereas the dyes I had were powdered.  But I like to think I am still a bit of a scientist and went with it anyhow.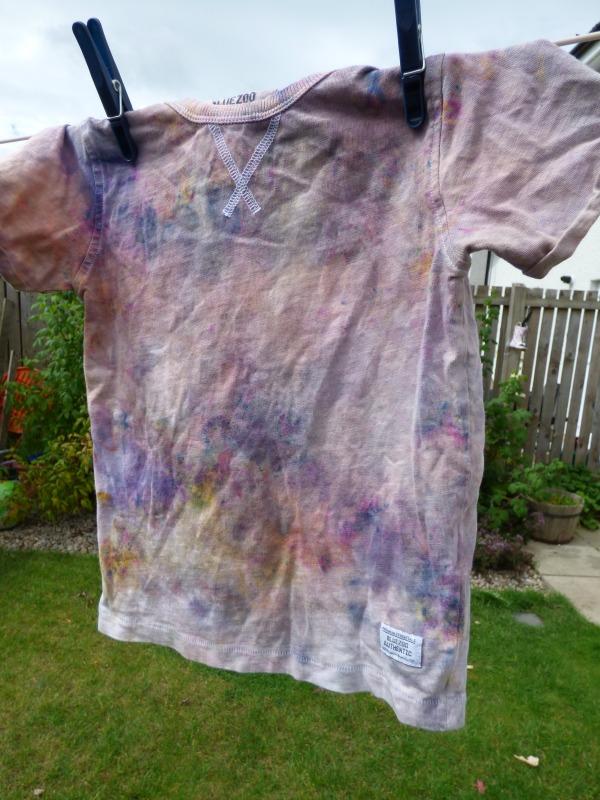 The effect of ice dyeing tends to be a bit of a watercolour effect, I scattered the colours all over the surface, but if you decided to concentrate the colours in different areas you could get a completely different effect.  Imagine yellow for the bottom, turquoise in the middle and blue at the top, you would have a sort of beach'y' look.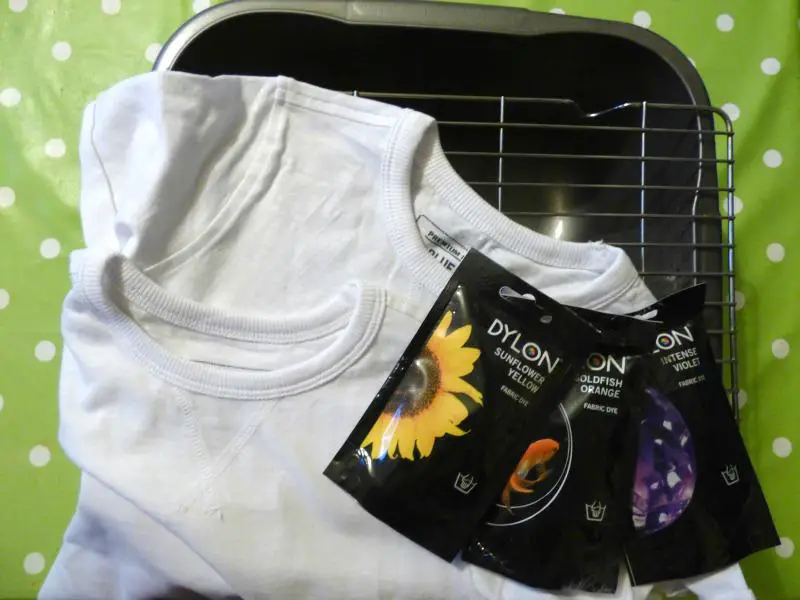 So for the tutorial, you will need:
Dylon Hand Dye Sachets
White clothing, pre soaked
Ice
Salt
Basin
Wire rack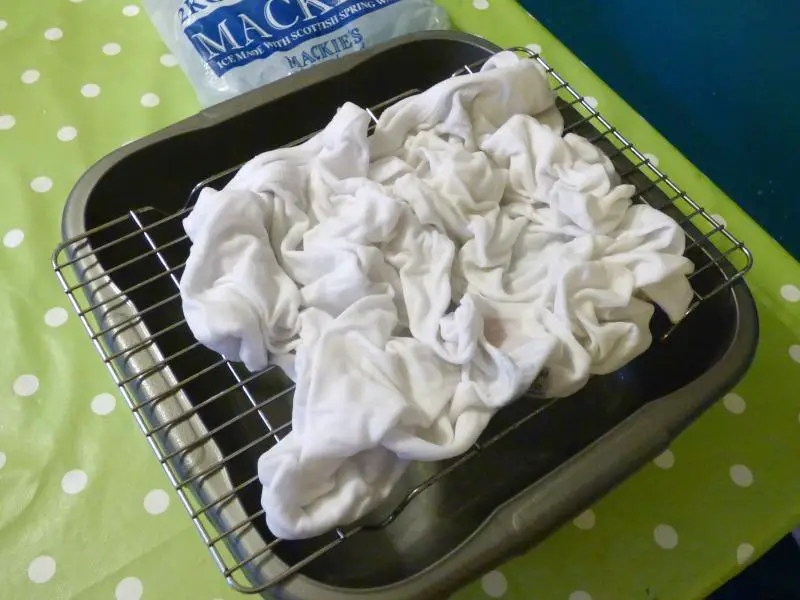 First you will need to place your pre-soaked clothing on the wire rack, placed above the basin.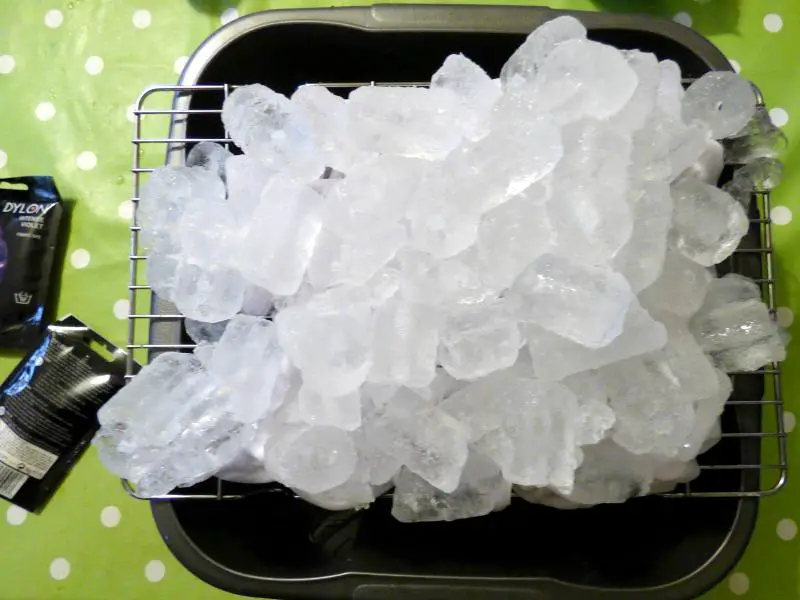 Cover the clothing entirely with ice.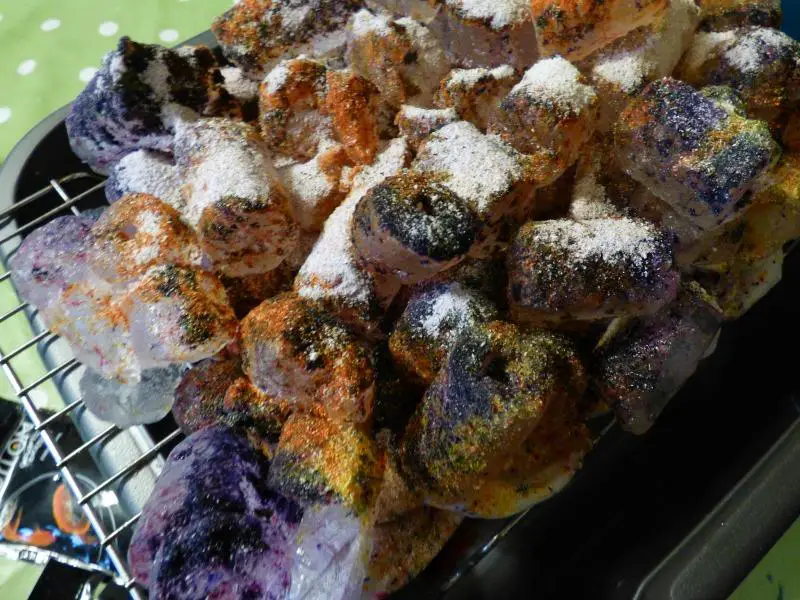 Sprinkle the powdered dye liberally all over the top of the ice.
Sprinkle the recommended amount of salt on top of the dye.
Allow the ice to melt overnight.
Rinse and wash the clothing.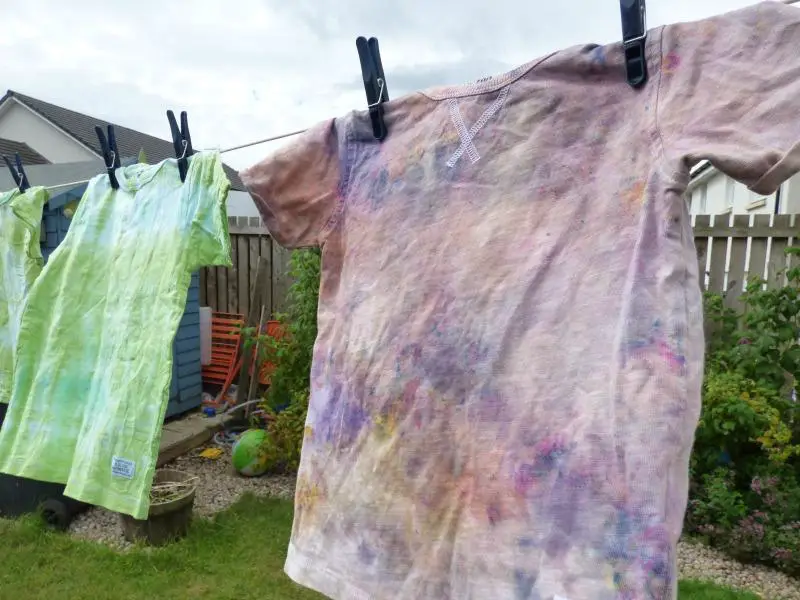 It's very simple, but I rather like the effect of it and Mr A was pleased with his new multi-coloured t-shirts.
I also decided to experiment with some green tie dye in the machine, using a couple of simple tying techniques.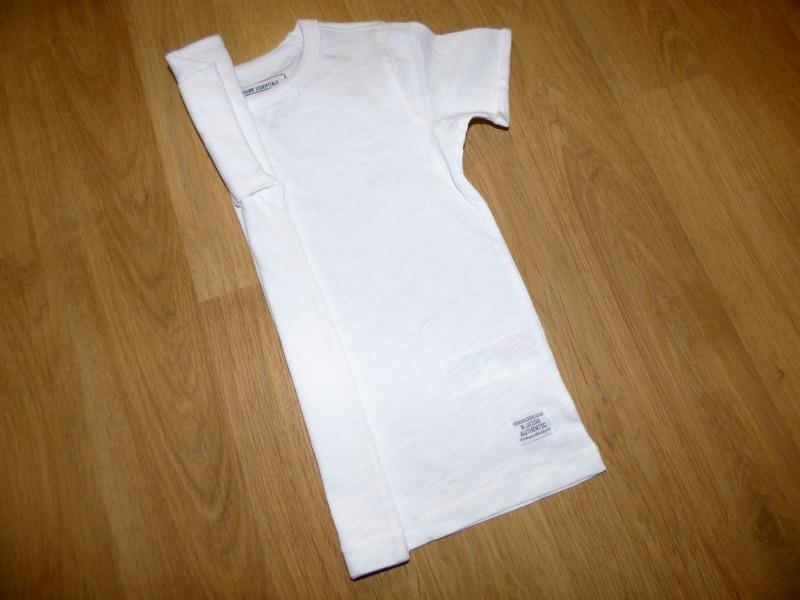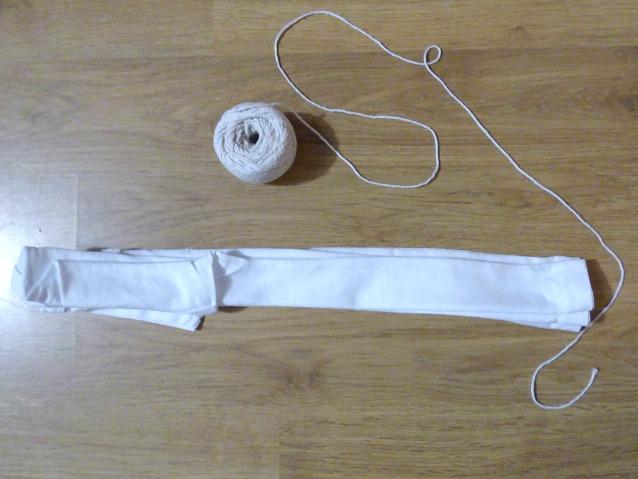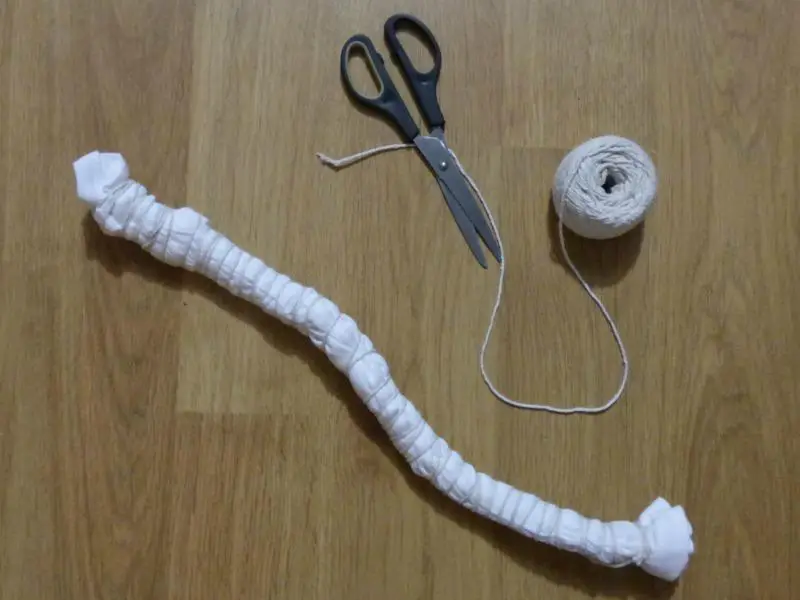 The first I chose to concertina fold across the length of the t-shirt and then tie with string, elastic bands would give a better effect, but I couldn't find any when I wanted them!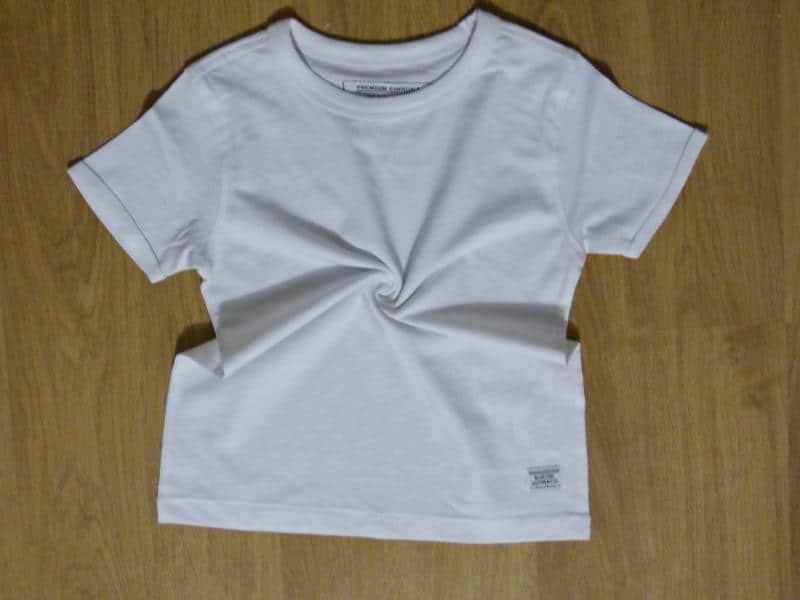 The second t-shirt I chose to create the classic swirl by twisting the t-shirt starting from the middle and tieing in a little ball.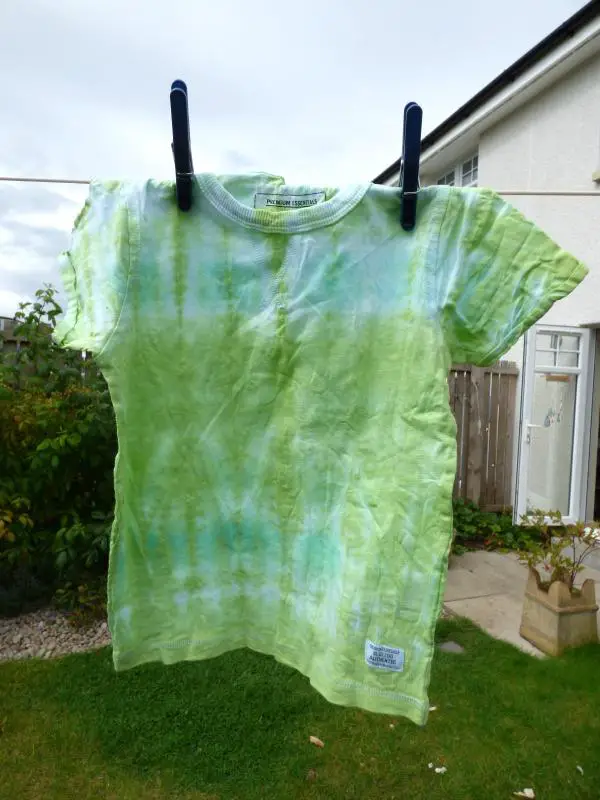 I love how they came out and how easy it was to dye in the machine, I normally hand dye for control, but this is definitely a great hands off approach when you don't have time for mess.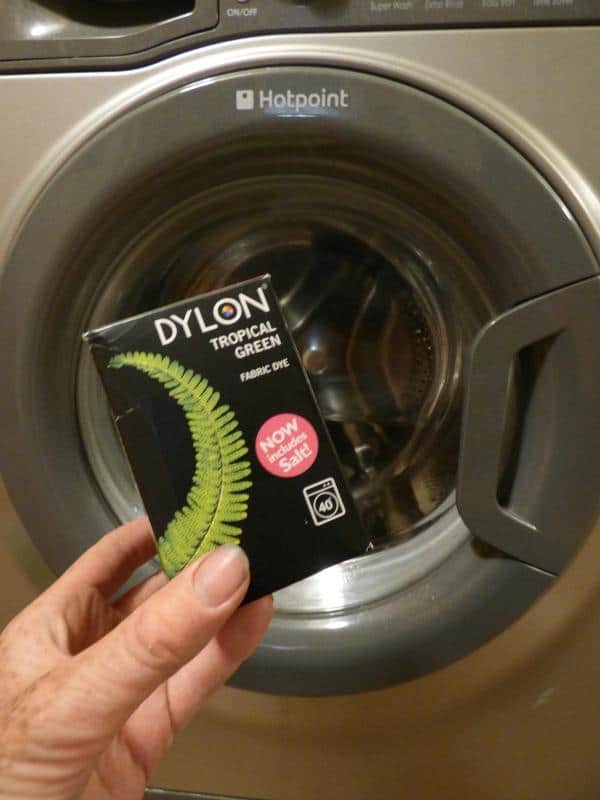 If you would like to get creative with your own choice of Dylon dyes, then please enter the competition below to win a machine dye and hand dye of your choice.
Pin For Later