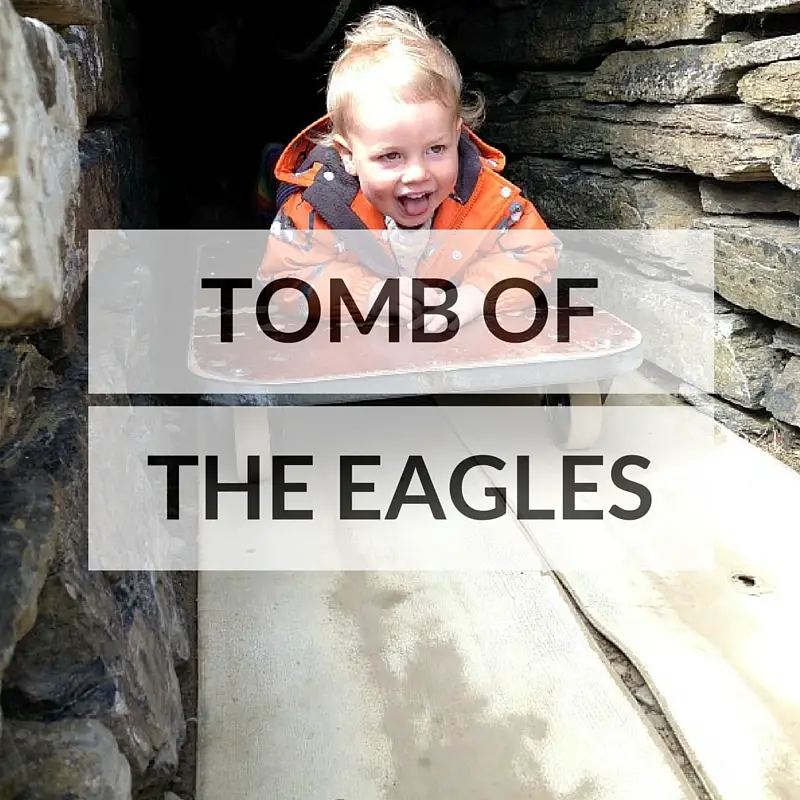 Orkney is peppered with neolithic remains, from settlements to standing stones to tombs.  Although we spent a lot of our time in Orkney at one of the many beaches, some of the visits to the historic places must have sunk into our 4 year olds' mind.  Whilst a wooden block 'playground' he insisted it must have a tomb…
Although it might seem strange, I think it was mainly because his favourite place to visit in Orkney was the 5000 year old Tomb of the Eagles where you use a little trolley to enter it!  Definitely worthy of a playground.
Clearly when the tomb was built there was no trolley, but it's a helpful way of entering the tomb nowadays.
The tomb was discovered by the local farmer Ronald Simison in 1958, although it was another 20 years before the tomb was actually excavated.
Inside the tomb are several chambers, each contained a mix of human bones and skulls, along with a predominance of lamb and Sea Eagle remains.
The human remains are thought to be from over 300 different people, but they were never separated out into individual people, instead spread across the chambers.
It was thought that the bodies of the dead were first left outside for birds and animals to scavenge the flesh and then after a period of time all that was left were the larger bones and skull which would be laid in the tomb with a ceremony.
The reason it is called the 'tomb of the eagles' is because there were a very large number of Sea Eagle bones inside the tomb.  They were once common on Orkney and it is likely that the people who lived here could have had a spiritual connection to the bird.
After visiting the tomb and many trips back and forth on the trolley, we headed around a short coastal walk back to the visitor centre.  The walk is stunning, looking out along the rocky coastline, wildflowers waving in the wind and nesting birds on the cliffs.  We even spotted a seal in a little cove.
This is definitely one of the top destinations to visit when you travel to Orkney.  The only thing we would note, that if you have little ones, bring a carrier as the tomb is on a cliff edge and the walk to it is dangerous if they are too young to be aware of the danger.  The paths aren't suitable for buggy's.
J x