Disclosure – I have been compensated for this post.
We don't all have the budget to travel the world with our kids, showing them all the different cultures in every country.  As much as I would love to plan a round the world trip, it just isn't feasible for us, but I really do want my children to understand how others live around the world.
This Is My World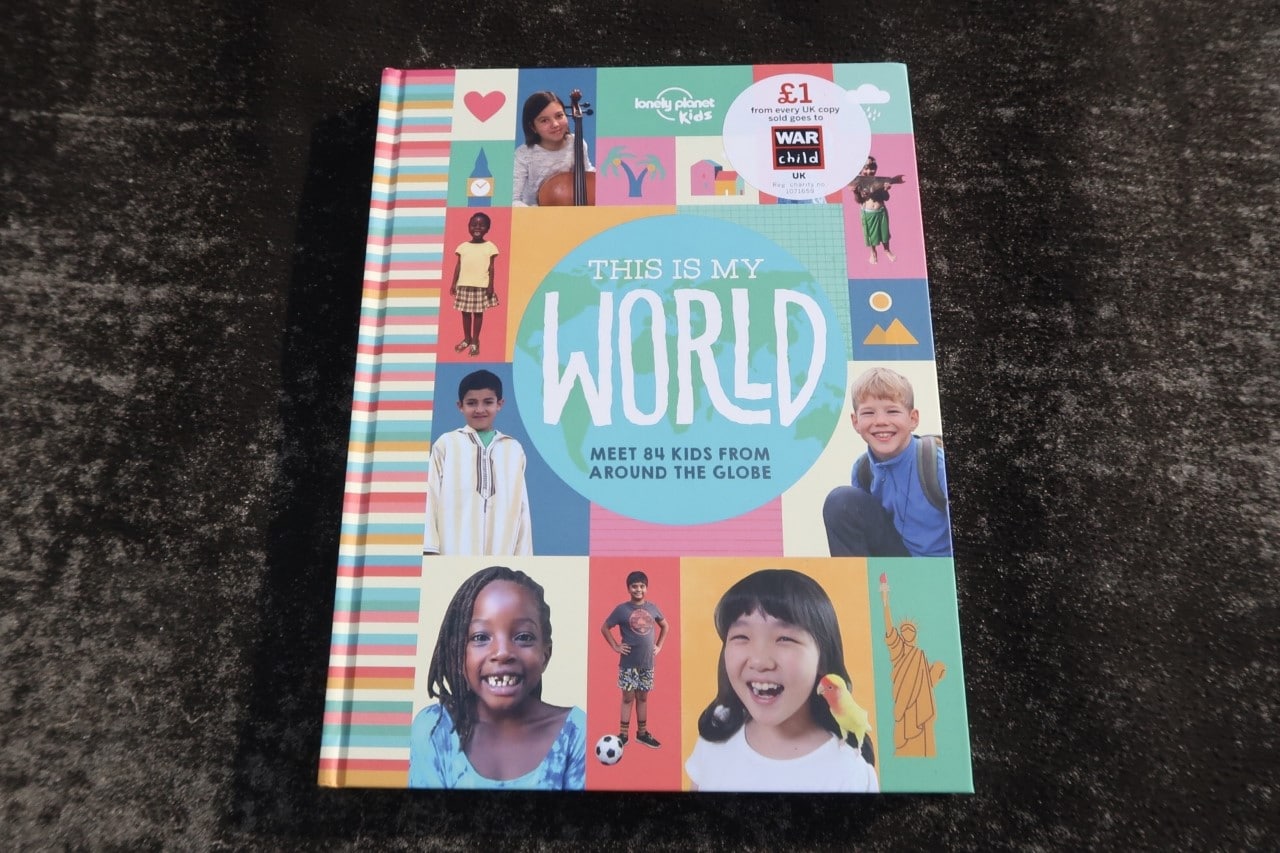 For us, if we can't show our children in real life we tend to turn to a good book.  So in the case of different cultures around the world we've turned to Lonely Planet Kids new book 'This Is My World'.  It's features 84 children around the world sharing what is unique about their lives, the book connects the reader with children in over 70 countries covering 6 continents.
Where We Live
Using the map at the front of the book you can see the spread of where all the children in the book are located.  Then using the key at the bottom of the page you can work out which child lives in that country and find them in the book using the page number.
It's great to see how spread out the children are throughout the world, although of course the kids were disappointed to not find anyone in Scotland!
Although we could just start at the beginning and work our way through the pages, the children found it more fun to choose a child based on their country from the world map spread.  Then find out more about the child's life from their own page.  One of the first kids my children chose to read about was Kwamboka in Kenya, who lives by the sea and spends a lot of time at the beach.  It sounds perfect to my two beach lovers!
My littlest instantly loved Jack as they both have the same favourite animal, lions.  Which is funny when neither child lives in a country with lions.
Different Yet The Same
One of the great things about this book is that children not only learn about cultures different to theirs, but also realise that they are similar.  My eldest was surprised to read that Arjun in Bengaluru, India was also a railway fan.  Arjun is the same age as my eldest and I imagine they would have a lot of fun discussing trains together, if they ever met.
Even though the children have very little in common with Gemma from South Africa, she can watch monkeys and warthogs from her school classroom and loves animals such as snakes, they still share a love of chocolate with her!  They can see how different her life is to their own, but also know that she enjoys chocolate just as much as them, maybe they will meet in a Swiss chocolate factory one day?!
Jordan in Trinidad and Tobago also leads a completely different life to the children (fascinatingly he can walk on stilts!), but they have a major part of their lives in common.  He's home educated just like them!
It's brilliant to read through with the kids and point out similarities or think about how cool it would be to live in different areas of the world, or simply appreciate where our kids currently live.
War Child UK
It's important for our children to understand that not everyone is as lucky as them.  Some children have to grow up in war-torn countries, in the book you can read about Esther and Yousef.  Esther lives in Uganda, which is recovering from war and Yousef lives in a refugee camp in Jordan.
A portion of money raised by the selling of This Is My World will be donated to War Child UK who will use it in their efforts to help Esther, Yousef and other children from war-torn areas.
Further Learning
There's a great quiz page at the back of the book, which is fun once the children have read through.  They need to use the facts to identify which child matches which fact.  We got most right, but had to look up the names for a few people!
After reading through many of the children's pages in the book, we thought it would be great to create our own pages.  Printing out photos to add to their page, choosing three words to describe themselves and writing about the important parts of their lives.
We actually found that Lonely Planet Kids have their own activity page that you can print out to complete your own page, rather than a total DIY one like ours.  Head over the Lonely Planet Kids activity page and click on the educational option to find the page you would like to download.
It was a great way to get them to consider what are the most important factors in their lives and then to compare them to the other children in the book and see the similarities and differences between each.
Pin For Later