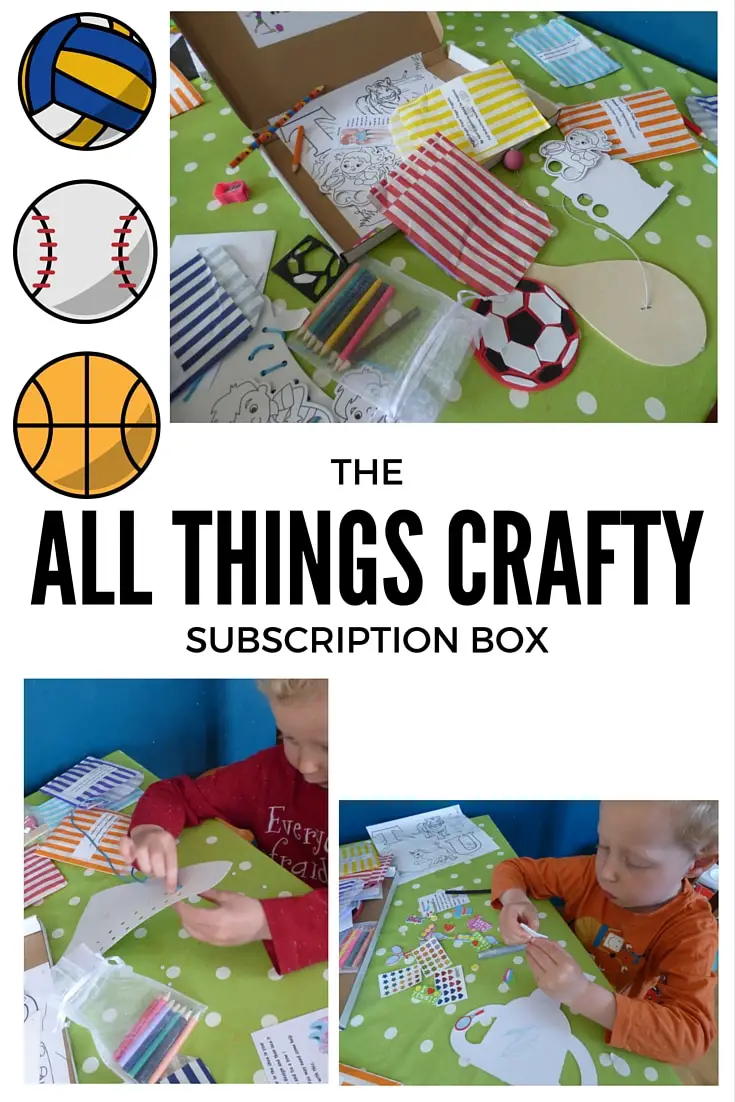 We have spent most of this week outside and enjoying the sunshine, so I'm afraid all the housework and craftiness has been put on hold for a few weeks!  However, on Friday the weather turned cold and dull, so whilst Mr A was having a little nap, my 4 year old had a chance to discover what was inside his All Things Crafty Box.
All Things Crafty is a subscription box service, which brings a box full to the brim of crafty goodiness to your child each month.  There are at least seven activities included in each box, with a different theme each month and all activities requiring little or no adult supervision, this is the perfect box to keep your child happy for a good few hours.
The boxes are aimed at 3-6 year olds, however, older children would probably get a lot of fun out of it as well.
We loved the presentation of the the box, as soon as you open it you are wowed by the little colourful bags and immediately need to check through each one to find the goodies inside.  We found a little note inside explaining what …….
The first bag Mr O opened was the little finger skateboard, not a craft, but a fun little pocket money toy that he could play around with.
The next bag to be opened was the lacing shoe.  We have been doing a lot of threading and sewing recently, so this activity was right up his street.  He decided to thread it straight away and then colour it afterward, with the pencils included in the kit.  I was quite impressed at how quickly and neatly he laced up the boot, well it was neat on the front anyway!
The football coaster was fun for him to make and required no help from me and I had one delighted little boy with his football coaster.
Mr O found a cute trophy to decorate with tennis themed stickers and glitter glue.  I was quite surprised when he knew that they were (considering he's never played or seen tennis!).
The following day Mr chose to colour in these little finger rugby player puppets, you can even use your fingers to kick a pom-pom ball around the table.
At the bottom of the box was a colouring sheet, pencils and a paddle with ball attached.  I am a little wary of Mr O using the paddle and ball inside, as there is a good chance something is going to get broken, but he does love it!
I was particularly impressed with how much there was packed into the box, it really has kept him busy for the last couple of days and with little supervision, I could easily get a couple of other things done whilst he was busy.
The box fits through the door and is easily transportable, so would be a great idea to take along on a holiday or road trip.  I'm starting to think that I should have waited to open the box on our camping trip next weekend, it would be perfect to take with us for some down time.  It would also be a great gift for a new big brother or sister, keeping them occupied when you need to feed the little one or simply have a well deserved rest.
I highly recommend these fantastic boxes and you can check out the website, Chichi World here for more information and to subscribe.
If you want to enter to win a 3 month subscription to All Things Crafty, then fill in the form below.
All Things Crafty Competition