Only a week until the Big Day, AKA Christmas, and I was tagged by the lovely Donna to answer some festive questions about how we spend the festive season and the Christmases of the years gone by.
Lets get started:
What's your favourite Christmas movie?
I strangely don't have a favourite Christmas movie, but what I do LOVE is the The Snowman and Snowdog.  Does that count?  It's just a perfect Christmas short!
Have you ever had a white Christmas?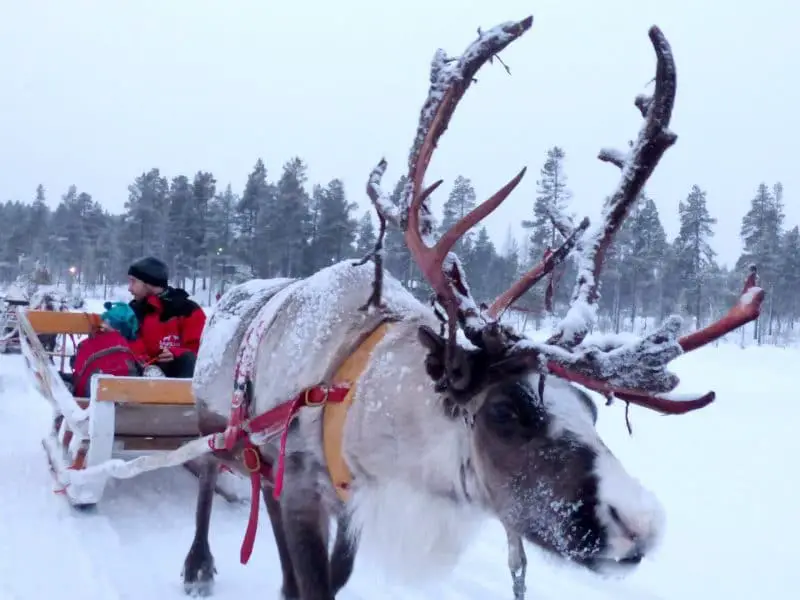 We have had various white Christmases up here in Scotland, but last year was the most amazing white Christmas in Lapland.  I don't think we'll ever get such an amazing white Christmas as Lapland, but hopefully there may be a few flakes here this year!
Where do you usually spend your holiday?
Aside last years trip to Lapland, we always spend our Christmas at home.  It's great to keep it all cosy and relaxed with no pressure!
What's your favourite Christmas song?
Ohhh, I don't think I could pick just one.  But Rockin' Around The Christmas Tree has to be my favourite to dancing to, my littlest especially loves to dance around the kitchen with me!
Do you open any presents on Christmas eve?
Nope!  All are opened on Christmas day!
Can you name all of Santa's reindeer?
I doubt it, how many are there again? Ummm, Rudolph, Dancer, Prancer… that's as far as I can go, sorry!
What holiday traditions are you looking forward to this year?
We have an activity advent calendar that I made when my eldest was tiny and each day we have something fun today.  We have had visiting Santa, panto's, random acts of kindness and baking amongst other things.  The boys love it, but probably not as much as I do! Ha ha!
Is your Christmas tree real or fake?
I'd love a real tree, but my husband hates the mess they make.  Plus my kids do tend to bash it a lot, so the chances of it staying in good condition is a bit slim.  So it's a fake tree that we've had  for years!
What's your favourite holiday food/treat/sweet?
Christmas pudding!! I love it with loads of spray cream melting on top. The best savoury dish is the vegetables, I can't normally be bothered to roast veg, but I can't get enough of roast carrots, parsnips and butter fried sprouts.  My mouth is watering just thinking about it.
Be honest. Do you prefer giving or receiving gifts?
Giving gifts, I love seeing how happy people are when they receive gifts.  The big smile knowing that it's something they really appreciate means a lot to me.
What's the best Christmas present you ever received?
Oooh, I really don't know!  I've been given so many lovely things over the years, I can't think of one that is better than others.  I remember one year as a child when I received a skateboard for Christmas, which I was delighted with and I have always loved all crafty stuff that I have been given.  But honestly, I'm a bit fussy when it comes to gifts, I am probably better at giving others presents than receiving them myself.
What's your dream place to visit for the holiday season?
Now that we have done Lapland, I am probably quite happy to stay at home for Christmas.  It didn't quite feel the same being away, so I would rather travel on the weeks around Christmas rather than Christmas itself.
Are you a pro present wrapper or do you fail miserably?
Not sure I'm a pro, but I like to think I'm ok!  I want to try furoshiki wrapping next year.
What's your most memorable Christmas memory?
Sneaking down one Christmas morning before anyone else was awake and seeing all the presents laid out in the living room.  There was a huge one with my name on it and I peaked underneath, I couldn't see what it was as it was dark, but I remember going back upstairs full of excitement!
What made you realise the truth about Christmas?
I think my parents told me when I was young as my brother had just found out and they didn't want it to come from them.  I don't really remember believing at all now, so I assume I was around 5 or so, which is a shame really.
What makes the holidays special for you?
Spending time with the family, watching the kids getting excited about their presents and all the delicious food!
And there you have it – a bit more about how we spend Christmas. I'm going to tag a few people in case they'd like to join in and answer the questions too:
Cat from Pushing The Moon
Georgina from Gee Gardner
Jo from Mummy's Knee
Laura from Woman In Progress
Nadia from Scandimummy
Becky from Mommy and Rory