P
Castles have been the theme in our house for the last couple of weeks.  Both boys love exploring them and our eldest has been enjoying drawing different castles.  We have also been learning all about their features and the varied history of each one we have visited.  The last castle we explored was Blackness Castle beside the Firth of Forth, it was a gorgeous day despite the strong winds!
The following day when I asked them what they would like to bake this week, the answer was 'castle biscuits'.  So that is exactly what we had to do.  Of course these biscuits can be cut into any shape you like, but we have gone for castle shapes.  Well, castles and a few palaces for Elsa to live in.
These biscuits are easily made by the kids and my boys loved wearing their new Arty Apple aprons.  They are personalised aprons in a soft blue denim.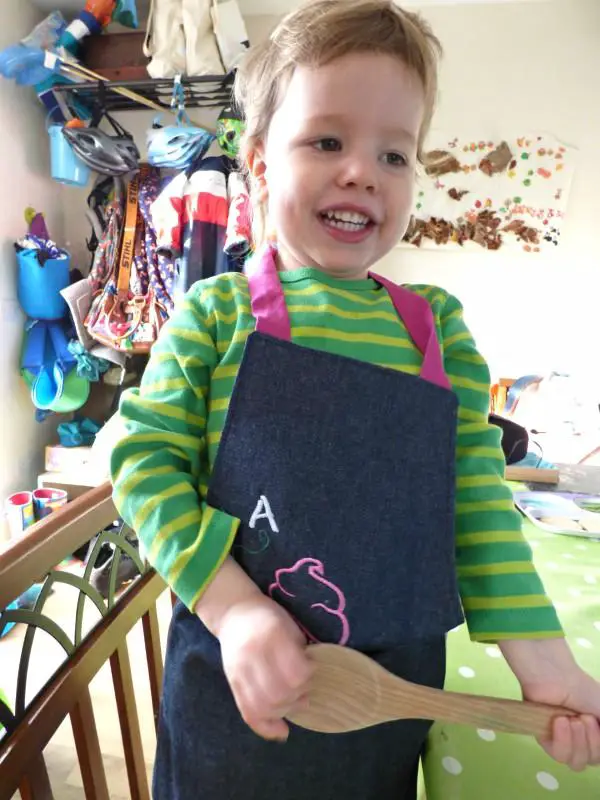 Each apron has their name and a picture of either a cake or gingerbread man embroidered on the front. I have removed all but the first letters of their names off the pictures as I don't mention their entire names here.
The aprons have coordinating neck and waist ties and easy for the kids to put on over their heads.  My two were rather excited about their aprons and wanted to wear them all day!  Unfortunately they were a bit too floury for playing in.
You can win your own Arty Apple apron by filling in the form below, or skip past the form to find the recipe for our castle biscuits.
Enjoy baking!

| | |
| --- | --- |
| | |
Cream together the butter and sugar. Mix in the egg and vanilla and set aside.

In a separate bowl sieve together the plain flour and bicarbonate of soda.

Pour the wet butter/sugar/egg/vanilla mix into the dry mix and stir into a stiff dough.

Shape the dough with your hands (add a little more flour if too sticky) to ensure it's well mixed.

Wrap the dough in cling film and chill the dough in the fridge for at least one hour.

Take the dough out and roll out to 3/4 centimetre thick and cut out castle shapes. Either by hand or with cookie cutters. Place on a greased baking tray.

Put in the oven at 180 degrees for 12-15 minutes, or until golden.

Let the biscuits cool on the baking tray.

For the icing mix the icing sugar and butter together and any colouring that is required. Spread on the biscuits once cooled and EAT!