It's not news to my family and friends that I don't like my children watching too much television.  I don't let my 1 year old watch anything, but occasionally, when he's up early, he watches the end of a Thomas the Tank Engine episode his brother was watching while daddy gets ready for work.
My 3 year old knows not to ask me to watch anything during the day when his little brother is around.  We went through a phase of having the tv on waaaaay too much when his little brother was born, so after a couple of months I decided to cut back.  Yes, it was easier for me to get things done around the house and with the baby when he was watching the television, but seeing his zombie face staring at the screen, it didn't look like it was very good for his developing brain.
Instead, when he started getting a bit ratty we went outside and we were all so much better for it!  I was happier and less shouts, not worrying about the mouse or things getting broken etc.  he could run around and play to his hearts content and his baby brother would happily sleep in the wrap and come out for a feed when he was hungry.  I have a lovely memory of going for a walk in the rain, everyone bundled up in waterproofs, O and I jumping in puddles and 'rescuing' each other out of them, whilst A was being breastfed held in my other arm.  Everyone was happy. 🙂
Now A is walking we can't go out for as long as we used to, he's not walking well enough yet to walk on muddy, stones tracks, but he's not happy being in the wrap for too long either. So here are some other ideas suitable for young toddlers and pre schoolers.
1.  Go to the park, even though A can't walk much, he can easily get pushed in the swing or climb steps or slide backwards down the slide.
2.  Painting, for smaller toddlers who still eat paint – make edible paint, we've had great success with flour, water and food colouring (and of course my 3 year old wants to try it too!).  Check out Pinterest for painting ideas.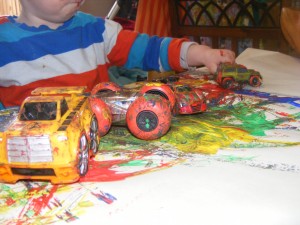 3.  Edible water beads.  We haven't tried these yet, but they look fab.  I will be trying this out with them both in spring.  Here's a link to Amazon if you're wondering where to buy them.
4. Sensory Dough.  Playdough, floam, cloud dough, moon sand etc. Check Pinterest for recipes!
5. Make a Fort.  Inside with sofa cushions or under the table with a sheet over it.  Outside in a homemade den.  We could play and make dens for hours!
6. Bake!  My son loves to bake and the little one really wants to help too.  It doesn't have to be cakes and biscuits, you can make bread, pizza, veggie burgers, anything!  They're also more likely to want to eat their lunch/dinner if they actually help to make it. Bonus!
 7.  Water.  A bowl of water on towels inside or outside and something to put into it and take it out.  We've used rocks, plastic animals, dinosaurs, whatever you have at hand!
8.  Pretend to cook.  A mud kitchen outside is great fun, they can add 'ingredients' of leaves, seeds, stones.
9.  Role Play.  What are your children interested in?  This can be role playing favourite books or things that have happened during their week.  My son's favourite role play is always to do with trains (he loooooves trains), sometimes we are the trains and other times we sit down and watch model trains go past (we visited an exhibition with model trains recently).
10.  Read a book (or 10!).  Simple and even the youngest toddlers like to read/be read to.  Our 12 month old loves bringing us books and sitting on our knees as we read him books.  If I ever want to break up tension or grumpiness I just need to pick up a book and start reading, soon they're both sitting with me reading. 🙂
What are your screen free time ideas?
J x