Mrs Goose Designs creates quirky playful animal designs on beautifully soft, organic clothing.
The unique designs are of animal shapes with a bold repetitive picture inside the silhouette.  There are bananas inside the monkey, carrots inside the rabbit and apples inside the horse.  This pattern helps young children to identify the animal that is on the clothing.
I was lucky enough to be sent a beautiful short sleeve baby grow with a rabbit design for A.  He immediately squealed with delight at the print and said 'boing' (he knows rabbits bounce!) and kept rubbing his tummy.  He definitely seemed to recognise the animal and the bright coloured carrots seemed an instant hit.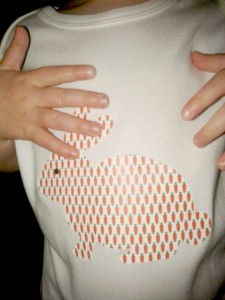 The fabric is soft and washes well, which is always a plus!  A wears cloth nappies and I often have the problem with clothes shrinking a bit too much in the wash and not fitting over his cloth bum, but the fit is perfect, with a little room to grow into, even after washing.
I certainly have a very happy bunny here with his new rabbit babygrows.  I definitely reccommend Mrs Goose Designs clothing for other parents looking for quality, cute designs with an educational slant.
Check out Mrs Goose Designs shop here. Or have a chat on Twitter or Facebook.
Do you like animal print clothing for your little one?
J x
Disclosure: I was kindly sent the babygrow for the purpose of this review.