Whilst I'm off on holiday I have several bloggers writing guest posts for Monkey and Mouse, today is the turn of the lovely Becky from 3 Princesses and 1 Dude.  
Hands up if your little one loves the Minions? Yep thought so! Those little yellow dungaree wearing crazies are hot right now, so what better way to encourage colour sorting and counting than a Minion inspired pom pom sensory bin.
You will need:
Blue pom poms
Yellow pom poms
Minion figures
extras for colour sorting: 1 blue and 1 yellow container
extras for number game: dice, we made our own using a yellow block and a marker pen, A4 card marked with lines *see below*
So imagine it…its the second day of half term, it's pouring with rain outside (not just a little bit either!) and there is no chance it is about to ease. Sigh. You have made it to mid-afternoon, well just, you need something quick to set up before you end up in the kitchen sobbing into a 6 pack of jammy donuts.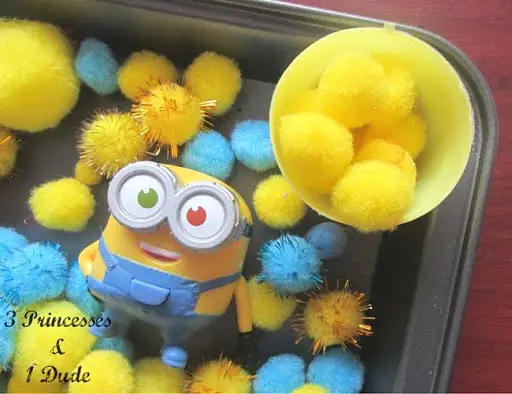 Yep, it was one of those afternoons when I decided a quick sensory bin and game was in order. I glance around at the discarded toys, to see what we could use quickly. Minions figures scattered across the floor and our pom pom box on the craft shelf caught my eye. I grabbed them both and a container to keep it all in. As I was collecting up the bits and bobs I I thought some colour sorting containers would be a good idea and I also remembered seeing a counting game involving a dice so grabbed what I needed for that too.
Together we set up our tray, sorting through our box of pom poms to find just Minion yellow and dungaree blue! We collected up all of our Minion figures and decided which ones to use for our sensory bin and whilst the monsters played I made our dice and game boards (a piece of card marked with lines!) The game can be played as a race or as a 1 player game to fill up each side.
To extend our activity I have found this printable Minion Do-A-Dot that I can print out and the monsters can fill with pom poms.
I'm Becky a busy stay at home Mum to 4 little monsters aged between 2 and 11. You can find us over at 3 Princesses and 1 Dude and also over on the Kids Make and Bake Club. Between the two you will find us baking, making, getting crafty, having fun days out, generally anything that will keep 4 children busy!
You can go see more of my blog HERE.
Or you can follow me on: