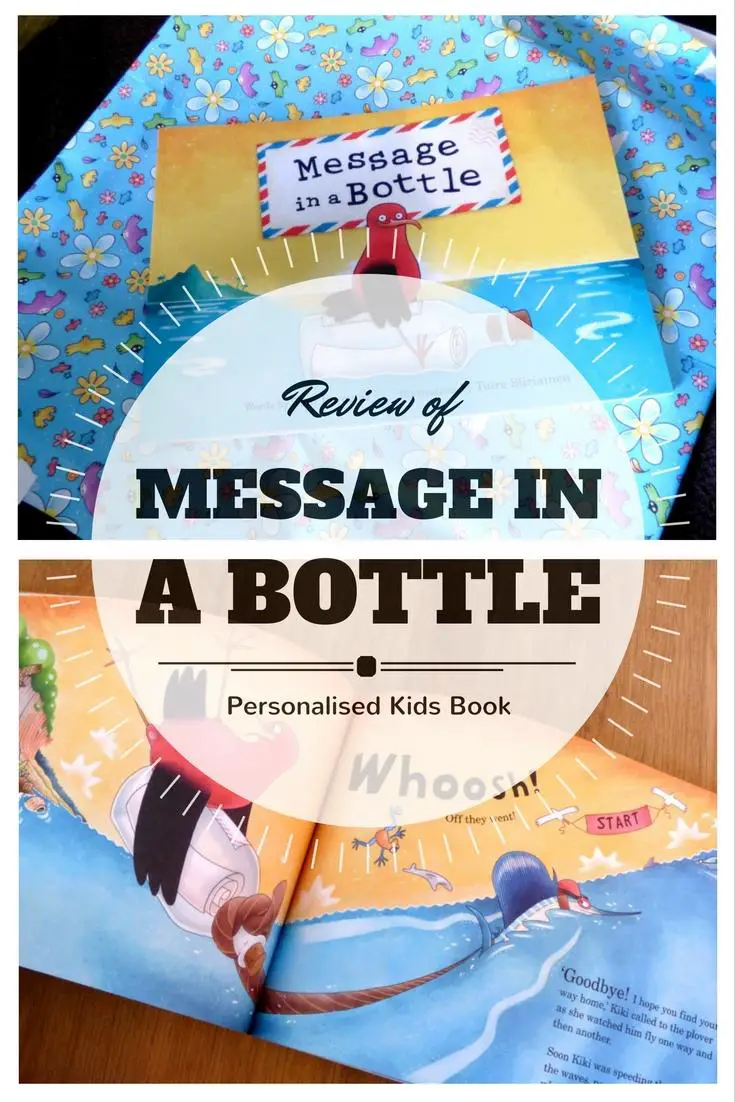 My two love personalised books, anything that mentions their name they are all over!  They also like books with a little adventure and a heroic character that gets into trouble.  I could probably tell you that from their play which involves a lot of shouting for 'heeelppp', 'ohhhh noooooo', 'heeellp meee' and then rescuing each other.  They can be rather imaginative and dramatic, especially the small one.  So there was no doubt that they would enjoy their new personalised book 'Message in a Bottle' illustrated by Tuire Siiriainen and written by Tom Percival.
I have been very lucky and have been part of a small group who have been watching the book develop through from ideas and pictures into the full illustrated copy.  It's been exciting to see it develop and get to give our own ideas and support for the book over the last few months.  I was incredibly excited to actually hold our copy and see the book in the flesh!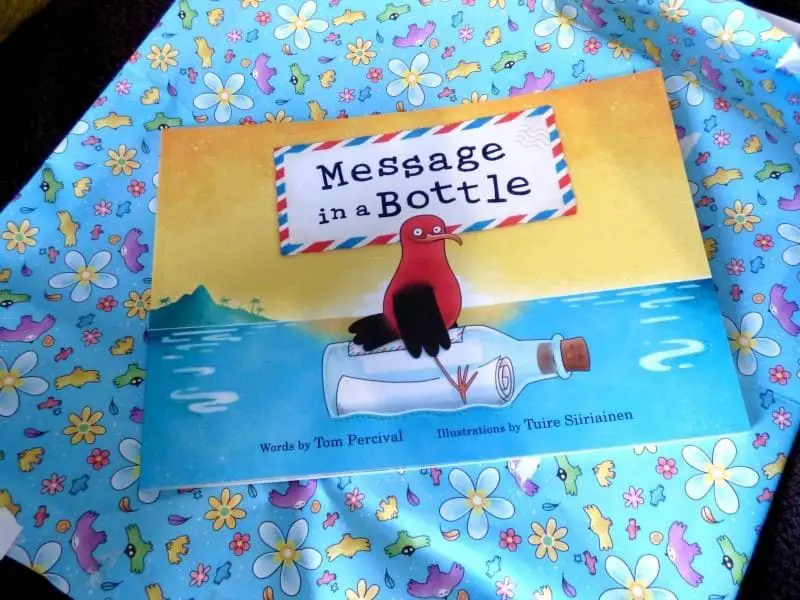 To order the book you simply head to the website here and then fill in the child's name (I wrote two names with an 'and' in between 'O and A') and address.  Then you choose the route for Kiki (the main character) to take across the world, which is currently restricted to one route with a second to appear in the near future.  Finally you choose or write your own message for the 'message in the bottle' (I chose a pre-written general one) and a photo.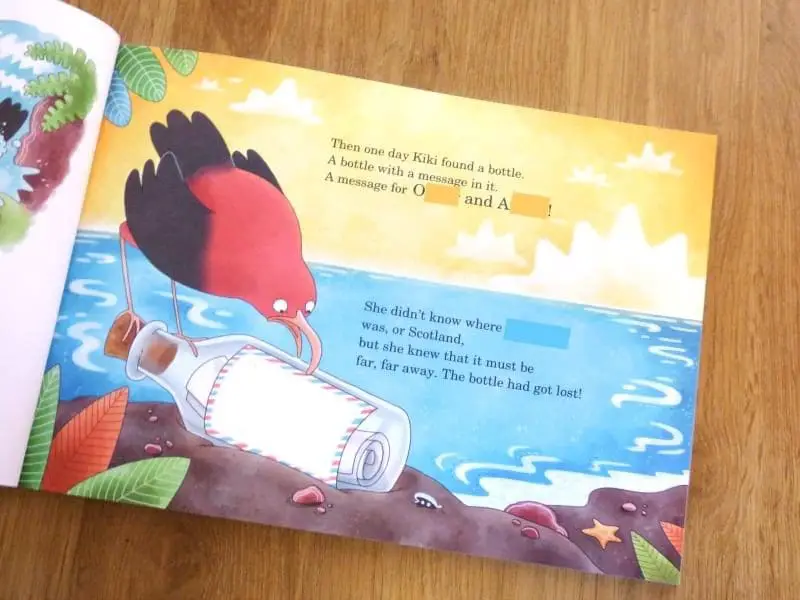 The story follows a Scarlet Hawaiian Honeycreeper called Kiki, who finds a bottle on her tropical island with a message and address.  I read out the address to our boys and they immediately knew the bottle was for them and were excited to be included in the story.
Kiki then decides to take it upon herself to deliver this message to Mr O and Mr A, through daring flights across the ocean, losing the bottle (which littlest is always a bit dramatic about!) and finding it in a Humpback whale's water spout and meeting many helpful friends along the way.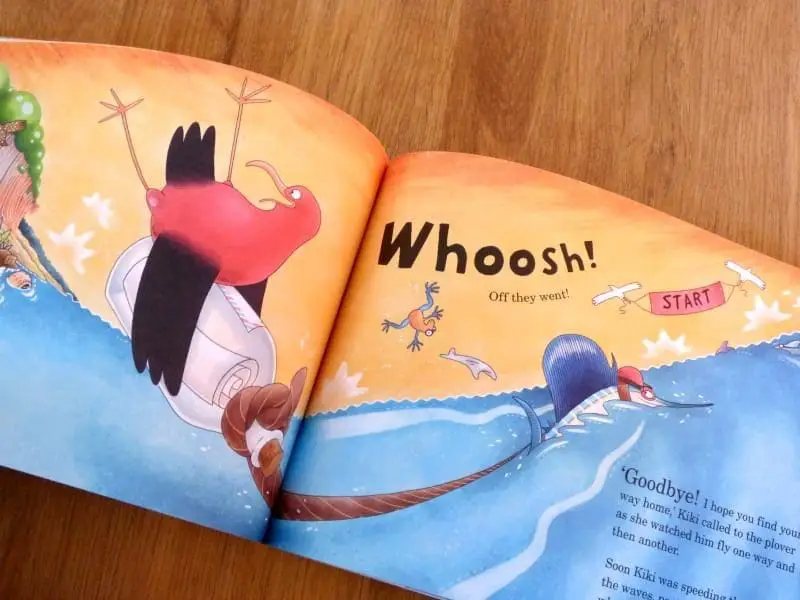 One little Plover who helps Kiki along does get a bit lost, but they find their way across to the Atlantic ocean where Kiki makes another friend and is helped across the ocean to Africa.
When she finally arrives at our home in Scotland she has made so many friends who have helped her on her way and she is delighted to hand over the message.
We chose a message for the boys that is quite general, but gives them a sense of how important stories are.  If I was giving this for a gift I would definitely include a birthday message or something similar as that would be a great message to receive.
I absolutely love maps and my children are no different.  They love to look at the final page with a world map showing Kiki's journey across the world and matching up the friends she meets on the different parts of the journey.  They also pointed out the Scottish flag, which I'm quite proud of!  I'm glad that you can choose between the different countries within the UK, as well as the British flag itself, this way your child can identify with the country and flag that they think of as home.  Of course there are options to choose any other country around the world too.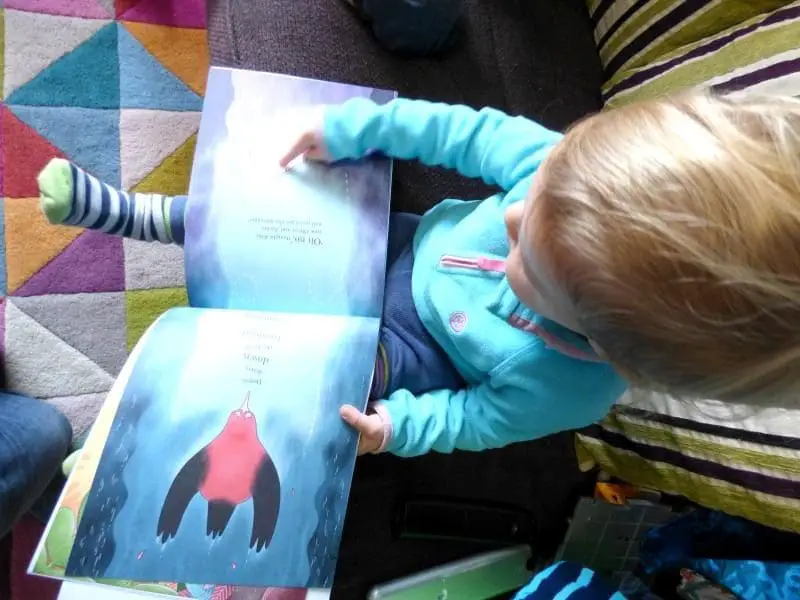 I am very impressed with the quality of the book, the illustrations are gorgeous and the story itself, of how bravery, courage and friendship can get you through is so important to understand at any stage of life.
If you would like to buy a copy, it would make a great Christmas gift, it's only £19.95 including postage to the EU and the first 10 readers to use this code can get 15% off: KJ8KB8
Also look out for the gorgeous wrapping paper (featured above) and the hardback version that will be in the online shop very soon.
Once you have read the book check out Kiki's Kids Club which has lots of quizzes, activities and learn more about the characters from the book.
J x
* I received this book for the purpose of the review, all gushing praise and opinions are my own.