I was recently given the opportunity to create a special book for our boys with Love2Read.  If you're an avid reader of our blog you'll know that my boys (1 and 3 years old)  both love reading books, both with us and sitting looking at them on their own.  To create this book you get to choose your own title from a large variety of choices including 'I love', 'My Gran', 'Our Dad', 'Easter 2015' and 'Our Holiday'.  We chose 'My Family' which allowed us to add 10 photos of family members.
The delivery was exceptionally quick, the order was printed on the Wednesday and arrived the following day!
The cover photos show the first four photos included in the Love2Read book and inside the cover you can write a personal message. In our family book each page has a photo and underneath it reads I see Mummy/Daddy/Granny etc.  This repetitive text helps young children learn to recognise certain words, the back page even has the main two words 'I see' repeated several times in random fashion all over the page to reinforce the words in the book.
At the back of the book there is also a page with all the photos but one included in a collage.  It's slightly annoying that one photo is missed out, I didn't realise this until I received the book, but it's not easy to fit 10 photos into a nice square!
Both boys enjoyed looking at it and pointing out the different people from their family.  Ollie spent a lot of time afterward looking around the room saying 'I see ….' insert any item he could see around the home!  Definitely great for those children who are at the starting to read stage.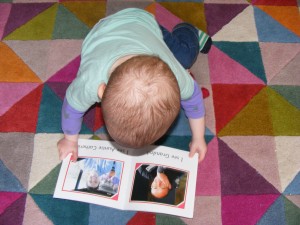 The quality of the book itself is great, the pages are very tough and withstand small hands trying to turn pages and despite some rough treatment the book still looked great.
All in all this is a lovely little book, the price seems a little steep at £14.99, but for the quality and kids enjoyment it seems worth it.
If you would like a chance to win a free copy of your own Love 2 Read book then simply fill in the Rafflecopter form below.
Disclosure: I received a free memory book in return for this review and competition.
J x