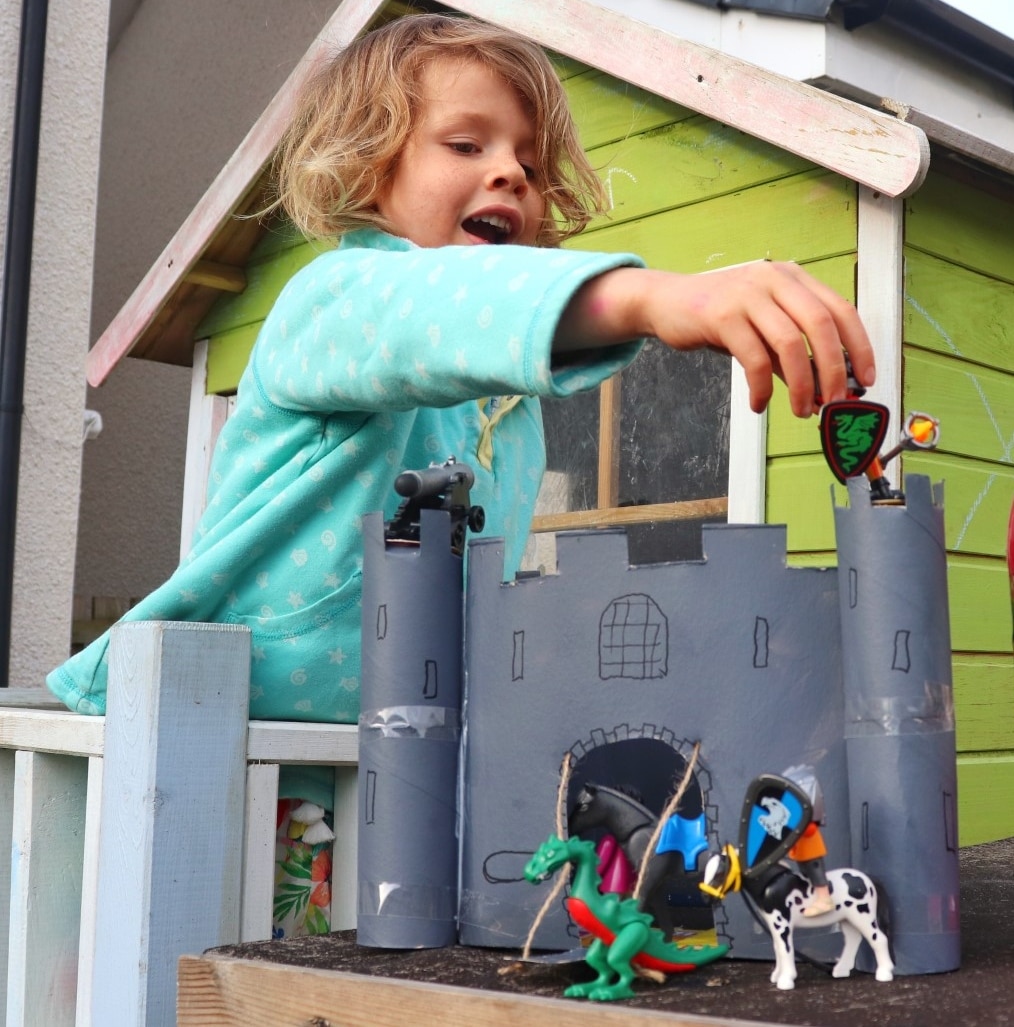 Another week of life in lockdown. I've lost count in reality, but when I check back here I can find out how many weeks it is now!! The days and weeks seem to be going by surprisingly quickly and we often can't fit in as much as we usually intend to every day.  Which seems strange as I always felt we fit in a lot before this.  Anyway, this is what we did in lockdown week 6.
Home Education: Life In Lockdown Week 6
We have had a fair bit of rain this week, which is probably something our plants are thankful for. However it's also been dry for substantial periods during the day, so the kids have been playing in the garden a fair bit. We have tried to fit in some educational aspects to the week, but if the kids just want to play an imaginary game, then that's fine too.
What We've Been Doing This Week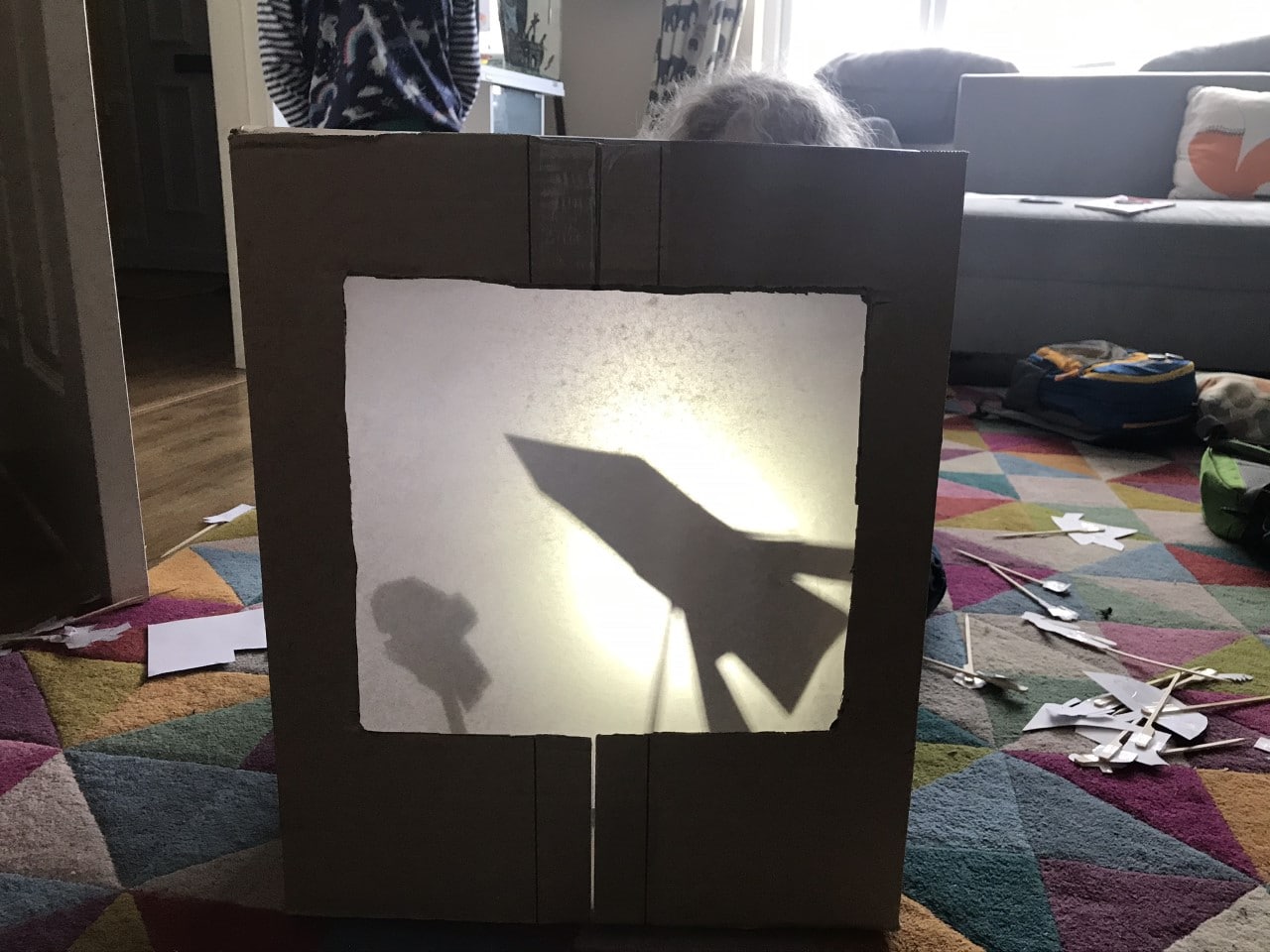 So as per our previous lockdown posts our current routine *always* includes Let's Go Live on Maddie Moate's YouTube channel at 11am every weekday morning.  The kids loved this weeks theme of mini makers with some excellent ideas for crafts!  The first thing they chose to make was a shadow puppet theatre.  This took most of a day in which they made their puppets and then set up the theatre of a cardboard box with tissue paper screen and torch balanced on a DVD box set behind.  They had great fun creating different stories each. Some were pirate themed and others were space, but they were all fun to watch!  I was impressed with both their story telling and the organisation of puppets ready to pick up.
The next mini maker challenge they particularly enjoyed was the tin can bounce.  Where they let a ball roll down a tube and onto a can with balloon stretched on top, bouncing onto the next can and so on.  We didn't have the right type of ball and so didn't get more than a couple of bounces, but it was fun to try it!
The kids got a new science craft book and attempted to make a domino run without domino's.  Which then turned into a track for cars to whizz down.  It got rather complicated, although it was an impressive structure they built to support it.
Both children wrote and drew pictures in their pea plant books, which they'll use to measure their pea plants and write in each week.  They also both chose to do a little written work in workbooks we've had for a while.  I bought the unicorn handwriting book for our 6 year old who loves unicorns and he completed to sets of pages.  Then the 8 year old chose to complete a few pages from a math work book I bought a while ago.  It included some work on co-ordinates (easy if you've played battleships!) and another on negative numbers.  Interesting to see they actually want to fill them in, with no pressure from us!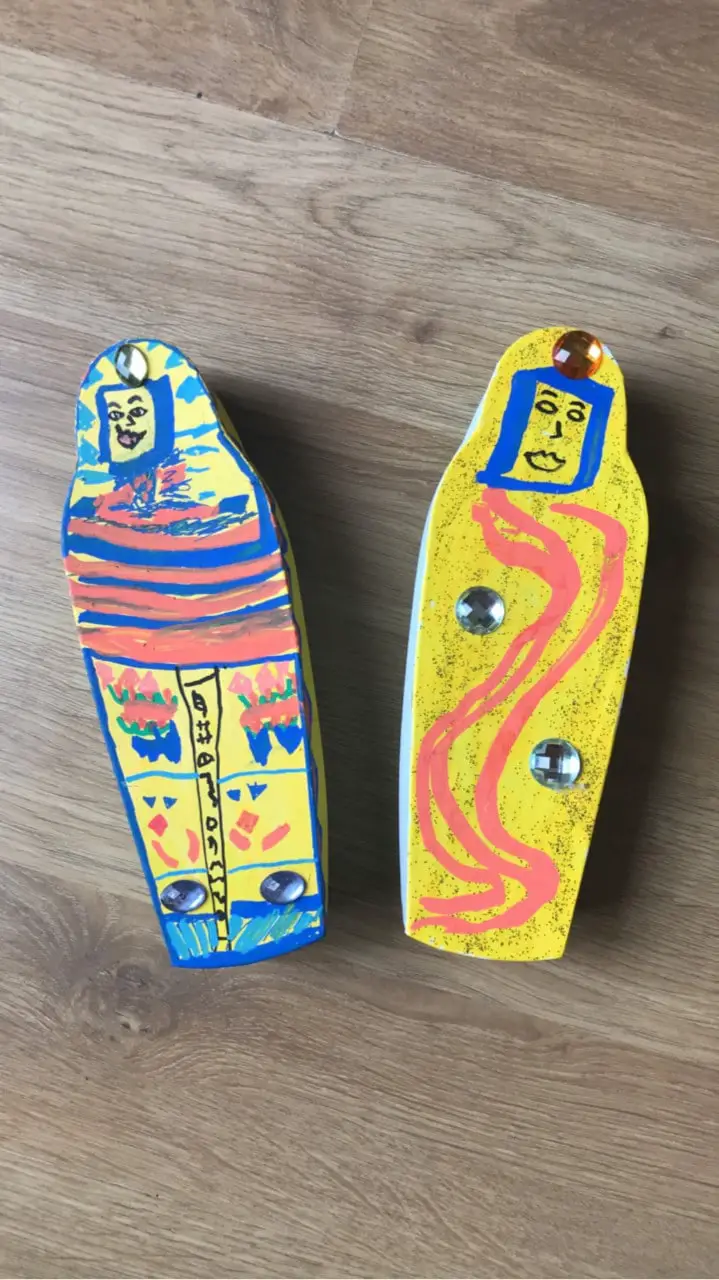 We began some work on Egyptians by looking at virtual tours of some Egyptian tombs.  Including Tutankhamen's and also creating their own sarcophagus' with handmade mummies inside.  The eldest spent an especially long time working on his and is rightly proud of his work.  It included hieroglyph's and gems too. We bought our blanks from Baker Ross, I think they are meant to be pencil cases.  However my kids like to keep mummies in theirs.
The kids haven't practised much reading this week.  However the eldest has pointed out what some sentences and titles say without asking.  So I am pretty sure he's practising reading, just not with us asking him to!  I have been reading the Enchanted Wood by Enid Blyton to them, which they both love.  Anything magical and a bit funny seems to be a hit with them!  As I know what they're like I also bought a copy of Bedknobs and Broomsticks, a film I loved as a child, to show them.  Littlest was very excited and they both found certain parts hilarious!  I found it was also a good way to introduce the war and evacuees to them. I think we might try a WW1 and 2 topic soon.
Exercise
We haven't gone out every day this week, some days the kids are just too busy with whatever they have been doing to go out!  So we have had some days with just playing indoors and the garden instead.  But other days we have walked along to the local woodland or along farm tracks finding dandelions.  They had great fun racing around the local football fields again too!
Mental Health
Most days have been ok, I'm taking it one day at a time at the moment.  Although there can be days where nothing seems to go right and the children fight all day which certainly makes it difficult!  But overall I think we're coping quite well, although I think it would be great to go out for a lot longer walks to tire the kids out and let them run free for a bit longer!
Pin Life In Lockdown Week 6