We have been spending a lot of time outside near our house recently, but not on any major expeditions outdoors (although we did have a trip to Edinburgh again yesterday, but that was for the museum).
What we have mostly been doing is practising, Mr O has been asking to practice on his pedal bike. He has two, a 12 inch bike, which we removed the pedals from so he could get used to how it moves as a balance bike first.  His other bike is 14 inches and a little bit heavy and stiff for him at the moment.  Daddy tried putting the pedals back on the 12 inch bike, but unfortunately the sprocket was rusty and Mr O had to wait for the new one to arrive before we could put pedals on.
In preparation we zoomed up and down the hill on his big bike, but he was just nowhere near as confident and no amount of persuasion would get him to put both feet on the pedals!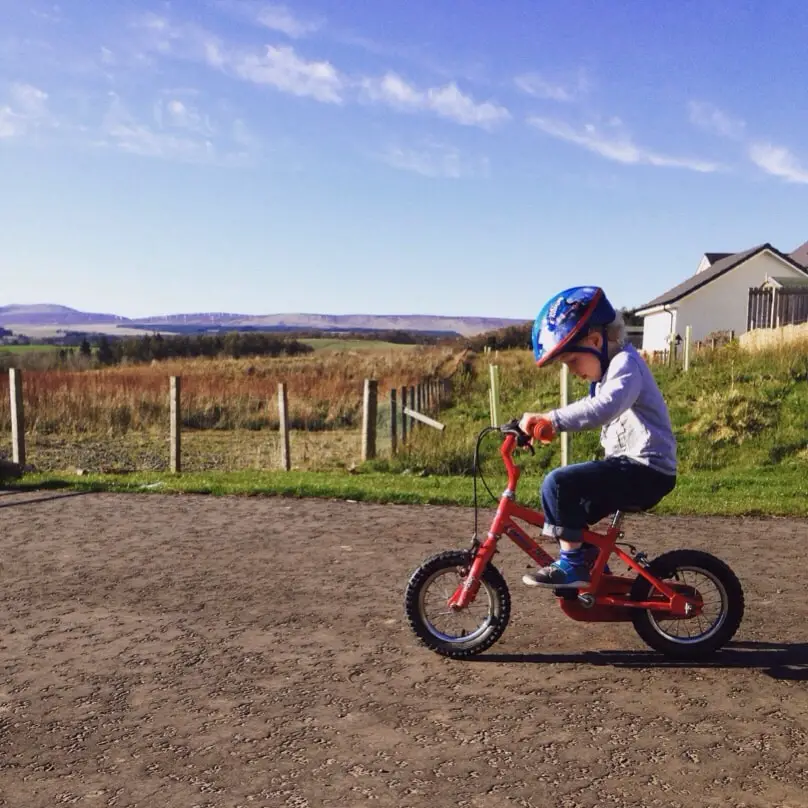 Fortunately when we got the sprocket fixed and pedals on it only took about 40 minutes out with daddy until he had both feet on and was pedalling! We were very proud watching him cycling along and so is he.
Of course every day he now wants to go out on his pedal bike, so he's getting really good at it and can even go up gentle hills on his bike.  The hill up from town is quite steep, so I think it will be a bit longer before he manages to cycle up that, I can only do it when I stand up on my bike and it will take time for him to get that sort of confidence.
So we have been spending the week doing a lot of cycling on our street around the block and up and down to the parks and town.
Hopefully we'll get him out onto the bumpy farm tracks next.
Do your children enjoy being out on their bikes too?
J x