As home educators we are more often than not running a little on the feral side.  'Unschoolers' is the term that is often used in home education circles, although I don't personally like labels.  Despite the freedom of learning through life my eldest still enjoy an interesting worksheet or workbook.
From simple worksheets through Twinkl to more complex workbooks bought in shops, there is something about filling things in that can actually be fun!
Letts KS2 SATs Success Books
Letts have updated their KS2 books ready for next years SATs.  They have a fun new look with the silly faces on the covers and each book covers everything that your kids will need in the 2018 SATs.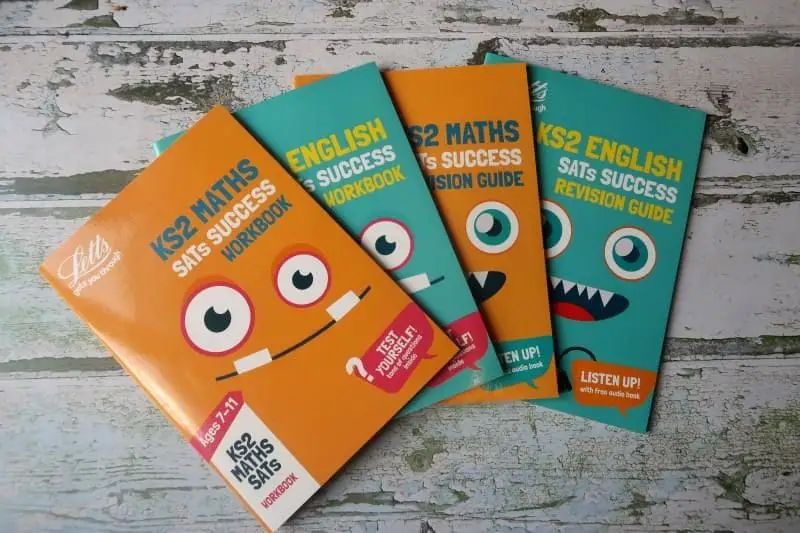 The revision guides have all the information required to top up your children's knowledge and have plenty of SATs questions that they can expect in the tests.  You can also access the free audio book to gain more insight into any problematic areas.  I think it's great that both audio and visual guides are included as it's well known that all children learn difficult.  I personally have always liked to see things visually to revise, but I know my husband much prefers to hear it.  Which apparently seems to be the best way for our son too!
The Letts revision guides are laid out with each section covering the information required, a mind map to organise all the processes and then practice questions to test knowledge.  They are straightforward to read, although I have to admit I feel like I should be doing a little revision and practice myself as I have completely forgotten a lot of the information covered in the workbooks!
Letts KS2 Workbooks are filled to the brim with questions for kids to practice their knowledge and find their weak areas.  Everything they need to know for the SATs is covered and I'm sure that they will have a good comprehension of the work once they have completed most of the workbooks.
Verdict
My son is a little too young for these books, but I can see how he would enjoy reading through the revision guides and then testing his knowledge with the questions in the workbooks.
A great set of books for any child who is at the KS2 level.  Does your child like to use workbooks to help with their revision?
Competition
You can also win a set of Letts new KS2 books and a whole host of smiley stationery by voting for your favourite face for the next cover.  Check out the competition over at Letts here.
* This is a collaborative post, however all opinions are my own.