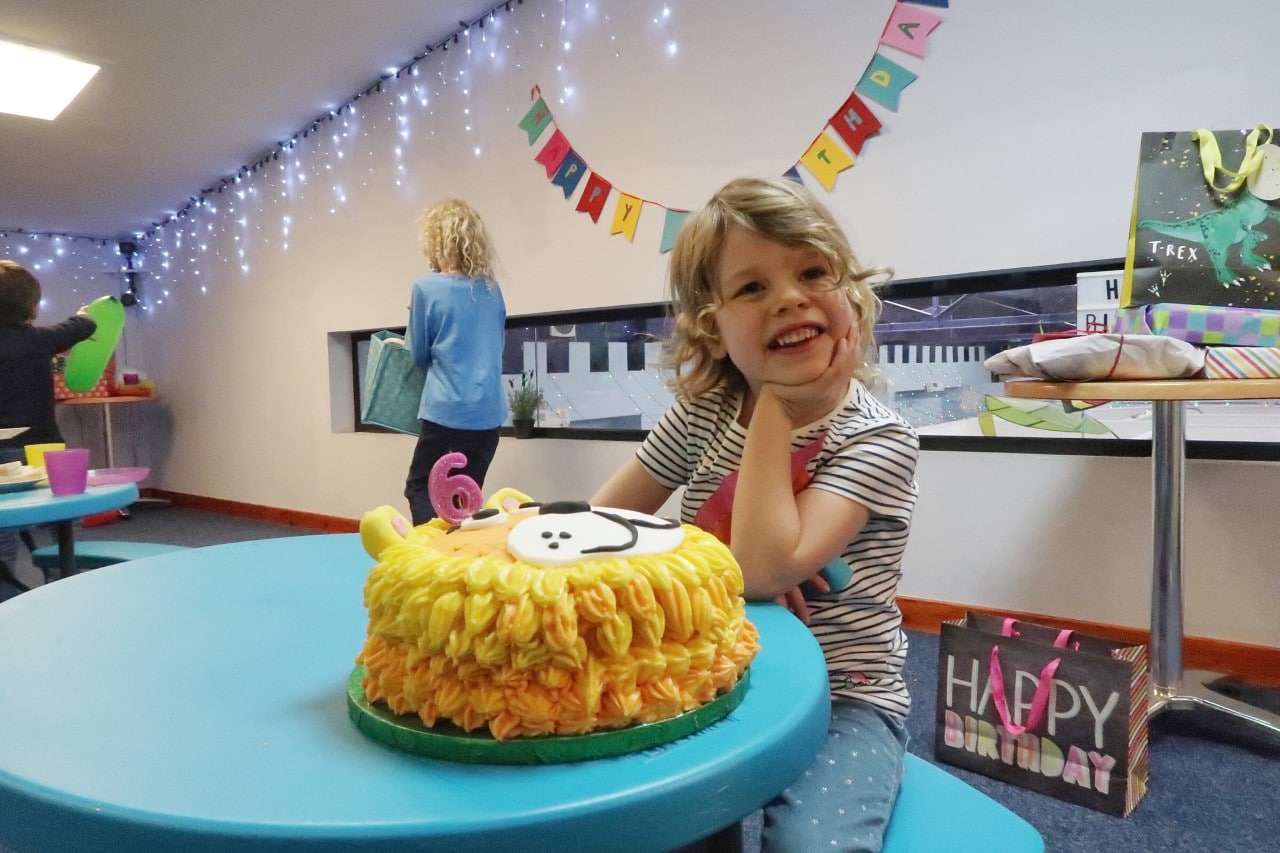 Well my youngest is no longer in the 5 and under club (which always seems to get special treatment and discounts!!), now he's 6 years old and very pleased with his new number!  As his birthday was on the weekend for a change, we chose to have his birthday party on his actual birthday and invited some of his friends to Kidz Town in Stirling.  We definitely lucked out on venue (as a January birthday we have to go indoors, so much less choice!) and he had a brilliant time!
Kidz Town Stirling
Kidztown is a play town full of little shops and businesses, plus other services such as a police station and vets.  The children are allowed to play in the town for their allotted time period, pretending to be different people around town.  It's great to see their imaginations run wild, although mine currently love playing cops and robbers more than anything else!  Some of youngest's friends enjoyed dressing up as other characters from the town and looking after the babies in the doctors surgery and running the post office.
There are also vehicles and horses that can be ridden around the road, although the children will have to take turns and go slowly as it's usually very busy.  Despite it being busy the staff are constantly wandering around and putting items back in the correct place, so the children can always find the items they need for their play.  It must be hard work though, as the kids do like to mix it up a bit!
Birthday Area
Along with the play area downstairs, partygoers also get the use of one of the upstairs rooms, a pirate ship or a play house.  Our 6 year old wanted the play house area, as they love to play inside pretending to sort out the home, play the piano and make us food.  Another good part about this room rather than the pirate ship is that you can look through the window at the town below, watching what the kids are up to without interrupting their play.
As part of the standard party package you have a tea party or cooked lunch (for a small extra fee per child) and party bags for guests.  Included is also a dedicated party host, who will do everything you ask from rounding up children for food to cutting the cake and putting it in the party bags.  I'm not used to having someone else do all the party work, but it was nice that I didn't have to do everything myself for once.
When the guests arrive all the children are given wristbands to identify which party they belong to.  This helps the staff round up children for food later on!  The children can play upstairs until all the guests have arrived and then head down to Kidz Town to play for an hour and a half before returning upstairs for half an hour of eating food and singing happy birthday.
We had chosen the tea party package, which included sandwiches, crisps and cakes.  Although I also paid extra for a fruit platter too, which the kids ate most of, they certainly seemed hungry after all the play downstairs.
Details
Parties at Kidz Town Stirling require a minimum of 10 children and maximum of 36.  The Playhouse Party costs £12.95 per head or the Nautical party (pirate ship) costs £14.95 a head, with £1 extra per child if you choose a hot meal instead of the tea party.  Invitations can be downloaded from the website to be sent out to guests, which is rather handy.
The children had a great time and I would definitely recommend a party at Kidz Town for children aged around 7 and under.  We did have a few 8-9 year olds, but the majority were around 6 years old, which is the perfect age to play independently in the town.
* We paid for everything ourselves, this is not a sponsored post.