Disclosure: This is a collaborative post on colouring gifts.
Eggnog
We were sent two colour-in packs from Eggnog, a great colouring gifts company.  They have lots of different colouring gifts for kids, from post cards and placemats to fancy dress and bags.  They even have colour-in wallpaper!
I had two very excited children ready to start colouring as soon as they saw the package.  The kids have become very interested in colouring and crafts over the last few months!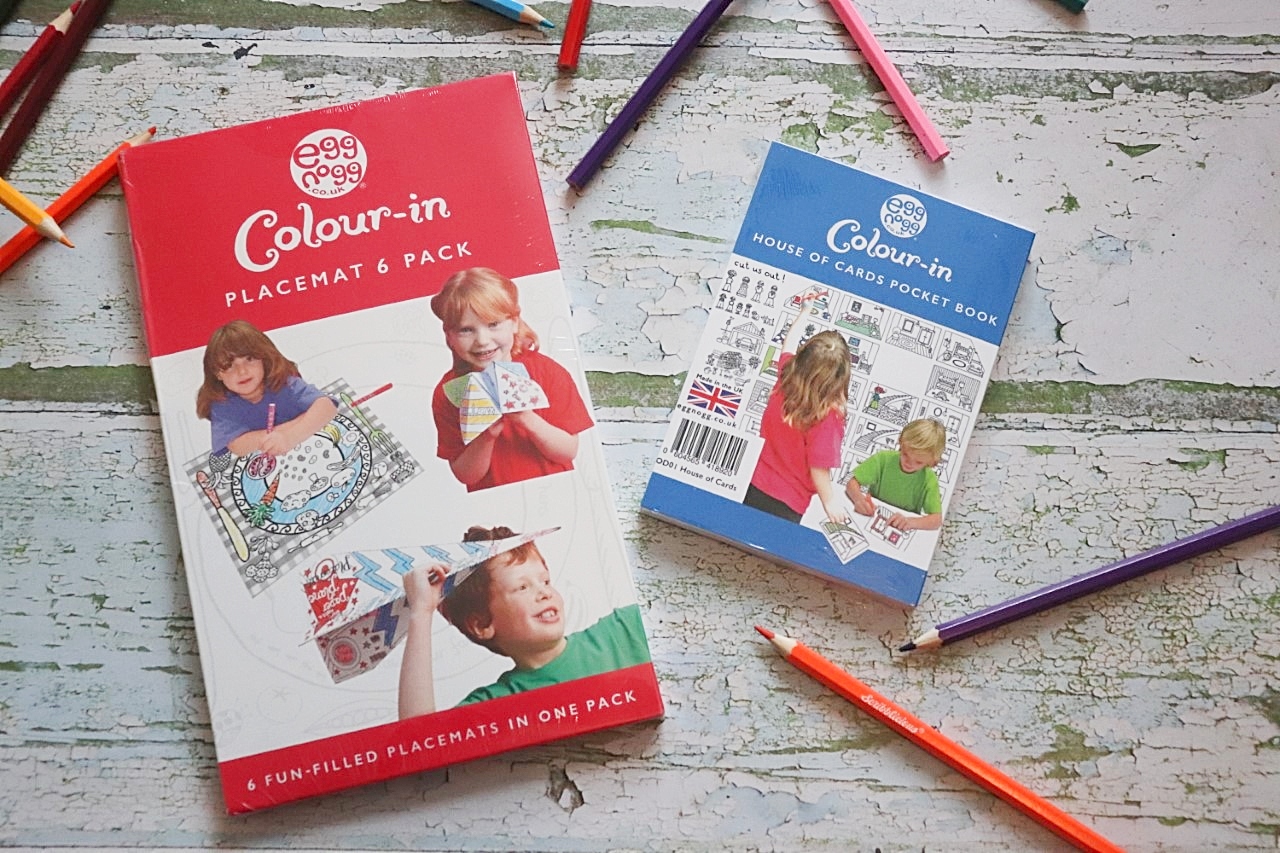 Placemats
Littlest, aged 6, started off with the placemats.  They come as a set of 6, featuring 2 with images of food, 2 with an assortment of colouring pictures, 1 paper airplane and 1 fortune teller.  Our youngest went straight for the paper airplane!
He's not the quickest at colouring-in so after a short time of using pens he went on to painting his plane to make it a little quicker.  Painting the paper is fine as long as it's a thin layer so it still folds easily.  I was actually quite impressed with the thickness of the paper (seems a strange thing to say!), it's perfect for using with pens as they won't tear holes in it.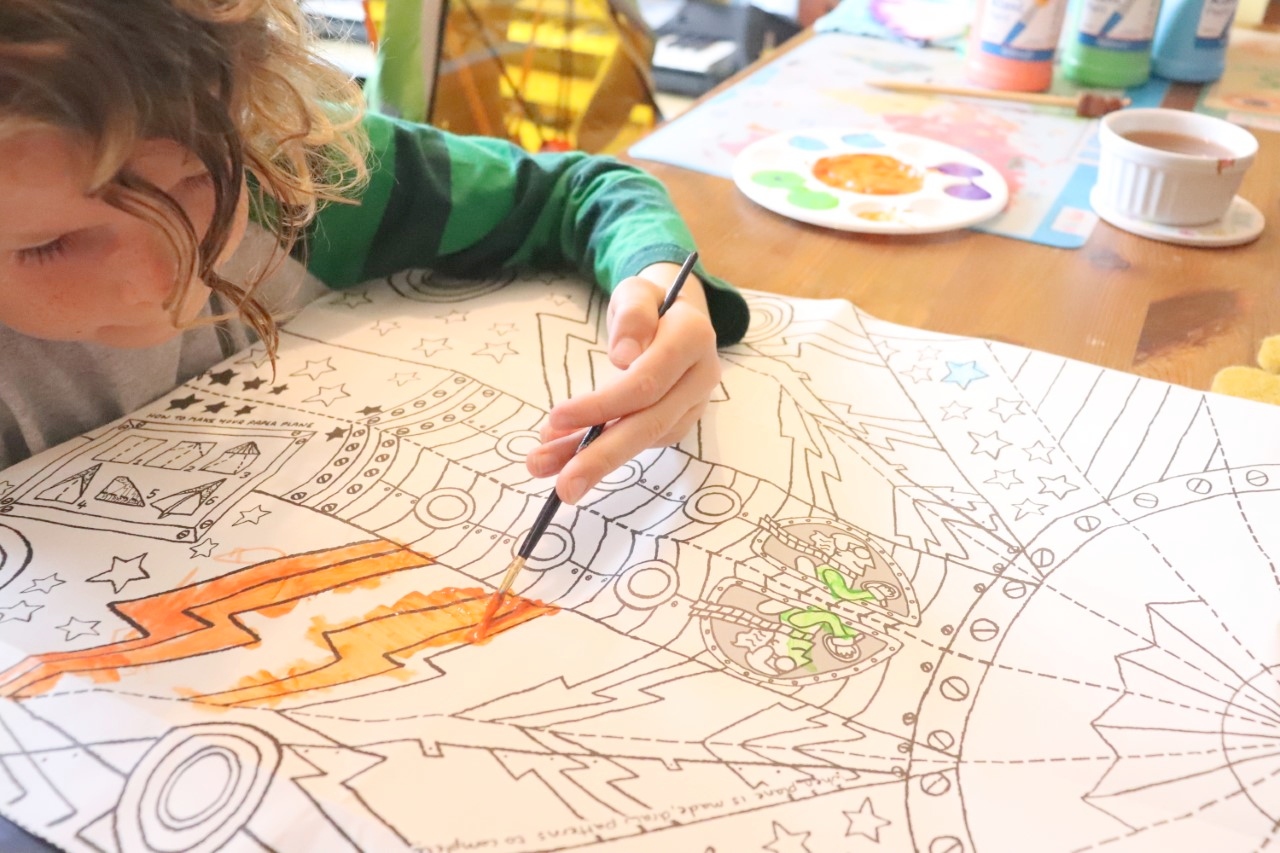 With the youngest's colouring finished (he ran out of patience and decided to leave a lot of white space) he asked for some help folding it into a plane.  There are instructions on the side of the plane and fold lines to use.  However, as it's a rectangle you can make it into any origami plane that you would like.
Our 6 year old was very pleased with his creation and especially love the details of the lighting streaks and the pilot flying the plane!
The children haven't coloured in the other placemats yet, but they easily fold up into the sleeve to be put on the shelf for another crafting and colouring session.  The only thing I would note is that if you are planning to take them to a restaurant or similar then you will want to cut the placemats into their separate pieces first.  They arrive as one big folded sheet with dotted lines to cut them into the 6 rectangles.
I think my two children would actually like a set of paper airplanes to colour, possibly another option for Eggnog to create?!
House of Cards
My eldest is the opposite of his brother, he's almost 9 years old and has a great concentration span.  He decided he wanted to colour-in the whole book of the House of Cards in one sitting.  That's a lot of postcards!
On one side of each card is a picture of a room in a house (plus a garage and garden!), which the kids can colour-in.  On the opposite side is the normal postcard layout with message and address sections.  It would be lovely to colour-in the room and send them to a friend or family member.  Then they could keep the postcards and make a house each time a new postcard arrived.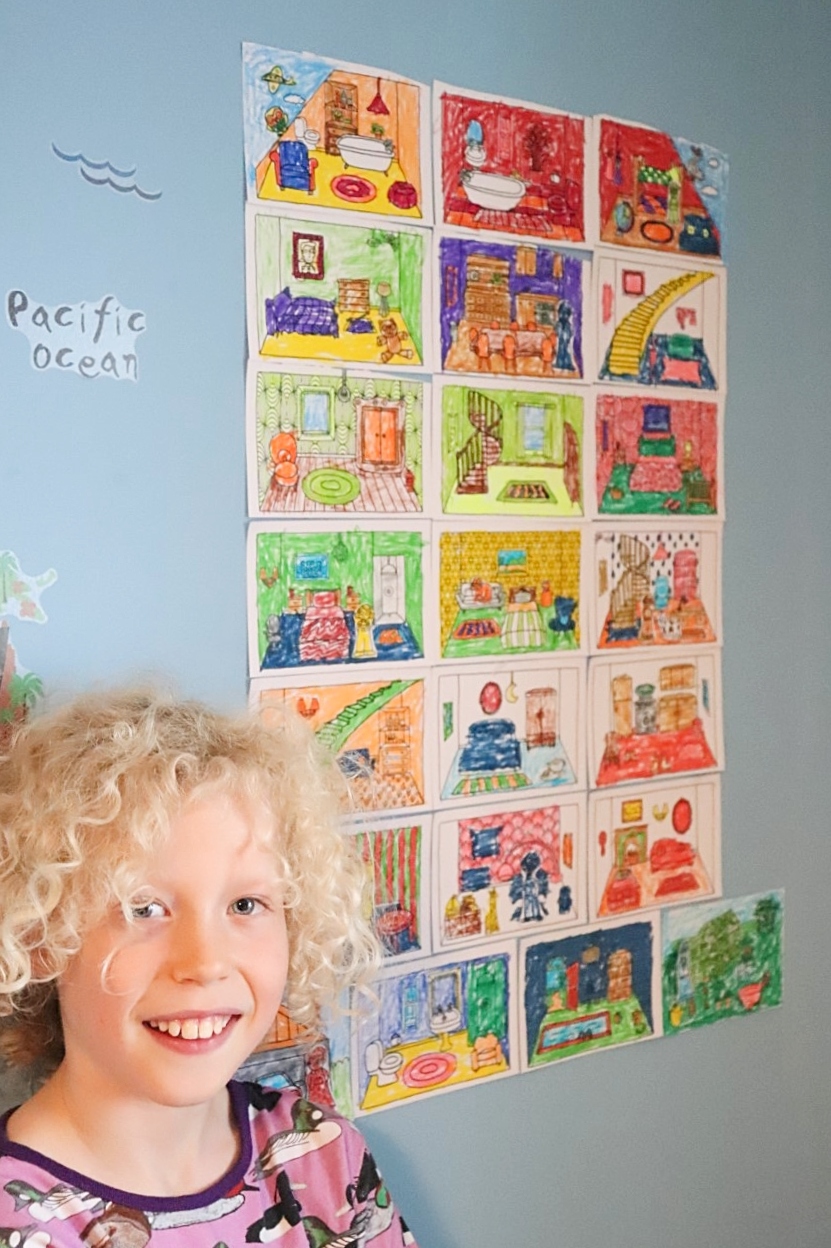 Our 9 year old chose to colour the postcards and make his own house of cards in his bedroom.  He was particularly interested in all the little details such as spiders in the corner of some of the rooms!  The set also comes with people and pets that you can colour and cut out, which can then be used as characters in the house.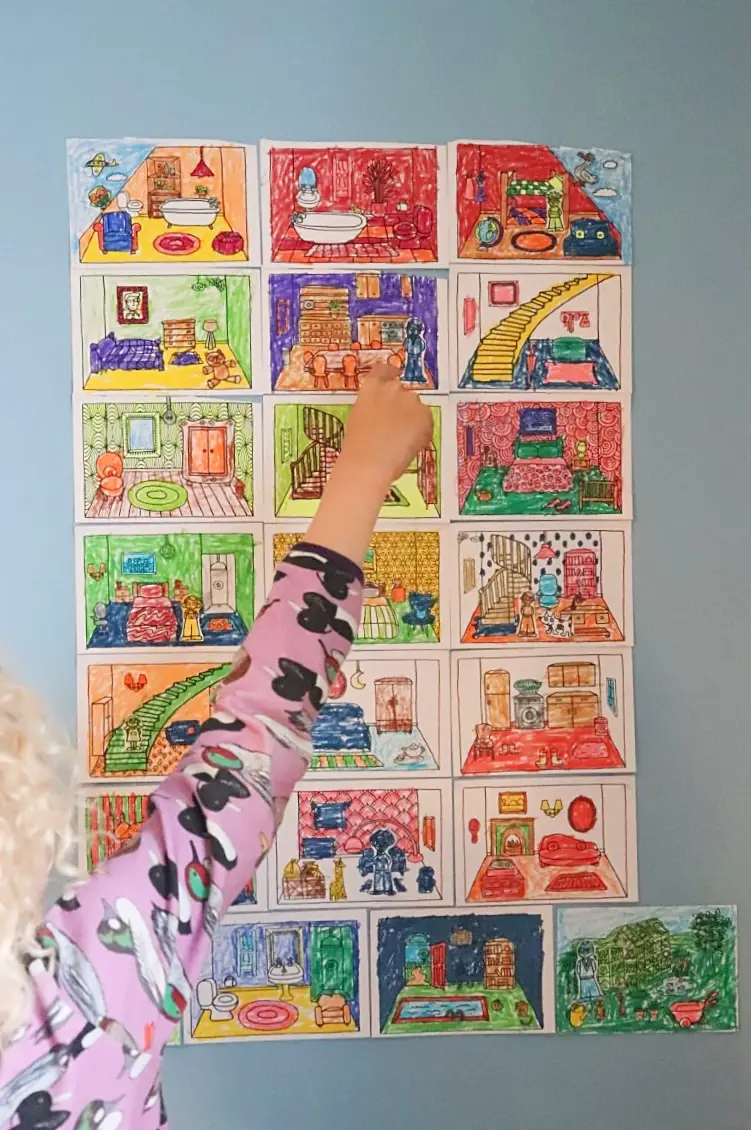 He chose one character to be himself, which he put next to a little pet dog.  He's desperate for a pet dog, we've told him not yet, but I can see it happening one day!  His dad was placed in the kitchen to wash dishes, his brother in a different room and I'm apparently washing the car in the garage.  We stuck the people on with blue tak, so he can move them around as he wishes.
There are other postcard colouring gifts on the Eggnog website, including dinosaurs, a world map and fairies.  They would be a great colouring gift to take away on holiday.  They are small enough to fit in a tiny space in a bag and very light to carry too.
Other Great Eggnog Products
There are so many fantastic colouring gifts available at Eggnog.  I love the colour-in picnic blanket of Great Britain, that would be an awesome idea for a summer picnic!  Especially these days when we have to social distance from others and want to keep the kids near the picnic blanket and away from others.
Another favourite product of my children's is the London bus pencil case. This would make a great gift or souvenir for anyone visiting or from London.  And it makes a great container to store all the pens needed to colour it.
You can even hire Bertha the colour-in caravan for a day!  That would be a great idea for a birthday party for any children who love to colour and craft.
Giveaway
You can win your own set of placemats and house of cards just like ours by filling in your details in the Gleam form below.  The competition closes on the 5th September 2020 and the winner will be chosen by a random number generator.
Good luck!
Eggnog

Pin For Later