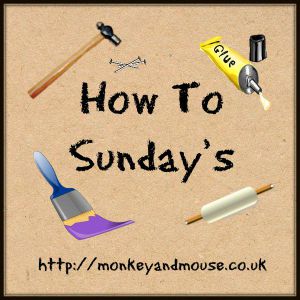 Unfortunately, this will be the last How To Sunday linky as I'm a bit snowed under with other blogging work.  I am now hosting my #Whatevertheweather linky on my own, so as that is taking up more time, I have decided to stop this linky.  Hopefulyl I can concentrate on other areas of my blogging and make more time for commenting on other blogs.  Let me know if you are on Bloglovin so I don't miss your amazing posts.
This week I'm linking up the cute King of the Jungle Crowns that I helped my boys make.
Last week I loved Only Crumbs Remain's amazing Chocolate Orange Marbled Cupcakes, they look and sound delicious, definitely a great recipe to try out.
And I also enjoyed Rainbows are too Beautiful's lovely medal craft post, a great idea for any upcoming sports days.
This linky is for all your tutorial posts, from home and garden DIY tutorials, to recipe's and kid's activities, it's all welcome, I look forward to seeing what everyone links up!
You can link up any old or new posts that include a 'how to do it' so you can inspire other readers to have a go themselves, I just ask that you stick to the simple rules below so everyone can share the love in this little community.
I look forward to reading all your wonderful 'how to's'!
To link up simply grab the badge and link up your old or new outdoor family fun posts.
The Rules:
 1. You can link up to 2 posts per week!
2.  Be sure to grab the How To Sunday badge on each post you would like to link up (code below-paste it into the HTML option of your blogging platform) or place it on your blog sidebar.
3. Comment on the host post and at least 2 other links – please share the linky love, it's what makes linky's such great communities!
4.  It would also be fantastic if you want to share your post and let others know about the linky on social media using #HowtoSunday.  I will retweet all your posts via Twitter if you mention @Monkeyandmousey in your tweets!