It's winter and everyone is feeling cold, which isn't helped by the grey clouds and rain.  I'm pretty sure a lot of the population stay inside for the winter, but it really doesn't have to be that way!  There are other ways to keep warm.
Yes, my title does sound a bit cheeky, sorry about that, ha ha! But if you want to keep warm 'down' is really the way to go.  Down are the feathers underneath the tougher exterior feathers and are formed in clusters without quills that poke you, they tend to have a good loft and even after squashing down they puff back up again.  You probably know that there are many pillows and duvets that use down for comfort and warmth, because of it's natural insulating properties down makes an excellent material for winter jackets.
We have been reviewing some lovely squashy down jackets from the Quechua range at Decathlon and they are so toasty and warm that even in temperatures of -1, I felt warm with just a long sleeve top underneath the jacket.  Admittedly I was walking around at the time and if you were to keep still for long periods of time then you would require more layers.
When we were on our December break at Cameron Lodges we wore our down jackets daily, they are such a cosy jacket to fling on in the cold and go out for a walk.  It also helps that they are light and pack down well, definitely an easy option when you travel around in the winter.
Out on Loch Lomond we were in the wind and when the boat was going fast it definitely got colder despite the sun.  Fortunately our Quechua down jackets kept us cosy and warm allowing us to stay upstairs on the deck and admire the amazing views.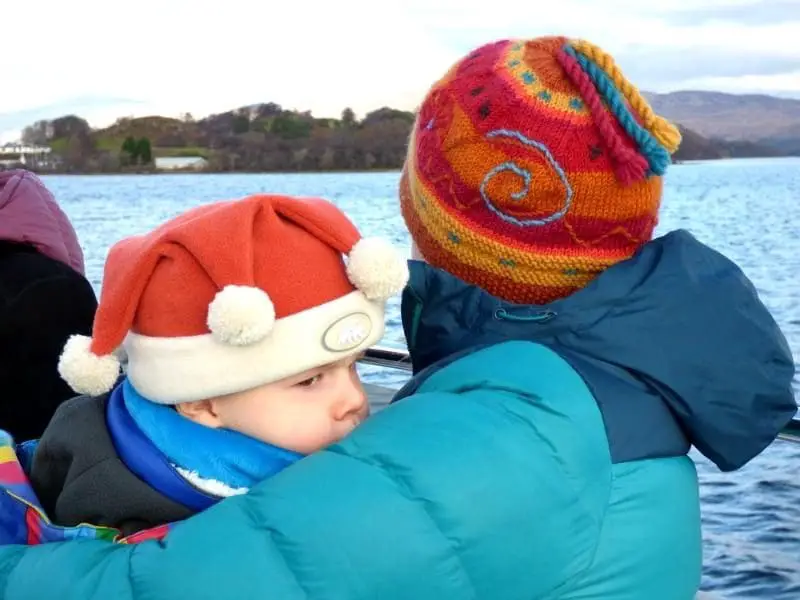 In just a few days we will be off to Lapland and we will definitely be taking our jackets with us, they will be perfect for insulating us against the freezing Arctic temperatures that we can expect there.  Although I'm sure we will continue to get good use out of them for the rest of the winter in Scotland.
As I have already mentioned the jackets are cosy and warm.  Both have hoods and come in a variety of colourways, I particularly loved the teal colour of my jacket.  There are zip pockets at the front, another internal zip pocket, ideal for a phone or keys and two other internal pockets, and if you're too hot there are also underarm zips for ventilation.  The jacket weighs only 530g for the womens (580g for the mens version) and can be compressed into the chest pocket for tucking into the bottom of a rucksack.  They are also both completely water resistant, so great for rain or snow showers.
I am very impressed with the quality and we have been wearing the jackets almost daily as they are so comfy and warm and I'm sure you will see many photos of us wearing them in future blog posts.  Check out the Quechua range at Decathlon here.
J x
* We received these jackets for the purpose of this post, however all opinions are our own.