* Disclosure: I have been compensated for this post
I was recently introduced to Feast Box, a subscription meal box with a difference.  The basis around the subscription box is that you can delve into cuisine from around the world and enjoy learning to cook with unfamiliar ingredients.  I know for a fact that we seem to get stuck in a rut of the same meals each week, so I was excited to try a new recipe.  Hopefully this will kick start us into trying more exciting meals from around the world!
How It Works
The subscription box is completely flexible, you can pause boxes whenever you want and design each for however many people you need it for.  Simply head over to the website to choose the recipes you would like or state preferences for your subscription box and let Feast Box choose recipes on your behalf.
Your Feast Box will arrive in a recyclable cardboard box with ingredients packaged in either recycled packaging or packaging that can be recycled.  Pop the items in the cool bag into the fridge until you are ready to cook and don't forget to read through the recipe before you start.
What To Expect
When your box arrives you just need to store the items in the fridge or cupboard (depending what is included) and get started on the recipe when you're ready.
I chose the Fish Mancurian with Jasmine Rice for our meal in this weeks recipe list.  Although I am a pescatarian I often have vegetarian or vegan meals.  However the Fish Mancurian particularly appealed to me after reading through the ingredient list.
As the box arrived at 5pm on a busy evening I stored everything aside for the following day.  This was not a problem as the ingredients would all still be in date for several days after receipt.
Our Feast Box
Once I had unpacked the box I found everything that I needed to create the Fish Mancurian and checked off all the ingredients on the recipe list.  The only things I needed to add were oil, salt and pots and pans.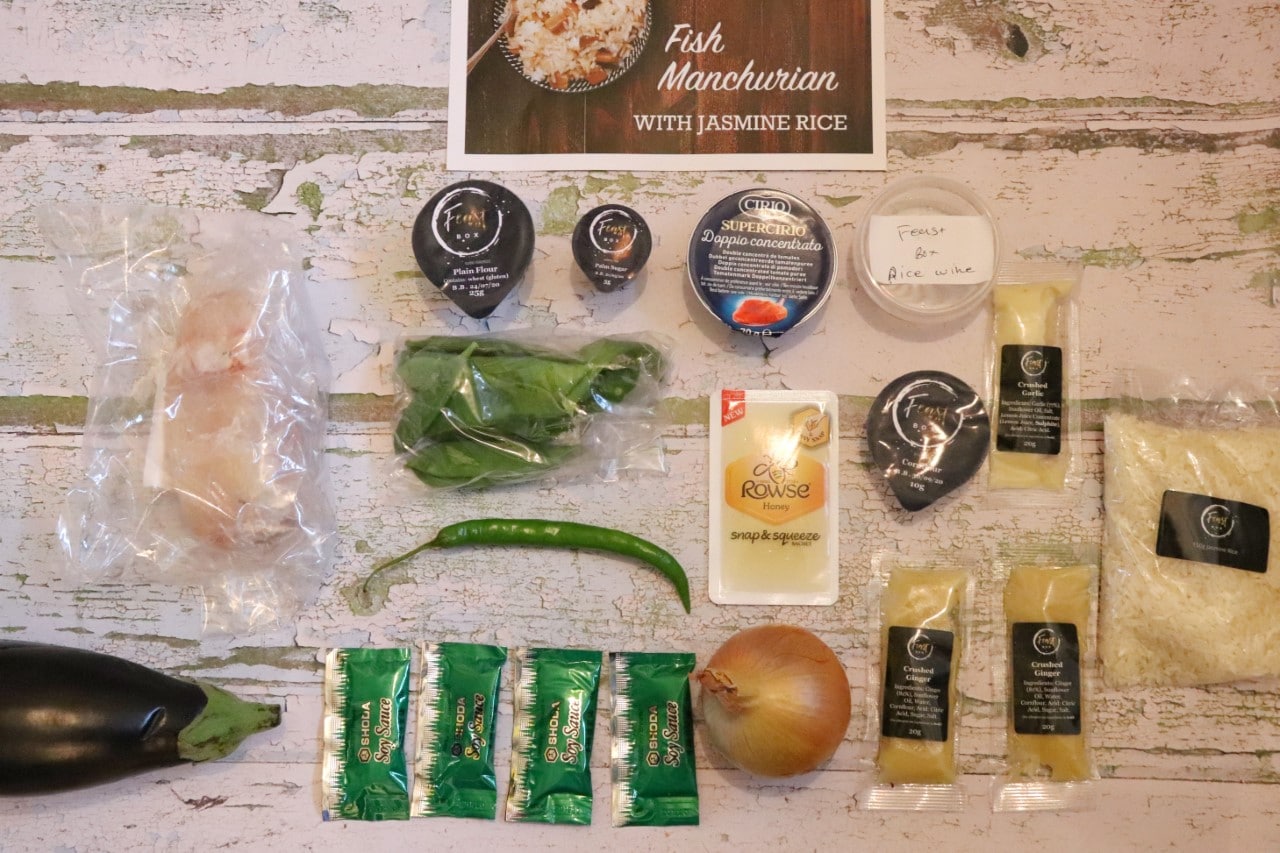 I began by following the recipe step-by-step, although I did make a couple of mistakes where I hadn't fully read the recipe instructions.  So definitely read through the recipe before you begin so you don't make the same mistakes as I did!
The recipe card is straightforward and easy to follow.  Simply follow the steps and you will end with a delicious tasting meal.  I had only chosen a box for 2, although our 8 year old seemed very interested in the meal.  I think next time we order a box I will have to include him so he can have some too!  I do wonder if this would be a good idea to order for the whole family, kids included, to get their young taste buds used to different cuisines from the world.  Especially if you can order food from an area that you are travelling to in the near future.
Both my husband and I enjoyed the meal and I will definitely be keeping the recipe card to make it again ourselves!
Pin For Later